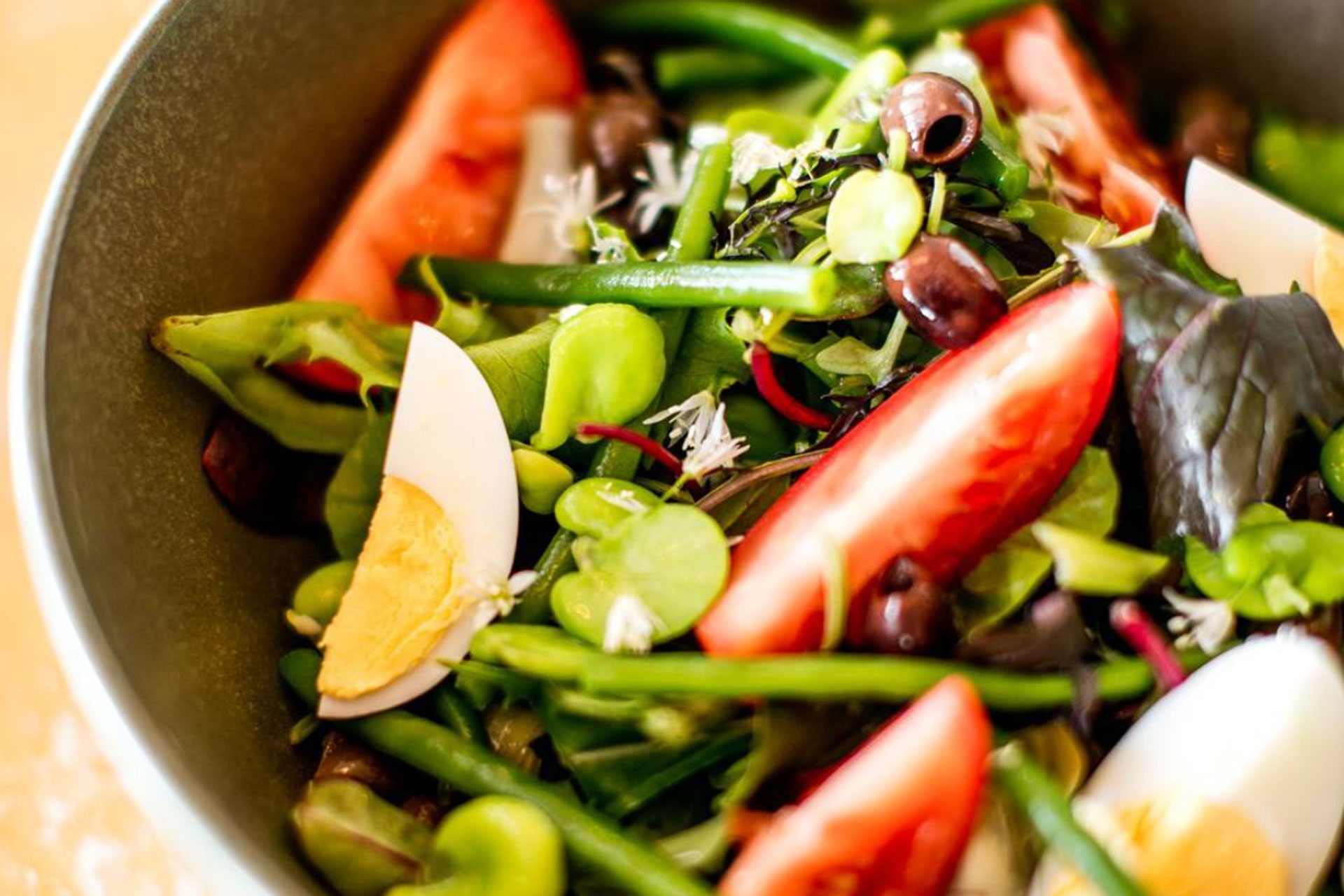 Recipe: Nicoise Salad from Les Roches Rouges
---
Missing hotel food? This deluxe take on a nicoise salad is just the ticket
Missing the French Riviera? Bring your own little slice of it into your kitchen with Les Roches Rouges Hotel's nicoise salad recipe.
Nicoise Salad Recipe
Ingredients
120 grs mix of young salad shoots ("Mesclun" mixture)
2 beautiful ripe tomatoes
4 new onions
4 eggs
120 grs of fresh green beans
4 poivrade artichokes
100 grs of fresh broad beans
1 red pepper
100 grs of pitted black olives
16 anchovy fillets in oil
1 lemon
6 tablespoons of olive oil
1 tablespoon of coarse salt
Ground pepper
Fleur de sel (Optional)
Some fresh basil leaves (Optional)
Method
Clean the vegetables, then set them aside for the rest of the recipe.
Cook hard-boiled eggs (10 minutes after the water has boiled). Once they are ready, cool them in cold water, peel them and keep them in the refrigerator until the salad is ready.
During the cooking of your eggs, skin the artichokes to keep just the heart. Peel the stem in order to keep only 4cm of it so you can have a fair distance with the heart. Once it is done, you must keep the artichokes in a container with water and the lemon juice to prevent them from oxidising on contact with air.
Put a second pan to heat with water and coarse salt, as well as a separate container with very cold water inside (nearly icy water). The pan will be used to blanch the beans as well as the green beans, and the container will stop the cooking of the vegetables. Once the water comes to a boil, you immerse the green beans in the water, then blanch them. Be careful not to overcook them, they should still remain slightly crunchy. Once blanched, immerse them in ice water to stop cooking immediately. Repeat with the previously peeled beans. Cooking must also be controlled to keep them crunchy enough. Once cold, drain them and keep it cool.
Next, cut the tomatoes into quarters so that there are the same number for each person, and set them aside. You will finely chop the new onions with their stems as well as the red pepper, from which you will have removed the seeds and the heart beforehand. You will also need to mince the artichoke at the last minute so that the artichoke does not darken too quickly. After these operations, go to the salad dressing.
In a large bowl, season all of the mixed greens mixture with olive oil, fleur de sel and freshly ground pepper. Still, be careful with the dosage of salt because the anchovies present in the recipe are quite salty already. Finally, distribute all the elements of the recipe homogeneously to correctly compose the salad and give it a beautiful presentation. Also be careful not to put everything on it because it would crush the mesclun that is below.
More Recipes: Perfect Scones | Vegan Bowl | Lemon & Rose Doughnuts