Recipe: Joudie Kalla's Lemon & Rose Doughnuts
---
Packed with Palestine-inspired flavour, these doughnuts are lip-smackingly good
Joudie Kalla, author of Palestine on a Plate, reveals a recipe for lemon and rose doughnuts and her store cupboard essentials…
Recipe: Palestinian-Inspired Lemon & Rose Doughnuts
Makes 18-24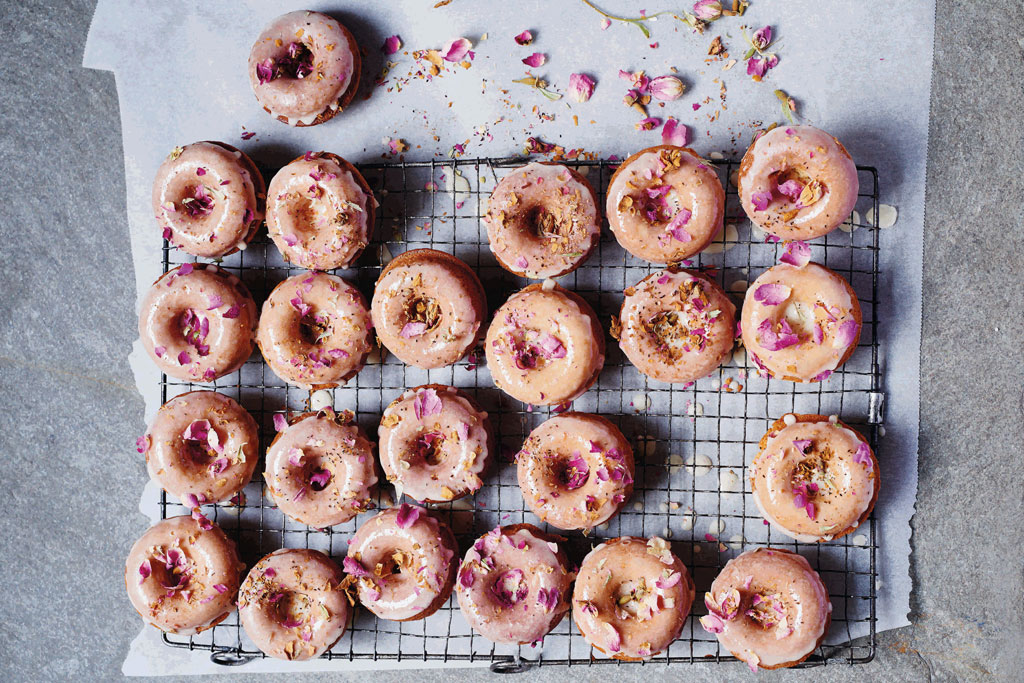 These doughnuts are just beautiful. The essence of the Middle East really shines through here with the fragrant rose water, tangy lemon icing drizzled across the surface and the dried rose buds crushed on top. It really has everything I want in a dessert. I know that doughnuts aren't typically Palestinian but they use many of the ingredients found in our desserts.
Ingredients
320g plain flour

250g golden caster sugar

1 tsp baking powder

1 tsp bicarbonate of soda

1 tsp sea salt

2 eggs

180g Greek yoghurt

2 tbsp vanilla bean paste

115g melted salted butter (or vegetable oil to make it a chiffon

cake texture), plus extra for greasing

1 tsp grated lemon zest
For the icing
250g icing sugar

2 tbsp rose water

2 tbsp lemon juice

Handful of edible dried rose buds
Method
Preheat the oven to 180°C fan. Mix all the ingredients together in a large bowl to create a smooth batter.

Lightly grease a six-hole 8cm doughnut tin with some melted butter or vegetable oil. Fill the holes in the tin with batter to about one-third full and bake for about 12 minutes until risen and slightly browned.

Remove from the oven and leave to cool while you cook the rest of the doughnuts. It should result in about 18–24 doughnuts, depending on how much batter you use.

To make the icing, mix the sugar with the rose water and lemon juice in a bowl until it is a thick white paste. Dip the doughnuts into the icing then immediately scatter the rose petals from the dried rose buds so that they stick to the icing.
Q&A with Joudie Kalla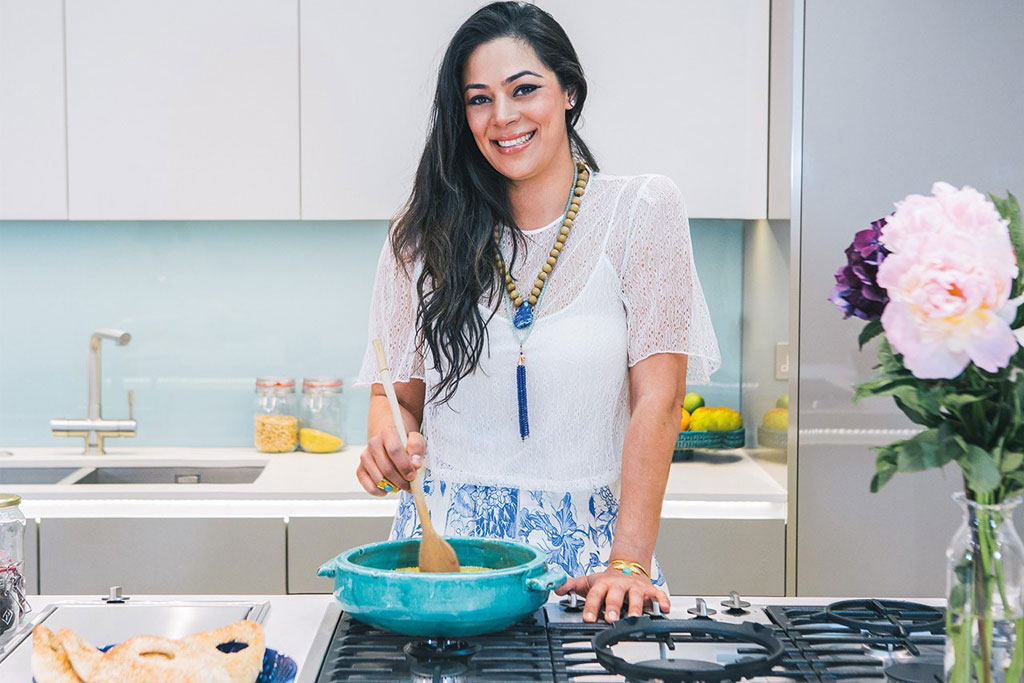 Classic Palestinian dish?
Musakhan, a village dish made up of taboon bread that is cooked over hot stones and slathered with tangy sweet sautéed onions, sumac, chicken and buttered nuts. Divine.
Earliest food memory?
My mum's chilli coriander chicken livers with caramelised onions and lemon. I can't tell you how happy she was that I ate it. It is served weekly at my home.
First dish you learned to cook?
Rolling vine leaves with my mum and aunties. It was so fun to make them and compete to see who made the best. Rolling vine leaves still makes me zone out completely.
Store cupboard essentials?
My cupboard is packed. But some of my main ingredients would be freekeh, tahini, Egyptian rice, pomegranate molasses, burghul, which is a coarse cracked wheat, za'atar and spices.
Favourite ingredient that's in season now?
I love using kale instead of dandelion if I can't find it. I sauté it with caramelised onions, paprika and lemon and toss in pomegranate seeds. Also blood oranges. I use them to make my cheesecake.
Who would you like to cook for?
All of my grandparents. I never met my grandfathers and my grandmothers passed away before I was old enough to whip up something in the kitchen for them. I would cook lamb parcels, warak enab – stuffed vine leaves – and musaka'a. I would love to know what they think of my take on their favourite recipes.
Most memorable meal?
Chilean sea bass at Zuma with my friend Rana, my partner in crime. It was dressed with wasabi ginger dressing and lots of cress on top. I nearly fell off my chair.
Most used recipe book?
The recipes my mother wrote down in her own style. But if it was someone else, it would probably be Nigella's How to be a Domestic Goddess.
Recipe extracted from Palestine on a Plate: Memories from my Mother's Kitchen, £25 (Jacqui Small)
MORE FOOD & DRINK:
Jessie Ware's Triple-Threat Brownies / Rachel Kelly's Purple Risotto / Thomasina Miers' Californian Cornbread / Fresh Pasta by Ollie Dabbous