A fresh, seasonal summer recipe from Simon Rogan made with brill, which is at its best quality between June and August.
Recipe: Simon Rogan's Butter-Poached Brill and Asparagus with Watercress Sauce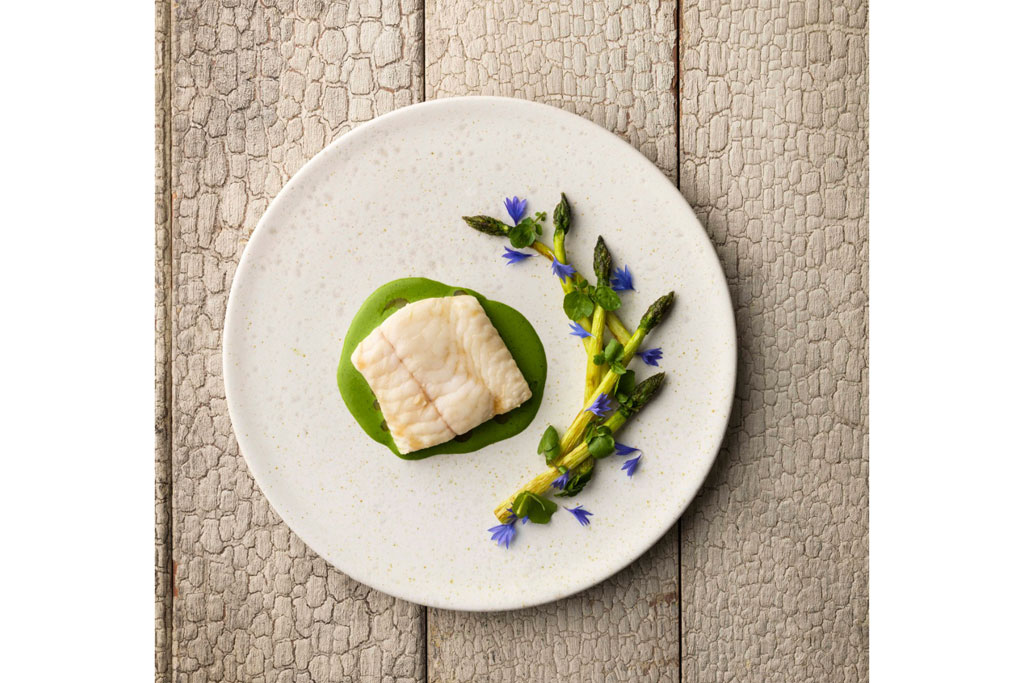 Ingredients
Butter-poached brill
500g unsalted butter
4 portions of brill, about 80g each
Grilled asparagus
20 spears of green asparagus
Rapeseed oil
A pinch of salt
Watercress cream sauce
50ml double cream
100ml white chicken stock (see recipe at the end)
150g watercress with stalks
a pinch of salt
Method
Place a large, heavy-based saucepan over a medium heat. Add the butter and cook until it foams. Once foaming, reduce the heat and let the butter cook for another 10–15 minutes until it reaches a very dark brown colour and has a nutty aroma. It will be extremely hot. Remove the pan from the heat and allow to cool. When cool, strain through a muslin-lined sieve and discard the milk solids. Leave to one side.
To make the sauce, put the cream and stock in a small, heavy-based saucepan over a low heat and reduce by half. Transfer to a blender with the watercress and blend until smooth. Pass through a fine sieve and season.
Bring a large saucepan of salted water to the boil. Peel each asparagus spear and snap off the woody part of the stem. Blanch for 2 minutes, or until tender, then remove and refresh in a bowl of iced water. Drain and leave to dry on kitchen paper. When dry, coat each spear with a drizzle of rapeseed oil and scatter a generous pinch of salt over all of them. Heat a griddle pan over a high heat, add the asparagus spears and grill for 2–3 minutes, or until slightly charred.
In a medium, heavy-based saucepan over a low heat, bring the browned butter to a temperature of 55°C. Remove from the heat, add the fish and leave to cook gently in the residual heat of the butter for 15–20 minutes. Remove the fish from the butter and drain on kitchen paper.
Divide the asparagus among plates. Spoon the watercress sauce on to each plate and place the cooked fish on top. Finish with baby watercress and cornflowers.
White Chicken Stock
Ingredients
Method
Roughly chop the chicken wings and put them in a large, heavy-based saucepan with 5 litres of water.
Bring to the boil over a medium heat, then reduce the heat and simmer for 2–3 hours, skimming occasionally.
Remove from the heat and leave to cool, the strain through a muslin-lined sieve. Keep the stock covered in the fridge and use within 3–4 days, or freeze and use within 3 months.
MORE RECIPES:
---