Looking for the best places to eat in Hampshire? Renowned chef of L'Enclume Simon Rogan gives us his top recommendations, from vineyards to cosy pubs…
Simon Rogan was just 14 years old when he decided he wanted to become a chef. Working in a Greek restaurant in his hometown of Southampton, he was surrounded by aspiring chefs, which fired up his competitive spirit. He went on to train as an apprentice at Rhinefield House Hotel in Hampshire, before securing a position as a pastry chef at Geddes Restaurant and going on to work under the likes of Marco Pierre White.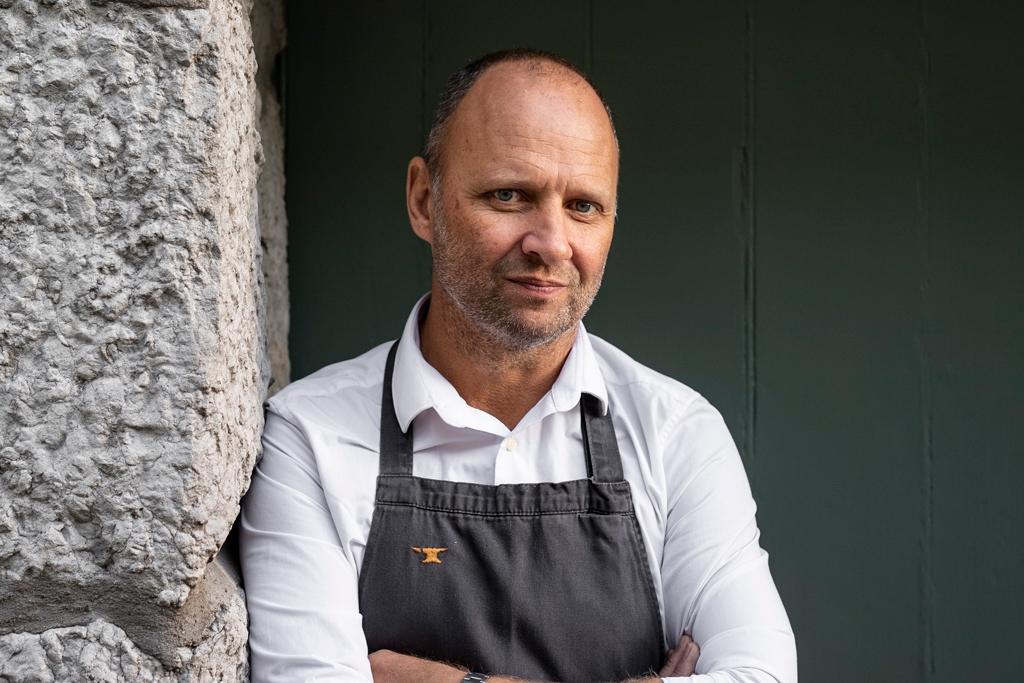 In 2002 Simon opened his first restaurant, L'Enclume, in the idyllic village of Cartmel, Cumbria – which went on to gain two Michelin stars, and was recently named among the UK's top ten restaurants in the 2019 Travellers' Choice Awards for Restaurants. He also set up his own farm, dedicated to producing the finest ingredients utilising the rich Lake District countryside, alongside a number of other food spots including L'Enclume's sister restaurant Rogan & Co and Roganic in London's Marylebone. He also spent time working as head chef at famed Claridge's restaurant Fera.
All Simon's restaurants use ingredients from the Cartmel Valley farm, demonstrating Simon's commitment to local, seasonal cuisine, which lies at the heart of all his culinary ventures. 'It's a case of growing the perfect carrot rather than cooking it perfectly,' says Simon. 'The produce we've got gives us inspiration. It is the driving force and we're not tampering with it. We're taking an ingredient and cooking it simply to maximise the flavour.'
The Best Farm To Table Restaurants
Simon's Pick: The Best Places To Eat in Hampshire
The Greyhound On The Test, Stockbridge
This pub with rooms serves the most delicious smoked trout in Hampshire, caught straight from the River Test which runs along the garden. You can even catch them yourself if you fancy it.
This family run restaurant can be found right on the cobbled quay in Emsworth. Fresh fish is the main attraction here, you can order à la carte but I recommend the tasting menu so you can try a bit of everything. There is a small courtyard which is the perfect place to sip an ice-cold beer in the summer.
The Lime Wood hotel is the perfect place for a weekend away – it feels very secluded as your drive down the enormously long drive. The kitchen is headed up by Luke Holder, who works alongside Angela Hartnett to create some tasty Italian dishes.
They have an incredible modern French menu at Restaurant 27. The roast lamb with miso and pumpkin is my absolute favourite, but they also have a lot on offer for vegetarians.
The Jetty, Harbour Hotel, Southampton
Hampshire isn't short of fresh fish but Alex Aitken really does use some of the best – the menu is local and seasonal. If you're staying in the hotel, make sure you get a view of the harbour and watch the fishermen leave in the morning. The 'Kellogs' Pannacotta reminds me of my childhood, it's like an elevated bowl of cornflakes.
Exton Park Vineyard is an award-winning sparkling wine producer: they make seriously good English fizz. They have distinctive chalk terroir which really shows in the Brut Reserve NV and the Blanc de Blancs Vintage 2011. Last year, I was lucky enough to collaborate with them and make an exclusive 'Exton Park with Simon Rogan' label for their Rosé NV. I know I might be biased, but take my word for it – it's the best out of all their labels!
---