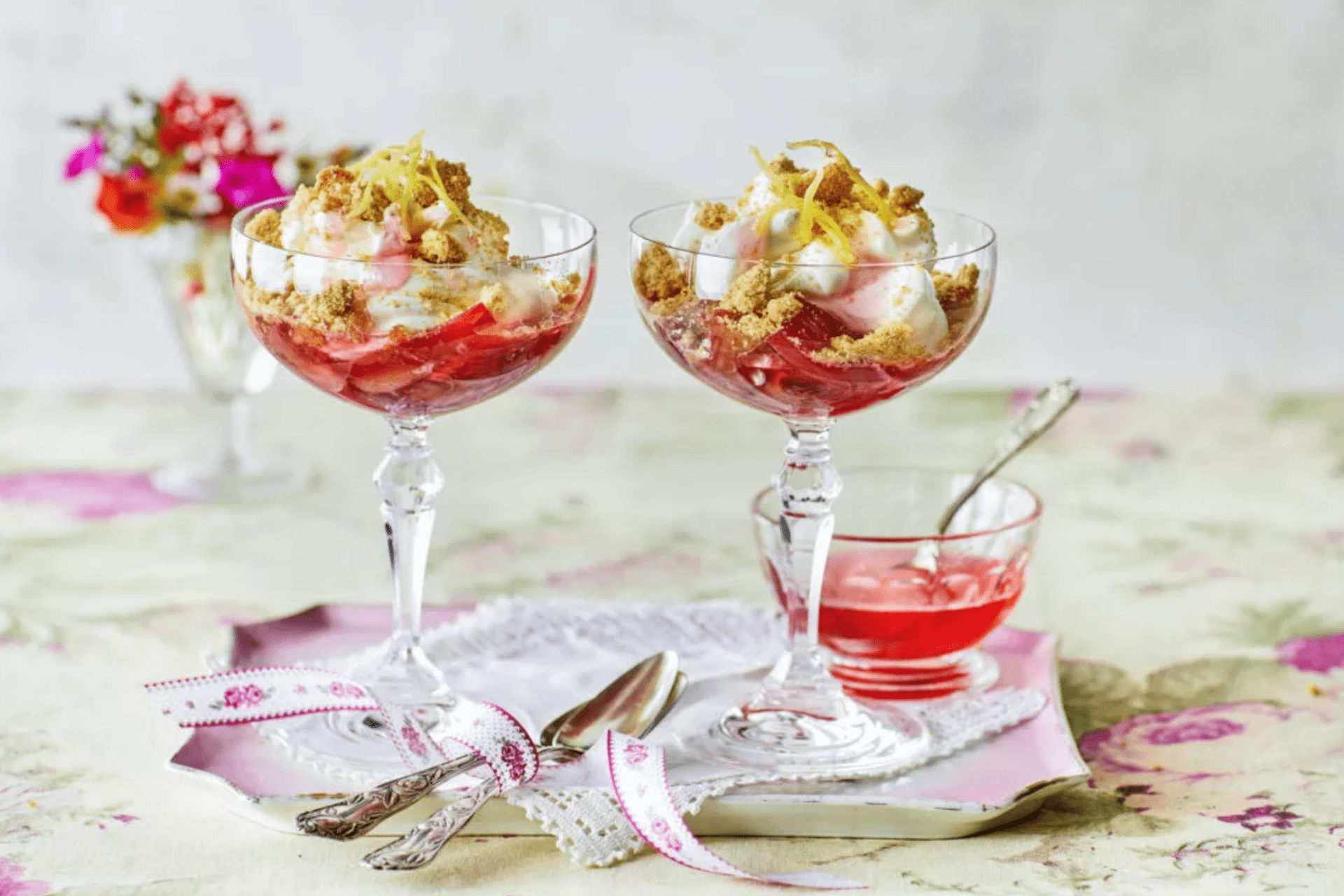 Recipe: Rhubarb & Ginger Sundaes From Escape To The Chateau
---
Looking for a sophisticated sweet treat this spring? Lucky for you, Angel Strawbridge from Channel 4's Escape To The Chateau has just the thing. 'Rhubarb is in season in March,' says Angel. 'Combined with ginger this lovely sundae recipe is the perfect alternative to a traditional crumble… and they look so pretty!' Get stuck in with the recipe below.
Recipe: Rhubarb & Ginger Sundaes From Escape To The Chateau
Ingredients
For The Crumble
250g wholemeal flour
125g butter, cubed
125g sugar, half brown sugar, half white sugar
For The Rhubarb
500ml boiling water
500g caster sugar
rhubarb 4 good stalks
2.5cm piece of ginger root, peeled
For The Ginger Cream
250ml double cream
25ml ginger wine
Crystallised Ginger
500ml boiling water
500g caster sugar
2.5cm of root ginger, cut into fine matchsticks
50ml ginger wine
Method
Make the crumble. Preheat the oven to 180 degrees Celsius or fan 160 degrees Celsius and line a baking tray with baking paper. Place the flour and butter into a mixing bowl. Using your fingers rub together to create a breadcrumb consistency. Stir in the brown and white sugars. Add the grated ginger and mix well.
Spread the crumble mixture over a baking tray and cook for 12 to 15 minutes until golden. Set aside to cool. For the rhubarb. In a pan dissolve the sugar in the boiling water.
Add the rhubarb and simmer gently for 15 minutes (it needs to be soft but remain in shape). Remove from the heat, strain the rhubarb through a sieve retaining the cooking juices. Place the rhubarb in a bowl with the ginger root and leave to infuse. Return the rhubarb juice to the pan and boil to reduce it to a syrupy consistency.
Make the ginger cream. Whisk the cream until it forms soft peaks. Fold in the ginger wine.
For the crystallized ginger. Dissolve the sugar in the boiling water. Pour in the ginger wine, and boil gently until reduced by about a half. Add the ginger matchsticks to the syrup stir and boil for a couple of moments then remove from the heat to cool until the sugar crystallizes around the ginger. Remove the crystallized ginger from the syrup and set to one side.
To assemble. Remove the ginger from the rhubarb and divide equally between the sundae glasses. Next spoon over a thick layer of ginger cream. Drizzle the rhubarb syrup over the cream. Top with a layer of the crumble and finish with a few strands of crystallized ginger.
EXPLORE
You can browse through more recipes from The Chateau at thechateau.tv