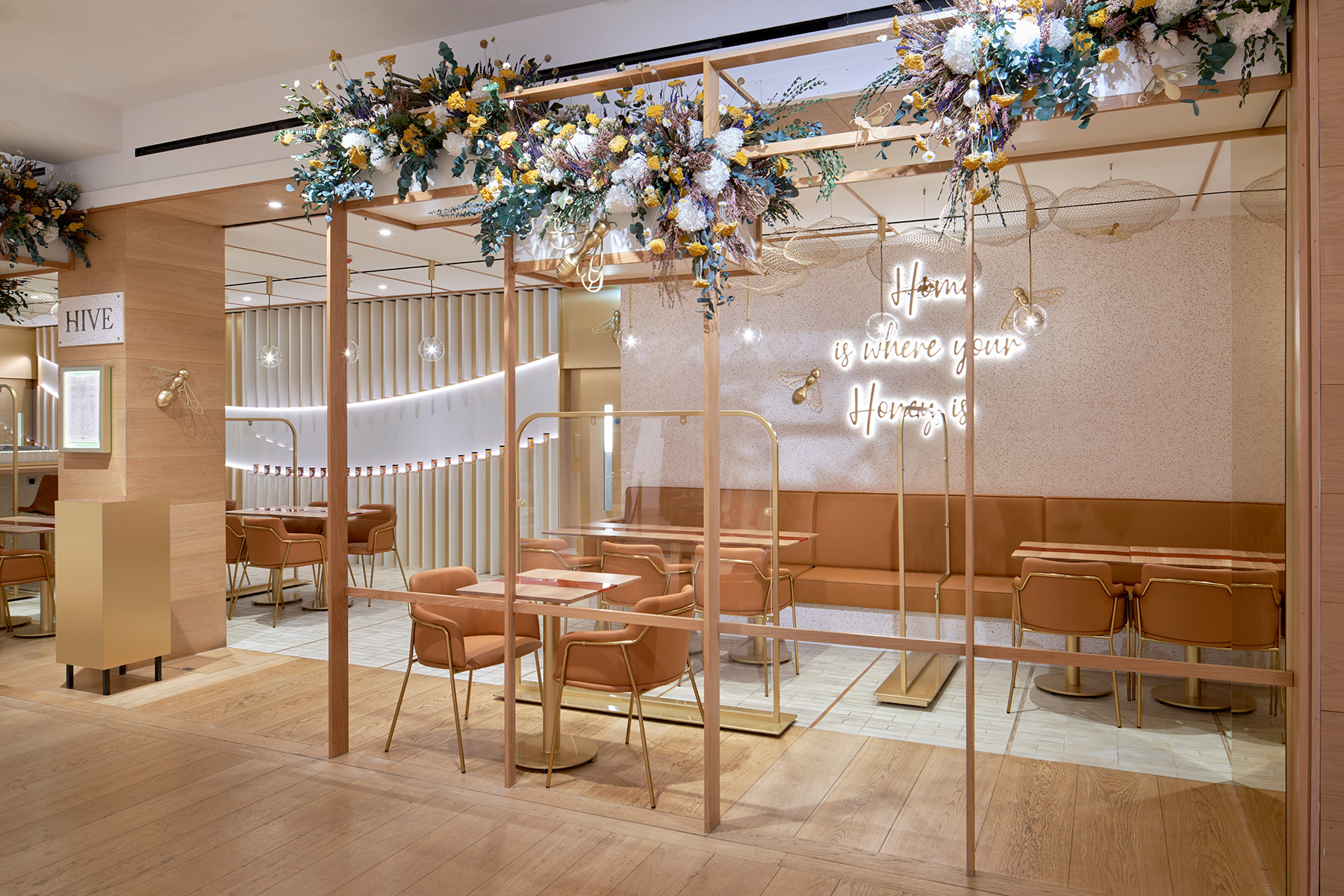 Restaurant of the Week: HIVE
---
Monkfish and honey? You better bee-lieve it
Our restaurant of the week is HIVE, Selfridges' ode to all things honey.
Restaurant Review: HIVE
Of all the eco-conscious eateries in London, HIVE might be the sweetest. Tucked away on the third floor of Selfridges, this concept restaurant founded by entrepreneur and 'honey expert' Khalid Samata is a love-letter to nature's nectar. In a bid to educate diners about the importance of bees, they've not only managed to incorporate honey into almost every item on the menu – they've also rehomed 100,000 western bees, which can be seen buzzing around their hives on the department store roof. So if you like your food with a side of conservation, you're in for a treat.
Designed to feel like a hive – think glowing gold walls, floral bouquets and even the odd bronze bee – the restaurant is a comfortable nook to take shelter in mid-shop. Yellow Selfridges bags pair beautifully with the colour palette, and its the perfect spot for an Instagramable brunch or a late afternoon bite. Out on your own but fancy something sweet? Glass walls make this a great place for people watching, so you can observe passing shoppers from your table-for-one.
Whether you're on your own or with friends, kick things off with a honey infused cocktail. There's fresh mimosas and the Beesou Spritz (made from grapefruit, prosecco and honey liquor) for daytime pitstops. Or if you're flustered from running around Selfridges and fancy something stronger, the tequila-based Heather High Ball will get you buzzed, and the Old Buckwheat Fashioned has a sting in its tail.
Dishes range from afternoon tea style cheese and pastries to fine dining scallops and beef fillet, all with one thing in common. You guessed it – honey. While some pairings are obvious – baked St. Marcellin Cheese with mountain honey and truffle oil is a match made in heaven – others might raise eyebrows. Does monkfish really go with rosemary honey? You better bee-lieve it. If the cheese and honey pairing afternoon tea isn't experimental enough for you this light fish dish is perfect for a luxury lunch, as is the cornfed roast chicken in honey sauce or – for veggies – 'Meli Melo' of seasonal garden vegetables. Pair with oysters, saffron octopus and honey mash (which is even better than it sounds) for a truly indulgent afternoon tea.
If you're still craving something sweet, then you're in luck – HIVE has a head-turning desert menu. The flagship signature is a shell in the shape of a mini yellow hive which you crack open to reveal refreshing pear and ginger. But it's the crème brûlée – laced with lavender honey – which is the real bees knees. Alternatively, ask your waiter to sample a selection of their finest honeycomb, or take home a jar for later.
It may not be the only eatery in Selfridges, and it certainly isn't the cheapest. But HIVE's eco-conscious mission, sincere love of honey, and utterly indulgent menu make it that little bit more special. Saving the bees has never been more delicious.
BOOK
hiverestaurant.uk | [email protected] | 020 7318 4173  
MORE RESTAURANT OF THE WEEK: