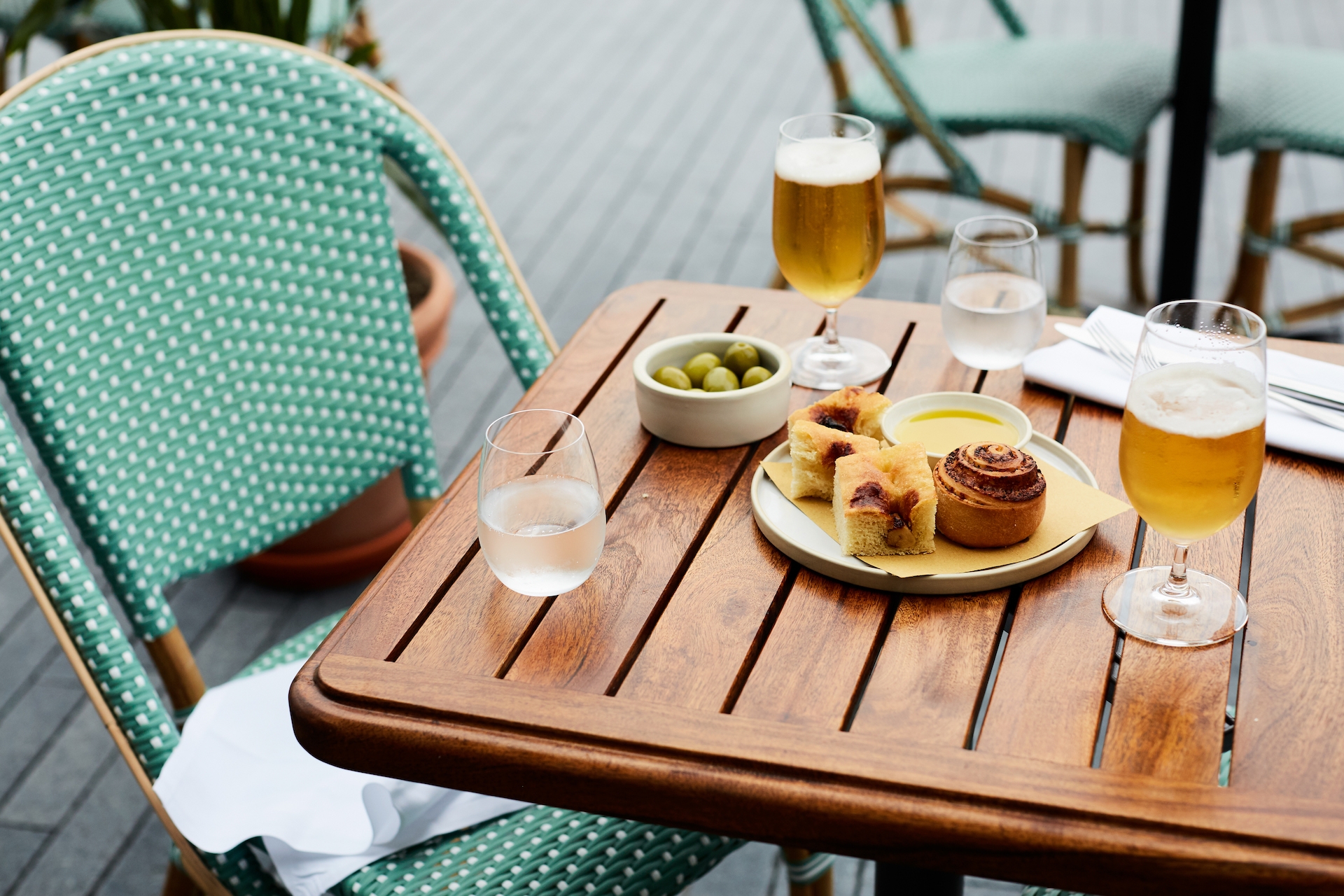 Restaurant of the Week: Tavolino
Taking in the views from its new Sicilian terrace
Our restaurant of the week is Tavolino, and its new Sicilian terrace with fantastic views over the Thames. 
Restaurant of the Week: Tavolino
London's bars, restaurants and cafes are feeling distinctly European at the moment, thanks to all the al fresco tables, terraces and gardens that have popped up due to Covid restrictions – and I, for one, am enjoying it (or I will be, once warmer summer evenings properly arrive). It was with excitement, then, that I skipped down to Tower Bridge to try Tavolino's new Sicilian terrace.
In terms of London's new al fresco offering, it doesn't get much better than this: Tavolino is perched on the very edge of the Thames, with panoramic views of Tower Bridge, the Tower of London and the Gherkin. Its terrace is filled with teal and cream-checked wicker chairs and dotted with olive trees – with the sun shining, you could practically be in Sicily itself (well… almost).
It's a real step up from the usual tourist offering around Tower Bridge, and indicative of the new, foodie-friendly direction this area is headed towards (Restaurant Story, Brigade, and Gunpowder are also in this postcode). In fact, this is somewhere that actual, real life Londoners will love – and that's saying something.
Tavolino only opened last summer, and is helmed by Louis Korovilas, the former head chef of Bancone pasta bars in Covent Garden and Golden Square. Fresh pasta, then, is at the heart of Tavolino's menu, as well as inventive takes on classic Sicilian flavours, and the olive oil that is produced on the island.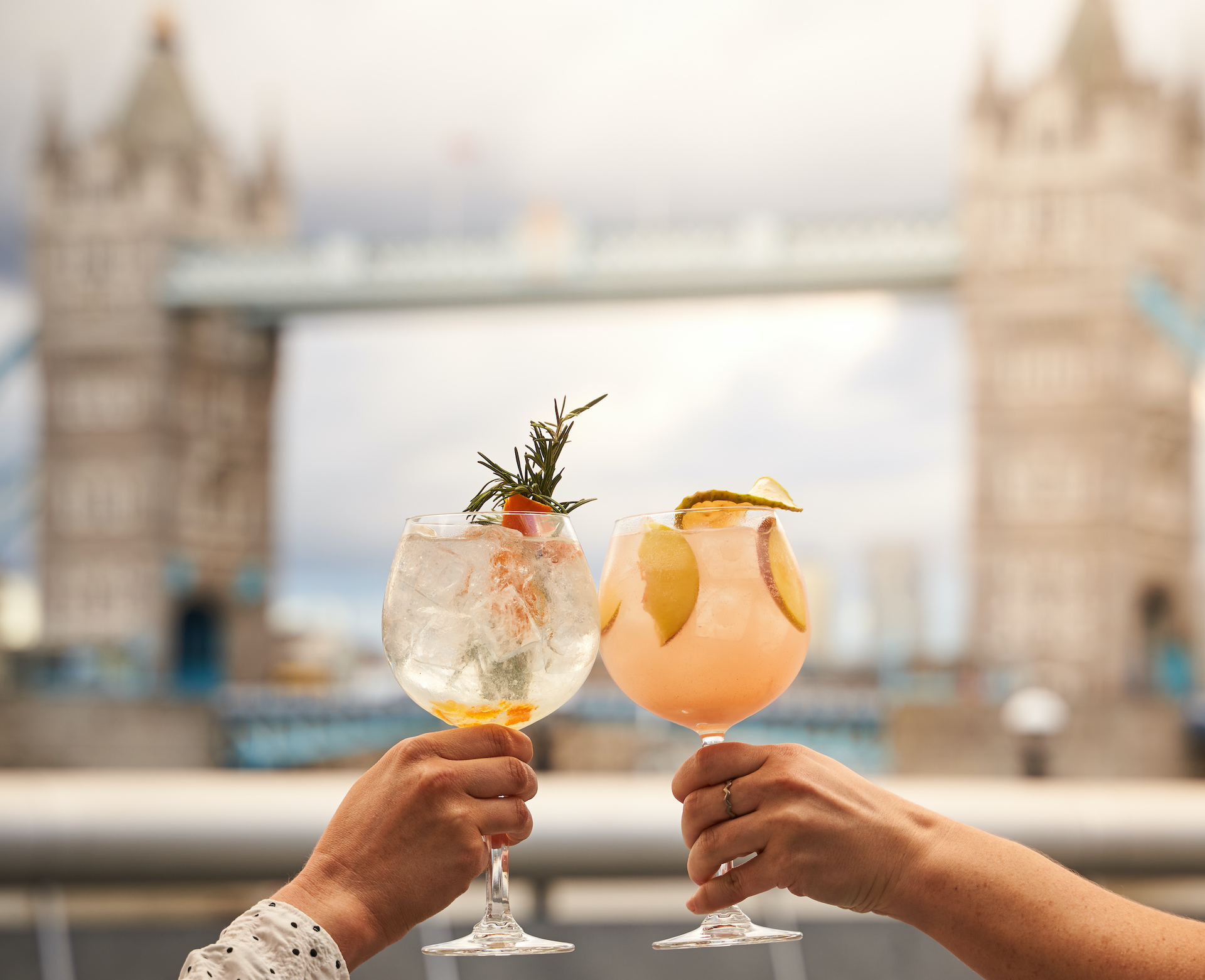 'When I was at Planeta [a winery and olive oil estate in Sicily], I was fortunate enough to see the amazing olive oil harvest and production first-hand,' explains Louis. 'They take so much care through every part of the process and it shows through the flavour profile of their oil – it really inspired me to create a menu centred around this. I've always been drawn to Sicilian food throughout my career, their use of nuts, sultanas, spices and wild fennel is something that's not usually found in Italian food across the regions.'
Thus, our starter of burrata came with a spicy, aromatic pile of Sicilian caponata, a vegetable stew of aubergine, courgette, onions, olives, raisins and capers. This also accompanied the dish of meaty, succulent roast fennel, which was served with a zesty pesto relish, and hunks of focaccia to dip in that famous olive oil. A steaming pile of crisp zucchini fritti finished off our first course, washed down by cocktails from the extensive, original bar menu.
Choose from three negronis, a selection of spritzes (the Green Garden, with Ketel One cucumber and mint vodka, makes a palette-cleansing start to your meal) or some classic cocktails to wash it down with, like the spicy Piccante with Ocho blanco tequila and chilli, or the refreshing Pepino, with Colonol Fox gin, lime and cucumber.
For the main course, the menu boasts sourdough pizzas with toppings like roasted red pepper and pine nuts, or San Daniele prosciutto, artichokes and walnuts, plus delicious secondi dishes of 'nduja glazed chicken breast, mascarpone, olives and hot red pepper sauce. However, given Louis's doughy credentials, for me it had to be pasta: his signature silk handkerchiefs with moreish walnut butter and egg yolk to be exact, which also star on Bancone's menu. Plus, the green pea gnocchi with Brunet goat's cheese and crispy pancetta sounded too good to turn down.
If you've got room after all the Italian carbs (the best kind of carbs, in my opinion), then the chocolate and chestnut mousse, and Amaretto panna cotta with scorched citrus and mandarin are very highly rated. We, however, only had room to sit back and enjoy those beautiful al fresco views as the sun went down. I'll be returning with my friends, for Tavolino has this Londoner's seal of approval.
HOW TO BOOK:
Email [email protected] or phone 020 8194 1037. tavolino.co.uk
MORE RESTAURANTS OF THE WEEK:
The Garden at the Corinthia London / Arenella at the Chapel