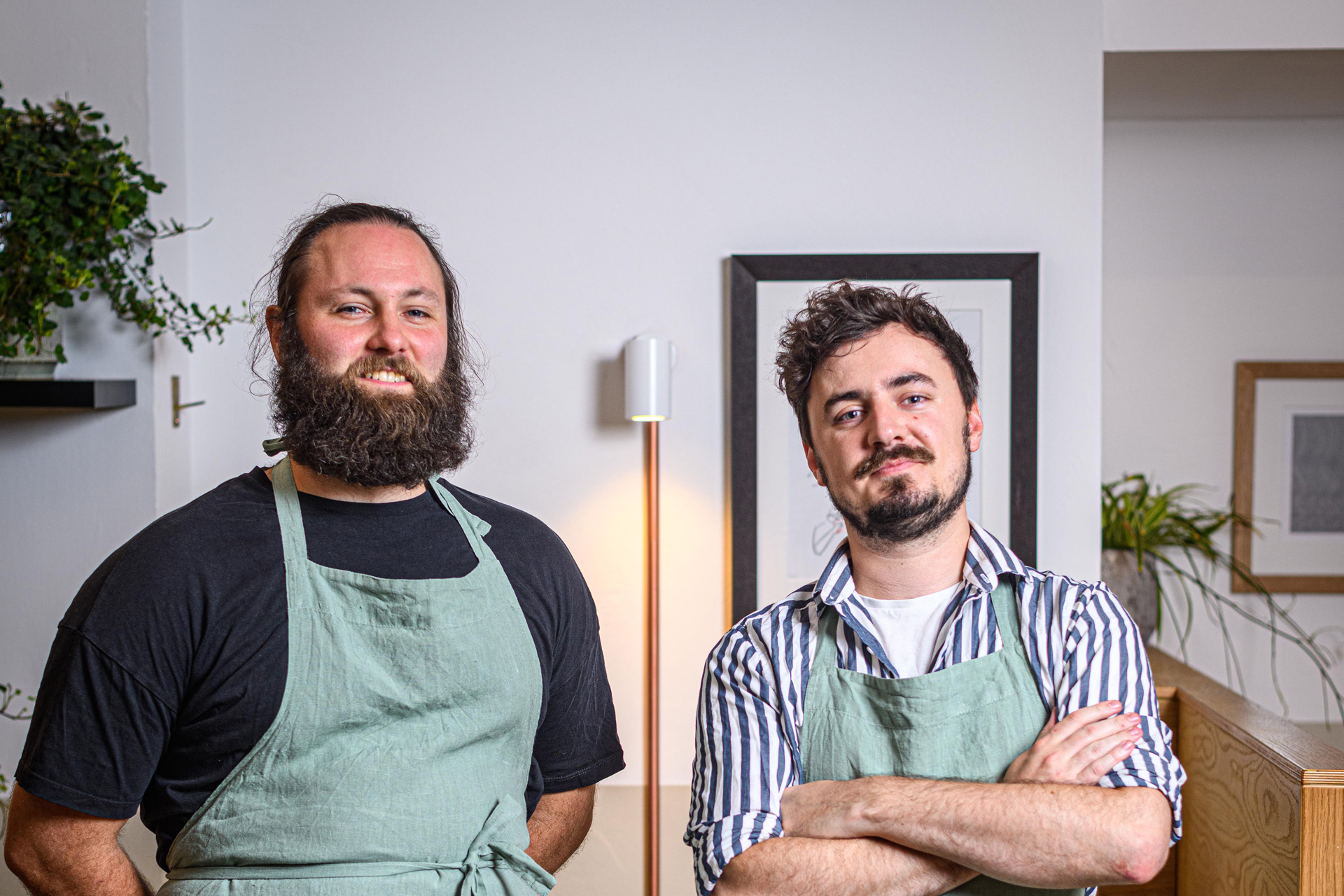 How Do You Turn A Supper Club Into A Restaurant? In Conversation with Retan (+ Recipe)
Cameron Dewar, Josh Dallaway, and a wholesome Pot-au-Feu from Sunday's leftovers recipe
In a city boasting a vibrant culinary scene – a city brimming with ambitious chefs – it's tricky to set yourself apart from the pack. And, with so much always going on, what's to distinguish one pop-up from the next? From Peckham Cellars to Legare, The Great Gun Social and now to Louie Louie in Kennington, Retan is making a name for itself across London. Olivia Emily chatted to the sommelier and chef duo behind the pop-up, Cameron Dewar and Josh Dallaway, to talk all things food and making the transition from pop-up to permanent restaurant. Plus: Josh shares his Pot-au-Feu recipe, made with Sunday's leftovers.
Interview with Retan's Cameron Dewar and Josh Dallaway
Retan has community and creativity at its heart. Over at Kennington's Louie Louie – the duo's longest pop-up to date, running for three months until 23 December – the French-leaning a la carte menu has been carefully curated by Josh. On Tuesdays, a regularly changing Hot Pot menu allows guests to choose between one of two hearty mains that keep waste at a minimum, and priced at only £12.50. (Think Sussex courgette chasseur, or braised Herdwick lamb shoulder.) The duo is keen to find a permanent home in 2023. But how to go about this?
Hi Cameron, hi Josh. Tell us about Retan: how did it start?
Josh and I have worked together at various restaurants over the years – that's how we initially got to know each other. We share a similar ethos, so the beginnings of Retan came together organically by just talking about the industry over a few boozy lunches: what we appreciated, and things we were tired of seeing. These chats turned into more business-related ideas, and one day we decided to give it a go – with a lazy Sunday lunch serving friends in hospitality. We didn't have a name at this point or any concrete business plans. A few more events under our belts, and the idea became a fully formed supper club that we are now proud to put our names to. We found the name Retan one night – it means 'to cheer and gladden others with food and drink'. Thus our pop up name and future restaurant brand was born. 
What led you down the supper club route rather than going ahead with a traditional restaurant?
It was simple at first: taking over friends' restaurants for one off dinners. We had plans to take it around Europe, but then Covid struck and we had to rethink. We found that the supper club allowed us freedom to test our ideas, and it was also an opportunity to lay the foundations of Retan. There is a sense of flexibility to supper clubs – you're still free to grow and develop from venue to venue. 
How did the two of you meet?
We originally met at a friends' house party after the closing night of L.C at Climpson's Arch [Spanish chef Leandro Carreira's residency at the Hackney restaurant]. We then went on to work a few shifts together looking after Sager & Wilde. 
Which is your favourite pop-up that you've run so far?
A Pet Nat Posse event with our dear friend Stefano at Peckham Cellars, which was really successful. 
Which is your most memorable pop-up shift and why?
We would also have to say the Pet Nat Posse event. We turned up to a fully booked lunch with our other chef and kitchen porter cancelling that morning. Two on the floor and just one in the kitchen serving 72 people at the same time – six snacks, followed by three courses. We certainly earned our money that day.
Do you have any unique rituals when planning a menu together?
Seasonality is always key. We love to try and focus on one supplier or a certain ingredient, and we then like to extract as much flavour as possible using a variety of techniques. We are hugely proud of the relationships we have built with our suppliers, and this is very much the key to our food offering. The same care is given to the wine list: we have offered wine pairings at a few of our dinners, championing one specific producer. 
You are looking to find a permanent restaurant in 2023 – what motivates you to shift from pop-up to permanent?
Retan is now a fully established product; we feel confident in what we offer, and believe it's ready – whether it be the food, the wine, or the deliverability of all of it. Creating an environment where we can do this day in, day out has been a dream of ours for a long time. We think the time is now to make that a reality.
Where is your dream destination to have a restaurant?
Our menu is inspired by Parisian bistros – it's prominent part of the Retan brand. That being said, the UK – and London specifically – is our home, so we plan on sticking to the capital.
Josh, have you always wanted to be a chef?
As a young boy I actually wanted to be a footballer (classic). Realising I would never fit that path, food quickly became my calling. I've always loved cooking and eating, and my family has also played a significant role in this. I've always been obsessed with eating out, and am inspired by great home cooking. I didn't grow up on ready meals – everything my family cooked has been from scratch. Throughout my teens, this love for food became a real obsession, and I didn't look back. 
What is your favourite ingredient to cook with?
I go through phases, but one I always come back to is coffee. I love using it in savoury and sweet dishes, infused into oils or purees. It adds such a great warmth and toastiness that really can bring ingredients to life. It also works amazingly infused into vinegar. I recently used a coffee vinegar to make a jelly that would cut through the richness of a pumpkin tiramisu. 
What is your favourite restaurant in London? And your favourite in the world?
I couldn't narrow it down to just one in London, but the top three I can do: Perilla, Kiln, and Ikoyi. In the world, Septime is hands down my favourite restaurant of all time, and a huge inspiration for us at Retan.
What is your top piece of sustainable food advice?
Don't use a bin when you're cooking: keep a little container or bowl next to your chopping board and put your scraps in there. Before throwing away, have a look through it and see what you're left with, and think about whether you can use it in any way. It's amazing how creative you can actually be when you take a step back and think. 
And Cameron: have you always wanted to be a sommelier? 
Wine didn't come naturally to me; my family wasn't particularly into wine or restaurants. I grew up in a large family: seven of us, including my parents. Mealtimes were the rare occasion we were all together, and I guess that's what originally got me into the restaurant game – sharing time with the people you love. Once I got started, I just wanted to be the best: to work at the best places, and travel the world. Service and looking after people came naturally to me, but wine was a new frontier that allowed me to bring more to the table for both the business and my guests. I've always seen the primary role as taking the best care of my guests, and the more knowledge I had the better I could do it.
Which is your favourite wine to drink on its own?
Classe by Jeff Coutelou would be my favourite wine on its own. It's not an expensive wine, but I love that it's humble. Jeff is a cult, natural wine legend. His wines are hard to find, but he doesn't charge more just because he can, and they are full of personality and depth. I once ordered a glass for my brother, and it changed his idea of what a wine could be as it evolved in the glass across a two hour lunch. 
And what is your favourite wine-dish pairing?
One of my favourite pairings would have to be Northern Rhone Syrah with game bird. The meaty richness of pigeon against the opulent perfume of the wine draws you in, with the acidity holding it together, keeping you wanting more.
What is your favourite restaurant in London? And your favourite in the world?
My favourite London restaurant is tough, but I'll say Brawn. It's the elevated neighbourhood style that I love. Great wine list. Interesting but comforting food. In the world, it's Burnt Ends in Singapore. If you haven't been, go. It's epic!
What is your top piece of sustainable wine advice?
We're going to have to get used to the idea that good wine comes in formats other than a glass bottle, and that it is not bad for quality. A lot of smart, responsible wine makers are using bag in box to reduce waste, packaging, weight on travel, and production costs. The more the market accepts it, the more it can be produced. Also, a simple one: always buy organic or better. It doesn't have to be certified, but we need to make it the norm.
Recipe: Josh Dallaway's Pot-au-Feu from Sundays Leftovers
As a chef, I am always looking for ways to reduce waste. Family meals at the restaurant are a big part of our day-to-day life, so I'm working on dishes like this frequently. When developing these meals, I have to look for inventive methods for reducing waste in a savvy and pocket saving way. 
This thought process works well for families at home for the same reasons. While you're cooking at home, keep a bowl next to you and fill it with any scraps that you would otherwise discard and consider how you could incorporate them into your meals that week. For example, keeping veg peelings to bake in the oven and lightly salt for a quick afternoon snack. Reserve your citrus peels too: soak them overnight in water and honey for a great morning detox drink. You'll be amazed by what you could be using instead of throwing it away.
This recipe for Pot-au-Feu is synonymous with French family cuisine, and although a great dish in it's own right made from scratch, it is the perfect way to create a quick and easy, early week supper using up those Sunday lunch leftovers. It basically consists of a broth with braised meat and vegetables (there are no rules here, it can be anything).
Below is a recipe using roast chicken as an example, but pork, beef or lamb would work equally as well. A combination of meats is even better.
Ingredients
1 leftover chicken

Roasted veg (carrots, potatoes, leeks, swede etc)

Gravy

4 litres water

1 garlic bulb cut in half

1 red onion, peeled and cut into eighths

2 sprigs rosemary

2 sprigs thyme
Method
Remove all the meat off the chicken carcass and set aside. 

Place the bones into a large pan with the water, garlic cloves, onions, rosemary and thyme. 

Bring to a light simmer and cook for 45 minutes. 

Strain this liquid into another pan and add the remaining chicken pieces, all the vegetables and the leftover gravy.

Bring to a simmer and cook for a further 30 minutes – enough to flavour the broth but not to cook the vegetables and chicken into mush. 

Season with salt and fresh black pepper accordingly, and serve the chunky broth with some good sourdough bread for a hearty, basically free Monday dinner.
Featured image (c) Nicc Rilly