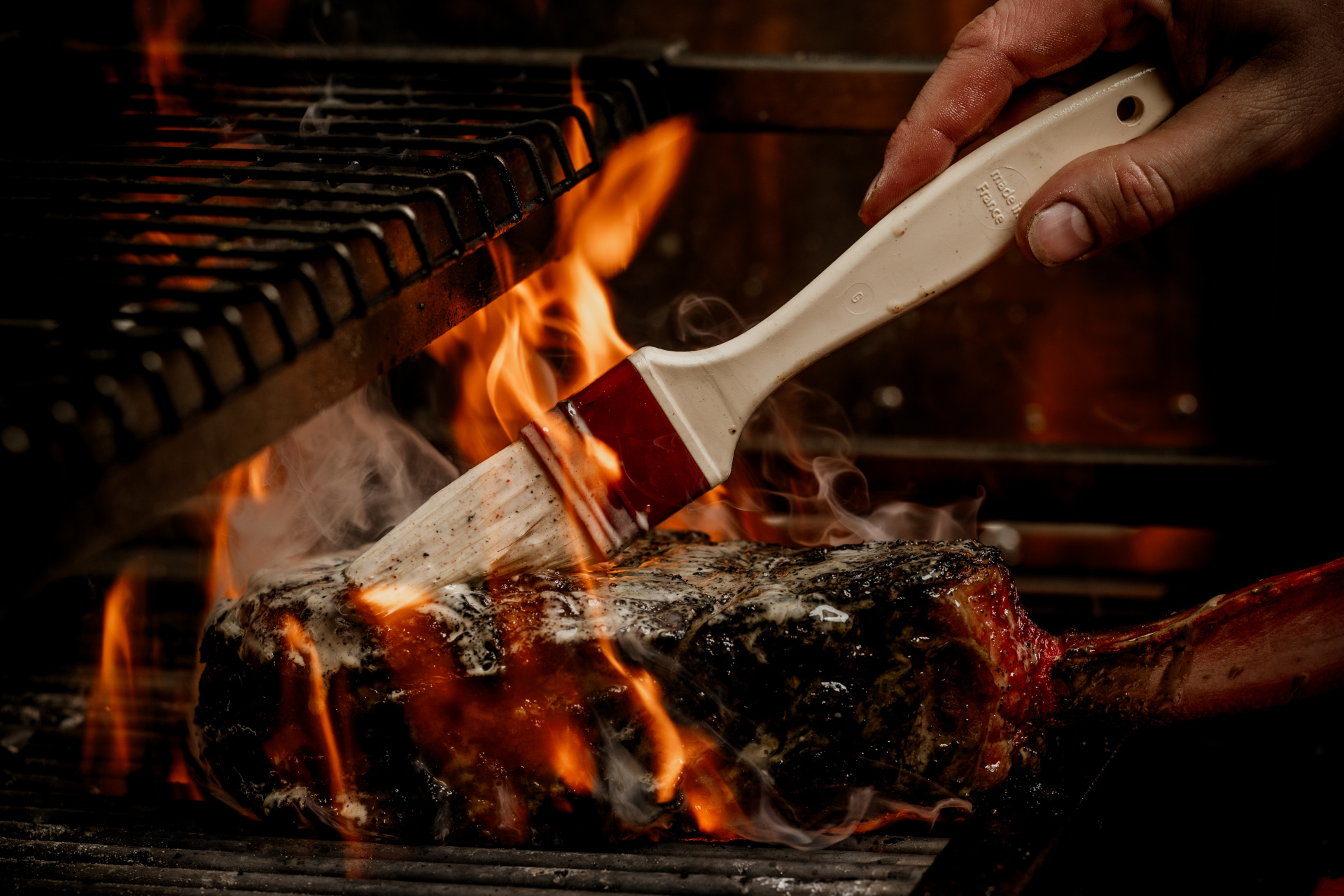 Restaurant Of The Week: BÓHA London, Chelsea
This new opening is set to be a hit
Craving a taste of home on one uncommonly warm October weekend, we headed down to the newly opened BÓHA London for Irish-British fusion feasting. Read on for our review.
Review: BÓHA London
It's no secret that Londoners are rather spoilt for choice when it comes to dining. With new restaurants popping up in the capital daily, it's become quite a big task to unearth the city's unsung gems – but with BÓHA London, we think we've come pretty close.
A new opening on Kings Road, BÓHA London is a brand new opening spearheading elevated Irish and British fusion cuisine. Nestled on the edge of Chelsea (just a few steps away from Fulham), the restaurant is just a short walk from the station – making it an ideal location for post-work drinks and late night dining.
In looks, the restaurant appears to be an ode to biophilic dining, with potted plants dotted across its sage green exterior and trailing vines hanging from the rafters and draped over woven lamps inside. The ground floor, which is home to the restaurant, oozes laid-back charm with cosy padded booths and wicker chairs (all decked out in a plush multitude of cushions) lit softly in golden light. It's also here that the kitchen thrives, with just a long window presenting the only barrier between chefs and diners (and offering a great view of dishes being prepared).
At the helm in the kitchen is Executive Chef Anthony Fletcher, who has worked within multiple Michelin-starred establishments with Gordon Ramsay Restaurants as well as some of Hong Kong's top restaurants. He's joined by Head Chef Samuel McClurkin, who has previously worked at the likes of Kathton House at The Tyler's Kiln in Canterbury and Tom Kerridge's The Hand & Flowers in Marlow.
Knowing that our meal would sit firmly in safe hands, we gladly made our way into BÓHA London and watched as the chefs behind the window busily prepared the day's orders.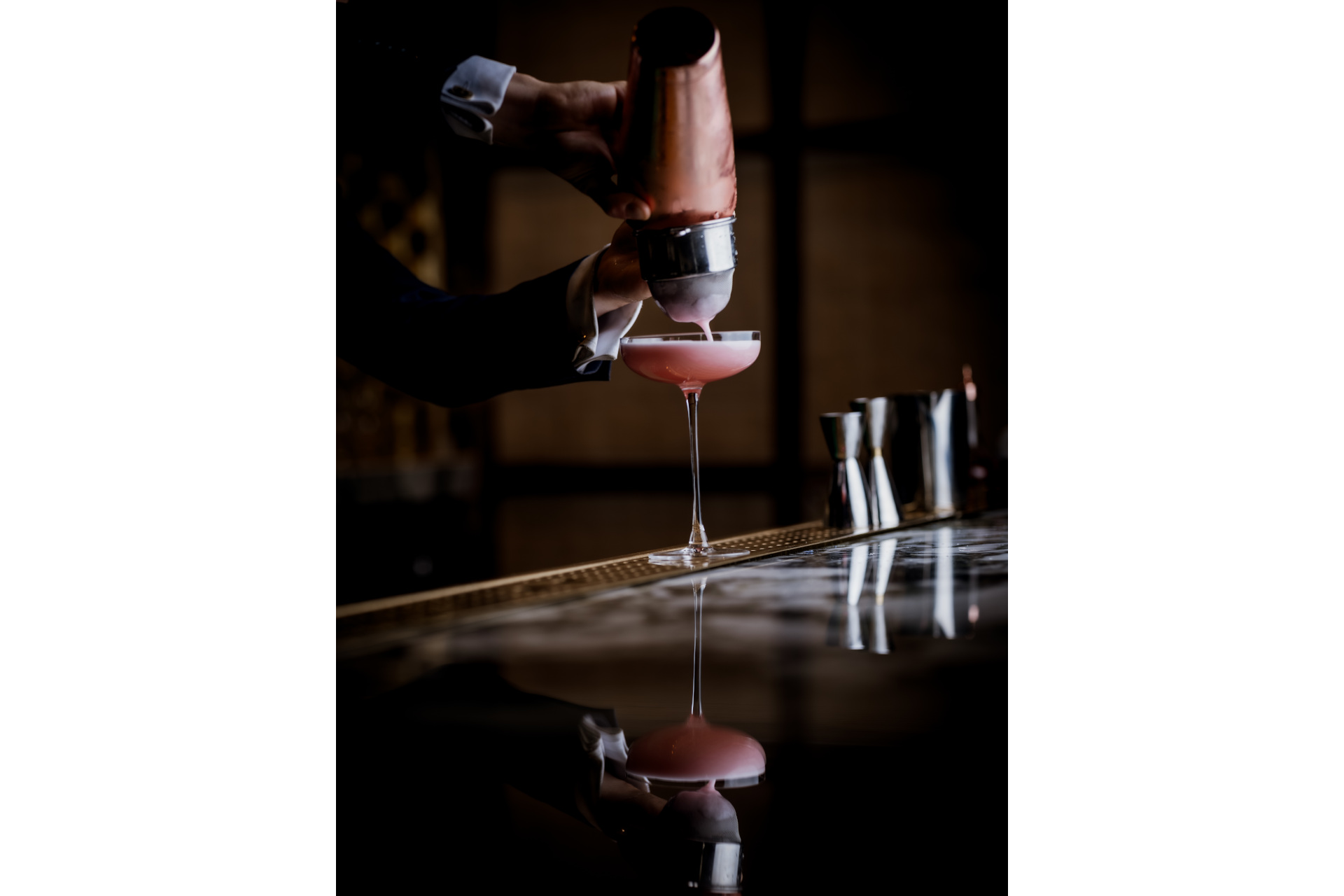 As is customary for any Irish or British dining experience, we kicked things off with a good drink. Behind the bar sat a team of master mixologists, who were primed to prepare a selection of signature and vintage cocktails for patrons. A highlight on the menu is the BÓHA classic spiced Old Fashioned, which comes with a show as the cocktail is made tableside by an in-house mixologist using rare single malt The Taoscán. But if you'd prefer a quieter affair, we promise that signature cocktail Little Beautiful (The Botanist, RinQuinQuin, peach, lemon and Laurent Perrier la Cuvee) is just as delicious.
With cocktails in hand, all that was left to do was pick out dinner. The A La Carte menu is split into four sections, with a separate add-on for sides: Amh & Beag (raw and snacks), Glasraí & Níos mó (vegetables and more), Don Tábla (for the table) and Síniú (the restaurant's signature dry aged locker). Dishes can be sent to the table all in one go, or follow a more familiar 'snacks, starters, mains' format – the latter of which we greatly recommend if you're planning on ordering from every section.
The snacks are best led with BÓHA's bread and butter selection, which entails warm breads (focaccia, sourdough and a dark, malty loaf) and flavoured butters. We then got stuck into the foraged mushroom toast, which was served in a deep glass with whipped cauliflower and truffle for a hit of salty earthiness. This part of the menu is also where you can find raw delicacies, such as Achill Irish oysters, foie gras parfait and plenty of caviar, if it takes your fancy.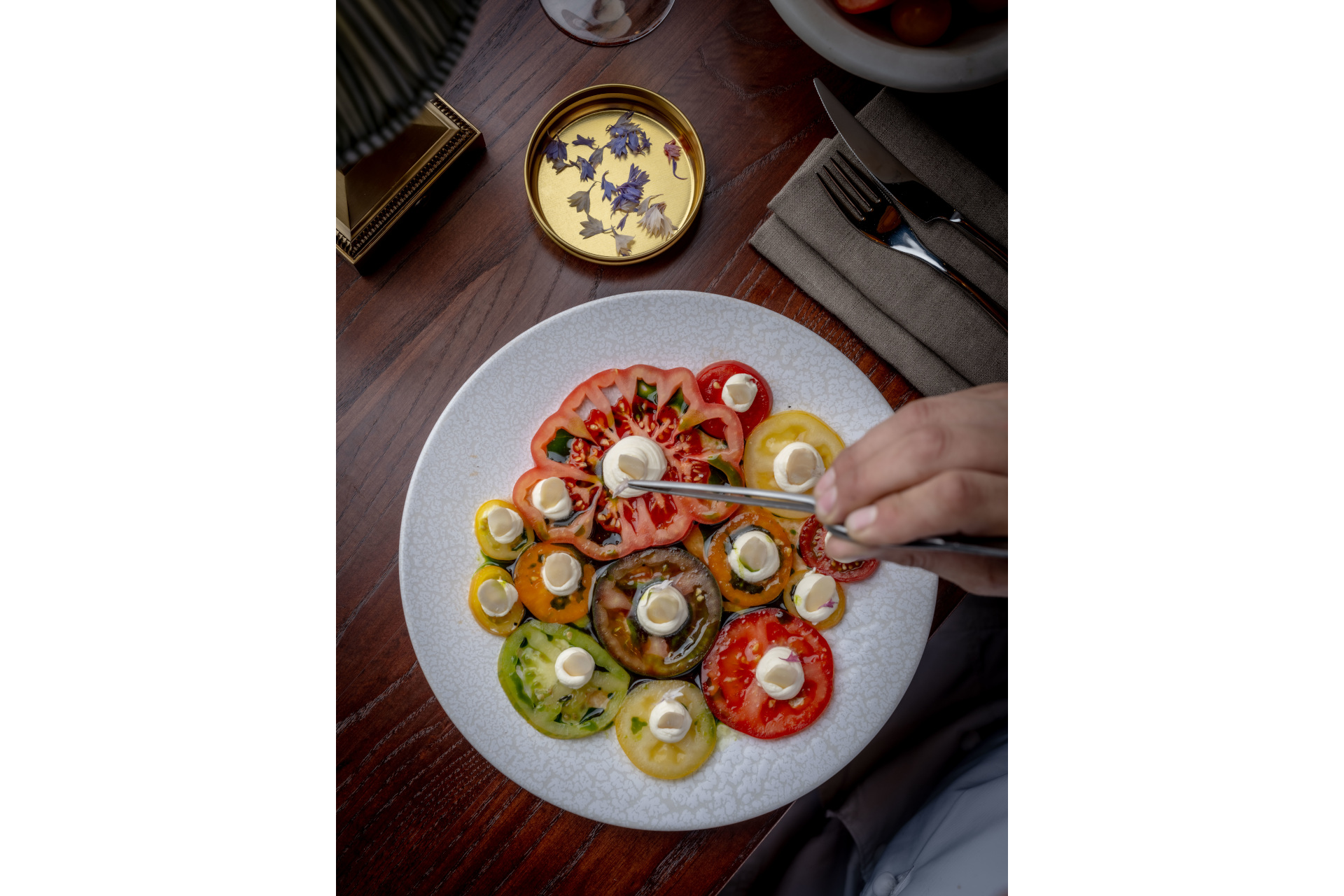 It's then time to make our way through the menu's 'vegetables and more' offering. Our standouts from this section included the late harvest tomatoes dressed in sherry vinegar and basil oil – a lighter bite and refreshing palate cleanser – alongside the hispi cabbage served up with dry aged bacon (deliciously salty) and beef dripping. Both are incredibly moreish, so in order to save space for the next few courses it's worth sharing with these dishes with the table.
Speaking of sharing, the menu's 'for the table' section is definitely worth lingering on before making your way over to the steak selection. We opted for the honey-glazed chicken (reminiscent of summer afternoons, this one's a perfect match for anyone with a love of BBQ), but there's also a take on the classic fish and chips as well as market fish on offer.
And then for the dish we were perhaps the most excited for: the steak. 'The most important thing about cooking a great steak is the quality of the beef,' Anthony tells us as dishes are dropped off at our table. 'We source ours from Ireland; it's Wagyu beef, and that is beautiful beef that's grass-fed for 18 months and then fed on chocolate and barley for the last six months.'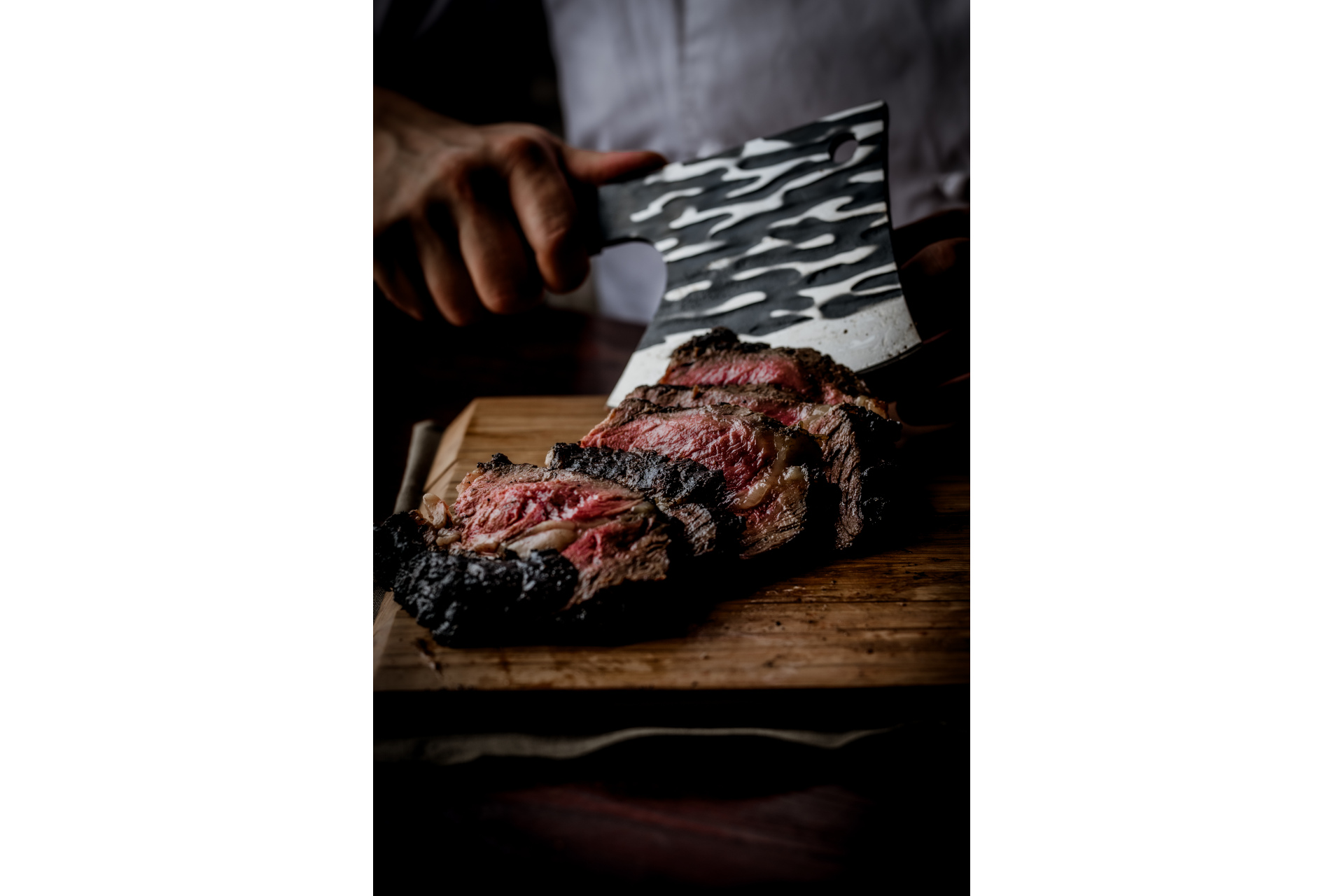 Our cut of sirloin, which was taken from the glass-front fridge located on the main restaurant floor, followed the same preparation process Anthony and his team of chefs use to cook all of their steaks: once brought to room temperature, the cut of meat is brushed lightly with oil, seasoned with a blend of garlic, salt and pepper and soaked in whiskey before being thrown onto the grill for some smokiness. While it's cooking, the chefs brush the steak with the restaurant's signature white barbecue sauce to create a good bark. The result is a beautifully tender cut of meat with a crisp, salty outer layer – and the perfect pairing for a glass of wine and veggie side dishes.
And while we say 'side dishes', BÓHA's are anything but an add-on. Stars in their own right, they're packed with enough flavour to generously complement the cuts of meat and fish available without overpowering them. We'd recommend pairing the burnt leeks topped with creamy Cornish yarg with the steak, while loading up on the chicken salt fries if your heart lies with the (you guessed it) chicken.
Round off your culinary journey with a sweet treat (or a spread of British Isles cheeses, your choice). If there's any dessert you end up trying at BÓHA London, make sure it's the Irish Lady. A take on the classic tiramisu, this softer rendition brings together whipped Irish cream, mascarpone, dark chocolate, caramel and a light splash of espresso liqueur for a creamy pudding that you'll have trouble sharing with anyone else at the table.
If you still have the energy to move after such a feast, then make sure to bound down the stairs to BÓHA's speakeasy bar – where you can grab a few more expertly crafted cocktails and dance the rest of the night away in good company.
The Final Word
When it comes to food, Britain is a melting pot of cultures and flavours. With its fresh dishes and elevated yet homely classics, BÓHA London presents a masterclass in showcasing the best of the British Isles. We'll be planning our next visit very soon.
BOOK
Images courtesy of BÓHA London