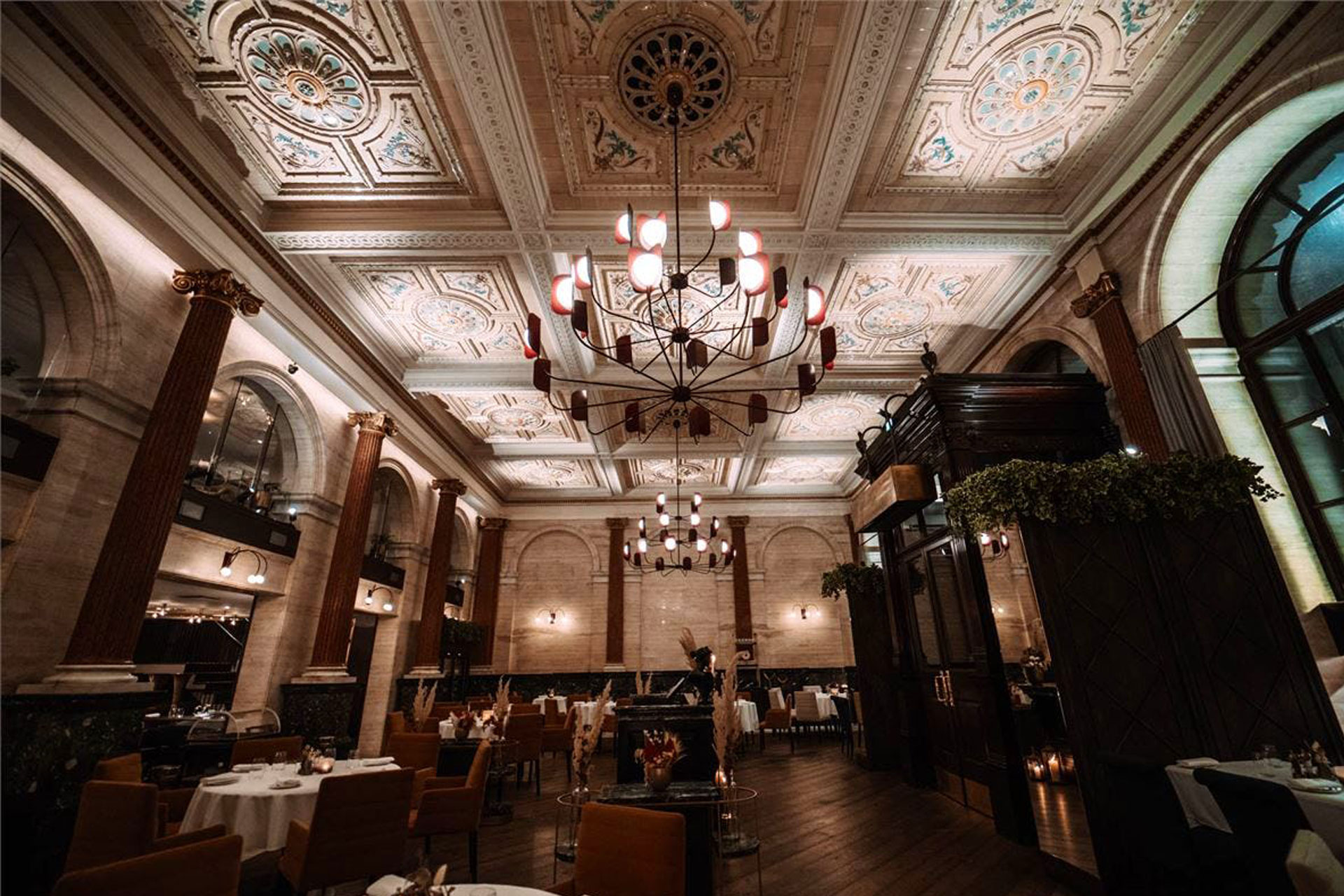 Review: Piazza Italiana – Seasonal Italian Food Handled With Dollops Of Care
---
An unexpectedly charming restaurant with palatial interiors to take your breath away – and a great seasonal menu. Tessa Dunthorne thinks you should travel to the City to try Piazza Italiana.
Review: Piazza Italiana
I admit I was not sure what to expect from a restaurant located in the financial centre of London. I think I expected bankers bouncing banter, food that sank into the background in favour of handshake sealed contracts, and a grey wall for atmosphere. 
Piazza Italiana was decidedly not that.
You'll be immediately impressed by the opulence of the space – an easy word to throw out about well-dressed buildings, but seriously applicable here. Previously the home of the British Linen Bank, the Threadneedle Street restaurant presents a grand sight with its architecture – landing somewhere in between the aesthetic of old Moscow palace and Néo-Grec tribute – with its lofty ceilings, gilded columns and marbled walls. I'm genuinely quite staggered by the details in the space, and I'm cranking my neck to soak in each element. You'll also struggle to completely watch where you're going as you're led to your table because of this (so be careful not to bump into other diners). 
Piazza Italiana doesn't reinvent the wheel when it comes to its menu, but there is so much care apparent and bites of personality in each dish. It serves up seasonal Italian dishes, with picture-perfect plating. The seabass carpaccio, for example, is a beautiful spread of shallots, chives, dressing and herbs – but the shallots are pickled and they opt for a gorgeous grainy fleur de sel, all in all offering a slightly different spin on a dish you might've tried a thousand times before. It's all quite subtle, but it's there, and the individual ingredients are handled with such care. I enjoy a linguine al frutti di mare for my main, the pasta perfectly al denté – nothing slap-dash here. I was particularly enamoured by my starter, which was the perfect kind of burrata (the type you slice open and gut) with meaty tomatoes and a sugary-sweet balsamic glaze.  
It's the details, then, which stand out to me, whether it's the architecture and interior design, or the service and food. In regards to service, you're given dollops of attention without fanfare to advise on exactly what to eat, what to drink, and any other question you might have about the space and its history. At one point on a snoop around the space, I spy two of the team dancing, spinning each other in a sort-of salsa, and it makes me smile; it's very clear that there's a team here who really love and care about this restaurant. We're told that it will never be Michelin, 'obviously, because of the kind of restaurant it is, where it is', but that they all believe there's room to do something truly great with Piazza Italiana. I think they're right.
FINAL WORD
Piazza Italiana is a well-dressed restaurant in the heart of the city. And it's (shockingly) not filled to the brim with finance types. Of course, if you are a finance type, this would be a pretty impressive place to take your client to lunch to talk shop. For everyone else, this is a strong eatery worth heading into the City for.
BOOK IT: Main courses begin from £19, 38 Threadneedle St, London EC2R 8AY, piazzaitaliana.co.uk