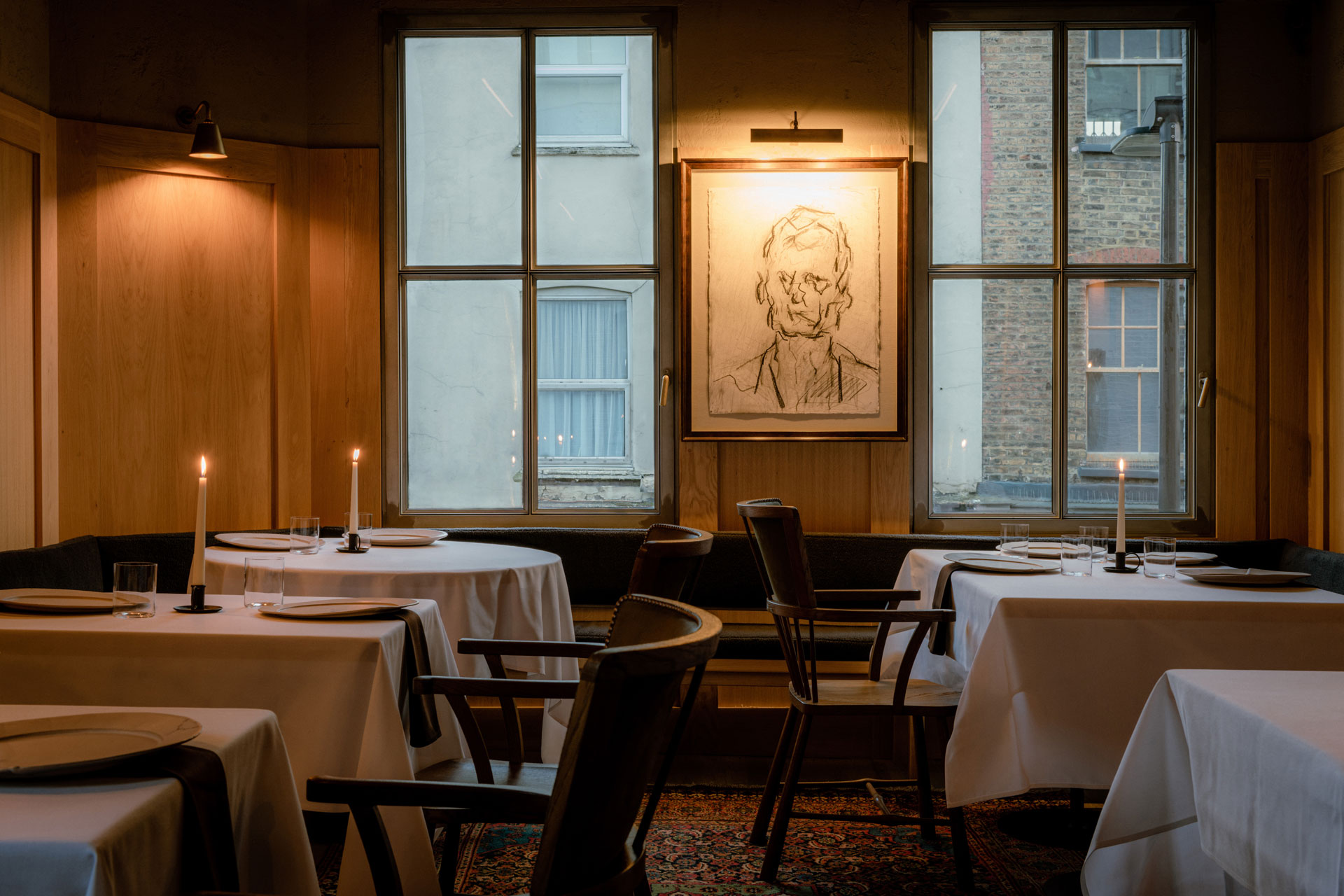 Restaurant Review: Cycene, Shoreditch
---
Home fermented kombucha with poached oysters? Very grown-up.
Theo Clench's new open at the Blue Mountain School, Cycene, is a masterful display of culinary creativity. Trust us and opt for the half-half pairing menu (your liver and your stomach will thank you later).
Restaurant Review: Cycene, Shoreditch
You'd be forgiven for thinking you were lost, as you make your way to Cycene. Located on a side street – quiet and unassuming, despite being a turn from the bustle of Shoreditch and its hip pubs, clubs and shops –  and housed in the Blue Mountain School, your only clue that you've made it is the lit up sign hidden in a window by the tiny door. Buzz to get in, and prepare: you're about to be swept into an evening-long hedonistic journey. 
Cycene is a new open spearheaded by talented exec chef, Theo Clench. Theo's culinary CV is impressive: from African fine-dining at Akoko, to the Michelin accoladed Trinity, and more. Cycene, no doubt, will become another yet-again-impressive name he can list off. What Cycene offers is a real chance for the chef to experiment and flex; Theo takes full advantage of home-fermented sauces, drizzles and drinks to present a truly creative (but ultimately tightly focused) tasting menu.
Expect to get your hands dirty throughout the ten-course menu. You begin in the bar, handed a fresh steamy towel alongside an expertly prepared cocktail. This is your first clue that the food and drink you'll be eating and imbibing tonight is at the far end of ultra creative: a butter Old-Fashioned peeks out from the menu. It's worth the go – gentle and surprisingly nutty, it proves a hit even with those who don't consider themselves whisky fans (and I include myself in that category). And that towel will come in handy with the first course, served moments after your aperitif. No knives and forks for the moreish broth and bread, presented with a selection of the house butters, all infused with some daring tasty flavour. If you eat meat, it'll be a brilliant bone broth – for those who are enjoying the pescetarian menu (Cycene cannot cater to vegetarians), it'll be the rich mushroom version. Drink straight from the bowl, the towel your dining companion.
From there, it's up to the main dining room, a stripped-back, warm and wooden room. The main feature of this space? The spectacle on your plate – not to mention an impressive central sketch by Frank Auberbach, artistic fellow of Lucien Freud and Francis Bacon. The Blue Mountain School is also pretty well known as a design centre, so the easy atmosphere achieved by the space is hardly surprising. It's tiny, intimate, and houses only 16 covers a night; a candle burns in a stick throughout the evening, marking the passage of time unobtrusively. This feels sexy, and achieves it without gimmick. 
The onslaught of food means you will lose track of how much you've eaten, but each dish still manages the feat of being memorable. But there are particular standouts: a poached oyster drizzled with cucumber sauce, paired with a cucumber-based concoction, using up what would have otherwise been food waste – this is eaten in the kitchen, with Theo personally explaining his process to making it (a short while in boiling water, creating an exciting bite that most people won't expect from an oyster). It's like nothing I've tried before. Then it's a scallop, grabbed off the pan moments after a quick fry, the timing crucial in allowing it to 'unclench' and tenderise. Texture is playful with these dishes, and this is where you can really spot Theo's skill as exec chef. 
In terms of drink, the restaurant offers up a full wine pairing to the tasting menu – but you'd be doing yourself a disservice if you don't try the half-half pairing. Carefully marrying booze and soft drinks, you'll try anything from the easy-to-quaff Domaine Nowack Sans Année champagne to home fermented kombucha. A milk with honey at the very end is easily the showstopper beverage, a tiny nostalgic call back to childhood. 
Final Word
Go for the half-half pairing and not only will your liver/head will thank you the next day, you'll experience an added dimension to the meal. I personally headed there during an England World Cup match. Was it worth missing an England game for? Absolutely. England won that particular match – but Cycene won its own (separate) league. And, to be honest, it probably has more chance of an international win. 
BOOK
Tasting menu is £175, half-half pairing is additional £110. bluemountain.school/cycene