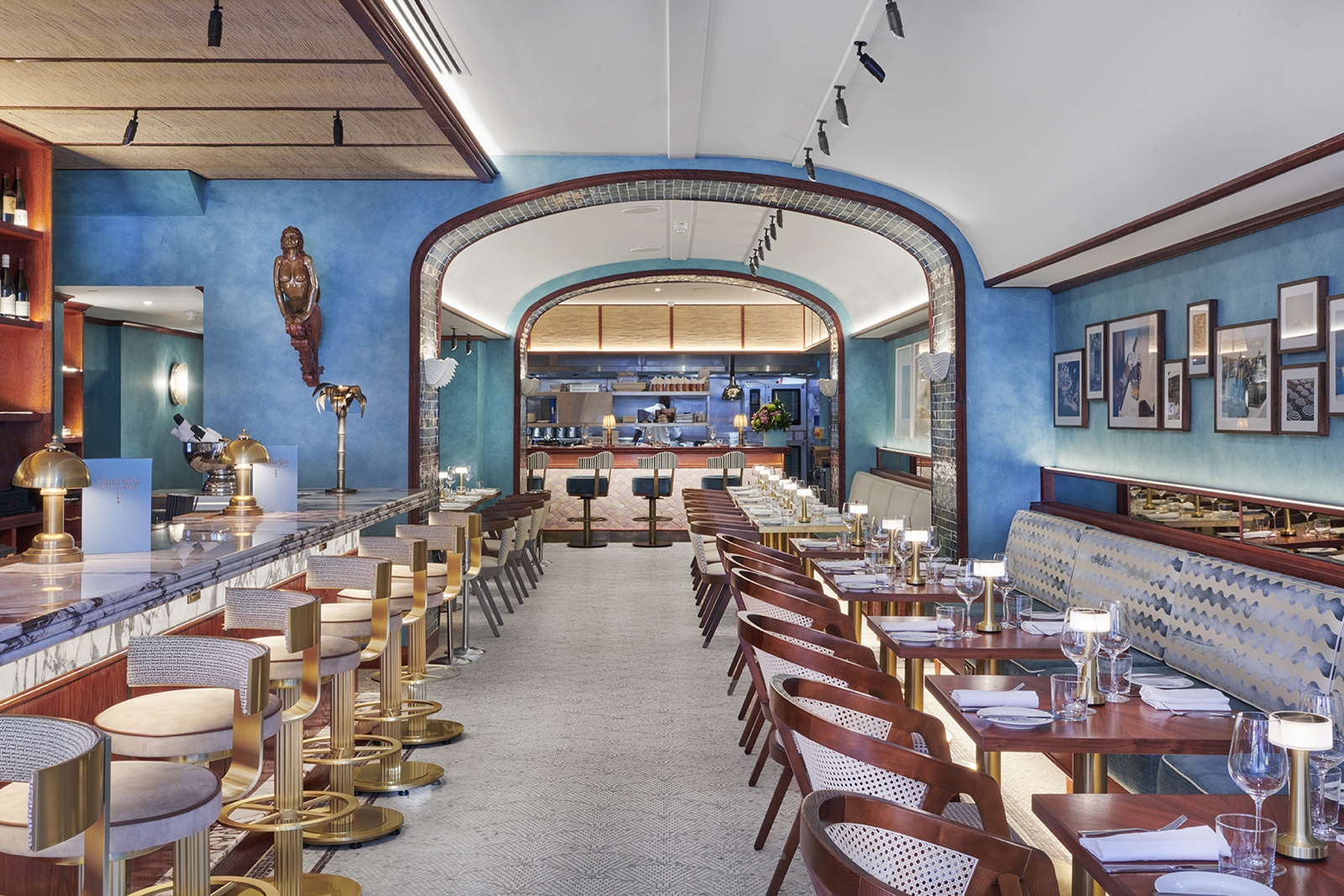 Restaurant Of The Week: Saltie Girl, Mayfair
---
Kathy Sidell's American seafood restaurant arrives in the UK with a splash
On 8 November 2022, Saltie Girl flung open its periwinkle blue doors in Mayfair, just off bustling Oxford Street – the Boston brand's first overseas adventure. Meanwhile, a third branch opened in Los Angeles, bringing fish galore (and I am using galore in the strongest of terms) to millions of seafood lovers in two giant cities. With a unique tinned fish angle, visit our restaurant of the week Saltie Girl for somehow chic nautical interiors, delicious fish and the freshest seafood, with tasty cocktails to boot.
Restaurant Review: Saltie Girl, Mayfair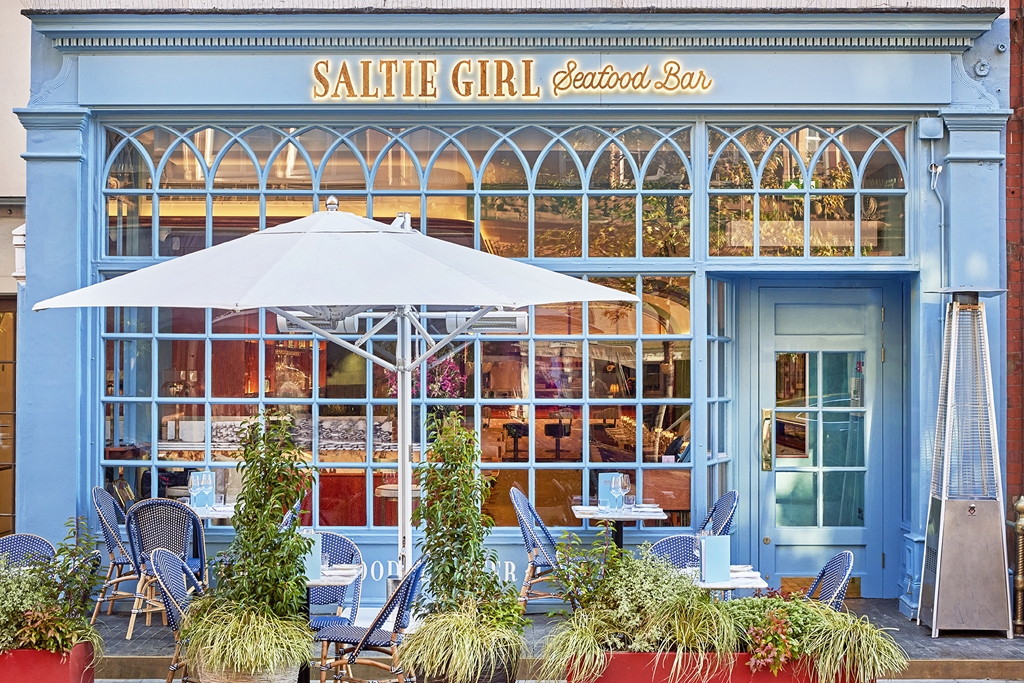 When I say there are over 100 tinned fish options on the Saltie Girl menu, I am being deadly serious (106 to be precise). It's the first thing I notice glancing at the A4 paper menu which, upon mention of the Tin Board, refers you to the 'Tin List', housed in the drinks menu and occupying four small-print pages. Anchovies, clams, sardines, salmon, scallops, mackerel, tuna, mussels: I didn't know half of these foods could be tinned. And yet – olive oil, brine, marinara sauce, eevo, mustard, chilli – here they all are in marvellous concoctions. It's much tastier (and somehow fresher) than it sounds, unleashing a repressed, childlike excitement at the prospect of scooping fish from a tin and delivering it straight to your mouth. Or, grown up, spread it over a hunk of French bread, perhaps with a sprinkle of one of three salts (normal, seaweed and smoked), accompanied by piquillo pepper jam or atop a slathering of butter.
It's the ideal place to start. 'Have fun with it,' our waitress instructs. We accompany our tins with tasty cocktails. Choose from the delightfully simply named options: Pineapple, Orange, Strawberry, Passionfruit, Grapefruit, Cranberry, Lime, or the gin, basil and lemon creation, Basilica. Or, if you're feeling brave, try the titular Saltie, made with gordal olive, pickled onion and caviar. 
While sipping and perusing the rest of the menu – expect options ranging from seafood towers, to raw, smoked or fried fish, to burgers, sandwiches and toasties from this all day affair – admire the glimmering interiors encompassing you. Sky blue walls – with sponged-on paint hinting at clouds – are accompanied by two gorgeous blue tile archways: shiny royal blue squares bordering pale turquoise rectangles, reaching up to the ceiling and back down again, interrupted only by white shell uplights.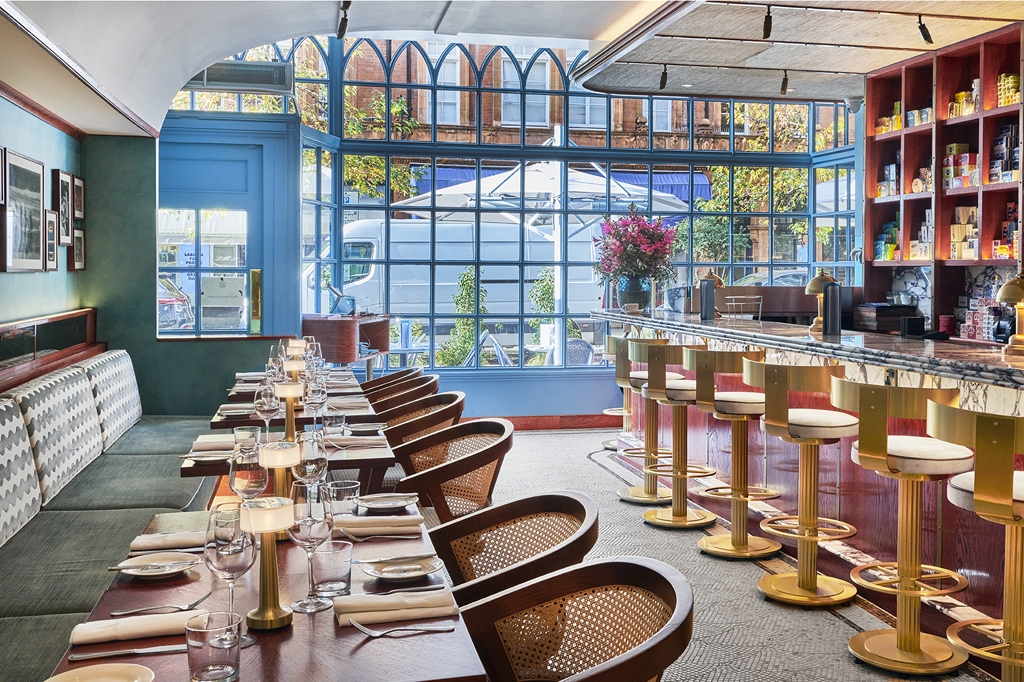 Welcoming guests by the door, the bar, a rich rosewood with a marble top and gold stools pulled up, is brimming with bottles and glasses twinkling in the artful light. The tables match the marble, with pools of light emanating from gold tabletop lamps. At the restaurant's opposite end, see the chefs at work behind another rosewood bar, with pale pink scallop detailing on the bar wall and soft blue velvet stools, complete with nautical stripes, keeping watch. The (women's) bathrooms continue the theme, with dusky pink rectangle wall tiles and pink patterned wallpaper mimicking coral reef, accompanied by oblong rosewood-bordered mirrors and gold sconces exuding soft light. (The mens, I am reliably informed, are blue.)
Despite Saltie Girl's American roots, expect fresh fish sourced locally and sustainably on the menu. Tuck into caviar from Exmoor, accompanied by crêpes, tater tots, toast points, crème fraîche, diced shallots, chives, egg whites and egg yolks. Or, if fish proper is more your thing, try the Whole Fried Devon Sea Bass with ginger, soy, green onion and steamed rice. We dug into the Dover Sole Meunière, served with brown butter, capers and parsley, and delicately delicious with a generous squeeze of lemon. Perhaps it sounds uncouth amid this sophisticated seafood bonanza, but don't miss a side of the delectably crispy Tallow French Fries, doused with just enough malt vinegar to be sour yet irresistibly moreish.
End, naturally, with dessert: the Saltie Girl offering is brimming with classics, from toffee drizzled Apple Tatin Baby Cake, to chocolate mousse, to the slightly more grown up Stuffed Medjool Dates with salted caramel, dark chocolate and hazelnut praline. Or continue to indulge that recently-released inner-child and pick the Sweetboy Chocolate Chip Cookie, baked to order and topped with a sprinkling of sea salt. 
The Final Word
With gimmicky yet chic nautical interiors, and playful yet sophisticated fish and seafood of the highest calibre, this fledgling restaurant is no fish out of water. Complete with flavourful cocktails and a buzzy atmosphere, Saltie Girl is rightly making a splash in Mayfair.
BOOK IT: 15 North Audley Street, London W1K 6WZ. Open Monday–Saturday midday to midnight, and 11am–4pm on Sundays. saltiegirl.com
Featured image: The back bar at Saltie Girl.
Previous Restaurants Of The Week
---