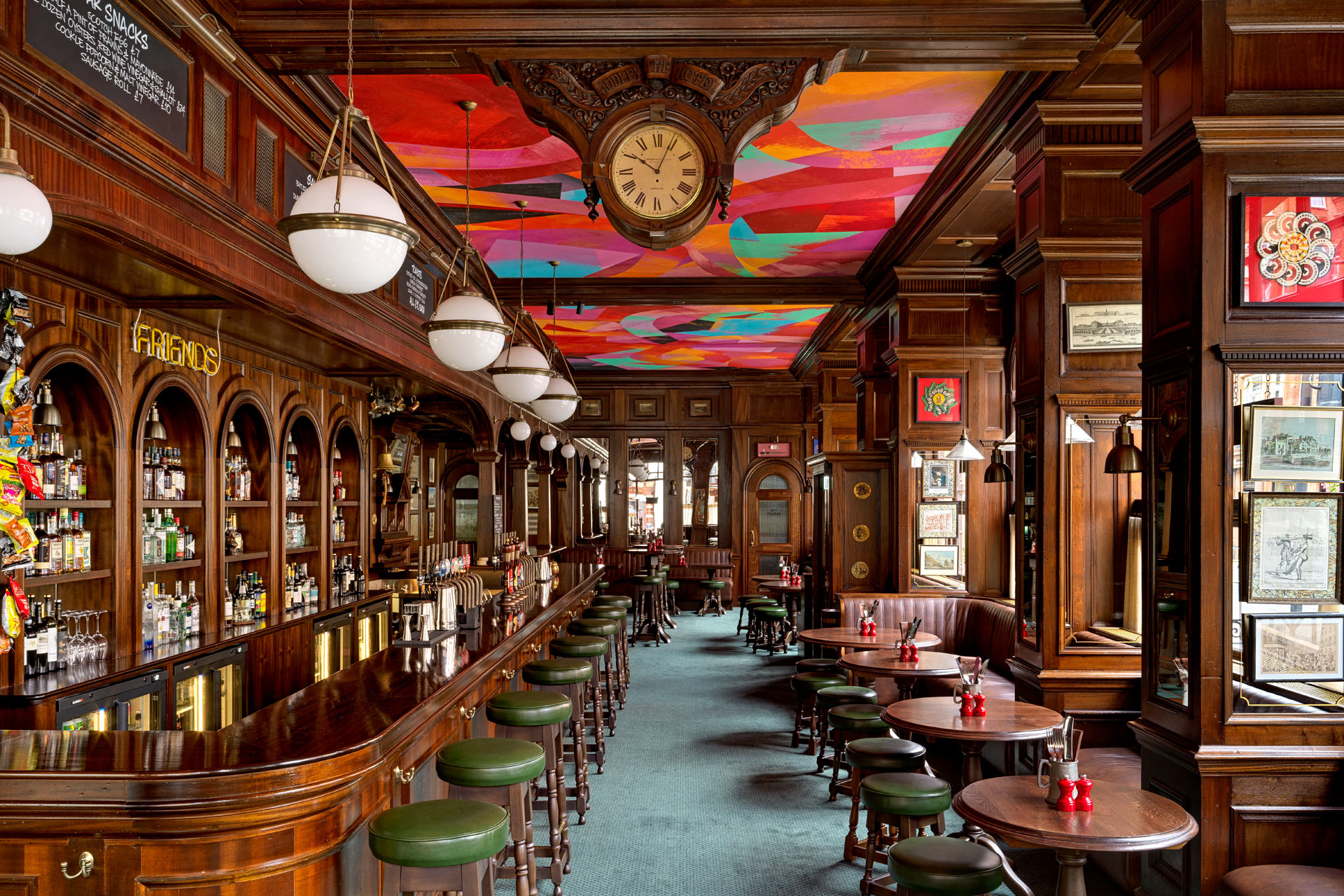 Restaurant of the Week: The Audley Public House
---
Could this be the prettiest pub in London?
Great art, food and drinks combine at the latest addition to Artfarm's portfolio, The Audley Public House in Mayfair.
The Audley Public House: Mayfair's New Pub Is An Art Lover's Dream
The best pubs aren't necessarily the fanciest ones. It's often that old ale house charm that gives a pub its character – and the oldest tend to have great stories behind them, so you have to tread carefully with revamps. But in the case of The Audley Public House, the Mount St. pub which opened in autumn 2022 following the transformation of historic inn The Audley, it has been a big success.
No surprise when you hear the project was helmed by Artfarm, the hospitality arm of Hauser & Wirth. Owned by Manuela and Iwan Wirth, the company has made a name for itself reinventing unique sites, presenting art in exciting spaces – you might recognise its work from The Fife Arms, the wonderfully flamboyant Braemar hotel, or the quirky Durslade Farmhouse in Somerset. For its latest venture, Artfarm has overseen the restoration of The Audley, a pub built in 1888 by Thomas Verity, the man who designed the exterior of the pavilion at Lord's Cricket Ground.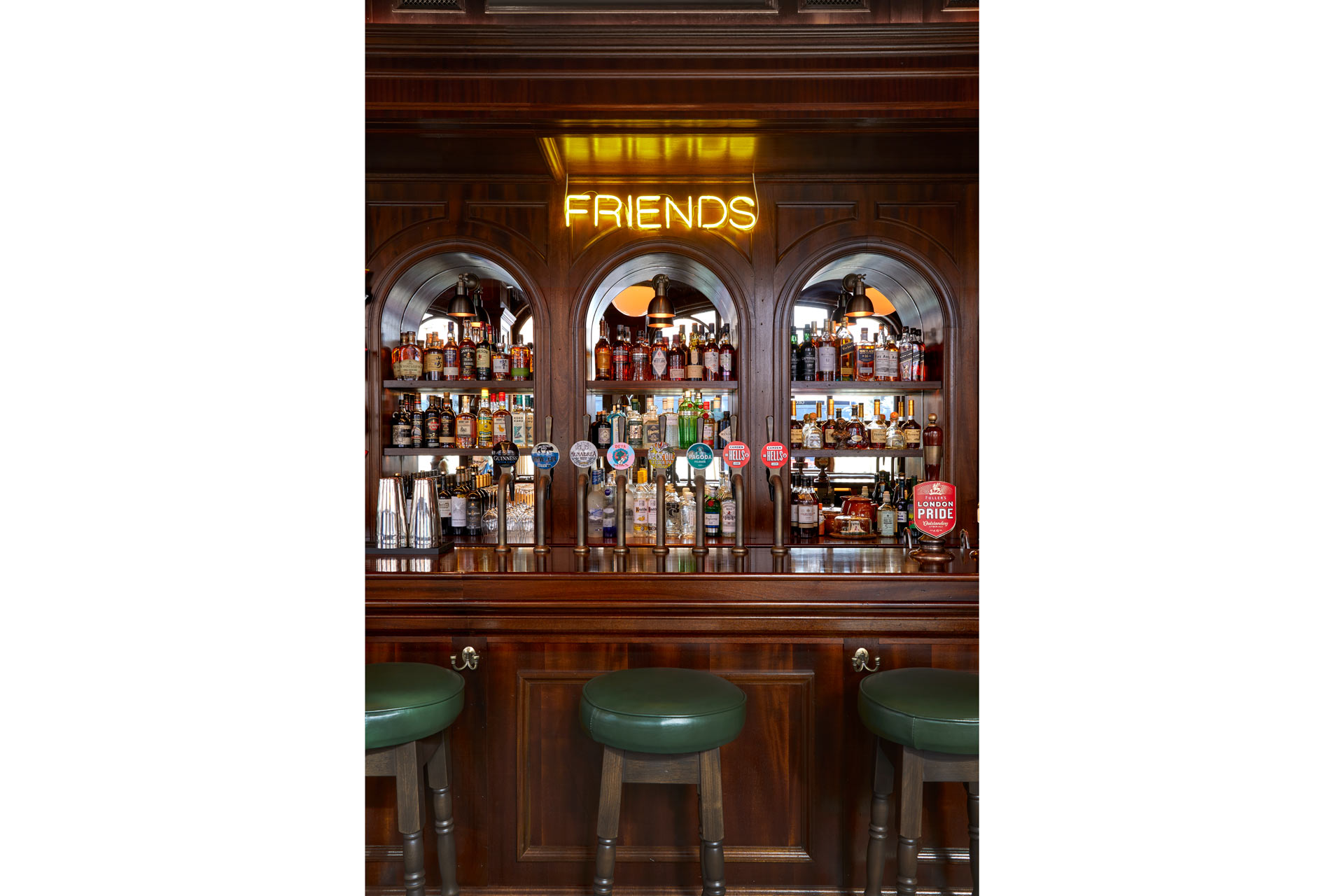 Now, it has been given a new lease of life by Paris-based design and architecture studio Laplace. The venture comprises two separate spaces: upstairs, a fine dining eatery called Mount St. Restaurant, and below, a neighbourhood pub – the latter of which we sampled for a sumptuous Sunday roast.
First impressions? It's a very sleek space, all deep mahogany wood panelling and brown leather booths, flooded with natural light. But on closer inspection, it soon becomes apparent you're sitting amid a kind of art gallery. Look up and you'll see a vibrant kaleidoscope of colour (reds, pinks, oranges) courtesy of London-based artist Phyllida Barlow, who created a site-specific mosaic of hand-painted paper for the ceiling. Above the bar sits a neon 'FRIENDS' sign from Turner Prize winner Martin Creed, and on the walls you'll find framed photos of Winston Churchill, who, fun fact, once lived above the cigar shop on Mount Street. There are also pieces by Rodney Graham and Don McCullin, plus framed cartoons from social satirist George Cruikshank. Upstairs, meanwhile, you'll be dining beside works from the likes of Andy Warhol, Picasso, Lucien Freud.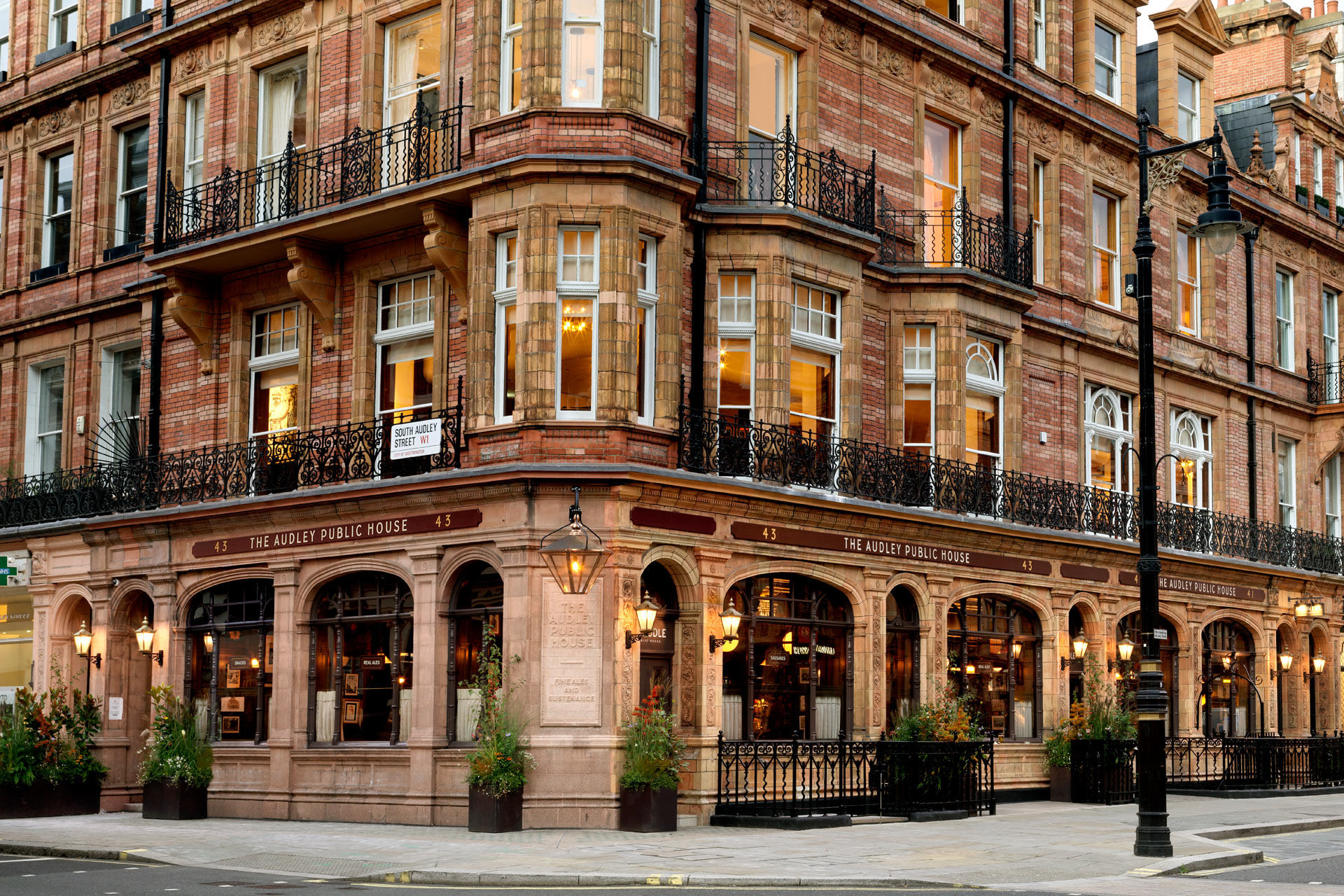 It's clear, too, that the restoration has been done with care for the building, with some original features retained, like the ceiling clock and the wooden fireplace. The overall look is polished, but not overly so, giving the pub a civilised yet relaxed feel – you won't forget you're in Mayfair, but there's nothing pretentious about the space. A quick peek at Mount St. Restaurant upstairs reveals it is distinctly more formal (and a lot pricier), though – like most places nowadays – there's still a general move away from the white tablecloths and silver service vibe.
Food at The Audley Public House is traditional pub fare done right, with the kitchen led by British chef Jamie Shears. There's a focus on locally sourced, seasonal produce: beef and lamb is sourced from the group's farm in Somerset, sausages are made in the Durslade Farm Shop and other ingredients come from We are Grow, the agroecological farm and outdoor learning hub at The Totteridge Academy in north London. 
Kick off your meal with some bar snacks: sausage rolls, scotch eggs and oysters are all up for grabs – but don't go overboard, as the mains are generously portioned. There's a hearty beef and ale pie served with mash and gravy, a classic shepherd's pie and Cornish haddock and chips, plus a selection of toasties (fillings include London rarebit, and smoked eel and horseradish).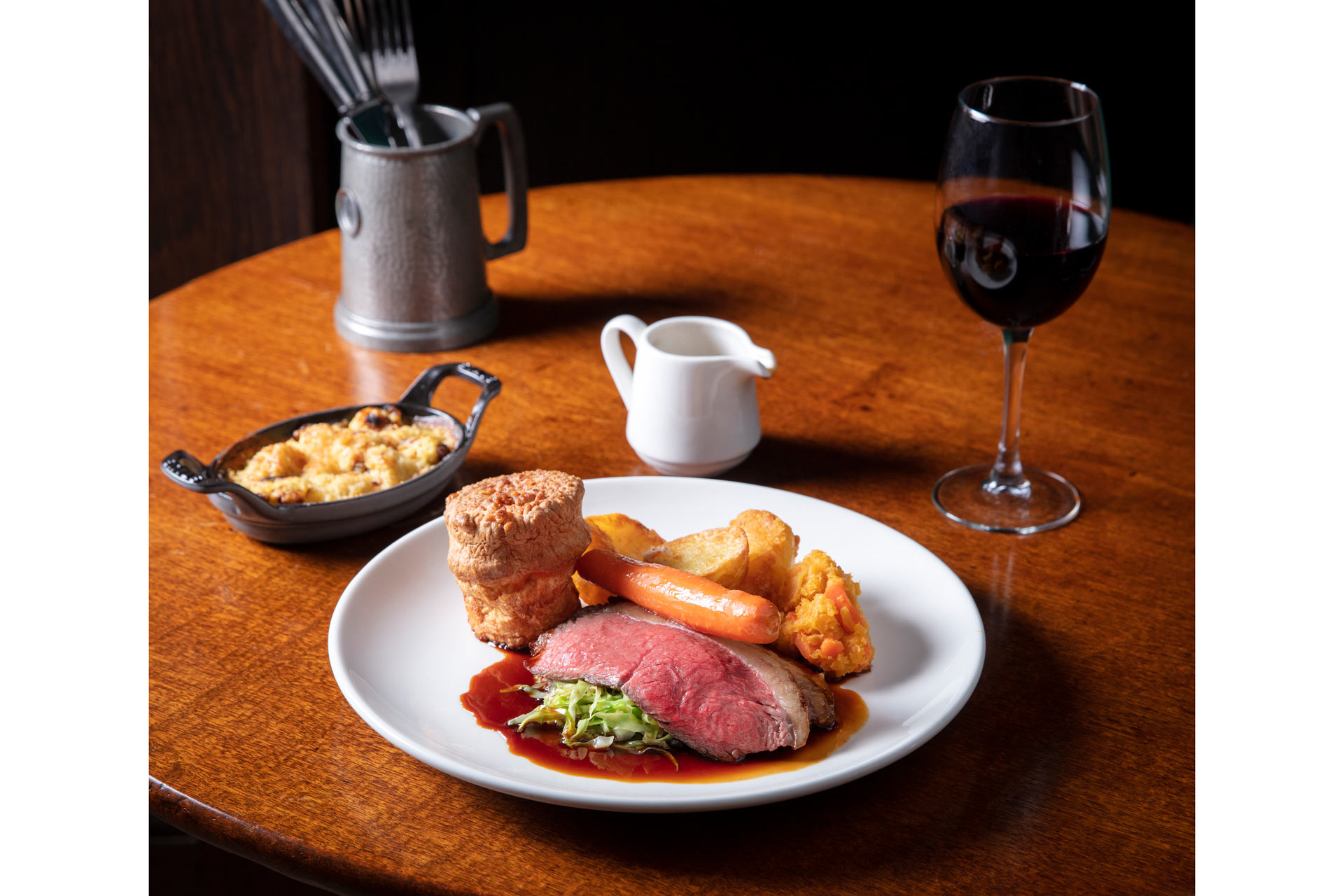 But if you visit on a Sunday, it would be remiss not to opt for the roast, which is executed to perfection: the beef is premium quality, the roast potatoes are golden and crispy on the outside, fluffy on the inside, and the Yorkshire pudding is laced with some extra pulled beef inside. The hero dish, though, has to be the cauliflower cheese: pure buttery, cheesy, melt-in-the-mouth joy which we were dreaming about long after leaving the pub. If you've still got space, finish things on a sweet note with the chocolate and pecan cake, topped with whisky cream.
And, of course, this is a pub, so drinks are fundamental. Beer comes from independent supplier Sambrook's Brewery in Battersea, one of the oldest breweries in London, as well as Guinness on draught. There's also an impressive wine list featuring a healthy selection of red, white and sparkling (the Barolo goes particularly well with the beef).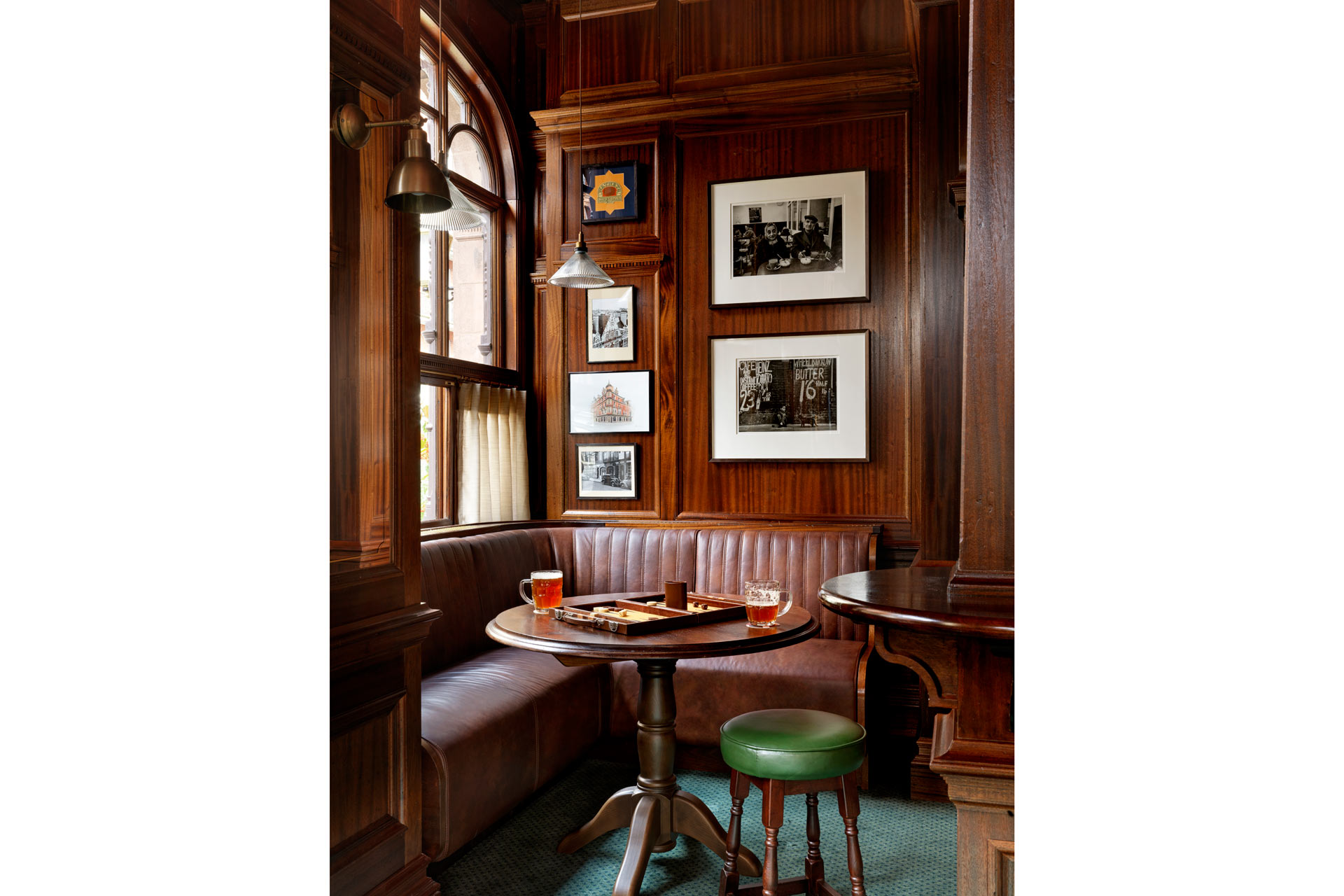 THE FINAL WORD
Ultimately, a good pub is determined by its atmosphere, and The Audley Public House delivers on this front too. When we visited it was buzzing but not overly busy, with a healthy mix of families, couples and groups of friends, alongside friendly bartenders and waiters. It doesn't come across like the kind of place that gets wild on a Friday night, but for a good Sunday lunch in the capital you won't find much better. And where else can you eat sausage rolls while rubbing shoulders with Picasso?
BOOK IT