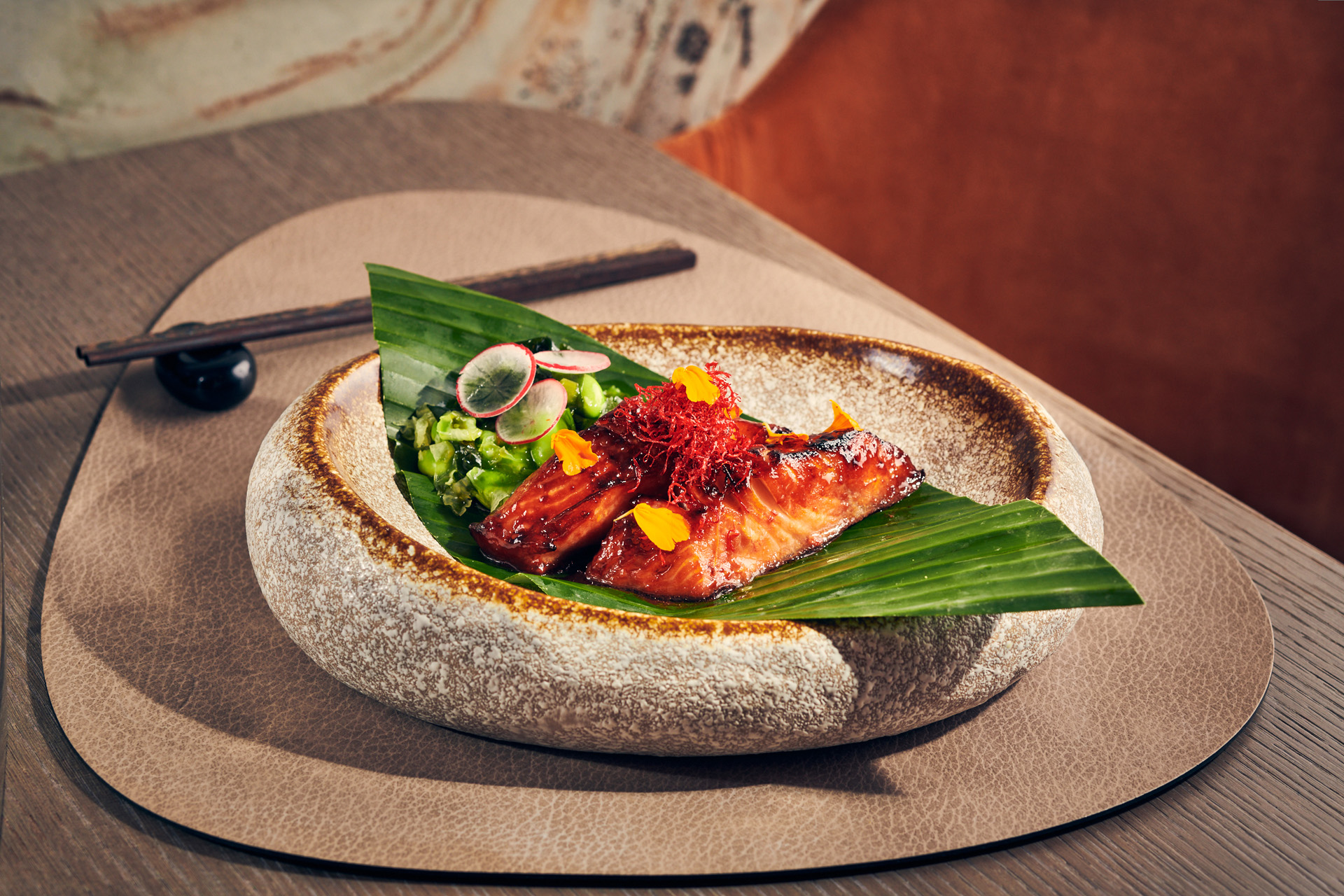 Restaurant Of The Week: Straits Kitchen, Liverpool Street
Pan Pacific London's flagship restaurant is our Restaurant of the Week
Set back from the bustle of Liverpool Street is the endlessly elegant Straits Kitchen, which showcases Singapore's divine, pan-Asian, melting pot cuisine. Olivia Emily visits to sample Head Chef Jun Yung Ng's authentic flavours.
Restaurant Of The Week: Straits Kitchen, Liverpool Street
Weave through the Liverpool Street hubbub, a bewildering mix of Bank suits and day tourists buzzing between the skyscrapers, and soak up the quieter Bishopsgate Plaza, a concrete jungle-style space of cement block benches, bushes and trees. You're on the edge of the old city: continue walking north for five minutes, and you'll escape the EC bounds, signalled by a classic cast iron dragon statue. Here, ornamental old buildings juxtapose the new all-glass towers, spewing more city workers into the streets with every minute. Just behind the Plaza sits another glass tower, emanating a slight amber glow and housing a timeless sense of luxury – the Pan Pacific London.
Step inside to be greeted by shiny marble floors and suited and booted staff ready to direct you up the spiral staircase to their flagship restaurant, Straits Kitchen. Headed by Jun Yung Ng, this Singaporean restaurant showcases the best of Southeast Asian cuisine. Start with the likes of refreshing bite-size Golden Crispy Truffle Cups (black truffle, morels, trumpets, carrots, radishes), Crispy Berkshire Pork Belly (with honey mustard and chilli sauce) or Crispy Tiger Prawns with Straits black pepper sauce. Or the indecisive can opt for an array of morsels with the Straits Kitchen Platter, with Morel Golden Cups, Chilli Prawns, Aromatic Duck Rolls and Asam Tamarind Crispy Black Cod – all a delightfully crispy and light beginning.
Then it's onto mains: spice lovers should sample Chef Jun's Signature dishes – Native Lobster Nonya Laksa with thick rice vermicelli, Ruby Brandy XO Sarawak Lada Hitam Crab, or the Straits Chilli Crab. Or the Hainanese Chicken Rice Brittany is succulent, poached corn-fed chicken with fragrant chicken rice and a playful choice of three dips – ginger purée, chilli dip and sweet dark soy – to flit between. When we ask our waiter for his favourites, the Beef Rendang Curry tops the list. But fish lovers should opt for Umami Black Cod, a red-in-colour version of the melt-in-the-mouth classic, served masterfully here after being marinated in miso teriyaki sauce, with edamame, wasabi, seaweed and snow fungus. Naturally, the sides are also not to be missed, offering pan-Asian classics like tenderstem broccoli, choy sum and pak choi, all cooked to perfection.
With a comprehensive cocktail menu (although the Red Lantern is our top recommendation) – and the Straits bar next door – Straits Kitchen is the perfect city destination to while away the evening. This is where those glass windows come in handy: watch the sun sink below the cityscape, lighting on and transforming each city window into a square of amber one by one, until whiter artificial lights usher in the shimmering evening skyline view.
Again, naturally, don't miss dessert. You have the choice of four evocative names: Chocolate, seriously indulgent Guanaco chocolate mousse with brownies and crunchy hazelnut praline and soursop sorbet; Mango, light mango panna cotta with coconut sago pearl soup and fortune cookies; Coconut, the lightest thai young coconut rice pudding with lemongrass, pineapple and lime coconut sorbet; and showstopping Apple, an apple compote, caramel sponge and cinnamon crumble. Literally can't go wrong.
The Final Word
Tucked in a quiet pocket of Liverpool Street, Straits Kitchen's eclectic flavours are centred around Singapore's eclectic palate, developed by the Strait of Malacca which connects the country to Malaysia Indonesia and Thailand. Visit for a delicious journey through the nation's melting pot cuisines, with a dollop of elegance for good measure.
BOOK IT
80 Houndsditch, London EC3A 7AB