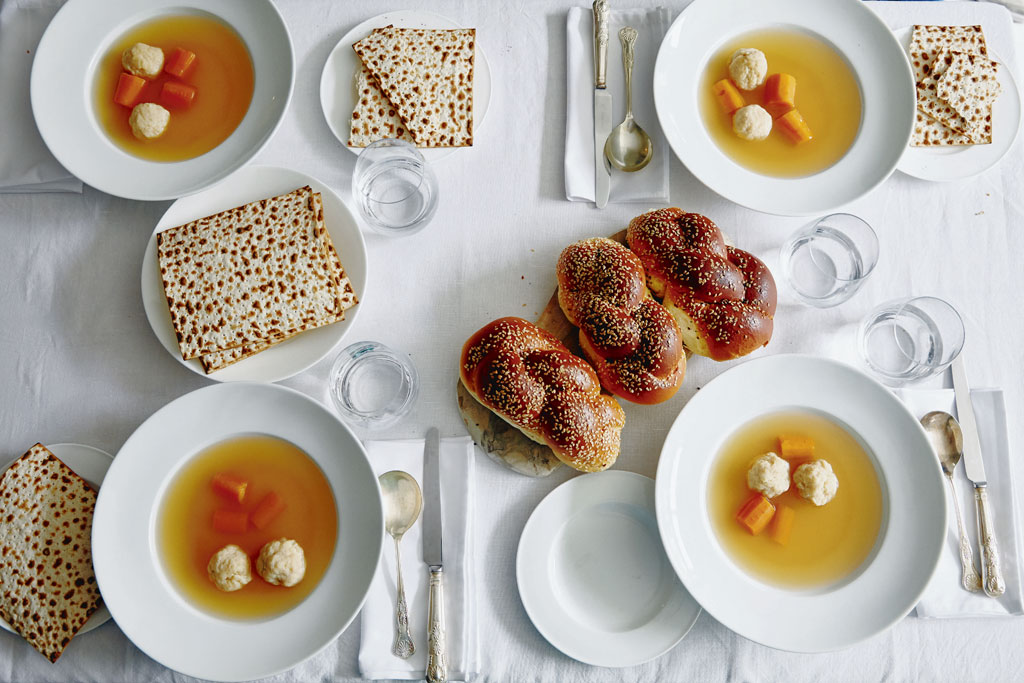 Table Manners Recipe: Lennie Ware's Chicken Soup & Matzo Balls
---
Jessie Ware's much-loved mother Lennie shares one of her top recipes
Mother-daughter duo Jessie and Lennie Ware have won the hearts of the nation through their hit podcast, Table Manners. Each week, musician Jessie and her chef extraordinaire mother invite a celebrity guest round for a home-cooked meal at one of their homes – from Ed Sheeran to Nigella Lawson. And now you can replicate some of their delicious recipes at home, thanks to Table Manners: The Cookbook. Here we share the recipe for Lennie's famous chicken soup and matzo balls.
Recipe: Chicken Soup & Matzo Balls from Table Manners: The Cookbook
Chicken Soup
Every Jewish family thinks their mother's chicken soup is the best. In emergencies, I have been known to send my soup across London in a taxi, because this 'Jewish penicillin' most definitely has healing qualities. Reminiscent of Friday nights spent with family when I was a girl, the fragrance of the simmering soup is delicious. Chicken soup is synonymous with every Jewish household, and is one of the things that makes me most proud to be Jewish. Serve with matzo crackers and challah bread.
Ingredients:
Serves 6 (makes about 2 litres)
2kg chicken thighs and legs
5 large onions, skins left on, halved, cutting off the rooty bit
8 carrots, sliced about 2–3cm thick
4 celery sticks, with leaves, halved
1 leek, halved
1⁄2 swede
2 tbsp Telma Chicken Soup Mix (available from a kosher shop or online), or 2 good- quality chicken stock cubes
1 tsp whole black peppercorns 1 tsp salt
Matzo Balls, to serve
Method:
Put the chicken and all the vegetables in a stockpot or very large pan (about 4 litres capacity) with enough cold water to cover everything by about 5cm (about 3 litres) and bring to the boil. When boiling, skim off all the frothy scum until there is none left. Add the soup mix or stock cubes, the peppercorns and salt, bring back to the boil and then reduce the heat and gently simmer for 2–3 hours.
Season the soup to taste, then leave to cool. Pour the soup through a colander into a large bowl. Carefully retrieve the carrots from the colander and add back to the soup. Give everything else a good squeeze to release the juices. Some people put a little of the chicken into the soup, but I'm not sure it has much taste after being boiled for so long – and you will make your cat/dog very happy if you give them the bone-free chicken meat.
Put the clear soup and carrots into the fridge for at least 2 hours or overnight. When it's well chilled the fat will rise to the top and you can easily skim it off.
To serve, bring the soup to the boil over a medium heat and add your cooked matzo balls just before serving.
Matzo Balls
In the words of Marilyn Monroe: 'Isn't there any other part of the matzo you can eat? It has taken me ages to achieve light fluffy matzo balls, but I think after 40-odd years of making them I have finally managed it.
Of course, you can cheat and use the ready-made packets, which are sometimes sold under the name 'kneidl'. Matzo balls are very divisive: some prefer them fluffy like clouds, some prefer them dense like bullets. Some have them in the soup, others save them till after. But if you start by saying 'I'll only have one' you will always submit to the second. Delicious and crucial to Chicken Soup.
Ingredients:
Makes about 15 balls
100g medium matzo meal
1 tsp baking powder
Pinch of salt
Pinch of white pepper
3 large eggs, beaten
1 tbsp rapeseed oil
4 tbsp hot Chicken Soup or boiling water
Method:
Put all the dry ingredients in a bowl, gradually stir in the eggs and oil and then gradually add the chicken soup, mixing until smooth. Cover the bowl and chill for 30 minutes – it will firm up slightly.
Line a tray with baking parchment. Bring a large pan of salted water to the boil.
Wet your fingers and take small pieces of the mixture to make soft balls, about 2cm in diameter, placing them on the lined tray until you have used up all the mixture.
Drop the balls into the boiling water, turn down the heat and gently simmer for about 20–25 minutes until they are soft. They should swell up slightly, rise to the surface and look like little clouds.
Lift out using a slotted spoon and serve them in chicken soup.
Extracted from Table Manners: The Cookbook by Jessie and Lennie Ware (Ebury Press, £22) Photography by Ola O Smit
MORE RECIPES: