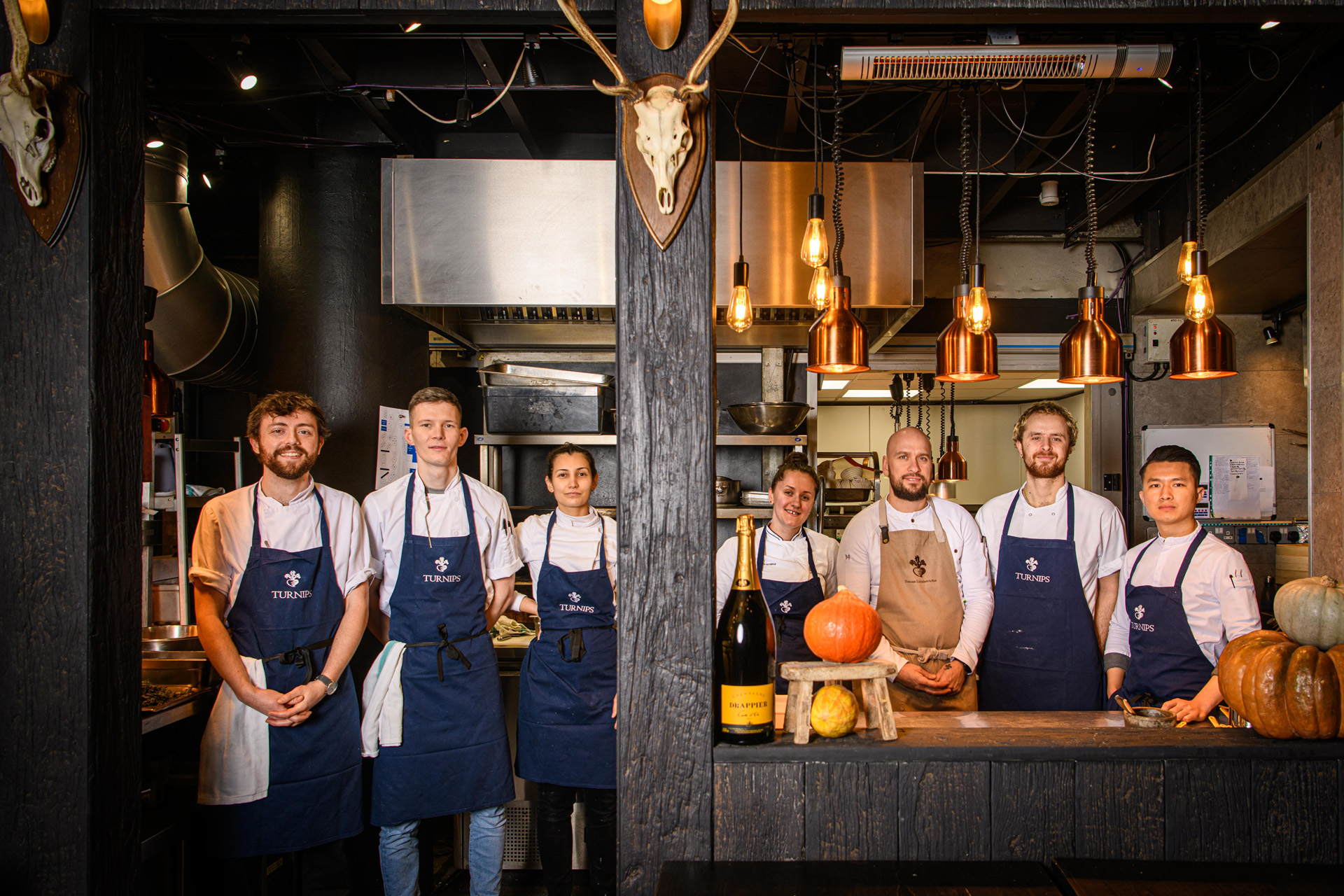 A Vision In Vegetables: Interview With The Founders Of Turnips, Borough Market
---
From market stall to fine dining destination
Hidden in London's iconic Borough Market, Turnips experiments with seasonal produce to create charming dishes and delicious concoctions. The restaurant is the offspring of Charlie Foster, the fifth generation behind the homonymous vegetable stall, and chef Tomas Lidakevicius, formerly of City Social. The pair opened a pop-up restaurant amid lockdown, serving small plates and a tasting menu to showcase the best of micro-seasonality and British produce, making a main character out of vegetables and introducing a balanced sequence of fish, meat and dairy sourced from other stalls in Borough Market. Likewise, Turnips recently launched a new project, Fight THE SYSTEM, to draw attention to food waste and to celebrate Tomas' creativity. We spoke to Charlie and Tomas about all things vegetables and launching Turnips.
The Founders Of Turnips, Borough Market On Their Vegetable-Led Restaurant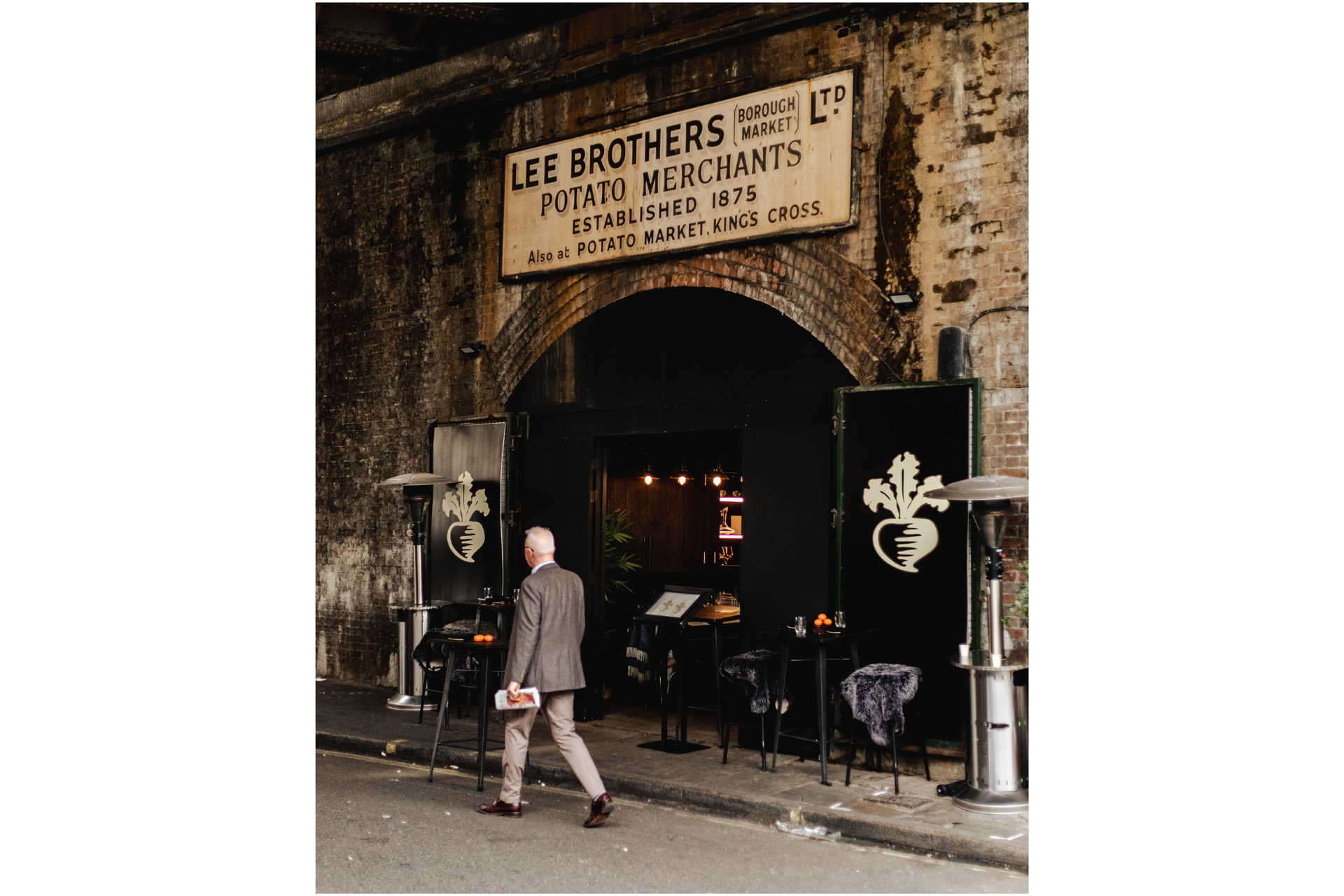 Hi guys! Can you give any readers unfamiliar with Turnips an elevator pitch?
Charlie: Turnips is the ultimate celebration of 'world-class products' as well as seasonality. We are a bastion of tradition with our greengrocers, but also a modern enterprise with our extremely sustainable catered offerings and, of course, our incredible restaurant experience. Quite simply, there is no place like it. Our greatest joy comes from seeing that realisation dawn on the faces of our wonderful guests and customers! If you want to experience the very best the wonderful world of fruit and veg truly has to offer, there is only one destination.
Tomas: Turnips is a restaurant with no boundaries. We do what comes naturally in our minds, connected with seasonal produce available two steps away from the kitchen: fruit and vegetables – our dishes' protagonists – from Turnips' stand, and meat, fish and cheese from Borough Market's stalls. The food is prepared with soul and packed with flavours: everything comes naturally without too many attempts to make it happen.
Where have you worked before embarking on Turnips?
Charlie: Given my parents' involvement in the business, it was kind of always on the cards for me to join Turnips. However, in the beginning, I tried to resist it. I studied English at university, and my dream was to become a writer. But I was missing the energy of the market. So, after some stints here and there, I eventually returned to Turnips, confident, positive, and ready to start my journey with new ideas. 
Tomas: After I left Lithuania and came to London, my first job wasn't inside a restaurant. I started working on a building site, but the kitchen was calling me. So, at the earliest opportunity, I joined the kitchen brigade at a private members club, taking a 75 percent pay cut. After that, I went to Galvin at Windows, and the experience changed my life. That level of adrenaline, that passion… That's what I was truly looking for. From there, I moved to Texture and Corrigan's before going to City Social with Jason Atherton.
What is the team dynamic like at Turnips?
Charlie: The team dynamic is great. Naturally, opening a restaurant on the same premise as our existing business comes with its own challenges, and it's something we work at every day to ensure all elements of the team respect and work with each other in as close to harmony as we can get! However, we are firm believers in the idea that hardship and pressure create diamonds; our unique set-up and challenges are exactly what make our team and our concept so very special.
Tomas: It is very chill and intense at the same time. There are six of us running two restaurants (I refer to the small plates and tasting menu offers) under the same bridge. There are loads of details in the dishes, so it's not easy to always keep up – but everyone helps each other, creating a beautiful feeling and atmosphere.
What's your most memorable moment from Turnips so far? 
Tomas: Every day is a memorable moment, especially when it's super busy.
Charlie: This is a tough one. I've worked at Turnips for so long, and it is so thoroughly entwined with my incredible family that there are so many! However, I think the most formative moment for my personal development has to be the covid impact: we went from an extremely busy and established business to losing two thirds of our business overnight, and I saw genuine fear in my parents' (my boss'!) eyes that this could very well be the end for Turnips as a whole. Our fight back from this and the subsequent changes and shifts we made in the two years that followed has made me what I am – as well as transforming Turnips into an even more incredible space and business today!
And can you tell us about one memorable shift at Turnips?
Tomas: There are probably loads of them, but the ones that stay with me the most are those when people come and don't expect to get what we offer. They think about how we started, and course after course, they are getting more surprised and surprised!
Charlie: For me, either Chelsea legend Zola coming in, or King Charles' visits, my interview with the mayor of London, the first shift after covid struck in earnest, the overwhelming support we felt the first shift back after the terror attacks… Or Mr Ducasse joining for lunch a few weeks back.
What has the transition from pop-up to permanent restaurant been like?
Tomas: Everything went so smoothly and naturally. We barely examined how the process went, how we built and ran things along since we opened. It was as smooth as butter!
Charlie: It was a fairly natural progression; we have always been a business that tests the waters before we make any large-scale changes. We endeavour to find our strengths and weaknesses as well as the viability of any new venture. The reaction we received from day one of the restaurant was mind-blowing, so we knew this not only had legs but was going to be something special. However, I have a suspicion Tomas was glad when we finally built a kitchen! We intend never to look back.
How have your childhood and life experiences influenced your cooking?
Tomas: Food was a big part of my childhood. My mother was a seamstress, so she used to work from home and cook for us every day. When she couldn't, my grandmother would take over, and I often ended up helping her with collecting fruit and vegetables at the market. And I would help her with preserving, pickling and fermenting, and that's where I started learning all the techniques that I use today at Turnips, to experiment with certain ingredients and have them available throughout the year. My grandmother taught me how to bake, and the very first cake I made, my first kitchen success, was the Zebra Cake, a mixture of cocoa and plain batter.
Did you always want to be a chef?
Tomas: Actually, I didn't. I was very much into rap music as a teenager. I was struggling with academic school so, at the age of 15, my parents tried to give me a warning, to learn a trade that could be useful for my future. I decided then to go to chef's school, and they supported me attending one of the best chef's schools in Lithuania. I wasn't sure at the beginning if it was for me, but I became more and more passionate and finished top of my class.
Which chef do you draw the most inspiration from?
Tomas: My inspirations mostly come from the stand: the day a different variety of vegetables arrives, I study it and I picture in my mind what a dish with it would be like. I see it first, and then I work around different elements, for similarity or contrast.
What are your favourite restaurants in London?
Tomas: Casa Fofo, Core, Alain Ducasse at The Dorchester.
Charlie: This one is easy: 'Turnips with Tomas Lidakevicius', hands down – particularly when I am sitting where we used to land our pallets of potatoes and onions! I pinch myself every time to see if it's all really happening.
And your favourite in the world?
Tomas: Geranium.
Charlie: Now, this may be a little left field, but it must be the late great Nico at Ninety: this is the first world-class calibre restaurant that my dad ever served and what he learnt working alongside Nico Ladenis formed the foundations of Turnips as it is today. I will forever be grateful for that.
BOOK IT: Turnips is open Tuesday–Friday for lunch (12–3pm) and dinner (6–11.30pm) and 12–11.30pm on Saturdays. restaurant.turnipsboroughmarket.com
Featured image by Nic Crilly-Hargrave.