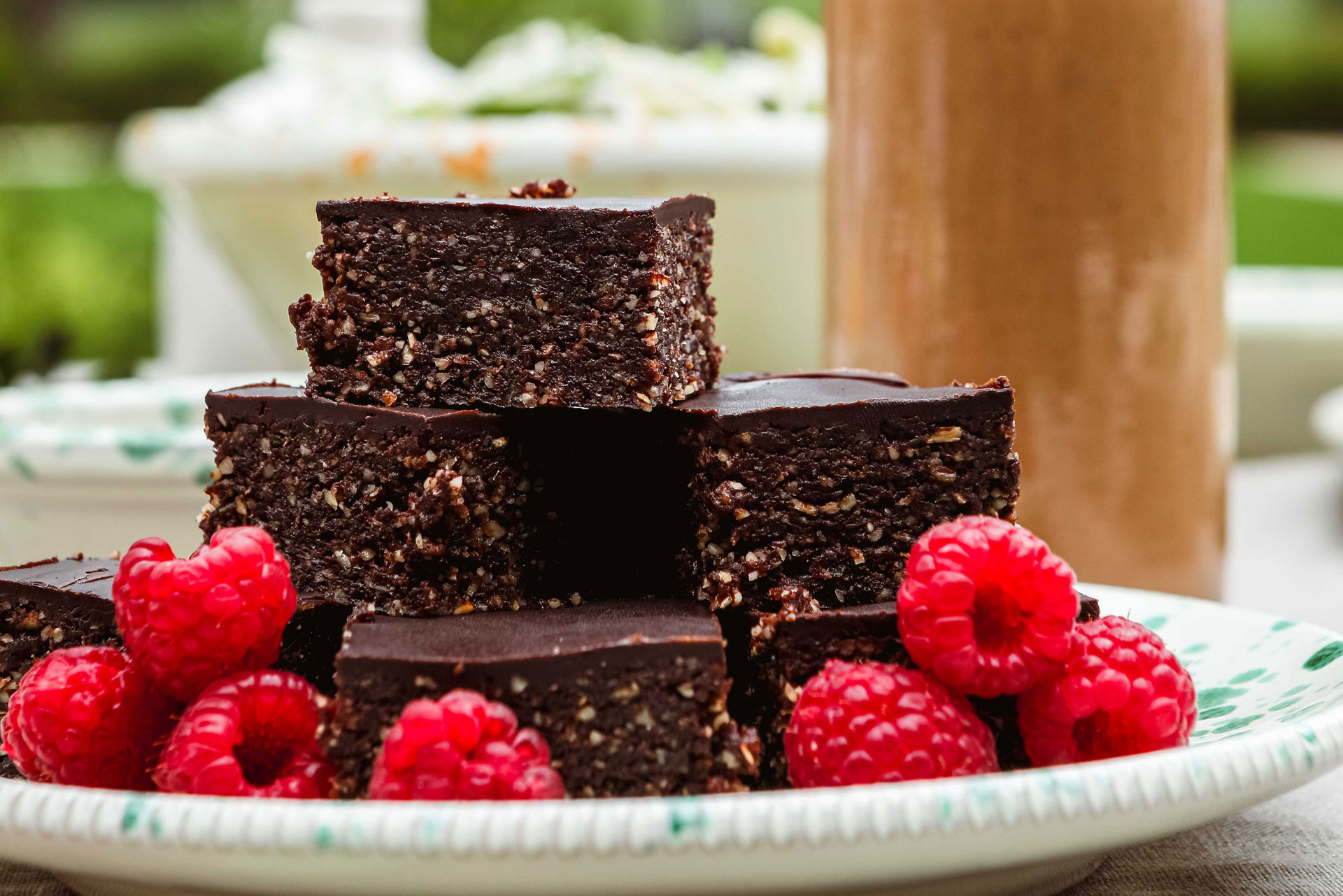 Try These Delicious Vegan Treats Courtesy Of Karen Koramshai
---
Need a 4pm pick-me-up? Karen Koramshai's got you covered
Looking for a healthier alternative to satisfy your sweet tooth? Health and wellness expert Karen Koramshai's delicious vegan brownies and snickers smoothie will do just the trick. 
Karen Koramshai's Raw Vegan Brownies
These raw, vegan brownies contain no refined sugar yet make a deliciously sweet treat when served with a cup of coffee or green tea. Raw pecans are packed with protein, healthy fats, and fibre all of which can help keep you energized and satisfied. Pecans are also a good source of calcium, magnesium, and potassium which could help lower blood pressure. Most of the fat found in pecans is a healthy type called monounsaturated fat.
Makes 16 small squares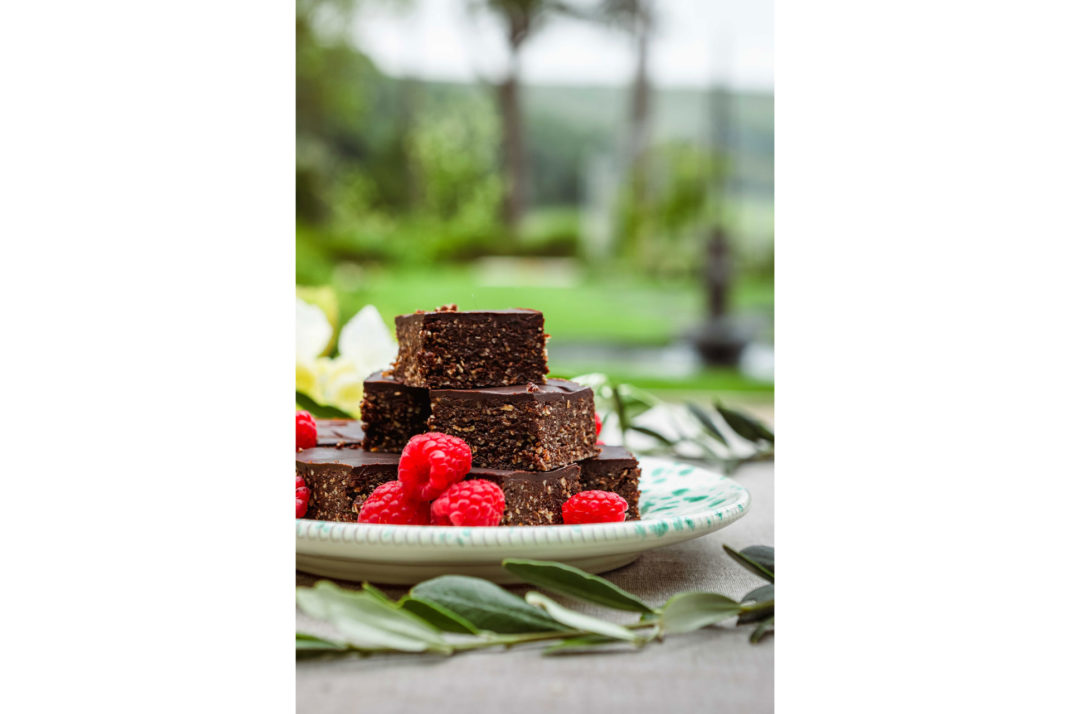 Ingredients:
400g Pecans
350g Soft pitted Medjool dates
50 g Raw cacao powder
For the chocolate frosting:
60ml Coconut oil
60ml Organic maple syrup (or agave syrup)
1 tsp Pure vanilla extract
25g Raw cacao powder
Method:
Line a 20 x 20cm square cake tin with baking parchment allowing a couple of centimetres overhang to make removing the brownies a little easier later.
Working in two batches, place the brownie ingredients in a food processor and pulse until well combined. You will need to be patient and scrape down the sides of the bowl every few minutes, but it's done when the mixture comes together into a sticky dough. Scrape into the tin and using the back of an oiled spoon press the mixture into the tin.
Next, melt the coconut oil gently in a saucepan and then whisk in the other ingredients. Allow to cool for a few minutes and then pour onto the surface of the brownie. Refrigerate for at least an hour before removing from the tin and cutting into squares.
*The brownies will keep for a week in the fridge or can be stored in an air tight container in the freezer for up to 8 weeks.
The Best Vegan Restaurants in London
Karen Koramshai's Snickers Smoothie
This decadent, yet healthy smoothie is packed with potassium from the bananas, flavonoids from the cocoa (good for blood pressure and blood flow to the heart and brain) and collagen (good for hair, skin and nails).
Serves 2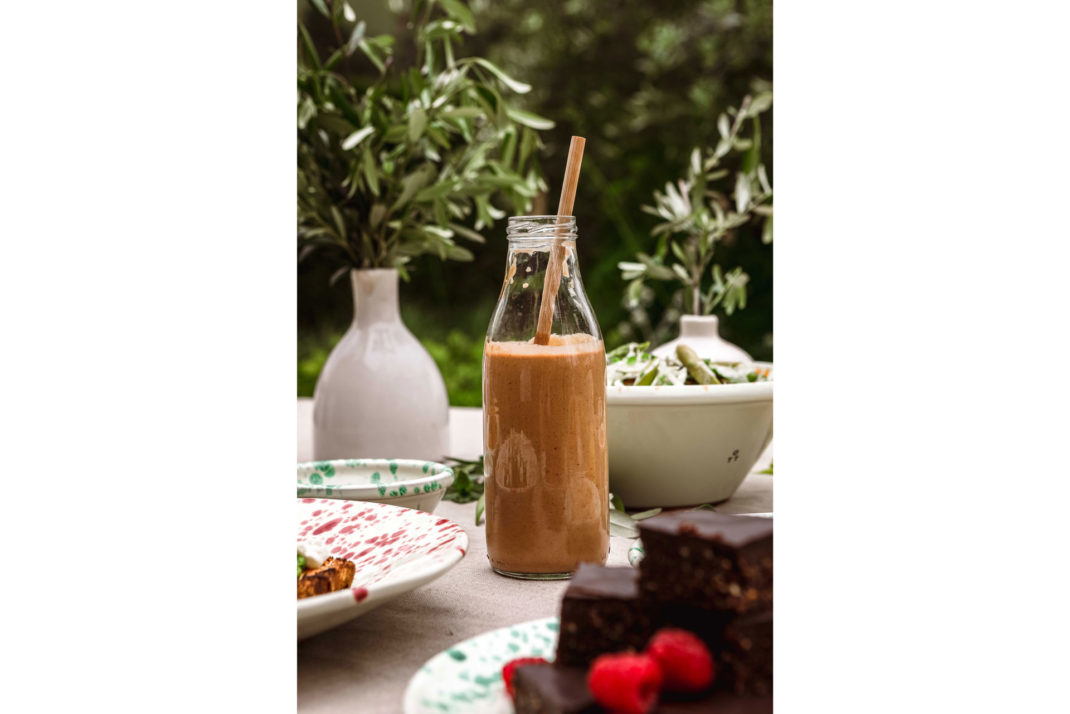 Ingredients:
3 bananas – cut into chunks and frozen over night
2 pitted Medjool dates
2 scoops collagen powder (or marine collagen if you want to keep it vegan)
2 tablespoons organic smooth peanut butter
1 tablespoon raw cocoa powder
1 tablespoon maple syrup
¼ teaspoon pure vanilla extract
400 ml unsweetened almond milk
Method:
Starting with the almond milk, add everything to a high powered blender and blend until smooth.
The Best Vegan Cookbooks / A Nutritionist's Guide To Going Vegan