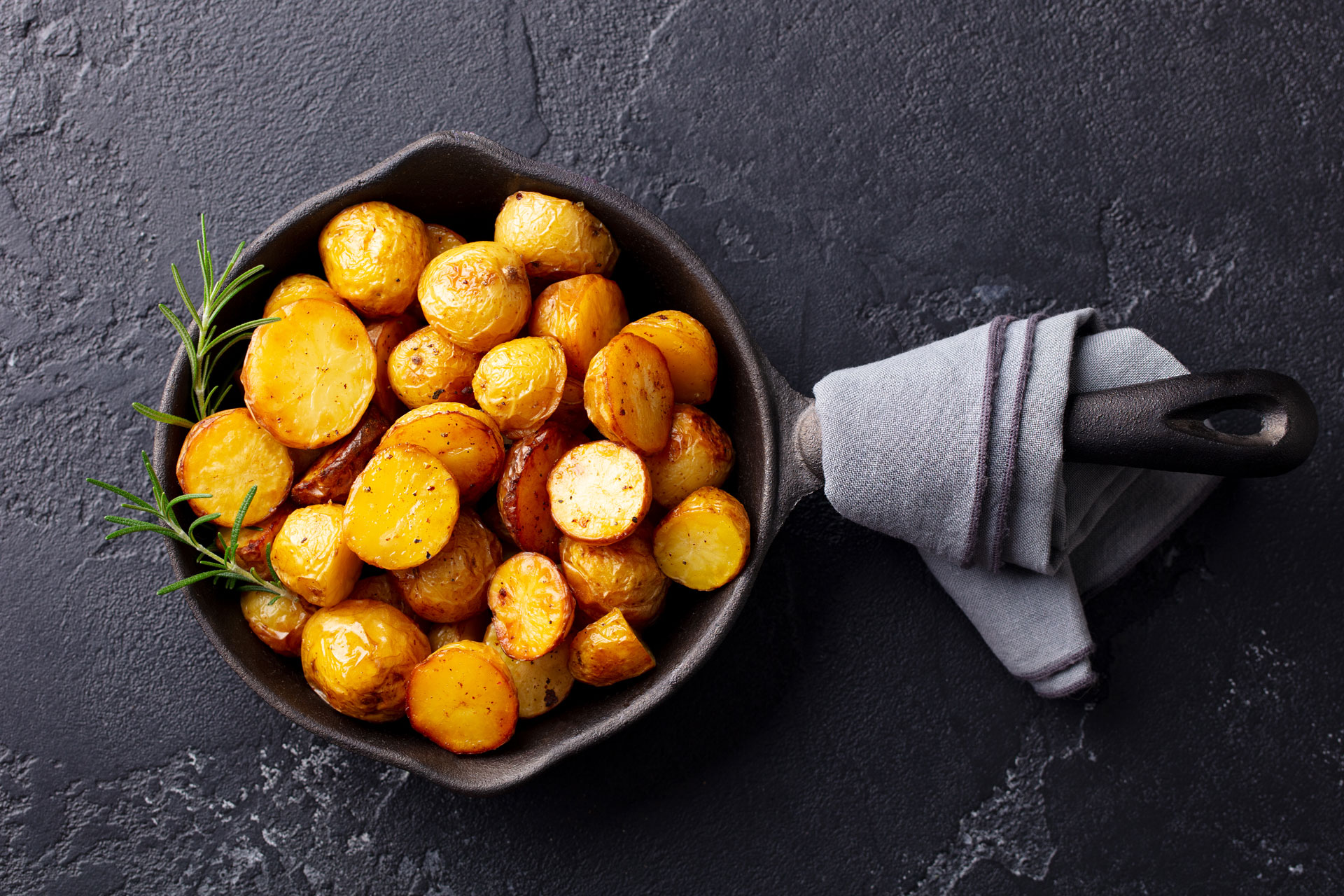 Vegetable of the Week: Jersey Royal Potatoes
---
Rejoice: it's the start of potato season
Each week plant-based cook Bettina Campolucci Bordi, founder of Bettina's Kitchen, gives us the lowdown on a particular seasonal vegetable or ingredient, offering cooking tips and a recipe. This week it's Jersey Royal potatoes.
Spring always gets me thinking about potatoes. But not just any potato: the Jersey Royal Potato. The one that hails the start of the potato season, to be enjoyed for a short while before the bigger spuds come to town. Yet that soft buttery texture you get once you have burst through those fragile golden skins is one that cannot be beaten – even by the big boys.
Exclusively grown on the hills of Jersey, these seasonal (and regional) potatoes are only around for a few weeks of the year, so make sure to enjoy them while you can. Potatoes are often graded and categorised by their texture rather than their taste, and these are no exception. Landing themselves in the waxy box, Jersey Royals are one of the more concentrated flavours of potato, so are best kept simple but done well.
Simply bring them to the boil in salted water until a knife is easily pushed through into the interior, then toss in butter or coat in a good glug of olive oil. They work equally as well in salads or served with their seasonal comrade ingredients: lamb, asparagus and wild garlic. Alternatively, Jersey Royals can be used as a vehicle for transporting flavour, and can feature in various curries as a replacement for meat. The options are truly endless for these spectacular spuds.
Saying that, you should either go super simple or go all out – there's no in between. They tend to shine better when pushed to the extremities of either end of the spectrum. Never peel or scrub your Jersey Royals: a gentle wash is all the preparation they need before being boiled or roasted. Add more salt than you think you need and boil them whole. For larger ones, feel free to slice in half and simmer gently for no more than 15 minutes. Alternatively, you can roast them for around 35-40 minutes – again, a good dose of salt is needed, before tossing in oil to ensure they are evenly coated.
When purchasing your Jersey Royals, freshness is the key factor – pick them up and give them a gentle squeeze between your fingers. If you notice a slight sponginess, they are overripe. The same goes with the colour: they should have a light golden hue, once that turns to a pale green you want to avoid. They're still delicious to cook, so don't throw them away if already purchased. To try and retain that freshness for as long as possible, keep them in a cool dark place and never freeze unless cooked into a curry or stew.
Below is my favourite potato salad with extra nutritious lentils for a protein kick.
Recipe: Wicked Potato Salad with Dill
You can't deny yourself a good potato – fact! Especially if it is a potato salad that has the added goodness of nuts, lentils and greens.
Serves 4–6 as a sharing dish
Ingredients
85g beluga lentils
600g jersey potatoes
For the dressing
60ml olive oil
2 tablespoons apple cider vinegar
1 small shallot, finely diced
1 tablespoon chopped dill, plus extra to garnish
1/2 tablespoon strong mustard (I love a good Dijon)
1/2 tablespoon maple syrup
1 tablespoon chopped capers
1 apple, cored and finely diced pink Himalayan salt and black pepper, to taste
To serve
Handful of watercress handful of baby spinach
30g (1 oz / 1/4 cup) raw walnuts
Method:
Cook the lentils following the packet instructions. Drain and set aside.
Next wash well and boil the potatoes in a big saucepan with a pinch of salt. Drain and set aside.
In a bowl, combine all the dressing ingredients, giving everything a good stir so that all the ingredients are properly incorporated.
Then add the potatoes and beluga lentils and give it a stir. Add the watercress, baby spinach, extra dill and walnuts just before serving so that they don't get too soggy from the dressing. Serve immediately.
Tip: I always find that this salad tastes so much better the day after it has been made because that way the ingredients have had time to marry. Just make sure you leave the leafy bits out until you are ready to serve.
MORE VEG OF THE WEEK: