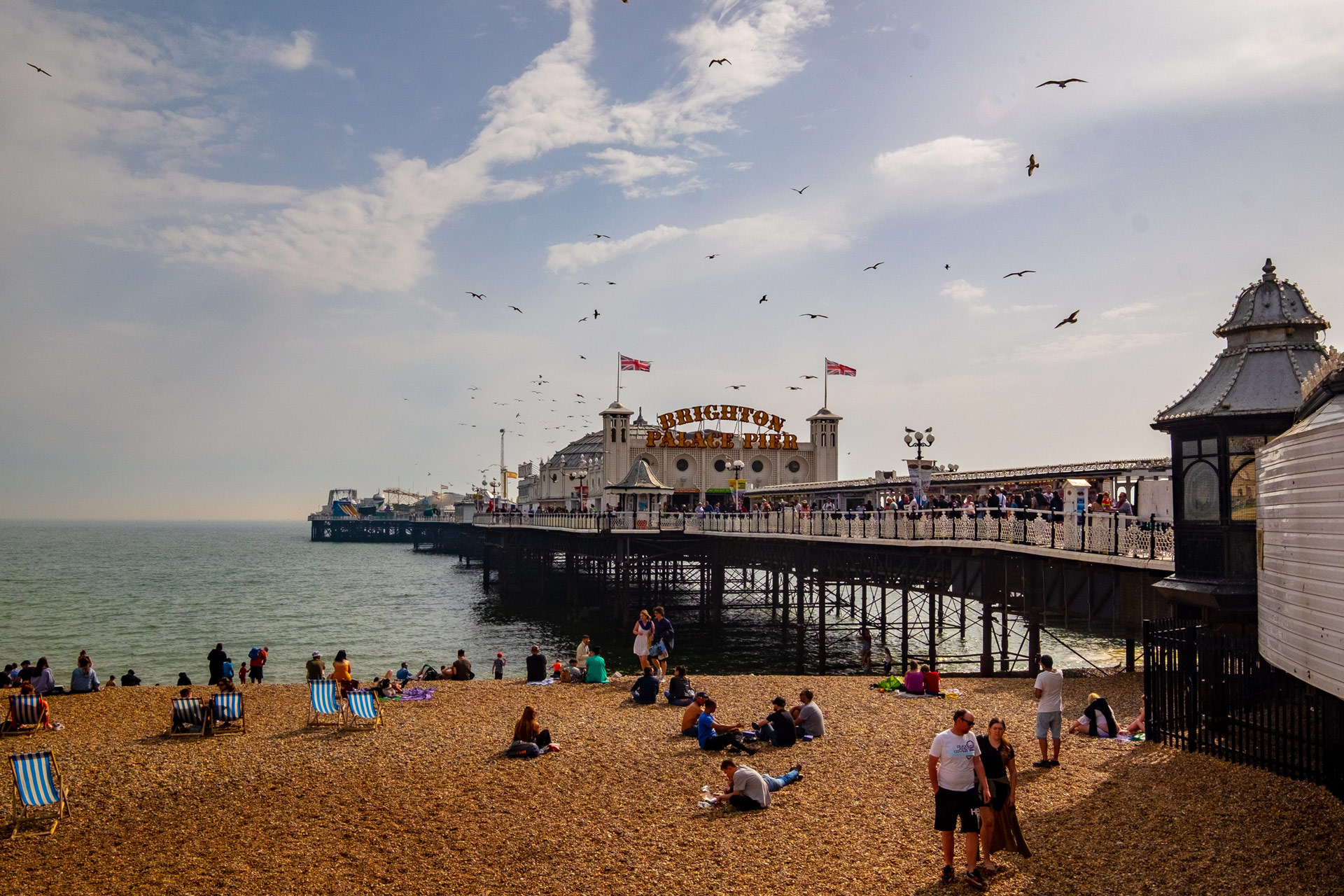 Veganuary: Where To Go For Vegan Food in Brighton
---
The seaside town is a treasure trove for plant-based gems
Brighton is one of the UK's most forward-thinking cities, so it's no surprise it was ahead of the curve on the vegan food front. You'll find plenty of plant-based eateries dotted amid its pretty lanes and seafront, from fine dining organic restaurants to food trucks and brunch cafés. Whether you've been vegan for years or are just trying to eat more plant-based meals, you certainly won't feel like you're missing out in this charming seaside town. Read on for our pick of the best vegan restaurants in Brighton.
Best Vegan Restaurants in Brighton
Green Kitchen
View this post on Instagram
Opened in 2016 by married couple Catherine and Katie, Green Kitchen is a small, laid-back vegan cafe on Preston Road, a little off the beaten track from the town centre. It serves up a range of hearty cooked breakfasts, from tofu benedict muffins to a Mexican-inspired fry-up, plus sweet options like fluffy pancakes topped with vegan bacon or strawberry and chunky chocolate. If you're after more of a lunch, options include plant-based burgers, seitan steak and chips, and salads – plus there's an impressive selection of sweet treats. Bonus: the cafe is dog-friendly, and you might even be greeted by resident rescue pup Pickle.
Address: 8 Preston Rd, Brighton BN1 4QF
Website: greenkitchenbrighton.com
Botanique
View this post on Instagram
Vegetables sit at the heart of Botanique, one of Brighton's best vegan restaurants. Each day begins with a delivery of locally sourced produce from the Pale Dot glasshouses, which champion no-dig, organic farming practices. These are then whizzed up into creative, nourishing dishes, like potato and celeriac rostis, beetroot carpaccio, and pappardelle with butternut squash and roast chestnuts. Impressively, Botanique also has its own indoor hydroponic farm, located opposite the restaurant, which produces herbs and aromatics – used in both the food and the cocktail menus.
Address: 31a Western Rd, Hove BN3 1AF
Website: botaniquebrighton.com
The No Catch Co
View this post on Instagram
The seaside city of Brighton is renowned for its fish and chips – but have you tried its famous tofish? It's served at The No Catch Co, a vegan fish and chips shop opened in 2021 by founders Kevyn and Ed, who earned their stripes launching Unity Diner, a plant-based non-profit in London. Fish is swapped for tofu to offer a vegan twist on the classic British dish, alongside twists on tempura prawns, calamari, sausages and shrimp. Naturally, it's located just minutes from the sea, and dishes can be taken away to enjoy on the beach if you please.
Address: 127a Kings Rd, Brighton BN1 2FA
Website: nocatch.co
Food For Friends
View this post on Instagram
This restaurant is something of a pioneer in plant-based dining, dating all the way back to 1981. When it opened it was common to see locals queuing round the block for a taste of its meat-free goodness – and today, it remains just as popular under its new ownership. Food here is vegetarian, but many dishes are vegan, and much of the menu is made using organic produce. Current vegan offerings include aubergine kofta with harissa dressing, Sri Lankan beet curry with spice infused potato croquette, and mapo tofu with shiitake mushroom, all served alongside a selection of biodynamic and natural wines.
Address: 17-18 Prince Albert St, Brighton BN1 1HF
Website: foodforfriends.com
Happy Maki
View this post on Instagram
Founder Anna was inspired to set up a fish-free sushi bar after watching documentary End of the Line, which delves into the consequences of unregulated sea fishing across the world. In 2014, she decided to make the business fully vegan, and has never looked back. She began by catering for festivals before setting up a store in the Lanes of Brighton, followed by a second branch a few years later, which is takeaway only. Diners can tuck into sushi burritos filled with everything from sweet potato to crispy 'cod', alongside sides like loaded tofu pockets and popcorn cauliflower.
Address: 23 Sydney St, Brighton BN1 4EN (restaurant) and 8 Pool Valley, Brighton BN1 1NJ (takeaway)
Website: happymaki.co.uk
What The Pitta
View this post on Instagram
Like many great stories, What The Pitta started over a cold beer on a hot day in Bodrum. Cem, formerly a big meat-eater, had just gone vegan, and was lamenting the lack of quality meat-free takeaways – to which his friend Roj replied that his uncle in Germany had developed a top secret recipe for a vegan doner kebab. The pair decided to bring the dish to London, and so What The Pitta was born. There are now outposts dotted around the UK, including one in Brighton, which serves up a plant-based twists on everyone's favourite drunk snack. The signature is the vegan doner kebab: soya doner in a bread wrap with hummus, tzatziki and jalapeno peppers, but there are also falafel wraps, gyros and mezze boxes.
Address: 14 East St, Brighton BN1 1HP
Website: whatthepitta.com
Purezza
View this post on Instagram
Anyone who doubts vegan pizza will be proved wrong at Purezza, which made its name in Brighton before launching sister venues in Bristol, London and Manchester. Since being founded in 2015, the pizza joint has spent years honing its craft, creating a plant-based mozzarella that tastes and melts just like dairy. Dough is made fresh daily and matured for 48 hours using an organic wholegrain flour (with a gluten-free base also available), then topped with everything from black truffle to fake pepperoni and scrambled tofu. Also worth a mention are the desserts: there's Italian cannoli, salted caramel brownie and a New York-style cheesecake. Yum.
Address: 12 St James's St, Kemptown, Brighton BN2 1RE
Website: purezza.co.uk
Smorl's
View this post on Instagram
Hummus obsessive? We've found your match. Smorl's is a small batch hummus brand which developed into a café, where you can tuck into all manner of hummus-infused dishes. Located in Brighton Open Market, it offers falafel and salad boxes, burgers and even a bolognese, all of which are served with a big dollop of Smorl's – made by slowing boiling organic chickpeas and blending them with olive oil, tahini, lemon juice and various spices. Be sure to pick up a pot while you're there too.
Address: Open Market, Marshall's Row, Brighton BN1 4JU
Website: smorls.com