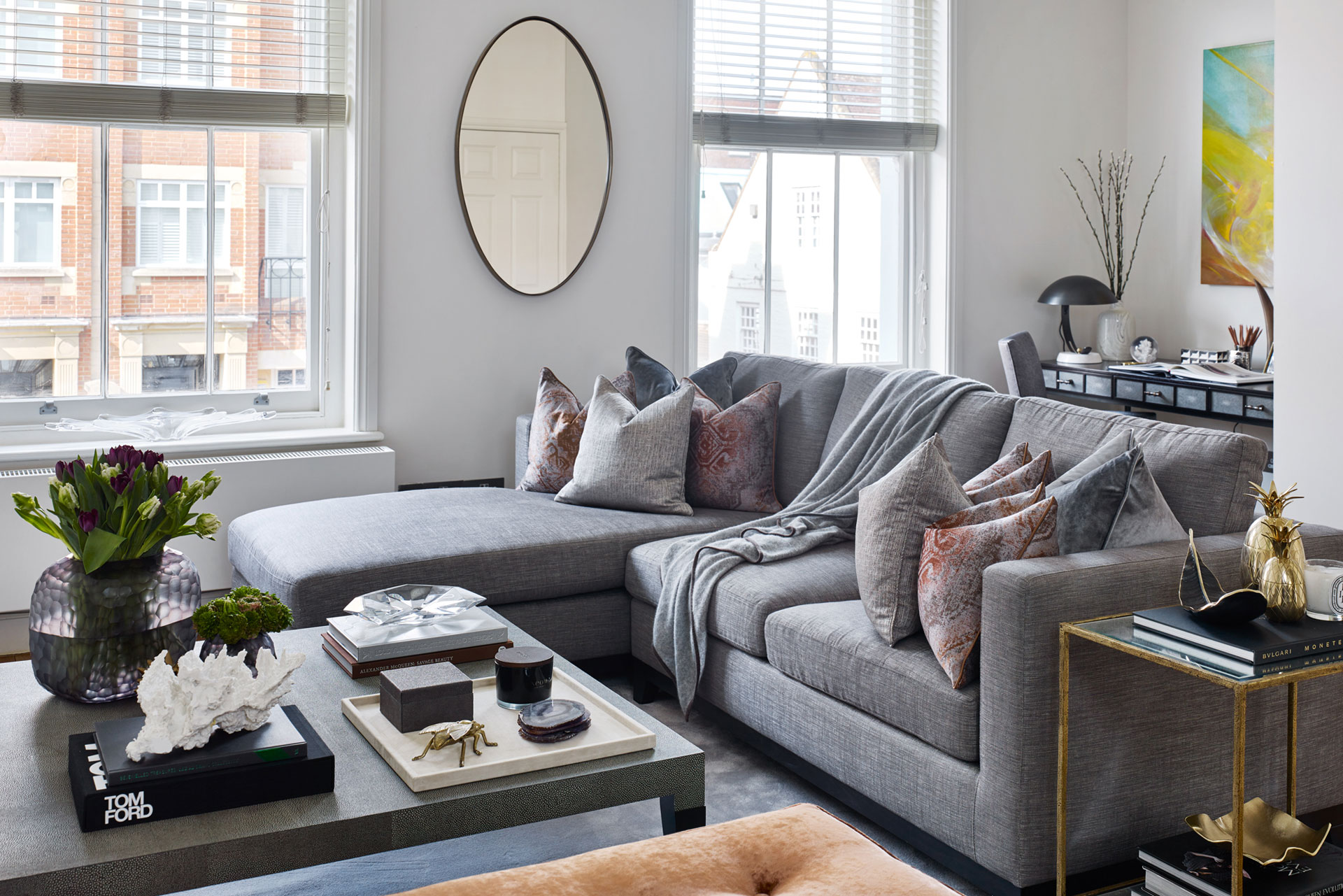 At Home With… Charu Gandhi
---
The Elicyon founder's London home
Interior designer Charu Gandhi on designing a home to last, creating the perfect WFH space and why she'd really love a flower arranging room
At Home With Charu Gandhi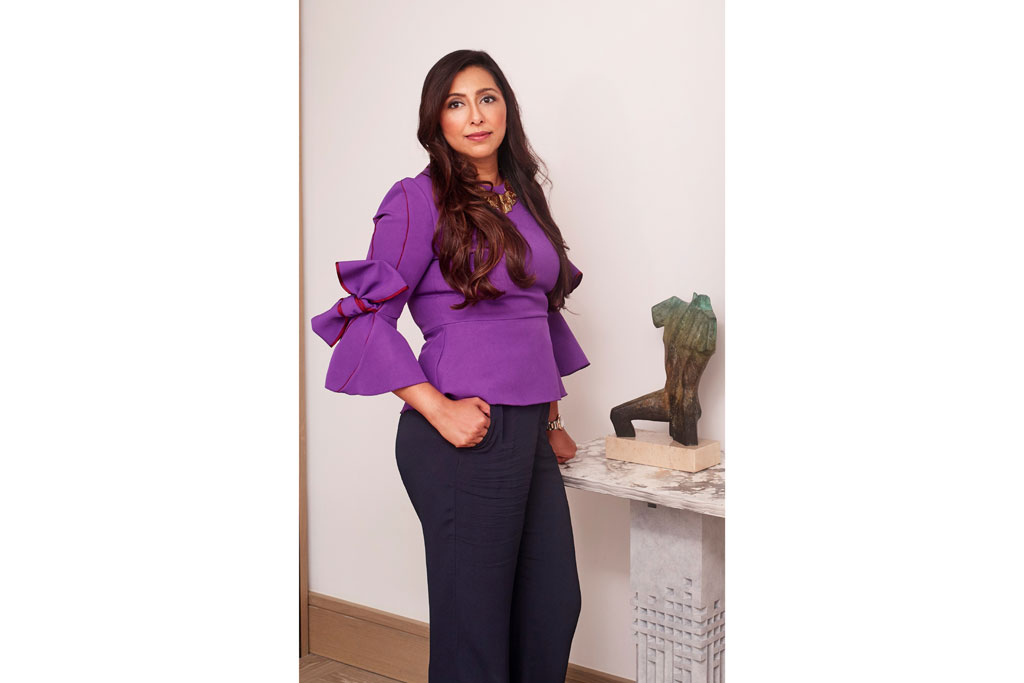 What's the story behind your home?
We moved to our home in Chelsea in 2015. Our move was quite rushed. I have a flat in Notting Hill that I bought in 2011 and had extensively refurbished and was living in prior to December 2015. When I found out I was pregnant in October 2015, I knew that with the dynamic and growing a Studio, I would need to remain involved with projects soon after having my son, so we decided to move close to the Studio on Lots Road and my parents' home on Jubilee Place off Kings Road. We had a precise brief of what we were looking for; we spent a day looking at about 16 properties, and our lovely flat was the last one we saw!
What was your inspiration when it came to designing it? Did you use an interior designer?
Moving from a bijoux flat in Notting Hill as a couple who spent most of our time out or at work, this was to be a very different sort of home. We went from a flat where we ate our meals on the sofa, to wanting to create a family home. It was a very interesting challenge, as a designer who is really particular, to create a home within 12 weeks that was appropriate for somewhere we were going to live in for the next couple of years (we are still here five years later, but planning to buy a house soon)!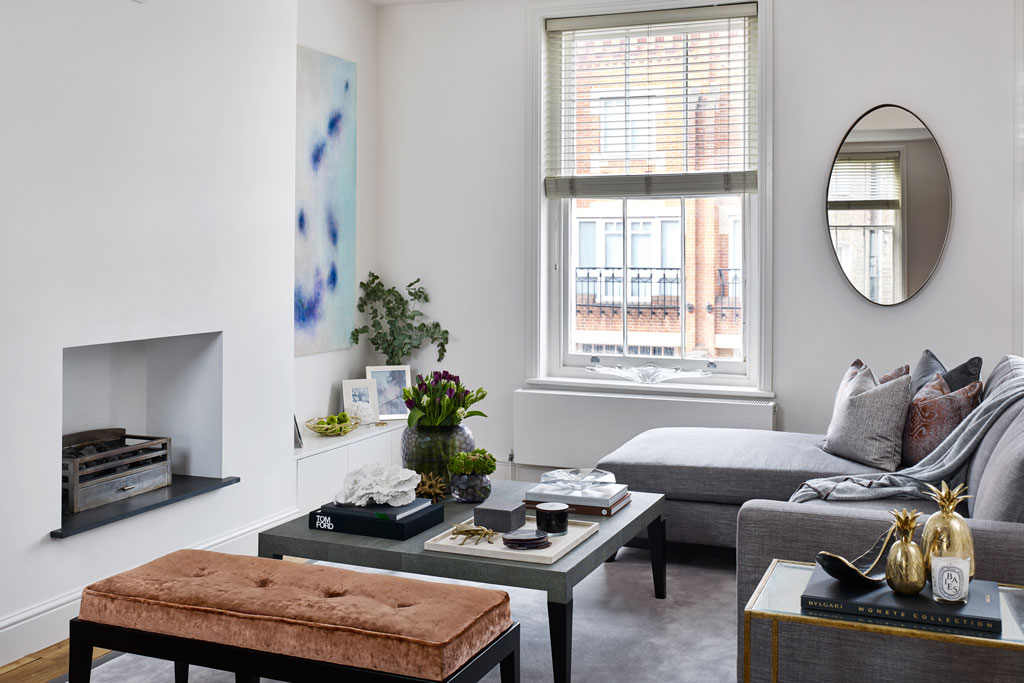 Some of the key things we wanted was to house was our small but meaningful art and ceramic collection, particularly some of the pieces I have from very special Indian artists. By using wallpaper, artwork and headboards to create a focal point in each room, we found that we really made the it our own.
At that point in the Studio, all our projects had been incredibly bespoke and detailed and I was keen for us to flex our muscles on a quick turnaround project. This provided the perfect opportunity and we have since included images of my home in client presentations to show what we can achieve with those restraints.
Do you have any interior brands that you love and always go back to?
Being an interior designer running, Elicyon, my own Studio – the list is long and varied! But I really enjoy sourcing pieces from fairs, galleries and markets. Some of the places I visit for inspiration and purchasing are Salone del Mobile, TEFAF, Masterpiece, Art Basel, amongst others. One of my favourites is the LAPADA Art & Antiques Fair – I am on the Selection Committee. At the 2019 show I discovered a beautiful Persian carpet from Gallery Yacou for a client project and some interesting pieces from Hatchwell Antiques. Coupled with the fairs, I enjoy markets immensely, and from Paris to Marrakech, I have picked up various pieces on my travels for myself occasionally, but mainly for our projects.
What's your favourite room in your house?
The room that we really did 'from scratch' in terms of not bringing in anything from our previous life is my son's bedroom/nursery. We have a beautiful whimsical wallpaper from Cole & Son on the walls, mixed with some artwork by Daniel Voss and some contemporary Japanese artists. The room is the perfect anecdote to a busy day in the Studio; it is so peaceful, with desaturated colours and lovely textures.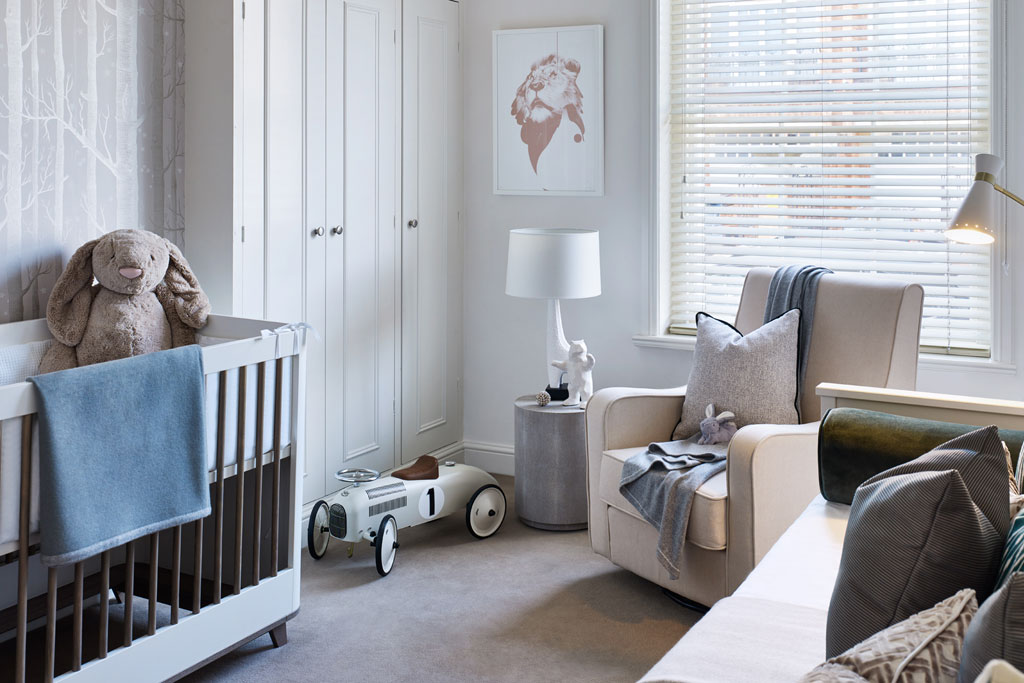 What can you see from your window?
The  apartment has a wonderful east – west aspect which is my favourite orientation. It also benefits from long views both at the front and back. On the back, it looks down the length of back gardens along Redesdale Street. My favourite view is from the kitchen on a cold and bright winter's morning, seeing the sun rise on the east and the steam rising out of the ventilation bricks on the rear facades; it's a very London view to my mind, but not as one would typically imagine it.
What's your signature dish – can you share the recipe with us?
I tend to throw things together with what's in the fridge/store cupboard – but I turn to recipes for more complex dishes.  My prawn biryani is starting to become a bit of a signature – I started cooking it from Saleem Rushdie's recipe book. I love Nigel Slater and River Café recipes, and often turn to them if I am stumped for ideas.
Share your top five books with us if you were to start a book club
Akhenaten: Dweller In Truth by Naguib Mahfouz because it provides insight into a fascinating period in history and sheds light on how evasive 'the truth' can be. It's simultaneously ambitious and elegant in its writing, from an author I have enjoyed reading over the years.
Colour: Travels Through The Paintbox by Victoria Finlay ins a travelogue that reveals how paints came to be invented, traded and used. Colour is such a fundamental part of my design explorations and understanding their 'essence' leant an additional knowledge that I enjoyed and find useful. I am now reading 'The Golden Thread' by Kassia St Clair which pays similar homage to fabric and textiles.
India After Gandhi: The History of the World's Largest Democracy by Ramachandra Guha. Mainly because I have been slowly reading this book for many years. I have a strong desire to understand the complexity that is modern day India and this book provides an excellent foundation for contemporary Indian history.
Leadersmithing by Eve Poole offers practical insight and tools to guide you on your leadership journey.
The Golden Gate by Vikram Seth is a novel in verse composed of 590 Onegin stanzas (sonnets written in iambic tetrameter) and has a lovely lyrical quality to it. It started me on a journey of reading poetry and verse which has been really enjoyable. It is an exuberant story of two young people searching for love and the meaning of life.
Share your must-see TV and movie list
In the Mood for Love by Wong Kar Wai
Heat & Dust by Merchant Ivory
The Godfather
Moulin Rouge
Clockwork Orange by Stanley Kubrick
Chef's Table
A Single Man by Tom Ford
The original Blade Runner
I often watch the sort films on Nowness
If you're working from home at the moment, how have you designed your space and have you got any tips for other home workers?
I have created a dedicated workspace, so its somewhere I can focus but also step away from. For me, creativity thrives in a clean, organised space, so a key tip would be to keep your home – and certainly your work space – as clutter free as you can.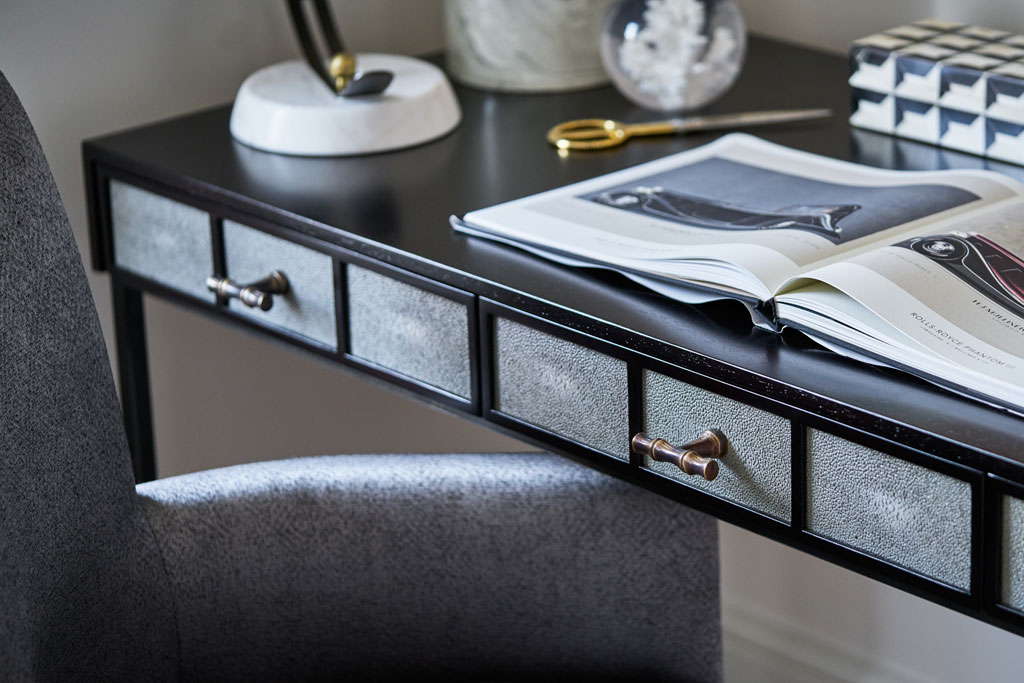 Large desks are absolutely delightful and allow one to combine working with technology and more hands on note taking – or sketching and drawing in my case. With all the gadgets that we now use, integrating technology and easy access to sockets to that the desk itself looks serene and clutter free is important. A beautiful table lamp to create a halo of light over you, and create good task lighting, is both a decorative and functional addition. Lastly, I love the patina that desks acquire over time, my desk at home is subtly marked with fingerprints, impressions of pen lines and drawings, and while it doesn't look as slick as when I purchased it, its ageing brings with it memories of many busy and happy creative hours spent at it.
In smaller spaces, we like to set up the desk with a view, so that you are looking out of the space and your eye can travel. In larger rooms, it can work better to set the desk at the back of the room, with the shelving unit behind the desk for easy access to papers and looking out across the length of the room. Keeping your working from home space clutter free and calm is really important in my view – it creates a positive energy flow. If your vision can rest on a couple of beautiful or meaningful things that inspire you, they can act as a visual reprieve through a busy day.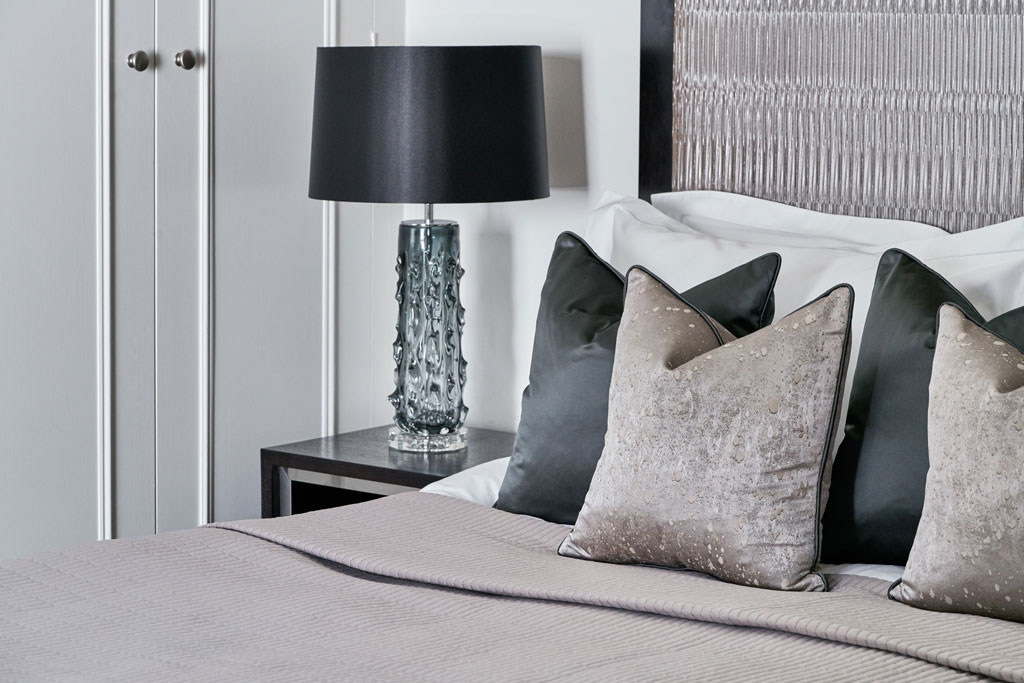 What's the first thing you do when you get up in the morning?
I try to be very disciplined with my routine, so I can juggle the various aspects of my life. A late night out (I love evenings out with friends or industry friends) throws me off but I try to get back to it. That isn't a current concern, but it is easy to have late nights at the moment so my morning routine keeps me on track.
6:00 Wake up
6:15 meditate
6:30 exercise
7:30 shower and get dressed. No PJs!
8:15 eat breakfast and spend time with my son
9:00 commence work
How do you love to spend your evenings at home?
With our young son, bath and bedtimes are a big feature and a lovely end to the day. Once he's tucked into bed, sitting on the terrace with a glass of wine marks our evening with the onset of the warmer weather. It's a small piece of the outdoors but utterly enjoyable, especially now. I really enjoy board games: backgammon and jigsaws are particular favourites and we both tend to read a lot. I often have a few books I am reading at the same time, so can happily while away the evening reading.
If you were to throw a party at home, what are the key ingredients to make it go with a swing?
I love live music and a bit of a theme in terms of the food and décor. The most important thing of course is a great mix of people and hosting them generously. I think fresh flowers really make an event, so a dramatic floral arrangement is a great addition.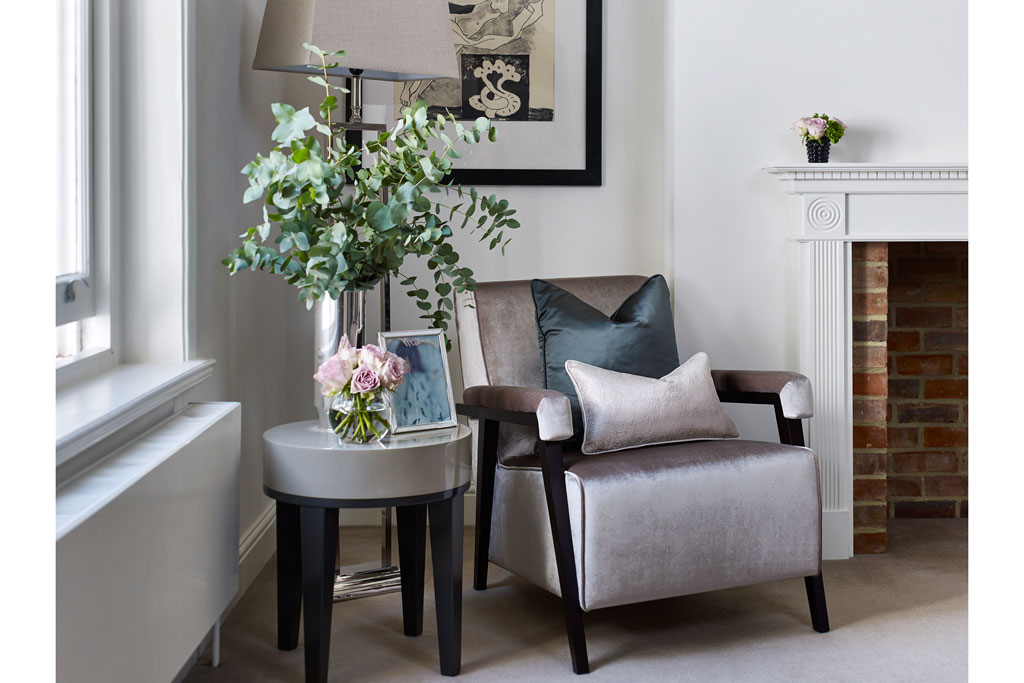 What gadget could you not live without in your home?
My iPhone and my Kindle for my personal life. I use my iPad a lot for designing, sketching and searching for inspiration.
How do you keep fit at home?
Down Dog yoga app and HIIT apps; I'm also about to start Zoom videos with my Pilates teacher, who I normally see twice weekly.
What are you doing in your garden at the moment?
If our little terrace can qualify, then we are currently planting herbs and some flowers with our young son. He is so excited to watch it come to life, its an absolute delight!
Whose home would you like to be a fly on the wall in?
At a family gathering of the British Royal family; it would be intriguing to see their true family dynamics and unadulterated personalities.
What could you really do with now you're spending more time at home?
A library and a garden; I feel a home is complete with these two spaces. I am an avid reader and dream of a time when I can have a space for it. As a side note, I would love a flower arranging and gift wrapping room – such an utterly indulgent idea, but I personally love designing really specific spaces for my clients to indulge their interests or hobbies, and this would be mine.
What makes a house a home?
I have created umpteen homes for clients over the years, all beautiful in their own right, but the most striking characteristic is the energy the clients that live in it bring to it. Nothing can replace the energy of a happy family home, a place to bring people together and create memories.
MORE AT HOME WITH:
Chrissie Rucker / Matthew Williamson / Martyn Lawrence Bullard