At Home With… Jennifer Guerrini-Maraldi
The gallery owner on her Battersea house
Art dealer and owner of JGM Gallery in Battersea, Jennifer Guerrini-Maraldi, shares her love of Battersea, a brilliant risotto recipe and what she's reading and watching in lockdown
At Home With Jennifer Guerrini-Maraldi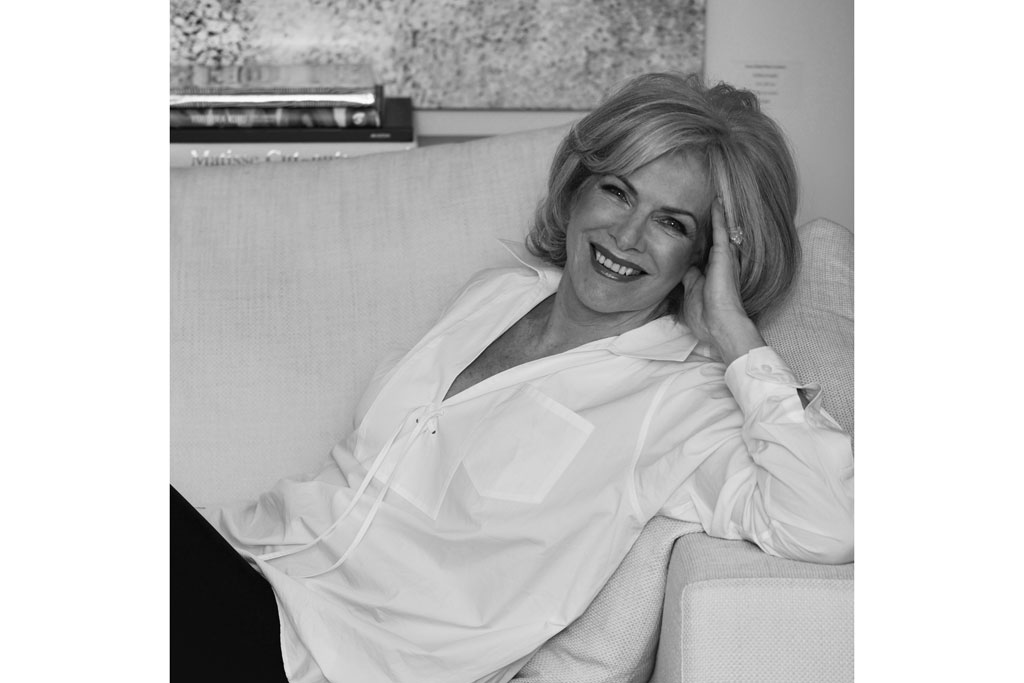 What's the story behind your home?
We bought our house over 20 years ago, when I started collecting contemporary Indigenous Australian art – my passion. My husband, Filippo, and I both realised we needed a lot more wall space if I was to add to our existing art collection. We were then really happy in our Chelsea townhouse, five floors with a gorgeous garden, however this property was not going to suit our future life surrounded by a growing art collection.
Casually browsing through the pages of a local property magazine one day, I happened to see an advertisement for two penthouse apartments on top of a new building in Battersea Square. The advertisement showed an exciting, uninterrupted view over London. I arranged a viewing and left a holding deposit on both apartments that day! I could see what an amazing space we could achieve joining the two apartments together and consequently purchased, re-designed and rebuilt the entire property where we have been living blissfully for 12 years. On one side we look over the river and also see the city of London skyline with thousands of twinkling lights in the evening. I fell in love with the charm of the Square and have grown to love Battersea more each year with the river, Battersea Park, and my gallery a few minutes walk along the river.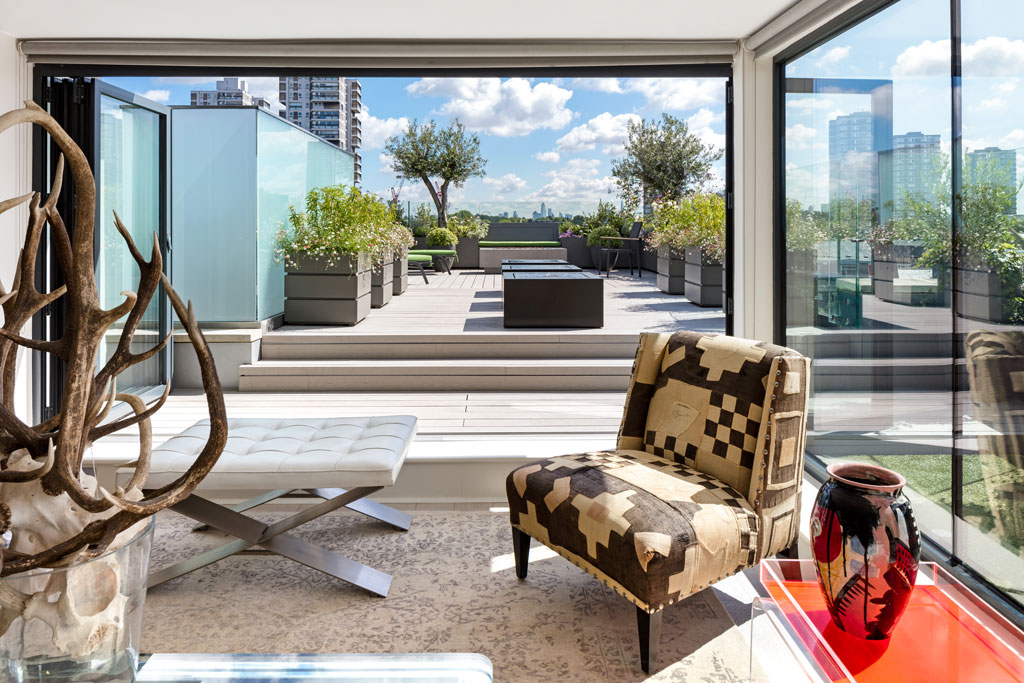 What was your inspiration when it came to designing it?
My inspiration for the design was to create a backdrop for our art collection. I used a designer to help with all the bathrooms and a great kitchen company. In the main rooms of the apartment I created a minimal background with very pale grey walls and floor as the interior is predominantly dominated by large colourful contemporary paintings. The living space is one huge area with a central kitchen area dominated by a Cararra marble bench 1x4m long.
Do you have any interior brands that you love and always go back to?
Schiffini are brilliant kitchen designers who also designed our laundry room to match the marble kitchen. For sofas we chose Poliform as you can achieve scale and very clean lines; we adore our cream linen three-metre Poliform sofa for its enduring comfort and quality.
For everyday I use an eclectic collection of silver knives and forks, all all simple designs and all different. I add to this collection whenever I visit Faversham market. We have dinner plates made in Italy with the Guerrini Maraldi family crest. I like to set the glass dining table with different themes and my favourite source for dining accessories is a company called Almost Essential. I have brilliant Belgian linen table mats with a special finish that can be wiped clean and bright Perspex brightly coloured table mats and trays, also from Almost Essential. They are irresistible if your interior is contemporary. William Yeoward is also a favourite destination for glass and generally interesting objets.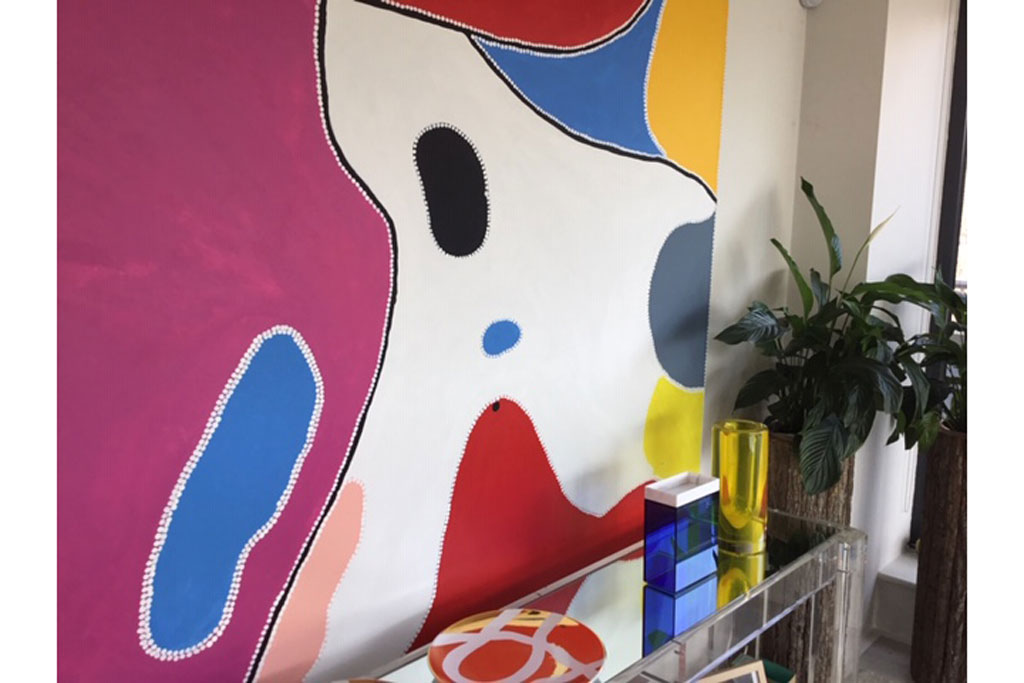 Guest bedrooms are so important and we just added a pair of small double beds from Peter Jones. The John Lewis mattress selection is so brilliant and the divan beds have storage drawers on both sides. Bedspreads are from Hare's Tail, where artist Speronella Marsh hand block prints amazing antique, heavy linen sheets. The sheets and pillows are made by an Italian company, Ada Giovannelli. Leonardo Ponziani visits London two or three times a year with samples or different designs and quality of embroidered sheets, pillows and bedcovers to order. The quality is stunning and they measure your beds exactly for fitted sheets.
What's your favourite room in the house?
My favourite room is our large, very comfortable living space filled with light and many works of art. On either side of the large living space, folding doors of both sides of the room open the side completely and our terrace garden becomes integral to our living areas. We luckily built the terrace last year with the expert help of Granit Architects, Ross Malone at Orchestrate Builders and Richard Miers Garden Design. Our terrace garden is so Zen – it is well protected by glass walls on the three sides and offers us magnificent views across London. We had to bring the two very old olive trees up by crane when the first steel beam supports were installed with the same crane!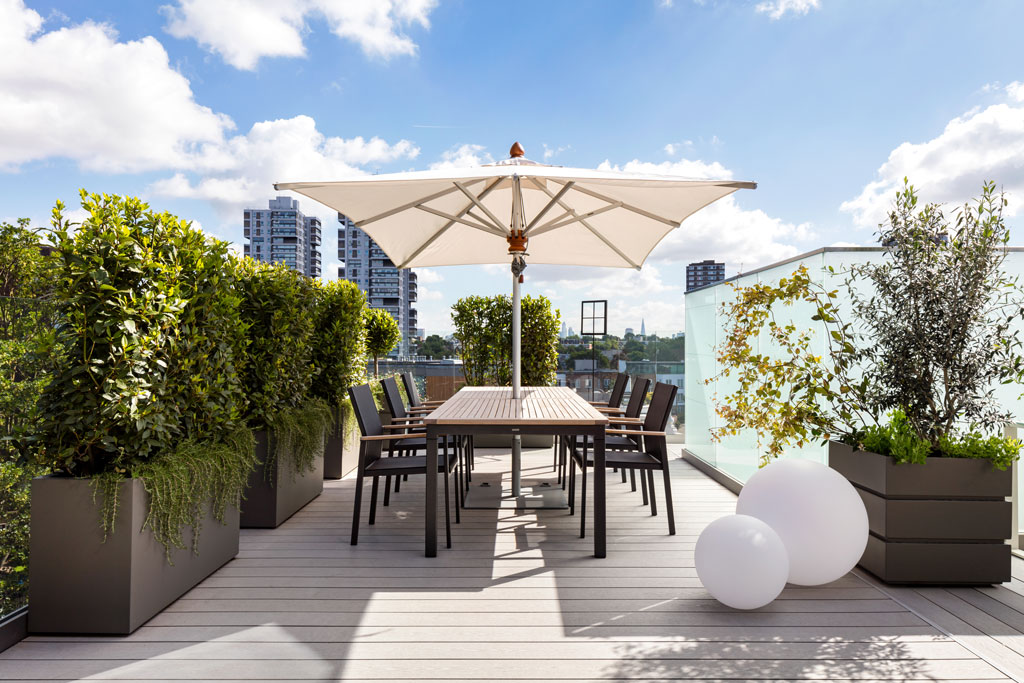 What's your best view?
We have beautiful views to the east over the city of London skyline and north across the ever-changing River Thames and to the south we can see Alexandra Palace on a clear day! The vista is mostly still very open, so we see for miles and miles.
What's your signature dish – can you share the recipe with us?
Risotto is one of my major signature dishes. I was taught to make it in the most traditional way by Filippo's old family cook, Adele, years ago in the north of Italy. It's great for lunch or dinner served with a green salad.
Basic Risotto
Serves four
1 cup of good extra virgin olive oil
4 cups of the best Italian Arborio rice.
One large white onion finely chopped
Chicken stock (or veg stock) I litre – home-made stock is best.
Dry white wine – measure 1 large wine glass.
50 grams unsalted butter
Masses of best grated parmigiano (at least two large cups)
Using a large, heavy base saucepan, sweat the onions in the olive oil until clear, add the rice and stir into the onions over a high heat for a couple of minutes, stirring constantly. Add all the white wine and stir while the wine evaporates.
Turn down heat and slowly add a small amount of the chicken stock just covering the rice. Stir gently all the time, and when some of the stock is absorbed add a little more. Keep adding stock keeping a vale of liquid covering the rice at all times but no more. Gently stir for 18 minutes. Add one and a half cups of finely grated parmigiano and slowly stir into the rice when there is still quite a lot of liquid left. Add butter and stir through.
This is the basic risotto and you can add whatever you like… chopped spinach is a favourite and also asparagus, mushroom and pumpkin. When using asparagus use the water you cooked this is as an additive to the stock.
Serve immediately and sprinkle some of the grated parmigiano over each serving.

Share your top five books with us if you were to start a book club
The Songlines by Bruce Chatwin. This book is a journey of discovery of Aboriginal Australia. It gives an insight and understanding of Australia's First People and their traditional culture dating back over 60,000 years.
Amercian Scoundrel by Thomas Keneally. A story of General Daniel Sickles,a charming, powerful man and an inveterate womanizer. Set in the mid-19th century it gives a great account of the life of an American Civil War General. Daniel Sickles is also the great, great great grandfather of my husband, Filippo Sickles Guerrini Maraldi. Thomas Keneally brings a tale of American history to life with some uncomfortable truths.
Gone Girl by Gillian Flynn. If you want a good thriller, this is the book. You will not put this down…and underneath the secrets and plots in this truly sinister story it is also a study of a destructive marriage.
Where the Crawdads Sing by Delia Owens. I absolutely love this book and did not want the story to end. Set in the desolate, remote marshlands on the coast of North Carolina, we discover the strength of the human spirit  in the life of an abandoned child. Kya's heart breaking story ends with such an uplifting twist and is filled with life lessons that will never leave you. Delia Owens' story is filled with gorgeous lyrical prose.
Henri Matisse Cut-Outs – Drawing with Scissors by Gilles and Xavier-Gilles Neret. A beautiful large coffee table book that never stops being beautiful. The insight into the life of Matisse and the extraordinary colour plates of his work is book to keep going back to time and time again.
Share your must-see TV and movie list
I am always fond of the historic dramas. I also love Mastermind, University Challenge and Miranda is good for a laugh. I enjoy David Attenborough's Planet Earth and Vera for a good detective tale.
For classic films, I love Gone with the Wind, Lawrence of Arabia and The Godfather, but my all-time favourites are Wait Until Dark (1967), a thriller with Audrey Hepburn; The Passenger (1975)  by Michelangelo  Antonioni, starring Jack Nicholson; and Rocketman, a surprisingly good movie about Elton John.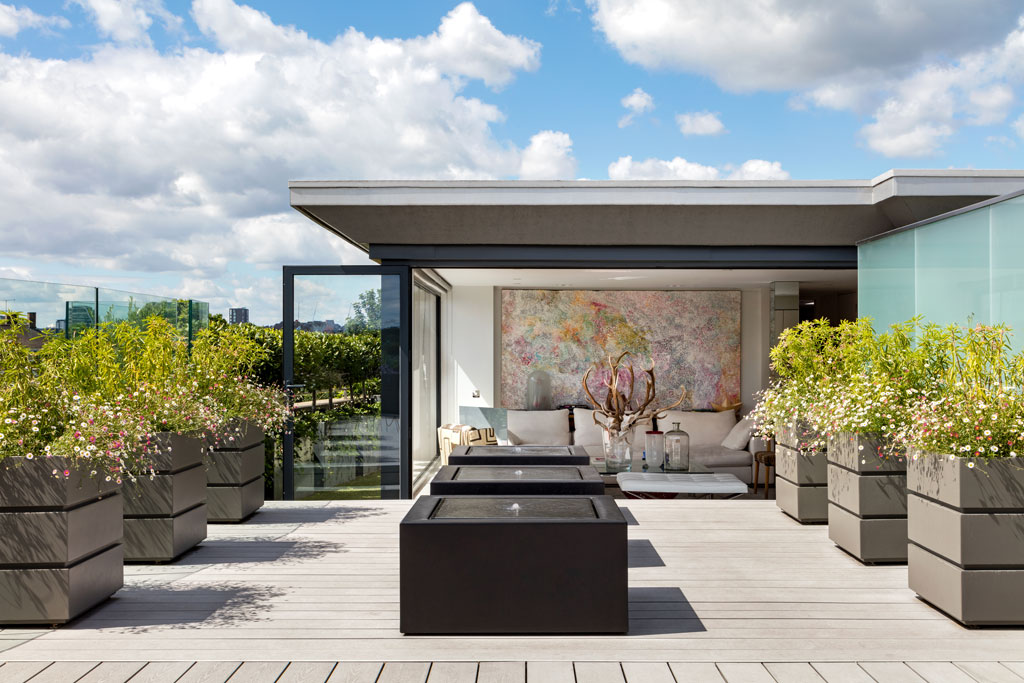 If you're working from home at the moment, how have you designed your space and any tips for other home workers?
I worked from home for five or six years before opening JGM Gallery along the road in Battersea in Howie Street, next door the the Royal college of Art. Now I am working from home again, I always have my computer on the long marble kitchen bench. I sit at one end and feel in touch with the whole house and enjoy the view. It's wonderful to work in a large space with plenty of room to spread out papers and books around you.
What's the first thing you do when you get up in the morning?
Shower and dress in my pilates work-out kit, squeeze fresh juice and prepare breakfast of berries, nuts, seeds, almond milk all topped with coconut yoghurt for both me and Filippo. We also have a great Miele built-in coffee machine that grinds coffee beans and has its own water feed so its easy to make great cappuccino for us both.
And how do you love to spend your evenings at home?
We both like to cook and often prepare dinner together. We always set the table well and have a glass of wine.  After dinner, we watch the news on TV and often fall asleep on our wonderful Poliform sofa.
If you were to throw a party at home, what are the key ingredients to make it go with a swing?
A warm summer's evening so we can open the house onto the garden, light the outdoor fire and depending on how many guests, eat caviar and drink good champagne.
What gadget could you not live without in your home?
Our Alessi juicer – we have fresh juice every morning.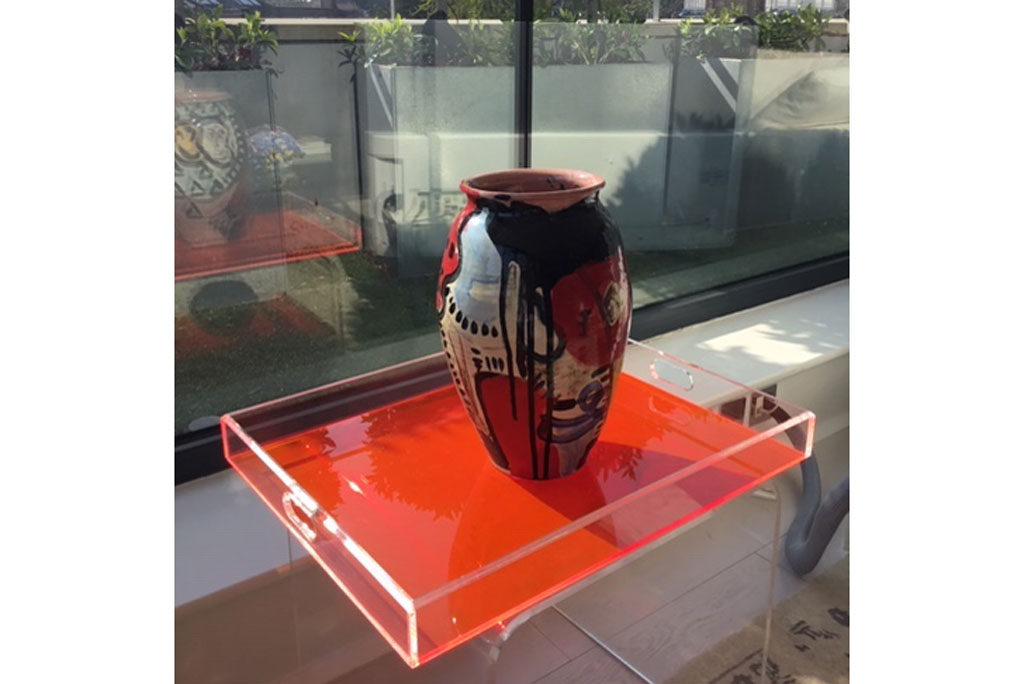 How do you keep fit at home?
My pilates studio, PI Pilates Battersea, now livestream classes on Zoom so I open my mat on a large area of floor and place the computer in a good position to do the workout for an hour every day.
If you have a garden, what are you doing in it at the moment?
Loving the tulips and pale pink cyclamen and the sunshine. I will start planting tomatoes, lettuce, spinach and rocket in a few weeks time but until then just deadheading and clearing the beds of a little rubbish accumulated over winter months.
Whose home would you like to be a fly on the wall in and why?
Queen Elizabeth II – the most amazing woman – and we could learn what she really thinks of Meghan!
What could you really do with now you're spending more time at home? What's missing?
A pilates reformer and all my friends and family!
What makes a house a home?
Love.
MORE AT HOME WITH:
Chrissie Rucker / Monica Vinader / Martyn Lawrence Bullard / Matthew Williamson
---