The C&TH Guide to Bed Linen
Making the perfect bed has never been easier...
Time to update your home? The easiest way to level up your bedroom is by upgrading your bed linen. We've found the best luxury bed linen brands on the market that balance style and comfort perfectly. Get prepared to make a bed you'll never want to get out of…
Need to find the perfect luxury bed first? Check out our edit of the best brands. 
The Best Bed Linen
Arguably one of the most aesthetically pleasing bed linen brands around if you're into more of an earthy, cosy cocoon, biophilic kind of bedroom. The linen wrinkles actually look quite stunning (saves you an ironing job) and the best part is that's it's as comfortable as it is visually pleasing.  pigletinbed.com
The newly launched Sleep By Design range by Liberty is everything you'd expect from the quintessentially British brand. Think maximalist prints from their archives, in linens, printed sateen, and the signature Liberty Tawa Lawn cotton. libertylondon.com
If no holds barred linen isn't your thing, Piglet in Bed have just launched a new range of cotton bed linen too, called suckerseeker.  The seersucker fabric also features the lovely textures associated with linen, but with a more accessible price point. pigletinbed.com
The C&TH Guide to Upgrading Your Bedroom
Love craftmanship, made-to-order, and supporting independent makers? look no further than East London Cloth. There's a range of options on offer: semi-customisable, ready-to-buy, one-offs.
Minson Linen Pillowcase with Pleated Trim, £80, eastlondoncloth.co.uk
If earthy minimalism, waking up wrapped in cocooned in linen, and being lazy with ironing describes you, Cultiver will be your next interiors obsession. All the bedding is made with 100% European flax, and the linen is OEKO-TEX® certified (meaning it's produced in the highest ethical standards for environmental and social production), all the good stuff. cultivergoods.co.uk 
Double royal-warranted linen house Heirlooms has been manufacturing luxury bed linens from its workshops in West Sussex since 1984. Today, the brand supplies its bedsheets, towels and table linen to the finest private homes and establishments across the country and around the world – all while continuing to combine traditional craftsmanship with the finest materials. Its latest addition, the Gatsby collection, epitomises the creative design skills and luxury that Heirlooms has become synonymous with. Art Deco-inspired motifs nod to the glamour of the 1920s era, realised in an evocative palette of graphite greys, iridescent silvers and inky black.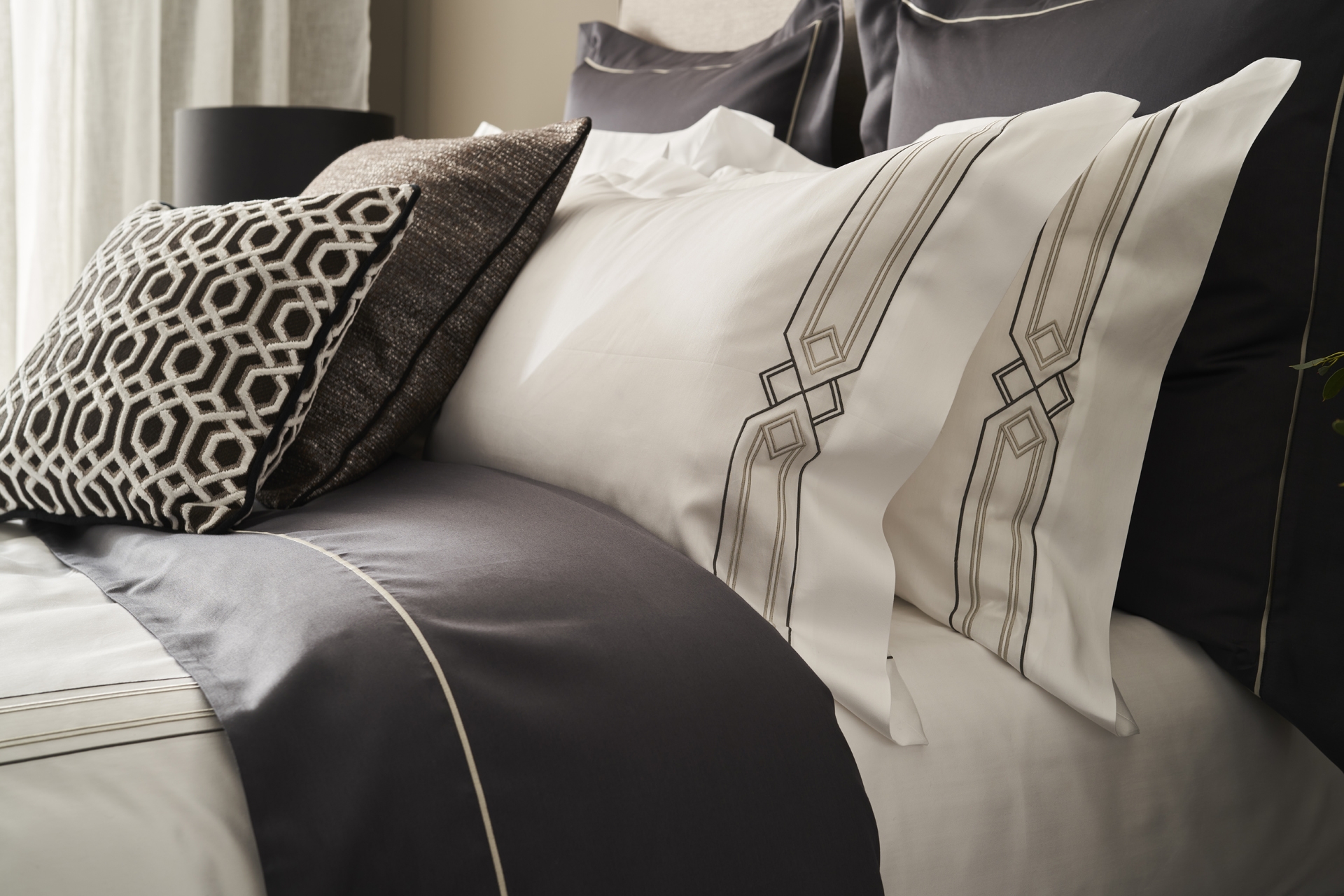 'It is true that Heirlooms have been our clients' best kept secret for nearly four decades for the quality and service we offer. Selecting bed linen is so much more than the mattress and bedding size. It is a consultation process discussing our client's vision, their preferences and providing options to make an informed decision in selecting cottons that are right for them. It's this desire to match fabrics to clients, enabling them to take control of their sleep comfort, which makes Heirlooms such a unique company delivering a personal linen service that is beyond anything else.'
Chrissie Rucker MBE had the idea for The White Company when she couldn't find well-designed, good quality white bed linens that were also affordable and decided to invest her savings into producing them herself – and thank goodness she did. Since The White Company launched in 1993, it has become the go-to brand for homeware of all sorts, from scented candles to bedding and chic pyjamas. Its endlessly luxurious bed linen collection includes a range of different styles, fabrics and shades, plus a number of eco-friendly options. This includes the Kara Hemp Linen collection, which is crafted from a blend of 52 per cent linen and 48 per cent hemp – why not give the duvet cover a whirl?

Tip: Chrissie Rucker recommends researching the quality of manufacturers' yarn
'After many years in the linen business we've experimented with almost every type of bed linen there is and determined our favourite qualities, each one offering a slightly different look and feel. The starting point for great quality bed linen is that it must be made of the best quality yarn. I can't find emphasise enough how important this is. On the high street today, there are fabulous quality 200 thread count bed linens (like those found at The White Company), made from the best yarns that feel fantastic and launder and wear really well. Then there are 200 thread count bed linens that don't feel nearly as good and don't wear as well because they are made from poorer quality yarns.'  – Chrissie Rucker MBE, founder of The White Company.
Josephine Home is a luxury bed linen brand trying to recapture the magic and charm of 'old school' linen while bringing it – with a few necessary tweaks and amendments – into the 21st century. It is all about the experience, the quality and the provenance when it comes to the best bed linen.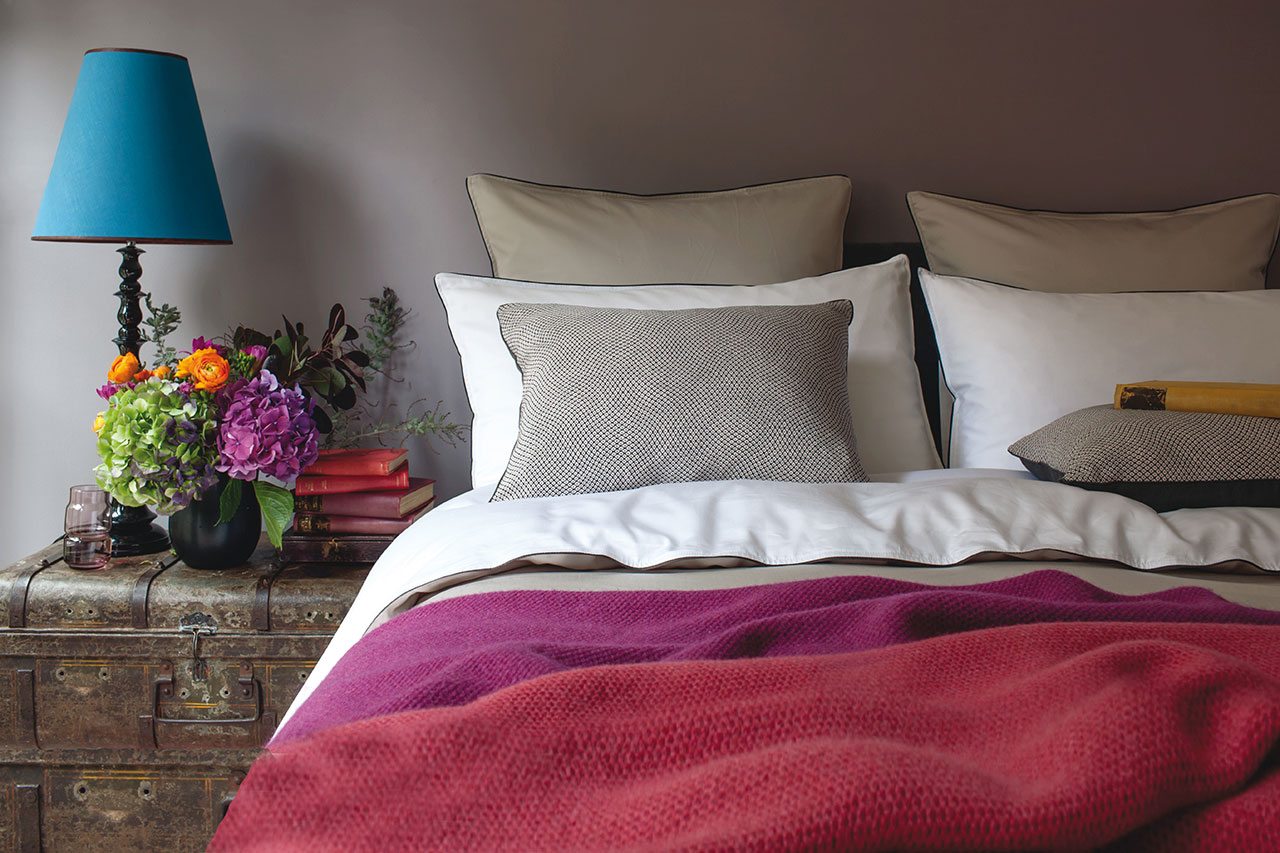 Josephine Home share their top tips for finding the perfect bed linen:
1. Always look at the stitching: it's a great indication of the level of care and craftsmanship which has gone into making the bed linen. The stitches should be regular, small and tight. Any corners should be very sharp and neat.'
2. Obviously, check the feel of the fabric: other than pure linen, it should feel smooth and light.
3. The final test is one you cannot do in the shop: the actual experience of sleeping in it, as well as how your linen washes and wears over time.
4. Remember that many brands try to get your attention with a lot of details to detract you from focusing on the quality of the actual product. So don't get caught out – do your homework.
5. Go for linen you can return if you do not like it once it's on your bed. Few brands are doing it…but for us, it's a no-brainer.
For a cheaper alternative, DRAPER LONDON is the more relaxed little brother of luxury and bespoke homeware specialist Josephine Home. This tailored range focuses on our hero products and remains big on experience and the immersive feel of the range.
The Most Luxurious Beds in the World
A brand that was born at a London kitchen table in 1998 from a passion for beautiful table linen, today Gayle Warwick's range includes bedding, handcloths and cushions. Each design reflects a focus on minutiae and an inherent love of detail which has become the brand's signature, and bedding is no exception with English garden-inspired trellis designs and artisan hand embroidery.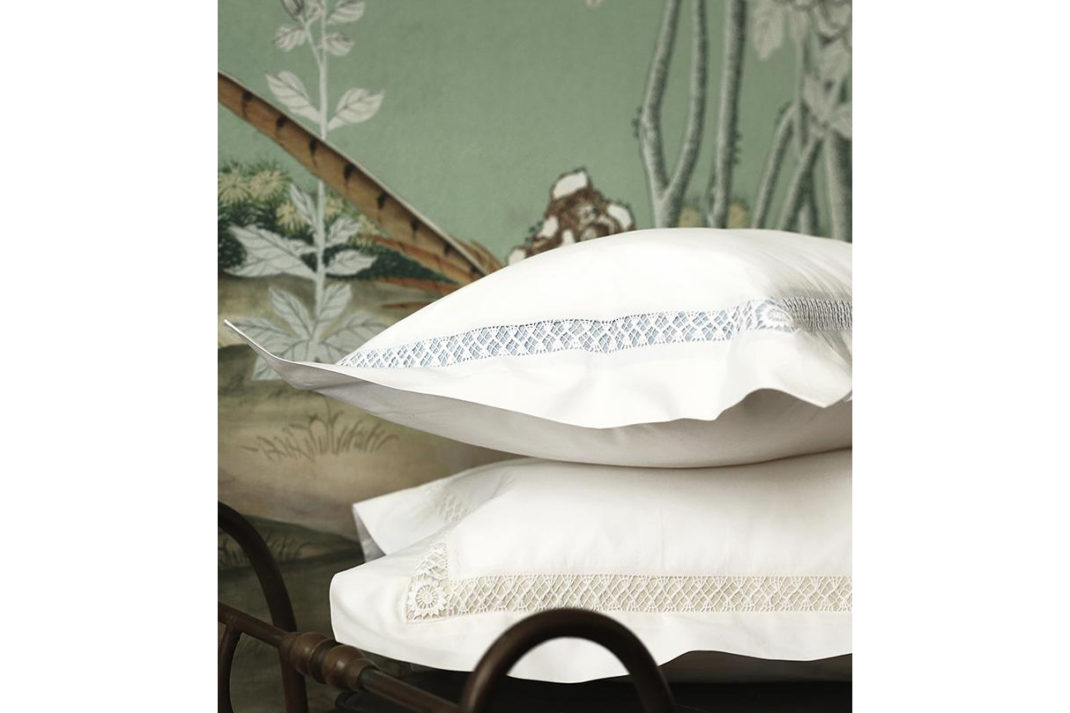 Gayle Warwick shares her top tips for choosing the perfect bed linen:
1. My first tip for choosing your bed linen is to select the right cotton. The quality of the cotton will determine not only how long your bed linen lasts and how it washes but also how it feels. We've been weaving our own organic cotton for 20 years. If you like a crisp, cool feel choose percale. If you prefer a more smooth finish choose sateen.
2. Thread counts are not a true indicator of quality. It's the quality of the yarn that makes the difference, feel the material between your hands to see if it's thick or thin. Try to find a cotton with body and some weight.
3. My third tip is to make your bed with layers to create an inviting feeling when you walk in the bedroom, suffused with cosiness and comfort. I start with two European squares to give height, then two Oxford pillowcases and two boudoirs plus favourite cushions. For sheeting begin with a fitted sheet, I always add a flat sheet on top folded over a blanket cover. I then fold my duvet at the end of the bed. In hot weather, skip the duvet and add a colourful throw or runner across the bottom of the bed. A blanket cover adds some colour, will keep your bed looking fresh all day and works as a layer to create texture.
4. The bed is the most intimate of space in your home, so my most important tip is to the take time to 'nest' and design it around your personal look.
Peter Reed started life in the 19th century Lancashire countryside. Local artisans helped to create luxurious and beautiful textiles that were made into luxurious, finely-woven linens. The styles vary, but we love the embroidered cable and snowflake sets.
'Peter Reed has been providing the most opulent, luxurious and special linens for our customers for over 150 years. Our heritage, experience and knowledge mean that creating something bespoke or standard, monogrammed or embroidered for your home is our privilege and we take great care to ensure that every Peter Reed product you receive is beautiful, elegant and enduring: an heirloom for you and your family.' – Peter Reed
Coze linen is making waves in the bed linen world, supplying amongst the very best linen for over 50 years. And in case you've ever wondered who supplies the linen to luxury London hotels such as The Dorchester, The Savoy and The Ritz, it's all courtesy of Coze. But it was only in 2012 when Dan, the great-grandson of the founder, thought to sell this high-end product on the retail market.

Tip: Coze Linen recommends researching before you buy…
Buying new sheets shouldn't be a quick decision based on the right size or colour, It is really important to consider the manufacturing process that goes into providing the best bed linen available to you. At Coze, we are positioned as a luxury brand for a reason and that's because we can trace our processes from seed to sheet, working collaboratively with our excellent farmers and factories across the world to produce only the very best. Having this background knowledge and educating oneself regarding the importance of traceability and therefore quality, will no doubt lead to making the right selection for your ultimate comfort. – Ben Roston, co-founder of Coze Linen
READ MORE:
 The Best Children's Beds / Bedroom Interiors Ideas We Love / The Best British Textile Designers / Beds
Main Image: East London Cloth, eastlondoncloth.co.uk