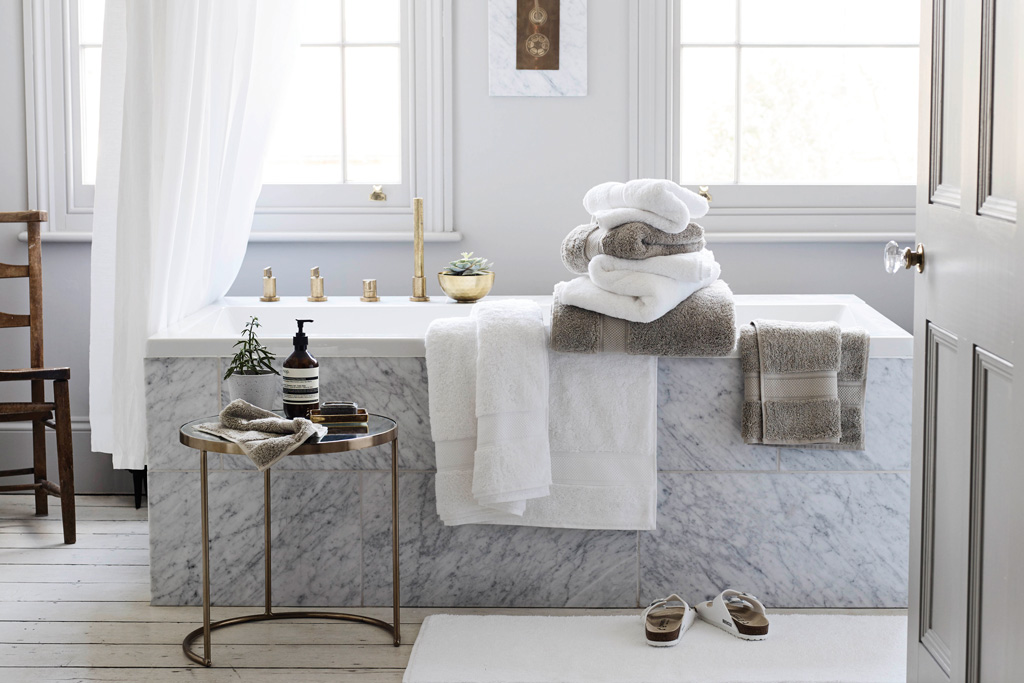 The C&TH Guide to Bath Linen
---
Dress up your bathroom to rival the spa
So you've mastered the art of beautiful bed linen – what next? To truly nail the boutique hotel experience in your home, luxurious bath linens are non-negotiable. Piles of fluffy white towels, his and hers spa robes and a soft bath mat to sink your feet into will give bath time an extra lift. Here are the most luxurious bath towels to stock up on. 
The Most Luxurious Baths in The World / Baths
The Best Luxury Bath Linen Brands
The C&TH Guide to Bath Linen
What Bath Linens do You Need?
If the experts are to be believed, the secret to glowing, dewy skin is partly down to a strict retinol, retinoids and cleanser routine, and partly owning 24 washcloths. Slightly more realistically, the general rule of thumb when it comes to the number of towels in your cupboard is that there should be a minimum of five per person (take note for your guest bathroom): two bath towels, two hand towels, and a washcloth. You should have two bath or shower mats, which should be replaced every two years (eco friendly tip: cut up any old textiles to use for cleaning).
How to Pick the Perfect Towel
Picking the perfect towel is firstly down to the GSM (grams per square metre) which tells you its weight. While 300-400 GSM towels may be perfect for drying off after a spin class, for that cloud-like luxurious feel when you're wrapping up after a bath, look for a GSM of 500 upwards (the most luxurious towels are around 700 GSM). Cotton quality is also an important consideration, Turkish or Egyptian cotton is the generally best quality available. For a soft and plush feel that will survive the washing machine, look closely for longer threads and densely-packed loops.
How to Keep Bath Towels Soft
Take a leaf from The Dorchester's laundry room, which keeps towels soft and fluffy by washing them at no higher than 30 degrees (also a more environmentally friendly temperature). Use bio detergents, which work better at 30 degrees upwards, and get a more thorough clean and stain removal by adding half a cup of baking soda.
Although you could be tempted to empty an entire bottle of fabric conditioner into your washing machine for towels, too much has the opposite effect, creating a build up which will make your towels rough. Instead, add a cap of white vinegar to the rinse cycle. To blitz out bacteria and oil, every few weeks you should wash your towels at 40-60 degrees.
How to Choose Your Bath Linen Colours
Snow white is the traditional favourite. But don't be afraid to mix up your colours to suit your scheme. Navy or charcoal towels are striking in a white or marbled bathroom. Meanwhile, taupe and rusty shades have become more popular for contemporary bathrooms, and add another layer to moodier colour palettes. If you want to stick with white but concede to a little colour, why not have your towels monogrammed?
The 50 Best Interior Designers
How to Get a Luxury Hotel Feel in Your Bathroom
Love sinking into hotel bath robes after a soak or drying off in white fluffy spa towels? To recreate the feeling of relaxing in a luxury hotel into your own bathroom (at a pinch of the price), choose brands which supply the most high end luxury hotels. Coze's towelling, along with its bed linen, is proudly of hotel-grade quality and most of its towels are an ultra-luxurious 700 GSM. Don't forget to invest in some his-and-hers spa robes to complete the look.
READ MORE:
How to Master the Art of Bathscaping / The Best British Tile Brands / Interiors Inspiration: Beautiful Blue Bathrooms