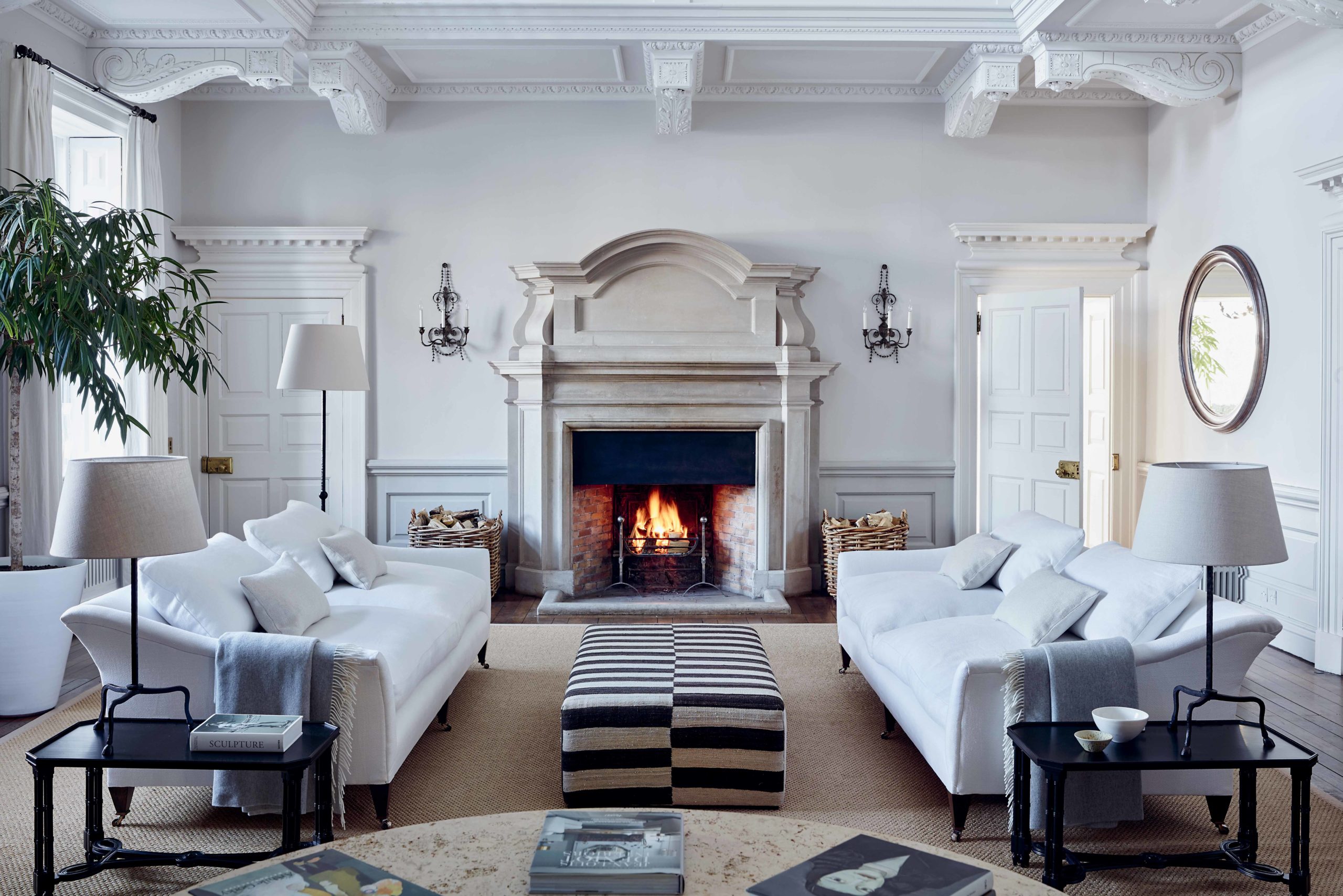 Case Study: Chrissie Rucker's Buckinghamshire Home
---
Take a tour of The White Company founder's luminously serene 16th-century home
As Christmas descends, Chrissie Rucker's serene 16th-century home will be decorated white cluster fairylights, glass baubles and flickering candles in The White Company's Winter, Fir Tree and Highland Escape. by Sofia Tindall.
The White Album: Inside Chrissie Rucker's Buckinghamshire home
We were living in Shropshire and finding the commute to London very difficult,' Chrissie Rucker explains. 'We fell in love with this house the moment we walked through the door, and it's been a work in progress for nearly twelve years.'
Striking in its simplicity as it is in modern day Austen- sensibility, Rucker's 16th-century Buckinghamshire home makes a textbook case for leaving stately properties undressed and understated. Neutral shades flow peacefully throughout cavernous spaces, lending them an almost cathedral-like stillness and majesty. It's the living embodiment of the subtle elegance at the heart of the White Company, which she founded in 1994 (there's a reason it makes its way onto all of those Christmas and wedding lists each year), so no wonder it's also the main inspiration of her bible for home design, For The Love of White.
With original sash windows, a 'magical' double height hall with a gallery, original plasterwork and mouldings, the principle design signature is, of course, white. 'I've always loved the perfect simplicity and versatility of white,' Rucker says. 'It's classic yet modern and, like a little black dress, stands the test of time.' But, she adds, not all white is created equal. 'In a predominantly white home, it's important to choose warm whites. We used lots of chalky whites and the softest greys.' Over time her home has also become a collaborative project of sorts, with London-based interior designer Ann Boyd drafted in for the initial overhaul of the design, and more recently the expert eye of antiques specialist Rose Uniacke who worked on the finishing touches.
Natural materials, diaphanous drapes, weathered wood and slates are also elements cleverly used throughout to enhance a sense of texture and underscore the grandeur of the building. Rucker's personal triumph is the kitchen, previously several small, poky rooms. 'We replaced three windows with French doors, making it much lighter. It became one of our most loved and used rooms in the house.'
As Christmas descends, it's all too easy to envisage each tranquil, luminously serene room decked in white cluster fairy lights, glass baubles, flickering candles ('Winter, Fir Tree and Highland Escape are always my Christmas staples') with mantelpieces draped in greenery, and a fire leaping in the vast grate. 'Bringing the outside in too, adds life to a space,' concludes Rucker. 'A fig tree in a bright, airy space or just a large vase of simple greenery or flowers really adds natural energy.' For the rest, of course, you'll have to read the book.

Photos from For The Love of White: The White and Neutral Home (£30, Mitchell Beazley). thewhitecompany.com
READ MORE
The 50 Best Interior Designers / Case Study: Willow Crossley's Oxfordshire Farmhouse / Secret Service: Inside Monsieur George Hotel and Spa