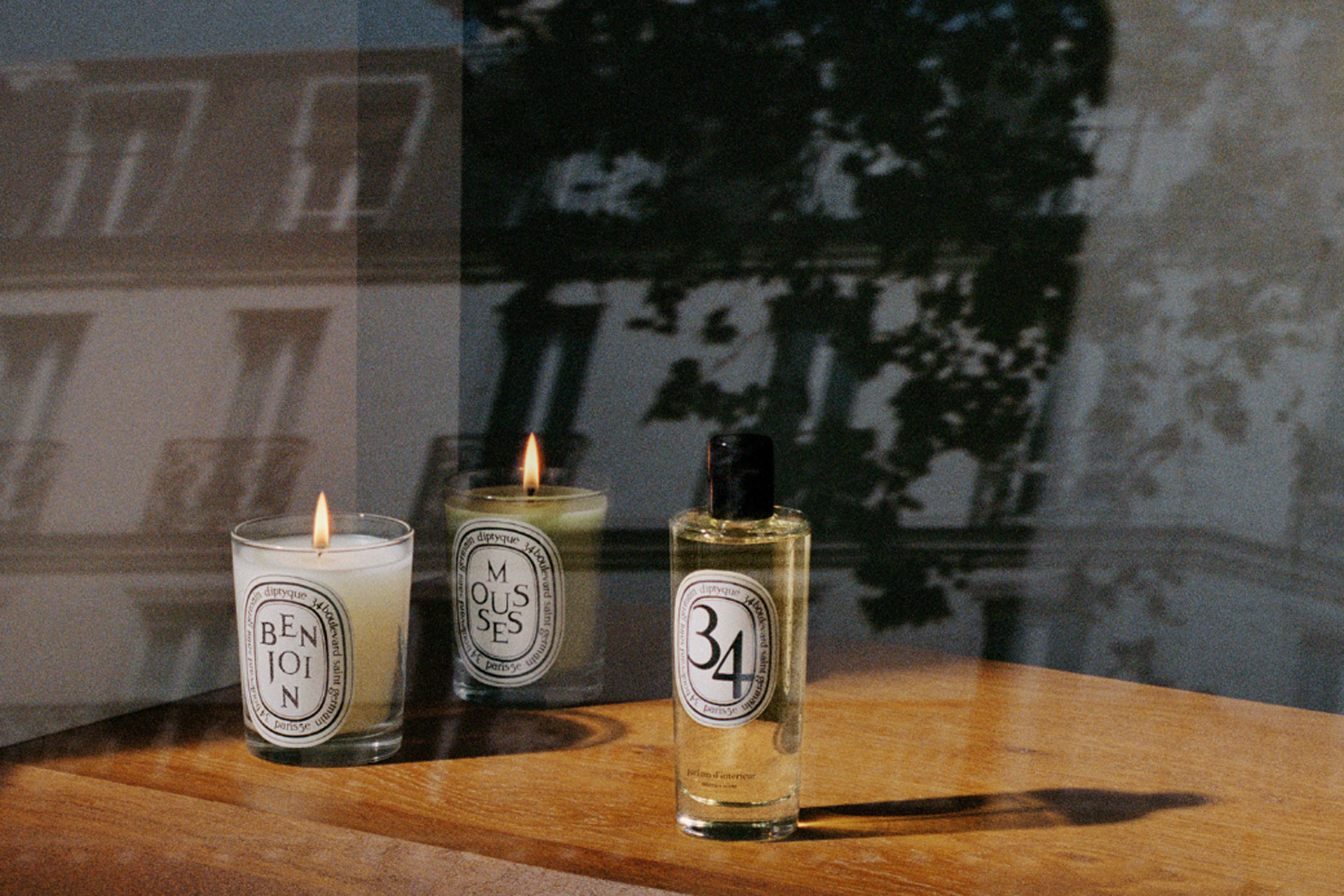 A Love Letter to My Diptyque Candle
---
Here's why our love of candles isn't getting put out any time soon
Charlotte Rickards waxes lyrical on our historical obsession with candles. And explains just why the cult around Diptyque (which counts Meghan Markle, and Beyoncé as followers), isn't getting put out any time soon. 
A Love Letter to My Diptyque Candle
Any candle parent can separate their life into two parts: Before candles (BC) and after. (AD = that's After Diptyque, obviously).
I know I'm not the only one who's Diptyque candle marks a change in their life. 'Even when I'm away, I have someone burn them', is what Beyoncé told NY magazine of her parenting techniques for her Diptyque candles. (Her favourite is the Vanille one, if you're wondering). 
Victoria Beckham has a Diptyque candle in her office. St George's Chapel (only that quaint little chapel that's seen a slew of crowns and marriages of British monarchs since the Mediaeval age) is also a fan. A fan of the Baies scent, to be precise. Since it was rumoured that it was the scent that circumambulated around the chapel for Meghan Markle and Prince Harry's wedding.
The Diptyque Figuier candle was also the protagonist of Meghan Markle's now defunct Instagram, on her side table next to a vase with a peony. Her favourite flower. 
So it's fair to say then that the cult of Diptyque still has a distinctly bright, and very well lit shrine in 2022. So what is it about this candle that commands such a following from the royals and today's cultural elite? Why do we set our money literally on fire for the stuff? 
The truth is that we've been obsessed by the performative, emotive ritual of candles since time immemorial. Rich Romans would craft their candles from either beeswax or spermaceti for ceremonies. 
Skip on through to 18th Century Britain, and the wealthy might collect a classical antiquity curio cast in wax. Or maybe a preparatory wax figure by an artist of the day (wax models are made when creating bronze sculptures). With those body sculptural candles as a success story during the pandemic, plus ça change, so it seems. 
Desmond Knox-Leet, one of the three founders of Diptyque was equally fanatical about classical antiquity. 
Diptyque's signature oval-shaped sticker, that Desmond dreamt up, is inspired by ancient Rome. Specifically from the Praetorian shield. Take a visit at their original store in Paris, and whittle on through their archives, and you'll see this inspiration was only the beginning of Desmond's love affair with classic antiquity and the arts. 
You'll see sketchbook after sketchbook of his drawings. There are seventy five in the archives, to be exact. And it'll be sketches of a piazza in Florence, say, with a Renaissance sculpture, playing onlooker to a chatty café scene. Or a ruin or archaeological museum. He was enthralled by it all. 
Desmond was from an aristocratic family in Britain, and grew up with all the cultural trappings that you might expect: the opera, paintings, music and the like. But he was also inspired by how the Ancient Greeks and Romans said we should spend our time outside. Desmond loved Virgil's Eclogues, that spoke on the pleasure of nature, of pastoral landscapes, and soaked that into how he took in his surroundings. 
Well before the first match struck a Diptyque candle alight, the Diptyque store originally was a bazaar of sorts, which Desmond ran with interior designer Christiane Gautrot, and set designer Yves Coueslant. It opened in 1961. And it was a jumble of beautiful objets d'art, magpied from the trio's travels and impeccable sense of aesthetics, all with a humble price tag, that brought with it the Parisian glitterati of its day. Which then led the Diptyque to much acclaim. It was an emporium that's often tipped as the first 'concept store' you see lining so many streets today. 
And hanging amongst all the whimsical, eclectic accoutrements were pomanders. These are fragrant oranges pierced in patterns with cloves you'll often now see at Christmas. You could say that was the store's official scent, (Diptyque actually has a pomander candle it sells today). 
This atmosphere and 'spirit' of the store from this time is the muse for Diptyque's latest collection, 34. Named after the store: 34 Boulevard Saint Germain. Laurence Semichon, Senior Vice President of Fragrance and Beauty at Diptyque explained how The Diptyque team began their journey via a machine, called Headspace technology. The machine collected and analysed the scents of the store, which gave the basis of how Diptyque scented its collection. 
You'll find unusual notes of spices, flowers, and moss, that wasn't ever for a specific audience (since its first fragrance L'eau, Diptyque hasn't used any gender or generational binaries). 'And this is why I find Diptyque moving, that you can have the same perfume loved by two different people. A young edgy guy and a bourgeois woman in her 70s can meet and be happy to know that they belong in the same community.' 
Diptyque's 34 Boulevard Saint Germain Collection is available to buy now.