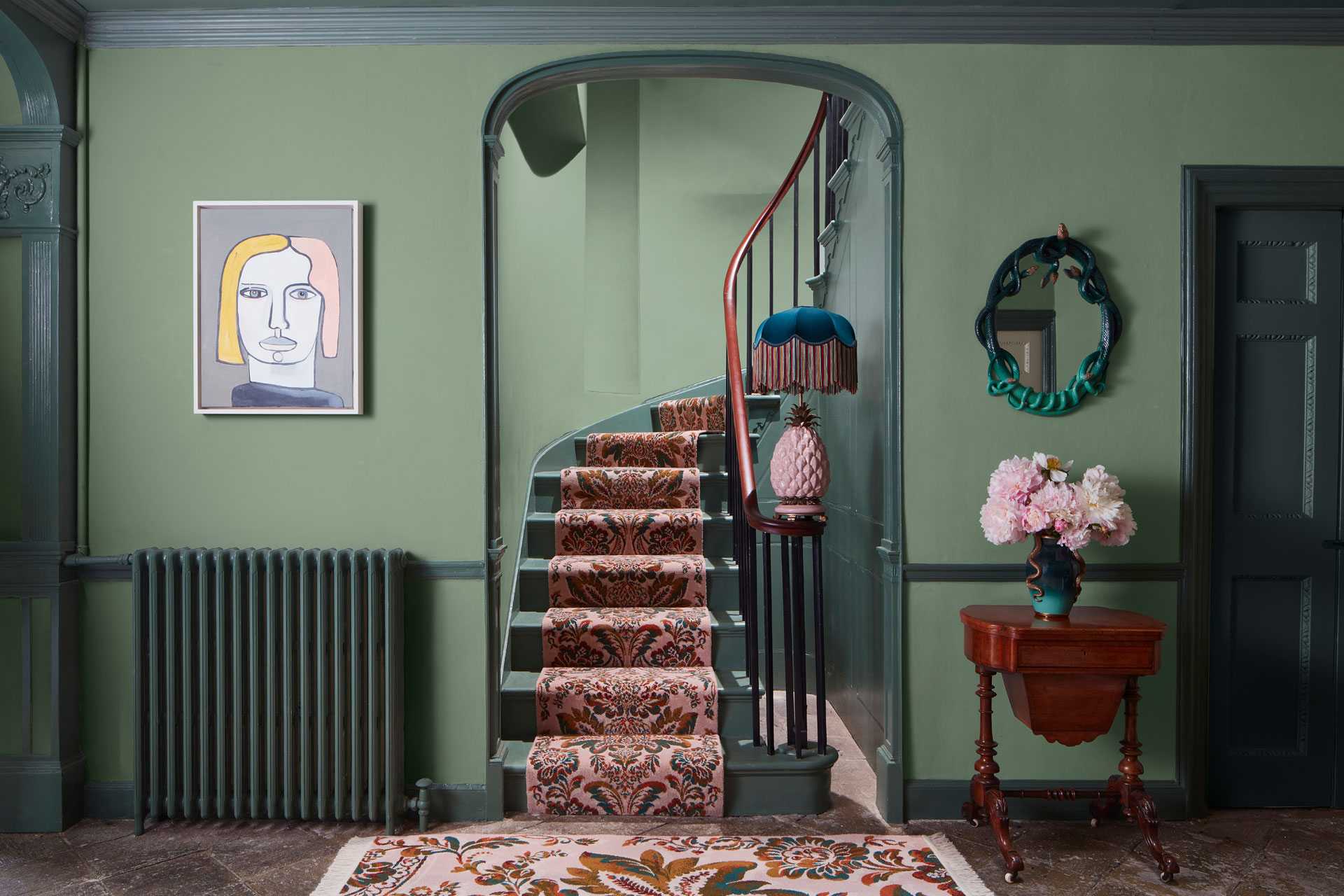 Green Paint: Here's Why We're Painting Walls Mossy
---
Climate change, corporate burnout, and the desire to reconnect with nature could be some of the reasons that green paint is trending.  
Lichen, Woad & Pea: Here's Why Green Paint is Trending
Our Edit of Perfect Green Paint for Your Walls
Whether it's Saint Laurent's bags draped over a lichen-clad rock, Soho Home's Velvet Lichen Sofas, Farrow & Ball's Lichen paint, or House of Hackney's hue in Woad  — lichen, moss, or anything distinctly forest like — seems to be the latest muse for our clothes and walls. 
Springing from cottagecore's gingham picnics and cut-flower gardens, we're seeing the offshoot trend of 'Goblincore' — and we're seeing it spill onto the colourway choices for our walls.
Could it be to do with how we're looking at climate change? Moss & lichen's capacity to sequester carbon dioxide from the atmosphere could partly explain its popularity, being particularly loved by outdoorsy ambler or woodland forager type.
But maybe also green paint is trending because of us generally trying to reconnect with nature. Moss is massive on TikTok (dubbed: #mosstok), and Stella McCartney's foray into interiors at Milan Design Week with her fungi sofas can't be a coincidence.
The Best Sustainable Green Paint Brands to Buy from
For picking your favourite shades of vert, we're looking to Edward Bulmer and House of Hackney for sustainability credentials. House of Hackney is a B Corp brand plus the paint itself has low VOC levels (a must), which comes with a FSC wooden stirrer made from by-products that would otherwise go to waste. It's also good to know that every paint tin sold too enables them to purchase and protect 35 square metres of forest in partnership with the World Land Trust too. So it's a win, win.
Edward Bulmer paint equally has a good sustainability reputation. Low VOC levels. Edward Bulmer also explains how all the ingredients are nature based on their website.
SEE MORE
The Best Luxury Paint Brands / The Best Eco Friendly Paint Brands
Main Image: Jadeite, House of Hackney, houseofhackney.com