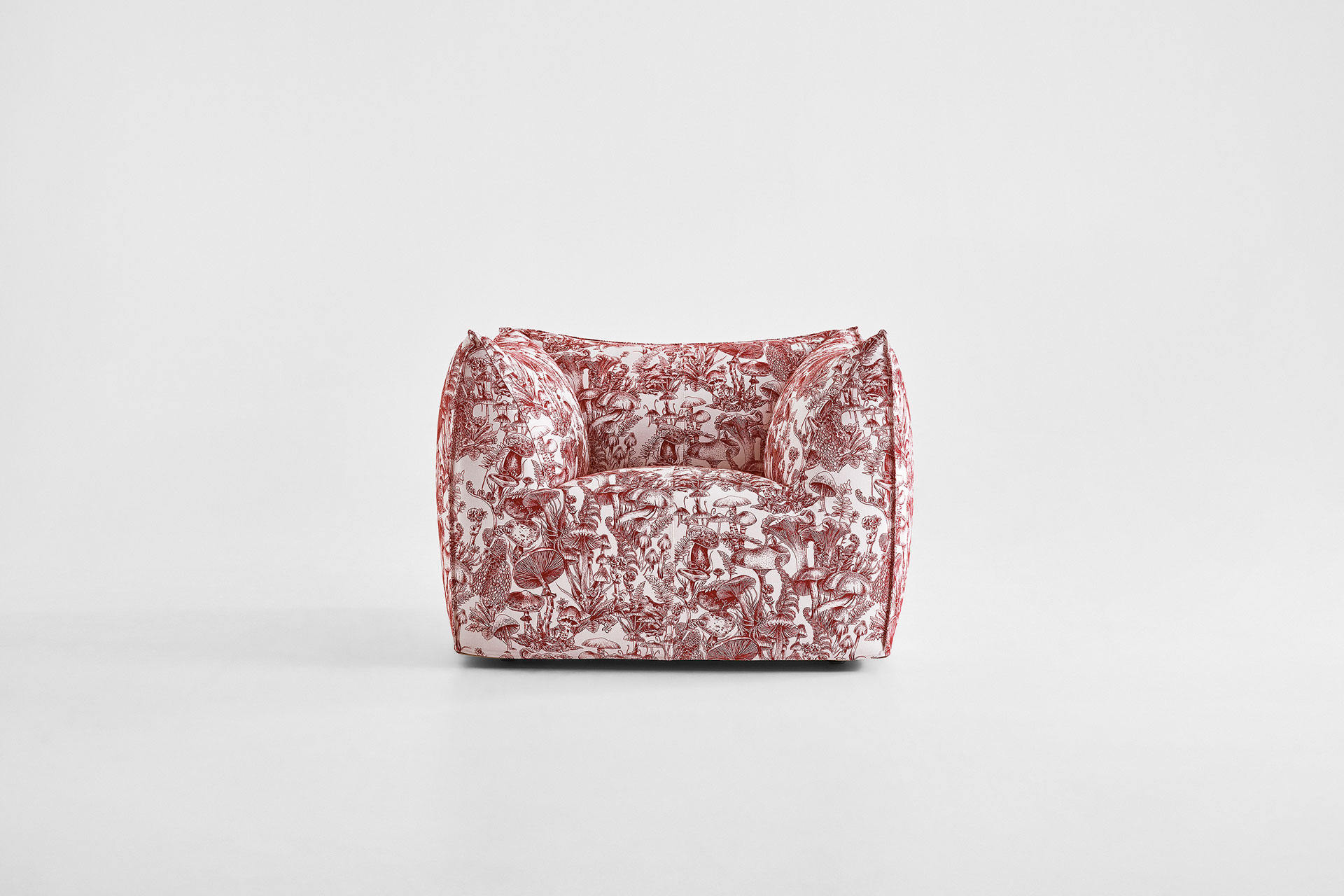 Stella McCartney Makes Her Foray into Interiors
---
Mycelium Meets Toile Due Jouy 
Stella McCartney makes its first ever move to interiors — and of course, it stars mycelium. 
Mycelium Meets Toile Due Jouy in Stella McCartney's Foray to Interiors
Unveiled today, as part of Milan's 60th annual Salone del Mobile, Stella McCartney announced a wallpaper collaboration with heritage British wallpaper house, Cole & Son, as well as a the Italian furniture marker, B&B Italia.
Stella McCartney x B&B Italia rework Le Bambole Armchair
As part of the show, B&B Italia and Stella McCartney unveiled a rework of B&B Italia's iconic Le Bambole armchair, upholstered in Stella McCartney's hand-drawn Fungi Forest Burgundy (as part of its Summer 2022 collection). The armchair isn't the only piece to have been wrapped in the famous print, with the likes of Timothée Chalamet spotted wearing the hand-drawn Fungi Forest blue suit last year at the London premiere of Dune.
Magic Mushrooms: 5 Reasons Why Fungi are the Future of Sustainability
Stella McCartney's fascination with fungi is hardly anything new. Along with a flurry of other fungi related campaigns, including releasing the first ever mushroom leather bag in October 2022 (going on sale commercially this July). Stella McCartney also made its mark at COP26 in Glasgow last year, where it unveiled an exhibition – with much fanfare, of course – hailing the fungi as 'The Future of Fashion'.
Not only is the move into interiors new for Stella McCartney, the collaboration also commemorates the 50th anniversary of the Le Bamole armchair, that was originally designed  by Mario Bellini in 1972. Stella McCartney has hinted there will be more to come in this space.
Is Stella McCartney x Cole & Son's Wallpaper the Most Sustainable Yet?
The other collaboration announced today is with Cole & Sons, the British heritage wallpaper brand. The same Summer 2022 hand-drawn Fungi Forest Toile de Jouy print had been used, only this time it's Cole & Son's most sustainably crafted wallpapers to date.
17 Beautiful Botanical Wallpapers
The wallpapers, now available to buy on Cole & Son's website and at its flagship store later this year, are produced with a substrate derived from 79 per cent renewable fibres and utilise a manufacturing process using 30 per cent less greenhouse gases than traditional non-woven wallcoverings. The wallpapers are part of the larger aesthetic trend towards maximalist, biophilic spaces we're seeing in the world of interiors.
SEE IT
Future of Fashion: An innovation conversation with StellaMcCartney will be open to the public daily from 7 to 12 June. Discover more at stellamccartney.com and at Stella McCartney Milan, located at Via Santo Spirito, 3.
SEE MORE
Stella McCartney's Summer 2022 Campaign is a Fungi Fantasy / Stella McCartney Celebrates Fungi at COP26