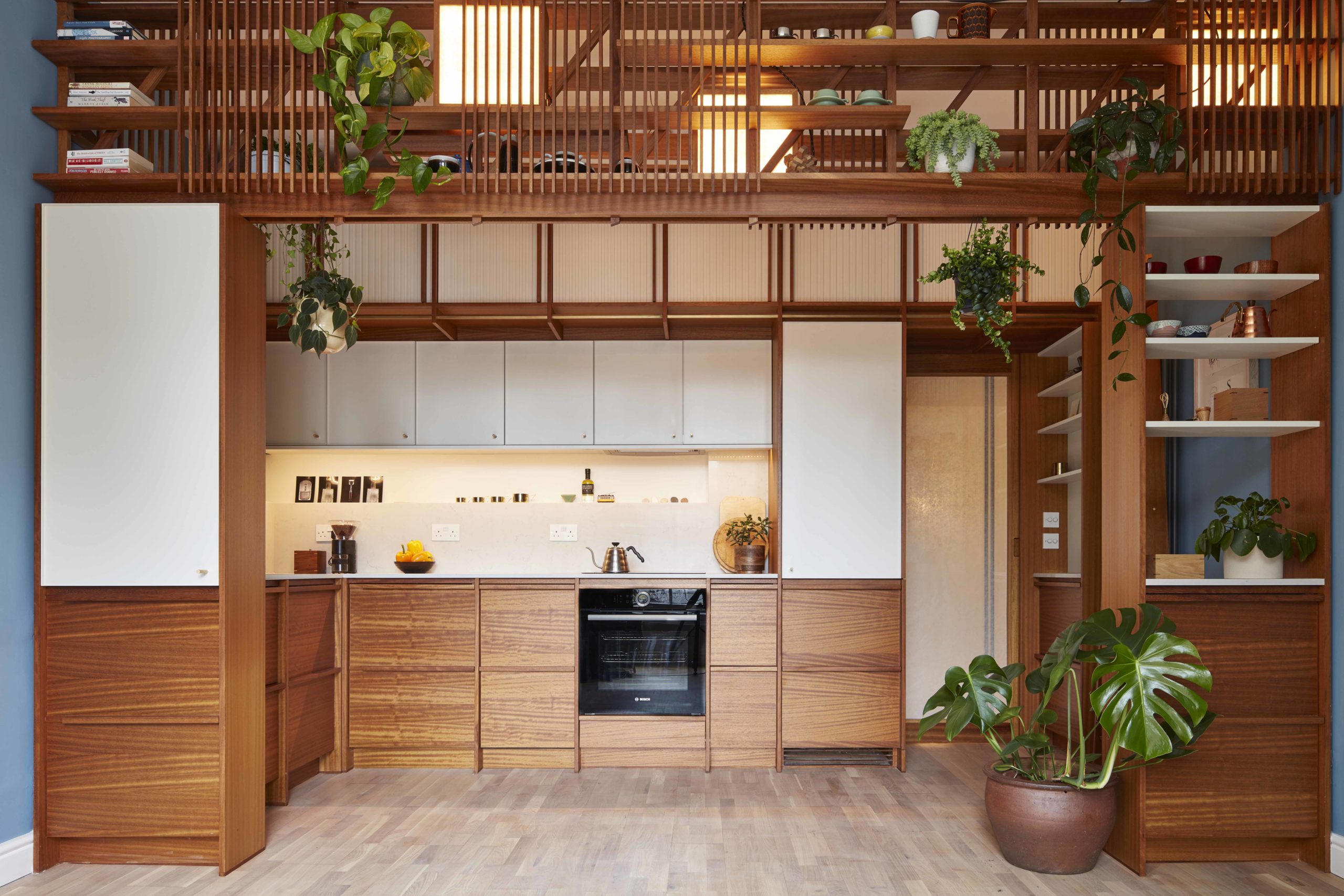 Designing A Kitchen From Scratch With H Miller Bros
---
Thinking of re-designing your kitchen with a twist? Take a leaf from Liverpool-based studio, H Miller Bros...
Over lockdown Hugh Miller (of handmade kitchen design studio, H Miller Bros) used his spare time to create the kitchen of his dreams, inspired by Japanese design and cabinet making traditions, with slatted shoji screens, an Iroko wood truss and three-tier storage. 

Tell us the story behind this project?
When lockdown was announced in March 2020 I was faced with an indefinite amount of spare time. My old, tired kitchen in my flat in Liverpool needed replacing so I decided it was the perfect time to design and personally build my own kitchen. I've spent years making kitchens and furniture for clients, but finally having time to pause and reflect gave me the space to create a kitchen in a way that reflected my personality and allowed me to push design boundaries and experiment with design details.
What should you consider before re-designing a kitchen?
It's really important to think about how you want to use the space. If you're mad keen on cooking, you should prioritize multiple worktop prep spaces, while coffee and wine lovers might want to forgo a little storage to accommodate a coffee machine or wine fridge. I was desperate for more storage, so the third tier of cupboards at high level, with a ladder for access was an early design requirement which stuck. Instagram and Pinterest are also brilliant tools for co-ordinating ideas and inspiration.
Sign Up to The C&TH Interiors Newsletter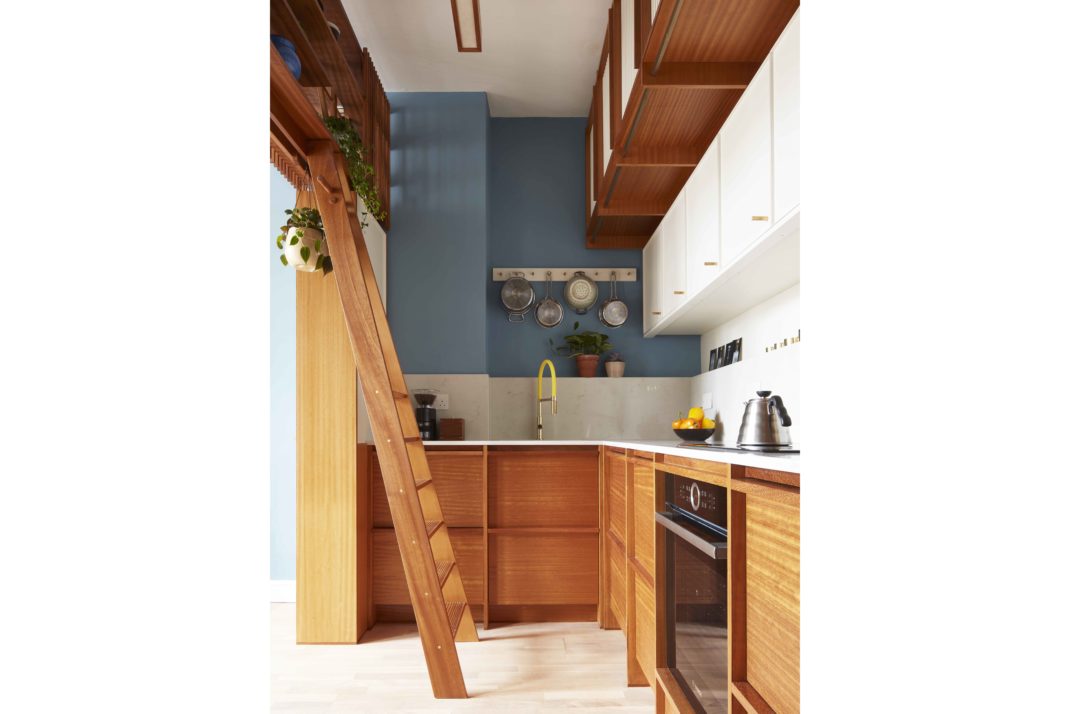 What are the influences behind this design?
I was inspired by my love of Japanese design and cabinet making traditions. In 2015 I won a Winston Churchill Memorial Fellowship to travel and research in Japan where I met many of the country's most prominent woodworkers and applied artists. Since then, I've written a book on Japanese wood craftsmanship, lectured widely on the subject, and acquired a collection of Japanese antique wood working tools and ceramics, allowing me to create something special for my own kitchen.
What materials and suppliers did you use?
The first level of cabinetry includes a base layer of drawers and cabinets made from Iroko wood, with recessed inset doors that act as a foundation. The counter level is a calm, functional work zone that features Caesarstone London grey worktops and cabinetry painted in Farrow & Ball School House White. The top-level cabinets are seen as the 'canopy' level and defined by a long, slim, structural truss that forms a threshold between the kitchen and the rest of the living space. Facing the truss and above the kitchen are deep storage cabinets, with undulating doors to reference the slatted screen of the truss, which are reachable by a purpose-made ladder to add functionality and interest.
The 50 Best Interior Designers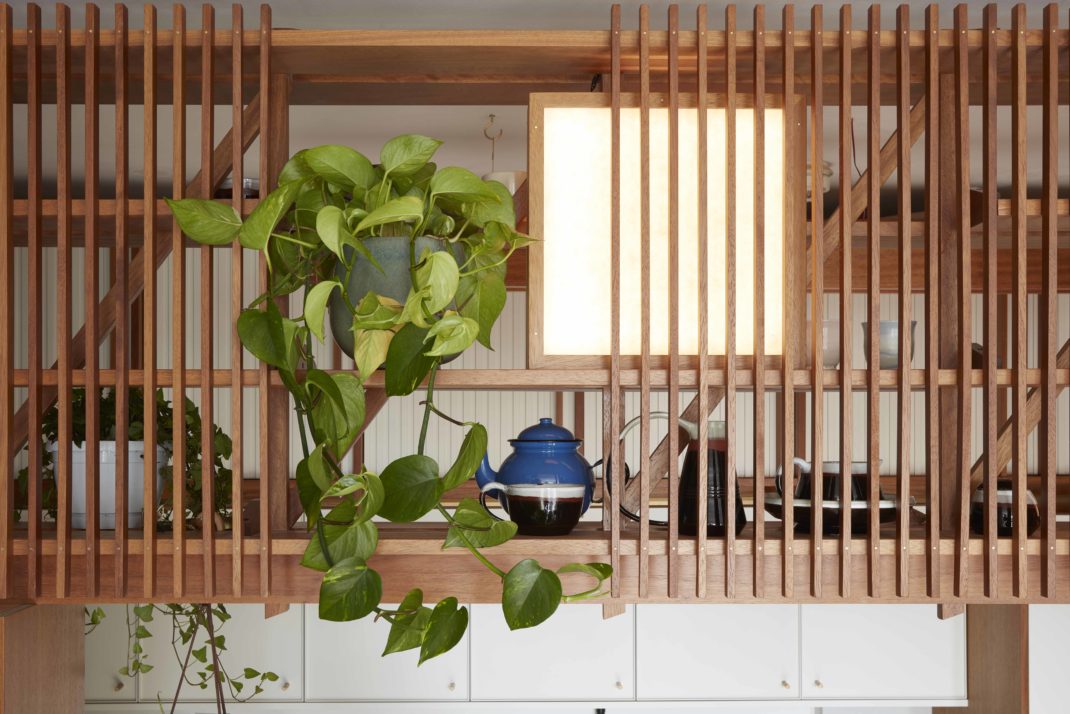 What are H Miller Bros preferred materials to work with?
My brother Howard and I launched H Miller Bros in 2019 with the vision to combine the art of kitchen design with the mastery of modern craft. We are masters in wood, but we understand that beautiful cabinetry alone does not make a kitchen. Choosing the right appliances, worktops, sanitary ware and accessories can make the difference between a good project and a truly special one. That being said, we love wood, and all of our kitchen designs feature the material as a focal point. Each of our projects is unique, so we try to make sure we ask the right questions to understand what each particular client has in their mind's eye, and create designs that explore and enrich the materials they love.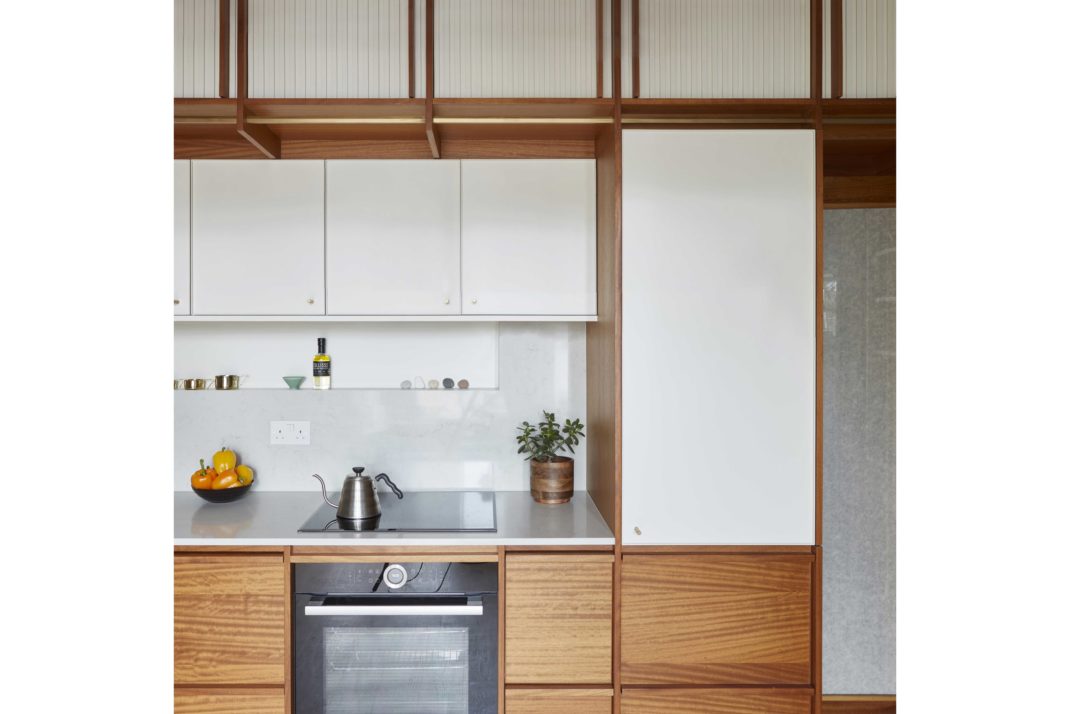 Tell us about the more detailed aspects of this design?
The structural truss was a pure labour of love for me as the slats allow natural light to pass through and reference the shoji screens of traditional Japanese homes. The open shelving houses my ceramics collection, and features Japanese shoji paper lanterns that light the room in the evening, forming beautiful silhouettes and intricate patterns through the structure.
How did you go about planning storage?
My flat has a three-metre ceiling so this allowed for plenty of high-level storage, and the idea of a three-tier kitchen with cabinets above head height began to form. The ladder is a real talking point when friends visit, and adds a lot of interest to the kitchen design.
What Is Japandi? The New Interiors Trend You Need to Know About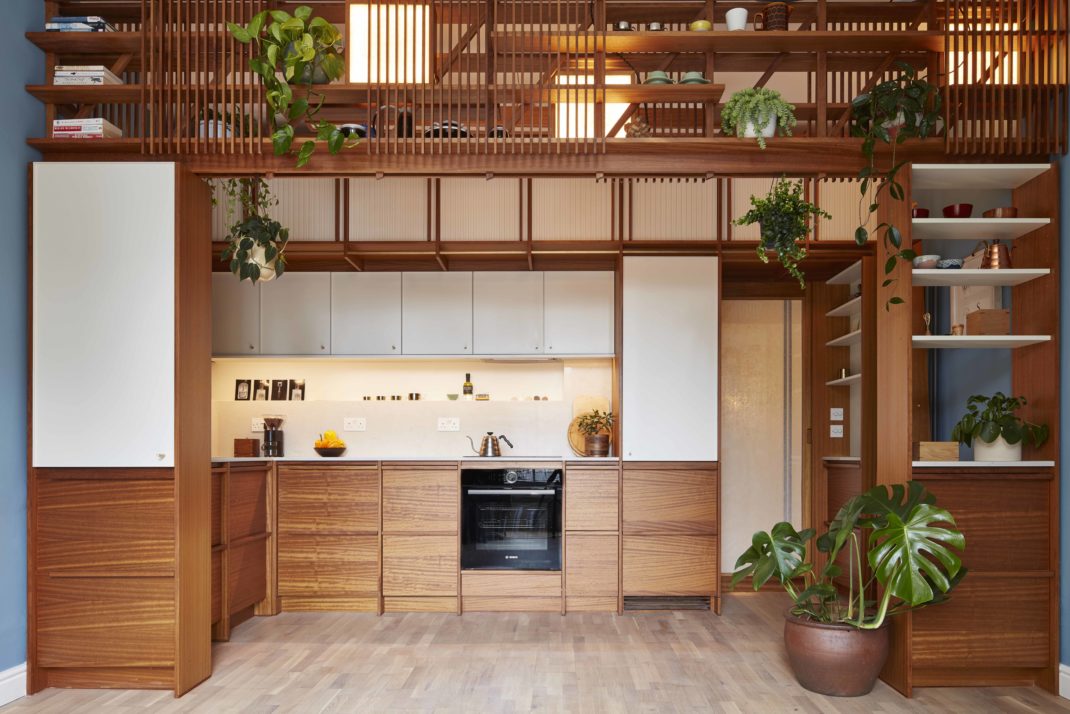 How do you create functionality and durability without disrupting aesthetics?
For us, the functionality of a design is intrinsically linked to its aesthetics. We like to expose joints and connections, and celebrate the tectonics of how cupboards open and drawers pull out. It's not a burden to design with functionality in mind, it's the very essence of what good design should be – beautiful and useful.
Did lockdown make any differences to the way you work?
Our workshop is based in Liverpool's Baltic Triangle and we'd usually invite clients in to discuss their projects and show them under the bonnet of how we make our cabinetry and furniture. Lockdown has meant that these meetings now happen online. Although we miss meeting people in person, Zoom has been a lot more time-efficient, and it's been a great thing to hone our processes and learn about delivering unique design work in a digital rather than physical way.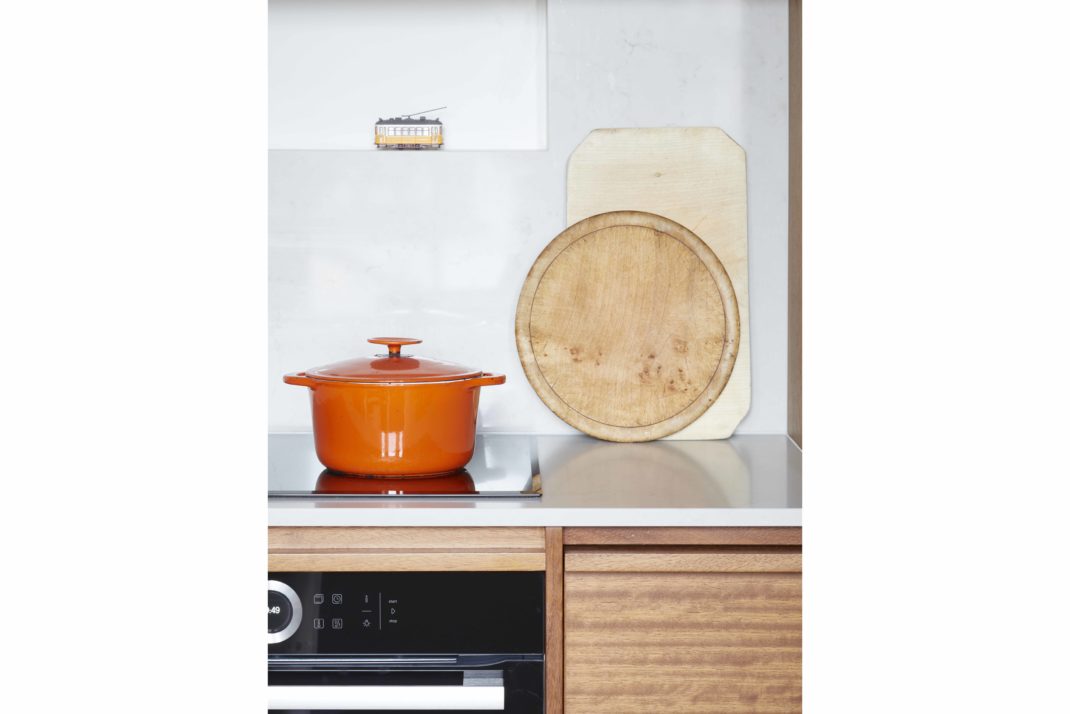 How did you plan and design overhead storage?
The truss is made from a wood called Iroko, and is based around a central truss, with the shelves hung off each side. We've designed these sorts of features in a number of kitchens, and it's becoming a bit of signature of our design work. As with all aspects of our designs, we start by listening to the client and what they want to use these sorts of open shelves for. We then create ideas that fit with the client, their kitchen and the way they want to use the space.
What's on the radar for 2021?
We've got some amazing projects coming up, including a kitchen for a wonderful couple in Brighton, which features a high-level slatted light feature around the whole of the top of the space, and a kitchen island with legs inspired by Japanese shrine architecture. We're also making a collection of furniture for a yacht, which combines traditional marine timbers such as teak, with exotic materials like Japanese bamboo. We've also recently started our own H Miller Bros kitchen accessories collection. The first piece is a solid oak breadbox with finger-jointed corners and a breadboard lid. As with all our projects, it's handmade right here in our Liverpool workshop.
READ MORE
What Is Japandi? The New Interiors Trend You Need to Know About / The Guide to Sustainable Interior / Small Kitchens: Interiors Inspiration