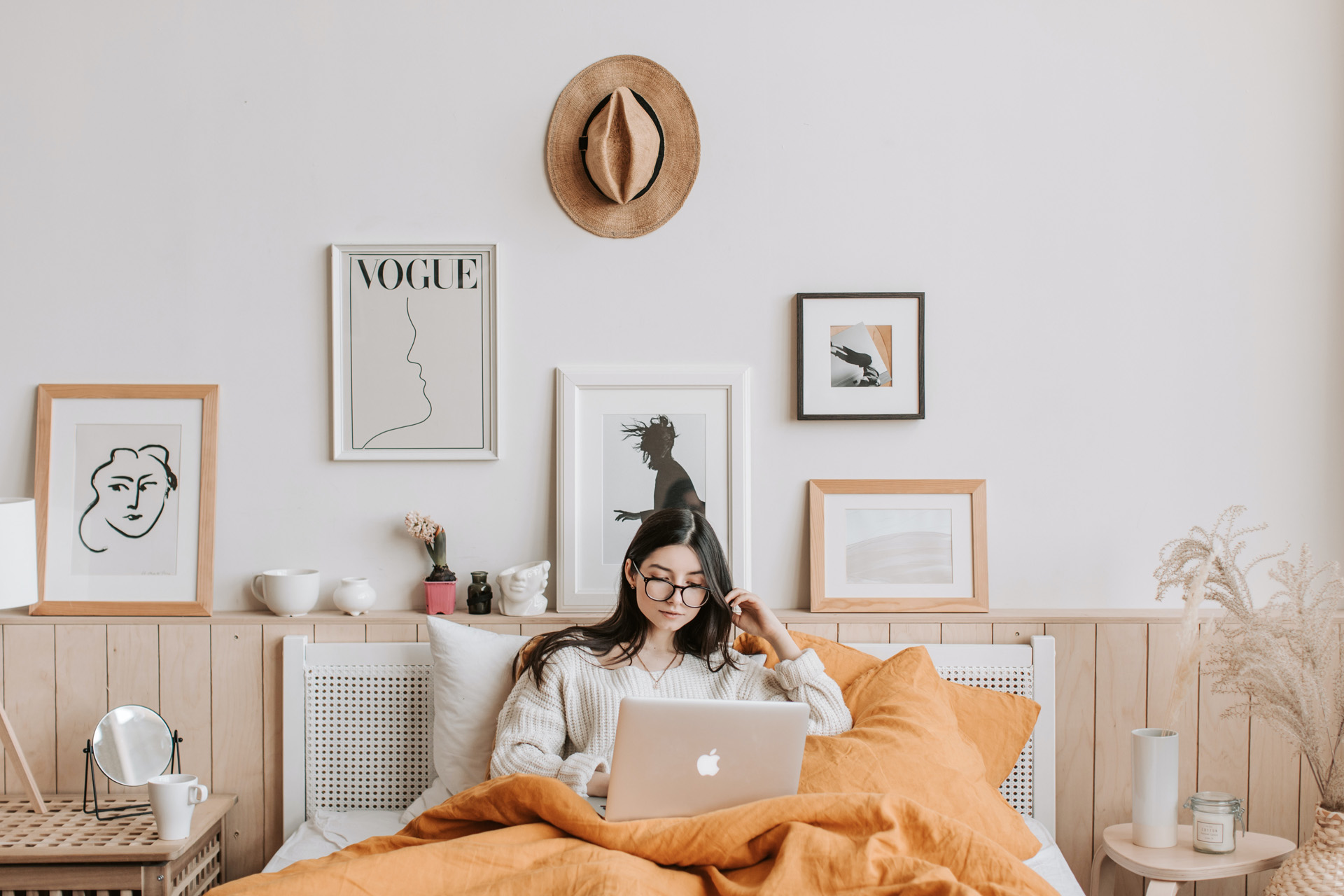 All The Home Services You Could Ever Need
It's time to make a house a home
Here's everything that you could ever want at home, says Caroline Phillips. From the tip-top family business whose people digitise your photo albums professionally chez vous, through to the whizz who turns your home office paperless, and the must-have illustration of your house. From the leading Look Doctor to edit your wardrobe and style you in the privacy of your own bedroom (clue, she's a fashion icon), to someone (used by folk in Kensington Palace) to collect your leatherwork and refurbish it. While you're trying all the recommendations, grab the app offering a recently-launched service delivering Fortnum & Mason's artisan foods and drinks to your home within minutes. And let the latest and best robots (reviewed below) clean your home while you're enjoying all of these home services. You need never leave your house again. But this time you won't feel as if you're in lockdown.
All The Home Services You Could Ever Need
Best For: Home Office Arranging
Fiona Rugg, Paperless Pixie
Even if you're not one of those people who has an in-tray marked 'Urgent' that you haven't touched for years, you still need personal assistant Fiona Rugg. Clever, charming and exuding quiet competence, she comes to your house – after a brief initial phone consultation to assess your needs – and will turn (sometimes decades of) papers, unpaid bills and 'lost' documents into copies in neat files ('House', 'Medical' , 'Travel' and the like) in your computer, making them easy to find, and easy-peasy to maintain. (What else would you expect from someone who was once PA exclusively to masters of the universe?)
She scans at the speed of light and inputs everything even faster than that, doing her best to set you up so that you need never have her back again. Then she shreds all your redundant papers, keeping just a handful of essential hard copies. She takes confidentiality as seriously as the Secret Service, and none of your data ever leaves your home. She'll also teach you how to maintain your system from your smart phone – eureka! – and computer.  And set up insurance cover renewals to MOT reminders. And organise your paperless life until you wonder why you ever kept any dead tree at home. 
With this 'pixie's' supercalifragilisticexpialidocious services, you'll never feel overwhelmed by paper again. And when you pop your clogs, your next-of-kin needs do nothing more than click a link (which can be shared with family members). It's not for nothing that clients say that Fiona puts the 'Oh' into 'organisation'. She leaves you on a (pink) cloud – one of cloud-based storage. 
HOW? Paperless Pixie, £650 for a day in your home or £120 for 2 remote hours. paperlesspixie.com
Best For: Revitalising Old Photographs
Richard Greenly Photography
You've got all those old albums and boxes of photos piled up somewhere. Some are getting torn, others are losing their colour. Or if you want a seven-inch tall cut out on a wooden plinth of your daughter's Edinburgh University graduation or your son in his Eton House running race, look no further. Invite dashing Tom (son of founder Richard) Greenly or one of his brilliant team into your home, and they'll arrive chez vous with a state-of-the art scanner to digitise all your album pix and loose pictures. You may even pop Post-Its on the pages to identify specific images that you wish to reproduce, if you don't want the entire album. (They can also take away your cine film, slides and negatives to copy.) 
Quick as a flash, you'll get the results: excellent digitised images – on which they've magicked away any scratches, fading and damage – that you can share with family and friends. Keep them on a memory stick, have them printed or both. If you get prints, they can arrange them beautifully in one of their smart leather-bound albums. Or they'll create a hardback book for you, which can include your photos, text, drawings and mementoes. 
Tom is also a go-to photographer, specialising in portraiture and event coverage – both of which you can organise in your own home. Think tip-top family-run business brimming with talent. And how many of those ever come to your home?
HOW? richardgreenlyphoto.co.uk
Best For: A Heartwarming House Gift
John-Paul Flintoff
Emma Burns was thrilled. The managing director of Sibyl Colefax & John Fowler, one of the world's leading interior design companies, oozed enthusiasm when she saw the picture she'd commissioned of her home interior. And when she moved, she had a lasting memory of her beloved former property. What better house-warming present can there be?
The artist who created Burns's picture is John-Paul Flintoff, author and illustrator of seven books. He starts with a conversation, to understand what you want. Then he sets to work on paper, with watercolour, ink or gouache, and typically finishes the work digitally. He likes to work from real-life, but if that's not possible – the picture may be commissioned as a surprise – he'll work from photos. One client wanted a picture of her childhood home, so together they assembled a range of images for Flintoff to work from, including black-and-white family photos and the house as it is today on Google Street View. 
'I love it,' she says. 'So delicate and yet so confident. I have a special place for it.' When the work is nearly finished, he'll show it to you to suggest changes. One client asked him to add a dog outside the front. Another asked him to make the wisteria flower. 'It was much better that way,' he says.
HOW? The finished art work is delivered on textured Hahnemuhle paper with archival ink. From £500 (A4). To get started, book a free, no-commitment conversation. flintoff.org
Best For: Decluttering
Susanna Hammond, Sorted Living
If you're moving home, decluttering, or simply reorganising your possessions, look no further than Susanna Hammond, who will whoosh into your pad, possibly in white trousers, and take charge (in the nicest possible way). A self-dubbed 'home storage designer', Susanna is also a space maximiser, and works in the tradition of transatlantic personal organisers (who folk call in as they would a plumber).
Susanna arrives chez vous with a 'magic' suitcase and car-boot full of box files to hat boxes, Perspex handbag dividers, mop and broom brackets, and space-saver bags. Brilliant at team work – just when you're flagging she'll encourage you gently – she'll also work solo over Zoom, clearing your home and checking before chucking.
You'll find yourself piling up stuff for giving away, re-sale, storage and the dump – perfect if you're organisationally challenged, overstretched, or simply OCD-ish. Susanna labels everything, even turning the airing cupboard into a 'library', and can fit almost more into a wardrobe than you'll find in a superstore. She makes your layout work – from garage, basement to laundry room and living areas – and leaves everything ordered, easy to find, and often coordinated. She's worked in interior design and event management, and it shows. Add to that that she's upbeat, calm, sensitive, and does everything in record time, and you've got a winner. Alexandra Tolstoy describes her as, 'A godsend to a frazzled mother moving house.' Susanna's also a godsend if you're selling house. Or staying in your house. Enough said. 
HOW? £350 per day, plus travel time, or £40 per hour. sortedliving.co.uk
Best For: Rediscovering Your Style
Annabel Hodin
Annabel Hodin is an icon in the fashion world. She's a celebrity 'look doctor' and wardrobe editor who's dressed people from Gwyneth Paltrow to Paul McCartney. Stylish, intelligent and honest – her talents discovered by Anna Wintour – she'll come to your house to check out your clothes, help you dress for an event, and give makeup tips too. She'll also teach you how to make your wardrobe work – coordinating everything into stylish outfits, sometimes giving you an entirely different look, and offering more fashion tips than a year's subscription to Vogue. ('That Alaia dress with those Cos shoes and no jewellery,' she says, taking a snap on her iPhone so that she has your closet contents always at her fingertips.)
She breathes new life into your old clothes – suggesting alterations to length, size and colour – and jettisons anything that doesn't suit you. ('Only keep what you love and that's flattering,' is her mantra.) Then, with your budget and proportions firmly in mind, she'll put on her personal shopper cloak and whizz you in her car to all the right places, making it an enjoyable experience from high street to high-end. 
'Don't buy random separates,' is Annabel's rallying cry. 'We need to fill in the gaps in your wardrobe.' She's worth every penny because she solves problems fast and makes your wardrobe work in an entirely different way, often saving you buying anything else. And she helps you see your clothes through new eyes – her fabulously stylish ones.  
HOW? Consultation from £250. annabelhodin.com
Best For: Declutter Collection
Sign Of The Times
Once your wardrobe has been decluttered by Annabel Hodin, you may have bags of goodies that you don't want to give to friends, family or donate to charity. Sign of the Times have started a home-collection service for your pre-loved garments, bags and shoes. You agree in advance what you'll be sending them – either by pinging them photos or having a WhatsApp chat. Then they dispatch someone to collect.
If you're in London, a courier will whizz to yours on the same day that you've done your clear out. If you're out of town – yes, they offer the service country-wide – someone will be on your doorstep the very next day. ​And if you want t​o offload mountains of clothes, they will even send an 'ambassador​' to help you sort through ​your items free of charge​. 
'Big clients often send 100 items to sell​,' says founder, Antonia Johnstone.​ The collection service is complimentary for just ten outfits (and rarely more than £15 for fewer than that). What could be better?
HOW? wearesott.com
Best For: Upcycling and Repairs
Classic Shoe Repairs
It's the moment for which we've all been waiting for. Classic Shoe Repairs are soon starting a home collection service. (Saves the hassle of going to Islington or posting or sending a courier.) So when you've done all that house decluttering, let the artisans of Classic Shoe Repairs turn your old leather shoulder strap into a bracelet in the style of an Hermès Kelly one. Or they'll make your beloved designer shoes smaller, taller, lower. Or perhaps you might want to upcycle your old handbag, or redesign that leather coat?
But then again if they come to collect from your house, you'll be losing out on the fun of going to that Camden hive of activity with its 13 specialist shoemakers beavering away – one doing solely heel work, another only on stitching, and a man who is the world expert in the bench (which is the sole and heel). And you'll also miss seeing their famous clients in the shop, from the Milibands (both regulars) to Neil Kinnock and Nicola Roberts of Girls Aloud. They made six cat collars for folk at Kensington Palace too. But they collected from sssshhh, can't say which royal. For years, Jimmy Choo to Louis Vuitton have had their repairs collected. Now soon the rest of us will enjoy the same.
HOW? [email protected] / classicshoerepairs.com
Best For: Unique Gift Giving
Greeks Bearing Gifts
When Virgil wrote his epic, the Aeneid, he included the line, 'I fear the Greeks even when bearing gifts' – a reference to the Trojan war. But, hey, he didn't get a chance to buy from Greeks Bearing Gifts. The Greek duo, Valia and Maria, offer special presents sourced from manufacturers, artisans and craftspeople – ones, as they rightly put it, 'with integrity and style'. From their witty Troy horse candle emblazoned, 'THINGS ARE NOT WHAT THEY SEEM', to the deliciously colourful Goblin Dish and their newly-arrived Yastik by Rifat Ozbek hand-embroidered silk cushions filled with goosefeathers, you're spoilt for choice.
This is homeware – and other pieces – that's often unique and feels as if someone's bought their very best holiday-buys straight to your doorstep, to save you the sweat and search. Oh, and your purchase is sent to you cocooned in a reusable, handmade pouch (which you may find your children nicking for a handbag) made of fabric bin-ends. Add to the fabulous gifts this eco-friendly packaging and also a donation towards tree planting from each sale, and what's not to like? As that old Roman poet should have written, 'I love the Greeks, especially when bearing gifts.'
The Best Housewarming Gift
Hermès
What to get the person who has everything? An Hermès globe is the ultimate housewarming present (or gift for yourself). The Odyssée 24 and Apollo 24 globes feature different maps. Odyssée 24 offers an intricate representation of the world, while Apollo 24 features the sky and constellations – a meticulously detailed Milky Way. Who could help but fall in love with a galaxy that reveals itself in marquetry and golden print on a Prussian blue Swift calfskin background floating on gold-plated rings? 
It's claimed that the 44 centimetre diameter globes are made by artisans who print the initial design in negative on leather sheets (using light-coloured ink that contrasts with the darker base) and then minutely adjust each of the 12 sheets and attach them by hand to the spherical base. But you'll find yourself wondering whether these worlds were actually created by a mystical power – just look at the perfect continuity of the complex elements of the design, and between the different sheets of leather. If you splash out on an Apollo 24, you'll have the heavens at your fingertips. And it'll give new meaning to reaching for the stars.  
HOW? £19,000. hermes.com
Best For: Satisfying Cravings
Fortnum & Mason
If you too were raised having half-term treats in Fortnum & Mason's eating Knickerbocker Glories, this one's for you. Everyone's favourite store has recently teamed up with high-end delivery app SUPPER to launch a super-fast home delivery service – a specially curated selection of fine and artisan fresh foods and in-store products whizzed to you in under two hours. If you have a caviar emergency, you can get 50 grams of Oscietra delivered in (maximum) 120 minutes, 119, 118… But who's counting? There's no box set that isn't improved by a Fortnum's towering tin of Toffolossus biscuits, truffle crisps or a cave-aged cheddar wedge. And no television programme that's not made better by the speedy delivery and even speedier consumption of a traditional Scotch egg with its yellower-than-yellow-and-delightfully-runny yolk. Or by the potted Welsh Rarebit which comes in a beautiful ceramic pot (which you keep afterwards for paper clips) and tastes sensational, just £13.95 for 250 grams. All washed down by vintage Dom Perignon, a bottle of sparkling tea, or the Royal Tea blend. 
If you've bogged up on a last-minute present, you can even have a hamper delivered. Forgotten a birthday? They'll drop off a Birthday Biscuit tin that – bet you can't guess – isn't just chocka with citrusy lemon biccies and shortcake but also plays a tune and looks so pretty that you won't want to give it away. As we all know now, adults need about 2,000 kcal a day. So where better to start? 
HOW? Available during store opening times until 7 pm (6 pm on Sundays) for delivery within a six mile radius of the Piccadilly flagship store. fortnumandmason.com
Best For: Cleaning Under The Sofa
Roomba S9+
A Wi-Fi connected, self-emptying robot vacuum is a must. A Roomba s9+ to be exact. First, you set everything up on the iRobot Home App, including naming your robot – say, 'Housework-Shy Partner' after your other half, if you wish – all of which is easier than blinking. You'll then watch with your jaw dropped as she/he/they (let's go for 'he') scoots around hoovering with a power forty times the suction of previous generation Roomba vacuums. He'll nip under your sofa – where no cleaner has ever been – to sweep up dust, and disappear into corners to pick up pet hair. (He's just the best at gobbling up dog hair. His advanced 3D sensors also allow him mostly to get deep into corners and along edges, blitzing where moths set up camp.) When Housework-Shy Partner – your Roomba s9+ – detects carpets or rugs, he automatically increases suction to devour dirt from deep within the carpet fibres. 
You'll find he's happy to do whatever you could ever ask of a Hoover (bar cleaning the stairs, as he suffers from vertigo). Plus he's voice activated and doesn't mind in the least if you ask, 'Please sweep up the crumbs under the table' – at midnight. He'll do it immediately. Without pulling a face. 
When he's finished hoovering, he'll automatically empty his own bag into the Clean Base, preventing that mess and smell of doing it yourself. (Bags which, incidentally, trap 99 per cent of pollen and mould.) And then he goes back to recharge himself. He also gets to know your home's floor plan, allowing you to choose which rooms are cleaned and when. 
If there's a blip, it's a teeny one: that he likes to work in the light, so you can't leave him toiling in the dark when you go to bed. He's also quite noisy – but less so than a vacuum cleaner – and doesn't always get right into the edges and corners. But these issues are seriously outweighed by the fact that he's efficient, powerful and does the dreary work of hoovering everywhere, even every day if you like. Importantly, he's intelligent enough to apply for Mensa membership, and keeps getting smarter, reading software innovations in his leisure time. Best of all, he never phones in sick, never says there's a delay on the tube, and never demands a pay rise. And the joy of getting a message on your phone that Housework-shy Partner has 'completed a task' is indescribable.
HOW? The Roomba S9+ from £1,299. iRobot.co.uk
Best For: Mopping The Floor
Braava Jet M6
When your iRobot has finished sweeping your floor, you'll be lusting after his colleague, the robot mop. The Braava jet M6 series robot mop for dry sweeping and wet mopping, to be precise. First, you'll set everything up on the iRobot Home App, which is easy peasy even for techie dinosaurs. (You may wish to give him or her or they – the Braava Jet M6 – a name on your app, perhaps 'Helpful Child' as an ironic reference to one of your offspring who never quite manages to help in the house.) After preening and showing off  – like some sort of Mr Universe – with his flashing blue and white lights on his 'body', Helpful Child aka the Braava Jet M6, will set off to work on your stone, hardwood or tile floor. You'll watch in gratitude as he jet sprays to loosen dirt then cleans the tiles without missing an inch.
You can give him voice commands – 'Unhelpful Child, please clean up the mess by the table – and tell him which rooms to do and when, and he won't disagree or sulk. He learns a smart interactive map of your house that probably beats any partner's map reading. (Think Precision Vision Navigation to remember not just specific rooms but also furniture.) He'll avoid rugs and carpets, and redirect himself away from your stairs. He'll even recognize and avoid electrical cords, Louboutins and pet waste. (When first he spots an obstacle, he'll send you a photo so that you can tell him to avoid or clean around it in the future.) 
After he's done his job, he'll return to his base to recharge. He even lets you know when he needs maintenance and how to do it. All without a murmur of complaint. If there's a blip, it's that Helpful Child – the Braava Jet M6 – hasn't yet been programmed to eject the damp floor-cloth at the end of cleaning, so you have to remember to take it off or it corrodes the machine. And the cleaning solution is relatively expensive – at £14.99 for 473 millilitres, and it's either that or water – but the solution goes a long way. This all pales into insignificance, though, compared to the satisfaction of getting a message on your iPhone after a floor-cleaning session to say that Helpful Child has completed the job. And you'll note that he's done it really well. 
HOW? Braava Jet M6 from £699. iRobot.co.uk
Featured Image (c) Vlada Karpovich via Pexels.