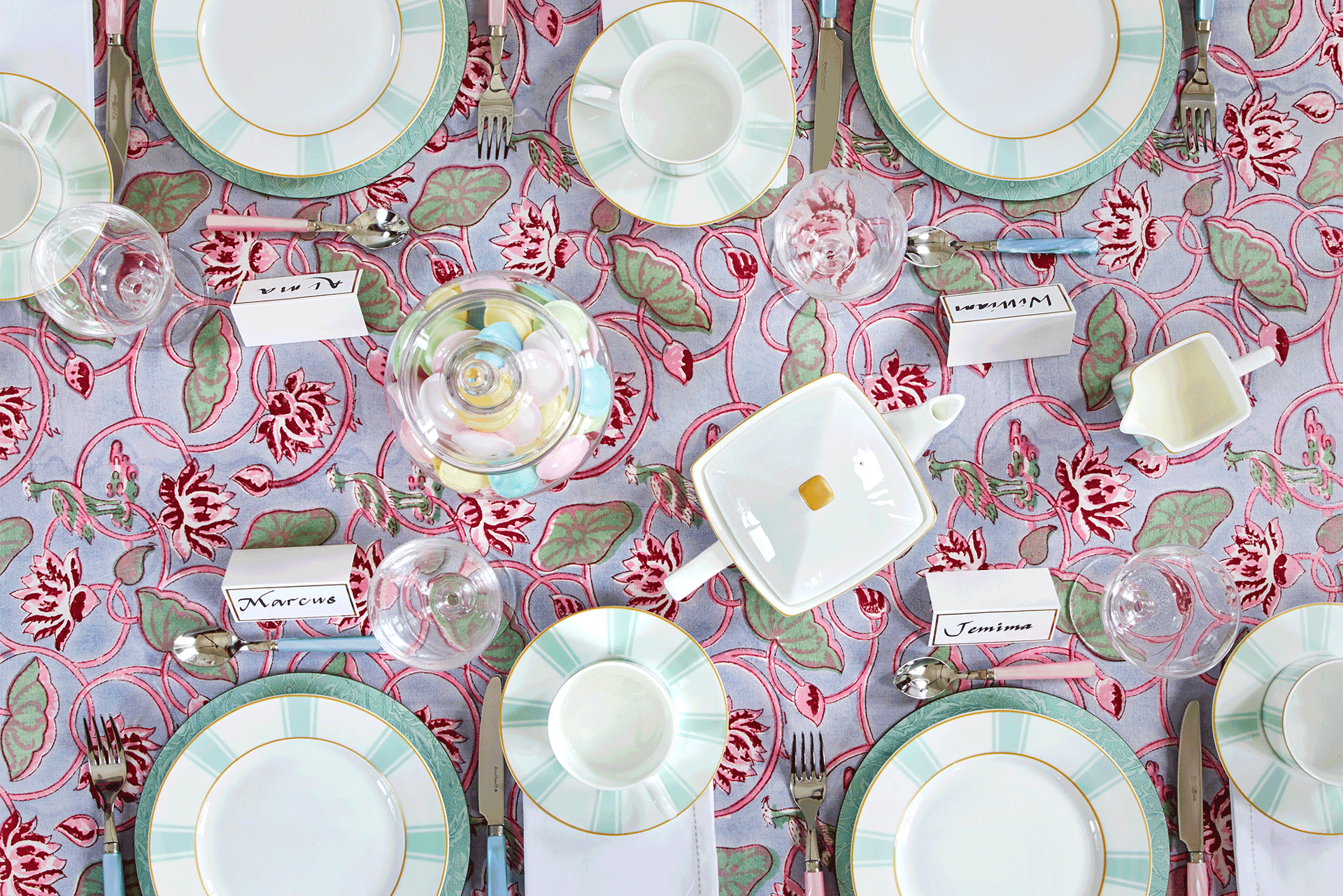 Tablescape Inspiration: What to Buy & How to Do It
Make your table the main event
Tablescaping has become a buzzword in recent months. Having sprung from social media, the interiors trend has really taken off since lockdown, as the pandemic (or staying at home, specifically) has afforded us more time to expand our creativity – especially in the dining room.
The 50 Best Interior Designers
It's clear that the tablescaping craze is here to stick around; just search #tablescape on Instagram and you'll find an array of perfectly preened and flamboyant table layouts (1.2 million in fact) featuring colourful florals and quirky, bespoke tableware. From Alice Naylor-Leyland (a.k.a. @mrsalice's) insta-famous floral-themed settings to Bre Doucette's book about creating tablescapes, The Gift of Gathering, suddenly no dinner party is quite complete without a multihued tablecloth and eccentric candelabra on show.
"It's fun to bring a sense of occasion to dining at home," says Jemima and Alice Herbert, founders of luxury tablescape rental service, LAY London. "Even if it's a Friday night-in with family, making an effort and transforming the table with wow-factor décor will make the evening extra memorable. When we've all been cooped up and stuck in a routine at home, variety is definitely the spice of life!"
The trailblazing rental platform creates 'ready-to-lay' table settings using a range of decorative artisan tableware – from the elegant 'English Garden' to the Versailles-inspired 'Marie Antoinette' – available to be delivered and set up by the experts at home. "We started LAY to help people bring joy and fun to their tables when hosting friends at home," they say. "Having noticed an increase in hosting smaller events with wow-factor table settings, we launched LAY as a hassle-free rental service that can be enjoyed one-time only, without the waste of single use." Here, the creatives share their top tips for creating your very own show-stopping tablescapes at home.
Jemima & Alice Herbet's Top Tablescaping Tips
Anything Goes
We set out wanting to create tablescapes that act as jewellery for the table, incorporating tableware with bold colours and patterns. The table should be joyful, and really, anything goes: scattered fruits, topiary trees…we've even seen tablescapes with bowls of goldfish!
Set the Scene
We love creating a theme for the table and use this as a guide for styling the tableware. Our Mexico-inspired 'Fiesta' tablescapes have tropical-floral linens, brightly coloured glassware and golden lanterns for a lively, party mood.
The First Layer
A colourful printed tablecloth will make the table sing for its supper, and from there, you can't go too far wrong. We use hand-printed Jaipuri linens in joyful colours that set the tone for a festive feast!
Flora & Fauna
Fresh flowers will always bring a tablescape to life. We think the wilder the better, and like to scatter bud vases along the table with wild or blousy blooms as it can be more effective than a few large centre pieces. No flowers? Get fruity, arranging bowls of lemons, oranges or pomegranates to add freshness and colour.
Where might someone be able to find tableware and decorations. Any suggestions?
How best to dress your table for the seasons?
In the summer, we love keeping it fresh with greens and whites for dining in the garden. Our 'Garden' collection is inspired by wildflowers and botanical trellising, so we opted for a leafy palette with stripy linens, flower-specked Murano glassware and pearly flatware.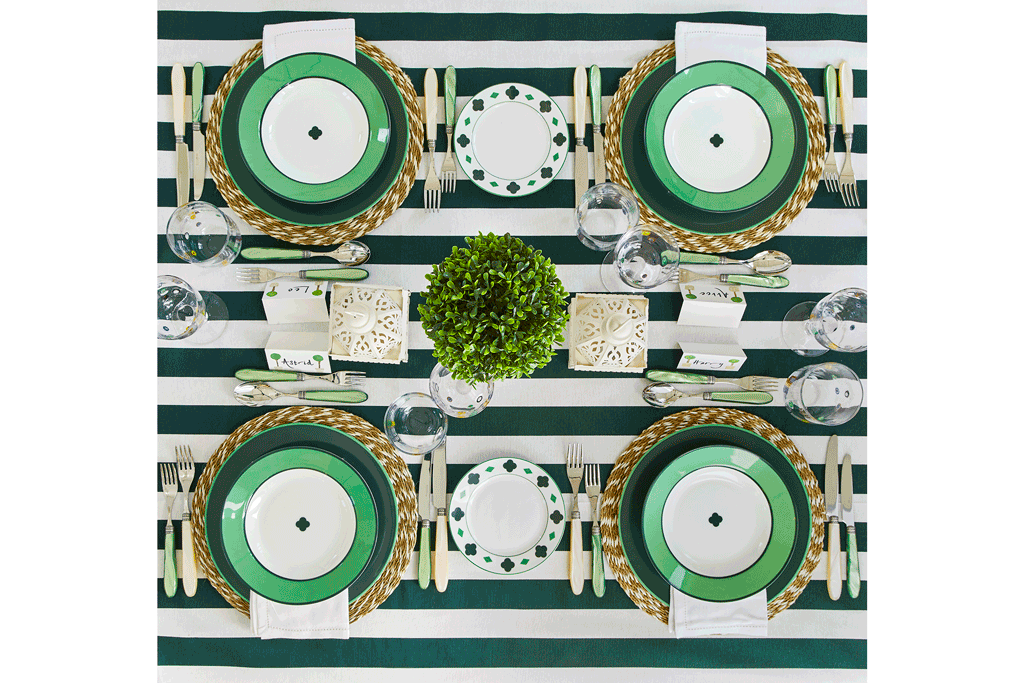 Autumnal tables don't always have to be covered in pumpkins and gourds! We prefer mixing jewel-coloured glassware with deep tonal linens, topped with velvety plum dahlias in bud vases along the table.
Wintry feasts call for glowing lanterns on the table, or candelabras with colourful candlesticks to create a cosy and romantic atmosphere.
Which have been your favourite themes to tablescape?
With travel being limited this year, we have loved creating some destination-inspired tablescapes. One client wanted a St Tropez feel and another opted for a Greek islands theme. We had the best time sourcing nautical lanterns and seashells for the table along with plenty of raffia for a beach feel. It's all about creating an element of escapism for the guests and we love being able to play a part in that.
Dressing your Table with Plants
A prime ingredient to consider when creating a tablescape, plants and florals can really bring your layout to life. And "there are no rules like the old days," says renowned florist and founder of Wild at Heart, Nikki Tibbles. "Forget odd numbers of flowers and only mixing certain colours together – choose what you want. Put whatever you love on your table and dress it with candles and tea lights – because everyone looks better by candlelight."
Inspired by this year's lockdown and the idea of spending more time dining and entertaining at home, Nikki's Wild At Heart Home Collection was launched, a brand-new service in which the florist designs and delivers table settings to people's doors in order to "bring a bit of love and generosity from Wild At Heart into your home". "Because people are spending much more time at home and not eating out as much, why not create a beautiful table setting at home?" says Nikki. "We are giving you the ingredients to do that. Making dinner special every night."
Nikki Tibble's Floral Tablescaping Tips
We always measure to make sure the vases are in the centre of the table.
Make sure your candles are straight and cut the wicks before you light them.
Make sure your flowers have had a really good drink before putting them into vases and top up their water everyday.
Make sure the flower is the right proportion to the vase. It sounds obvious but do consider scale and try to complement a big flower with a big vase and a small flower with a small vase.
Natural dye napkins add real charm to the table.
A pink theme is fun for lunch with friends or alfresco dining.
Think about scent. I always like to choose scented flowers such as sweet peas or roses to add a little something extra.
Bud vases are the perfect way to display flowers on a table so you can still see your guests – consider height! A large vase in the centre of the table with restrict everyone's view! Big flowers although beautiful can be obstructing.
Candles play such an important part in table design. I like to fill my dining table with candlesticks and tealights to create an atmosphere.
Our Top Tablescape Picks