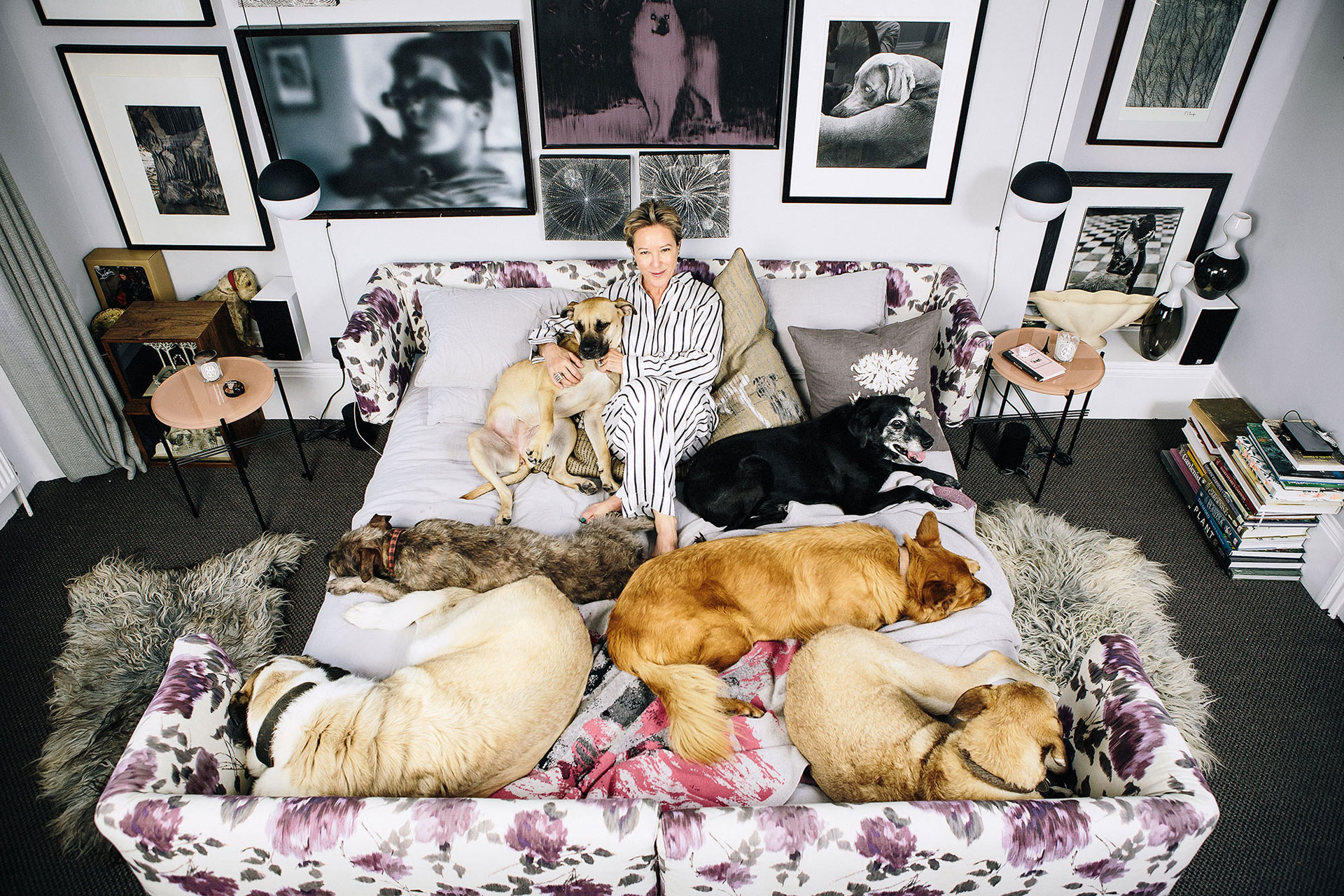 At Home With… Nikki Tibbles
---
The florist on her Notting Hill home
Famous florist Nikki Tibbles buys local, grows what she can at home in Notting Hill and wouldn't be without her dogs for the world
At Home With Nikki Tibbles
What's the story behind your home?
I bought my house in Notting Hill because it's my dream London home. I was fortunate enough to buy before it officially came on the market as I was living around the corner in a basement flat. My fabulous estate agent Domus Nova knew I was looking to buy a house. I wanted it as soon as I walked through the front door. To me it's everything a home should be. Every floor has floor to ceiling windows (front and back), the light is incredible at all times of day and I'm lucky enough to have a floor for any mood. When I moved in the house had been painted with every paint effect you can imagine with beige carpet on every floor, bookshelves and picture lamps on every wall… All I did at the start was strip all the carpets out, take away the bookshelves, remove the wall lights and I painted every wall white and the floorboards black.
What was your inspiration when it came to designing it?
I lived in the black and white house for quite some time before finally being able to afford to do some work on the property. The first thing I did was call my friend Renshaw Hiscox who is an architect. He helped to turn the basement (which was a nanny flat) into the big open space that it is today. The brief was to have one big space where I could bring the outside in and the inside out. So the flooring for the entire basement seamlessly went from inside to outside. The crittall windows fold right back into the wall creating one big space. The colour scheme I wanted to work with was grey and yellow which was inspired by an amazing shelving unit. I decided on a sleek grey kitchen with marble surfaces. The computer space is decorated with Timorous Beasties bright floral wallpaper. I love colour and print and patterns. Basically, anything goes.
I also have a huge artwork by Anselm Reyle in the seating area which is one of his iconic striped paintings. The sofa in front is covered in a beautiful paisley material fabric and dressed with velvet striped cushions. The wallpaper in the TV room is by Ellie Cashman with huge floral print and the rugs are patterned and bright. My bedroom is inspired by Dior painted using Dior grey and white. It's the only room in the house that doesn't have the ceiling painted the same colour as the walls.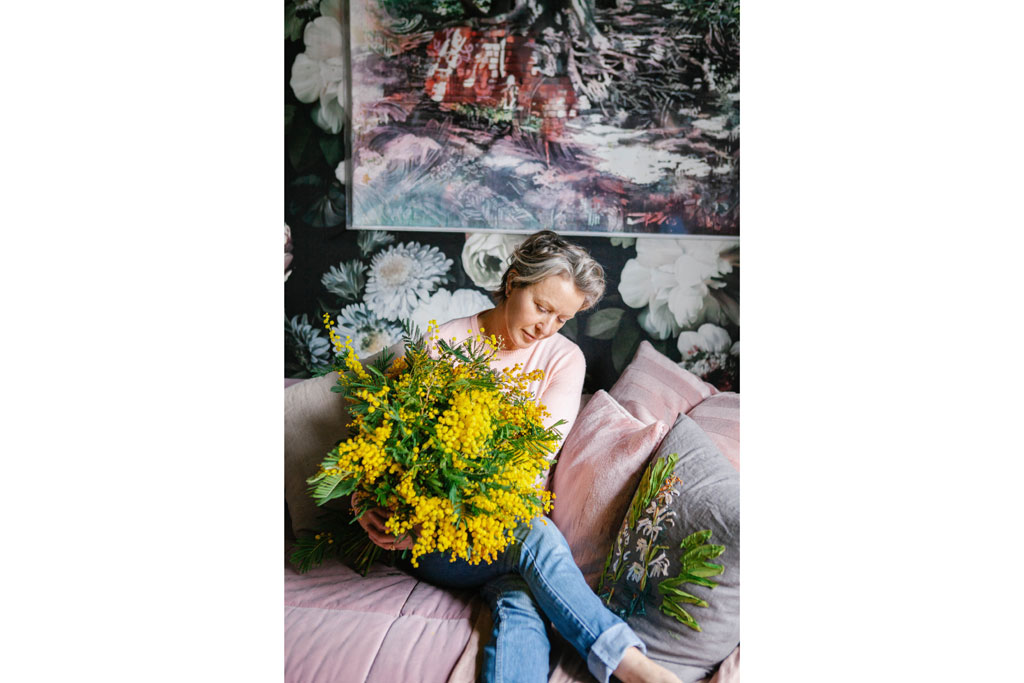 Do you have any interior brands that you love and always go back to?
My best friends have an amazing interior design company called Carden Cunietti. I love to spend hours in their office looking at fabric samples and colour swatches and they offer help and advice whenever it's needed. All my furniture and fabrics are purchased through them – they are just the best. I love my two Living Divani sofas. My dining table downstairs and coffee table in the sitting room is by iconic American furniture designer Paul Evans. My bed – which I've had for 20 years and is big enough to get all my dogs on it – is by Edra.
What's your favourite room in your house?
My favourite room would be my first-floor reception room which I suppose I save for special occasions or for absolute solitude. It has a beautiful balcony and an original marble fireplace, all my favourite pieces of art and the most eclectic chaotic confusion of floral fabrics/geometric rugs, crochet curtains and Knoll sofa with Chanel covered fabric. The colour on the walls is Plaster V from the Paint and Paper Library. It's the most peaceful room in the house.
Where's your best view from?
The ground floor balcony is a beautiful terrace with an old ceramic table and logs as stools. It's literally overflowing with evergreen jasmine and roses. It has a view of all the gardens left to right so all I see is green and in the spring there is the most beautiful chocolate brown chestnut tree next to the most stunning bright pink cherry blossom tree.
What's your signature dish – can you share the recipe with us?
Avocados, tomatoes and cucumbers are always a winner when I'm alone. If I feel like cooking I make lots of soup or ratatouille with tonnes of vegetables from my local greengrocer Ben's on Westbourne Grove.
Share your top five books with us if you were to start a book club.
Mervyn Peake and the Gormenghast books.
The Woman in White by Wilkie Collin.
Any Dickens novel – I love the way he wrote.
Lost Dog by Kate Spicer who is an ambassador for my charity, Wild at Heart Foundation.
The Hidden Life of Trees by Peter Wohlleben

Share your must-see TV and movie list
Peaky Blinders, Game of Thrones (I bought a huge new TV just to watch this!), Unforgotten, Happy Valley, Last Tango in Halifax, Killing Eve and Joker, to name just a few.
If you're working from home at the moment, how have you designed your space and any tips for other home workers?
To a certain extent I've always worked from home so I have a semi-office which is a beautiful 1950s marble table with a view over my garden and an ottoman which is filled with files as I don't like to see any mess. That's where I am when I'm not at meetings. I always have scented candles. My favourite is Diptyque Figuier and I turn on all my lamps as I don't have overhead lighting in any of my rooms. Working from home I like a small knot of sweetpeas on my desk from Wild at Heart mixed with scented jasmine from my garden which smells divine.
What's the first thing you do when you get up in the morning?
Let the dogs out and go back to bed with a cup of black Earl Grey tea and a packet of rich tea biscuits. Then all the dogs come back upstairs and we have cuddles and biscuits in bed!
And how do you love to spend your evenings at home?
In the winter I light the fire in the TV room, pour a glass of Bourgogne Chardonnay, lie on my beautiful big sofa with my dogs and watch my enormous TV (I hadn't bought a TV for 20 years until I was walking past John Lewis one afternoon and saw this huge TV. As the new season of Game of Thrones was about to start I decided to treat myself and I have to say it has given me so much joy!). It's the only TV in the house.
In the summer I'm downstairs in the basement living room which opens out to the garden creating a big indoor/outdoor living space. I'll drink a glass of wine and eat hummus and vegetables and read a book listening to the birds singing in the garden and watching the dogs playing.
If you were to throw a party at home, what are the key ingredients to make it go with a swing?
Friends, music, everyone's dogs, delicious plant-based food and copious amounts of wine!
What gadget could you not live without in your home?
I have a new sound system on every floor so I can play music wherever I am – even in the shower!
How do you keep fit at home?
Running up and down the stairs… I live in a five-storey house. And you can guarantee the thing I need when I'm rushing out the house is in my bedroom on the fourth floor.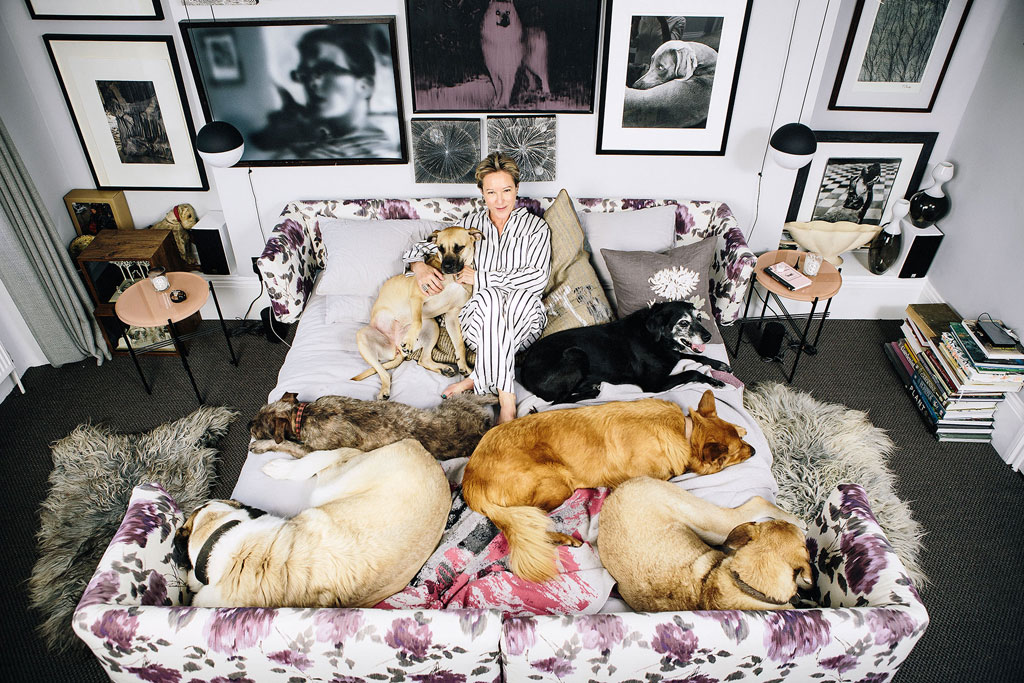 If you have a garden, what are you doing in it at the moment?
I've planted herbs, tomato plants and strawberry plants all delivered to my door from Wild at Heart and I'm trying to grow rocket, lettuce and courgettes from seed.
Whose home would you like to be a fly on the wall in?
I've always loved Manolo Blahnik and his shoes. I wore his shoes (pale blue, taupe embellished with tiny bells) for my wedding day 20 years ago. I'd be a fly on the wall at his home in the Canary Islands with him and his 12 rescue dogs!
What could you really do with now you're spending more time at home? What's missing?
A man! Having someone to share the anxieties that everyday life throws at us right now.
What makes a house a home?
My dogs. 
Nikki Tibbles' Wild at Heart is one of the most celebrated British florists, renowned for luxurious hand-tied bouquets, high profile weddings and events. You can now order seasonal bouquets and plants for next day contactless delivery to your door. On Thursday 9 July, Nikki is hosting a live floristry class over Zoom, where you can learn to recreate one of Wild At Heart's iconic bouquets yourself with her guidance. All proceeds from ticket sales will go towards the global projects of the Wild At Heart Foundation. Tickets (including the Wild Meadow Bouquet Box) £105, tickettailor.com
MORE AT HOME WITH:
Monica Vinader / Chrissie Rucker / Matthew Williamson / Jennifer Guerrini-Maraldi