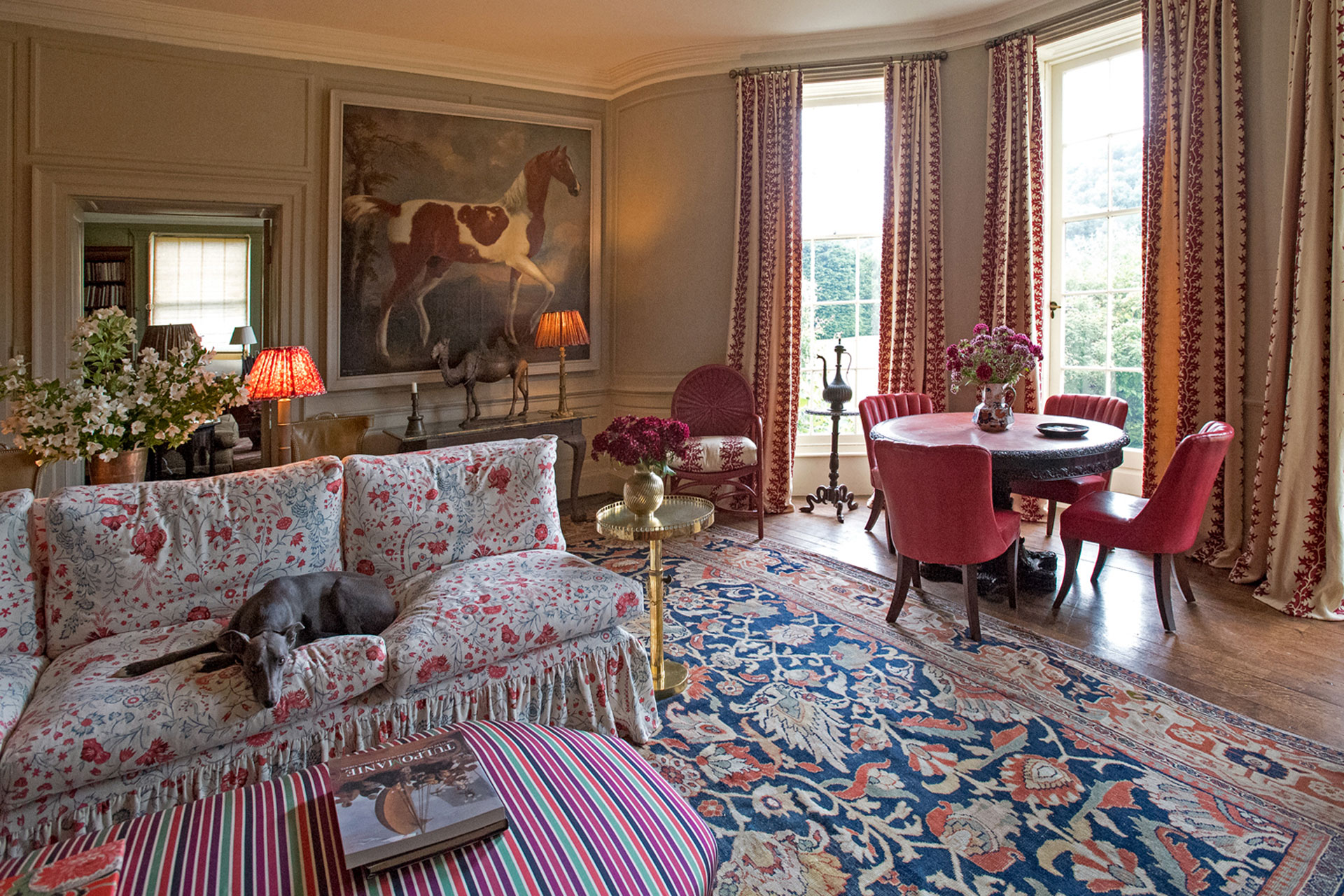 How Chintz Got Cool Again
---
Minimalism is getting swapped for granny chic
Tumbling florals, ruffles, and a shameless amount of roses. All things Chintzy is back in the zeitgeist.  Think vintage, ditsy flora, animal prints, mix and match patterns. It's Sloaney, it's twee, it's Laura Ashley from the 1980s. But what's with the obsession?  
How Chintz Got Cool Again
It's on your IG feed (see tastemakers salvesengraham, Alice Naylor-Leyland, and Pearl Lowe). It's on TikTok – #chintz has garnered 151K views. And it's on the silver screen, with 80s chintz blossoming as Elizabeth Debicki takes on Princess Diana in Series Five of The Crown (and Kristen Stewart as the people's princess in Spencer). There's no doubt that Netflix's Bridgerton (Season 2 back on March 25) with its zingy take on the Regency Era's interiors, has also thrown out minimalism's monopoly.
The trend has hit the news too. Lulu Lytle of Soane Britain decorated the Prime Minister's flat in a chintzy manner (the brand also has Soho Home as one of their clients). And it's getting tipped as the hot new thing by trend forecasters. Airbnb and TikTok have predicted it as big for 2022 interiors under the 'Grand Millennial' umbrella.
View this post on Instagram
Dayna Isom Johnson, an Etsy Trend Expert sheds some light on what's got us all hot for chintz: 'In an increasingly technology-filled world, shoppers are opting for nostalgia-inspired aesthetics that are reminiscent of decades past. This 'Grandmillennial' decor – a modern resurgence of retro, 'grandma-inspired' styles – is particularly on the rise, as many embrace maximalist homes filled with character and history. One way to build on this style is to decorate with vintage art – in fact, we've seen a 38% increase in searches on Etsy for vintage art prints*, and I expect that interest will only continue to grow.'
Helen Ashmore, Head of Design at Laura Ashley, agrees. 'As trends are shifting away from the clean, minimal interior decor, chintz is back in a big way. Still considered a classic, especially for Laura Ashley, chintz prints have a true vintage feel to them. It's all about the layering and mixing of patterns across your walls, curtains and bedding, reminiscent of the English countryside.'
Why you need to get involved with the cottagecore trend
The pandemic could also have some part to play, where we've been craving biophilic spaces (that's another trend Pinterest has predicted for 2022). Wil Law, Partner & Home Design Stylist at John Lewis cites that since we're spending 'more time at home, we're seeking out stimulation and interest in our interiors like never before.'
View this post on Instagram
Law adds that 'Chintz also celebrates natural motifs that connect us to the outdoors in a different way to the ever-popular houseplant trend. Ditsy florals, leaf trails and animal prints are at the heart of chintz patterns and feel very English countryside. Chintz has that English charm, often seen in National Trust or English Heritage properties and, as we're unable to travel as freely, perhaps we're leaning into interior inspiration closer to home.'
Best Online Plant Delivery Services
To explain its revival, we should point out that chintz has swung back and forth in vogue like clockwork in the 20th Century. In the 1960s, Jackie Kennedy's renovation of The White House, featured an 'orange blossom Chintz bedroom' that got both Brits and Americans abuzz. But it took over popularity so much so in the 80s, that IKEA in 1996 called for Brits to, quite literally, 'Chuck out that Chintz' where their advertisement featured women ripping out floral carpets, sofas and frisbeeing doily clothes into a giant skip. Let's hope we don't lose our Chintz fever to this extreme any time soon.
Our Chintzy Picks
*In the last 3 months, compared to the same time the previous year
Main Image: Dianthus Chintz – Imari – Mutka Silk, Soane Britain, soane.com 
SEE MORE INTERIOR TRENDS