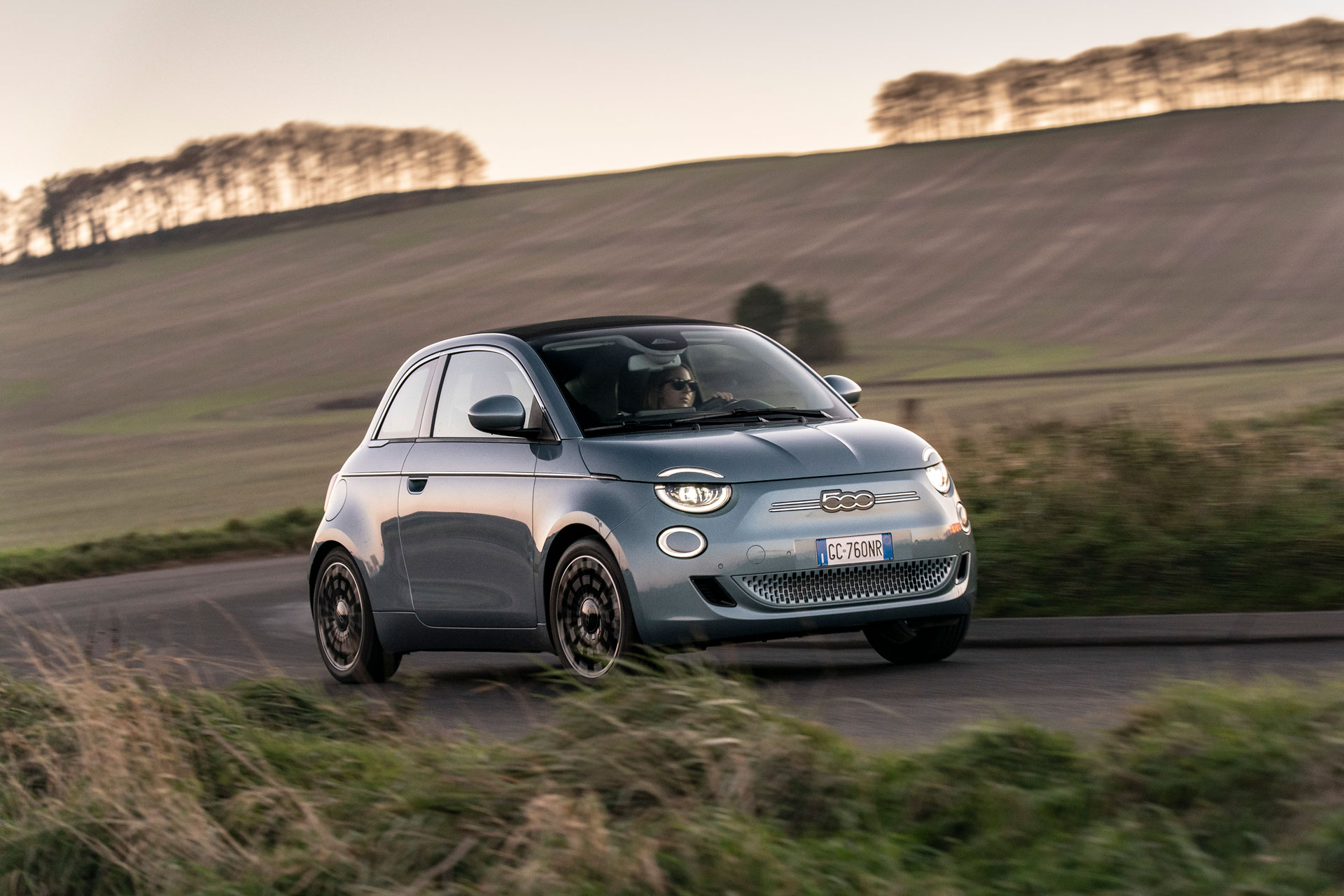 Fiat 500C — The Green Lane
---
'It adds a splash of la dolce vita to everyday driving'
The all-electric Fiat 500C is a tiny convertible that adds a splash of la dolce vita to everyday driving, says motoring editor Jeremy Taylor and sustainable fashion expert, Jessica Saunders 
Fiat 500C — The Green Lane
JT – This 500C is part of the third generation of an iconic city car that dates back to the 1950s. A retro-styled urban runabout, there's nothing old-fashioned about the powertrain though because this pint-sized Fiat is driven by batteries.
What Does the Tax Per Mile mean for EV Drivers? 
JS – I thought the 500C might feel a little top heavy with all those weighty batteries on board but placing them in the floor cures that. It's as nippy to drive around busy London as the cobbled street of Turin.
Yes, what's not to like about the Fiat – it's a ton of fun in town. I especially like that electric, fabric roof, sliding back to let the sunshine in. It leaves the steel roof side pillars in place and gives an added feeling of security.
The roof is more like a giant sunroof but the feel-good factor is off the scale – only the equally pricey Mini Convertible returns as many smiles per mile. That said, from £31,495, the little Fiat isn't cheap.
No it isn't but very few electric cars are much cheaper. And there certainly isn't one that looks quite as cool as the 500C. It has three driving modes designed to assist the driving experience and manage electricity flow, with plenty of get up and go when needed.
Fiat 500 Convertable Icon — Green Lane 
I know this is Fiat's first, fully-electric car but you can still but a petrol-powered 500 too?
Yes, it does make the 500 range a little confusing but I imagine the combustion engine models will eventually disappear. The only issue with the 500c is range – it's claimed to cover up to 199 but realistically expect 145 miles.
That's better than both the Mini Electric and the jazzy Honda e, so not too bad. What's it like on the motorway?
Good point. High-speed, long-distance trips are not the 500's forte. It's noisy on motorway journeys and while comfort is good, this is really highly manoeuvrable car for squeezing into parking spaces and zipping through gaps in the traffic.
Any alternatives?
You could try the Peugeot 108 Top, the Citroen C1 Airspace or the Toyota Aygo X-Wave – all are small cars with an open roof. None offer the charm and cuteness of the 500C.
Jessica Saunders is Director of Programmes at London College of Fashion, studying for a PhD in sustainable e-textile design.
READ MORE ELECTRIC CAR REVIEWS: 
Mercedes-Benz EQS Review / Polestar 1 Review / The Hispano Suiza Carmen/Audi RS e-tron GT / Polestar 5