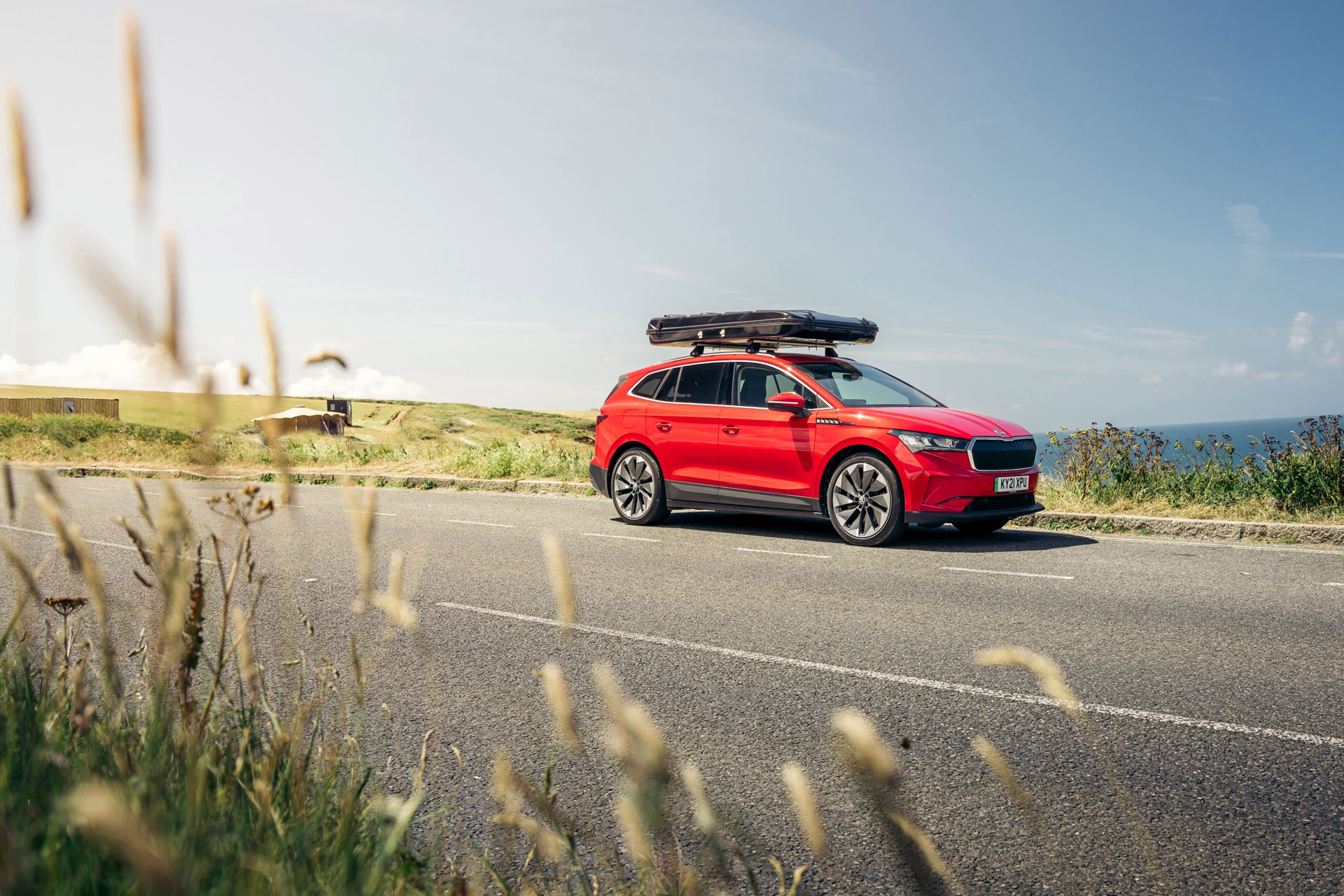 Skoda Enyaq — The Green Lane
---
'I'm surprised they didn't choose Enya instead and get some free publicity'
Motoring editor Jeremy Taylor and sustainable fashion expert Jessica Saunders drive a Celtic Skoda, the Skoda Enyaq
Skoda Enyaq — The Green Lane
JS – So, when I first saw the name I Googled to see if 'Enyaq' was some kind of East European animal I hadn't heard of. Turns out Skoda stole the word from an Irish name that means 'source of life'. I'm surprised they didn't choose Enya instead and get some free publicity off the back of the nineties pop singer.
JT – Would you like to hear some of my favourite weird car names of all time? There's the Mazda Bongo, Dodge Dart Swinger, Subaru Brat and who can forget the Toyota MR2, which means something unpleasant, if you read it in French…
Yes, enough already! And looking at the spec sheet of our five-seat electric SUV, you wouldn't even fit the full name across the hatchback door. Skoda Enyaq iV 80x Sportline 82 kWh 265PS 4×4 DSG. What a mouthful but it is a darn good family car, regardless.
Skoda's first, purpose built, all-electric model comes with a range of battery options and prices that will make it fit easily into everyday family life – if you have any money left after the latest interest rate increase, that is.
6 Family Friendly Greek Getaways
Our 80x has the largest battery, with an official range of just over 300 miles. It costs from £46,610 but with a smattering of 'must have' packs the price climbed to over £50,000.
And the 'x' in the name means it has two electric motors instead of one, giving our car four-wheel drive too. Before you ask, DSG is a type of automatic gearbox.
Like last week's Volvo C40, the Enyaq also doesn't have a start button – so it can be started with your bum. Open the door, hop in, press the accelerator and off you go. The Skoda is simple to drive, super comfortable and despite the extra height, doesn't wallow too much going around a corner.
Indeed, you might wonder if spending more money on a VW ID.4 – the Enyaq's sibling SUV – is worth it because for my money, the Skoda is actually a better car. It feels well -planted on the road, powerful and very refined.
The brake regeneration, sending braking energy back into the battery, was especially effective. I noted that we managed around 270 miles between charges, which was much better than I expected.
The cabin interior was another talking point. It really puts more expensive cars to shame, with a 13-inch display screen offering everything from sat nav to Apple CarPlay. I'd still prefer physical buttons for the climate controls but sadly, most manufacturers think otherwise.
I don't understand why there isn't extra storage space under the bonnet, where the engine used to be?
I agree – it's a bit odd. At least the rear boot is massive. And if you are carrying a full complement of five passengers, the flat floor makes it easy to fit three people across the back seats in comfort.
A neat idea to put an ice scraper in the tailgate too, plus an umbrella in the driver's door – just like a Rolls-Royce!
When Rolls name a car after an Irish pop star I might be tempted. There may also be room for a Bentley Bono on my driveway…
Jessica Saunders is Director of Programmes at London College of Fashion, studying for a PhD in sustainable e-textile design
READ MORE ELECTRIC CAR REVIEWS: 
Mercedes-Benz EQS Review / Polestar 1 Review / The Hispano Suiza Carmen/Audi RS e-tron GT / Polestar 5