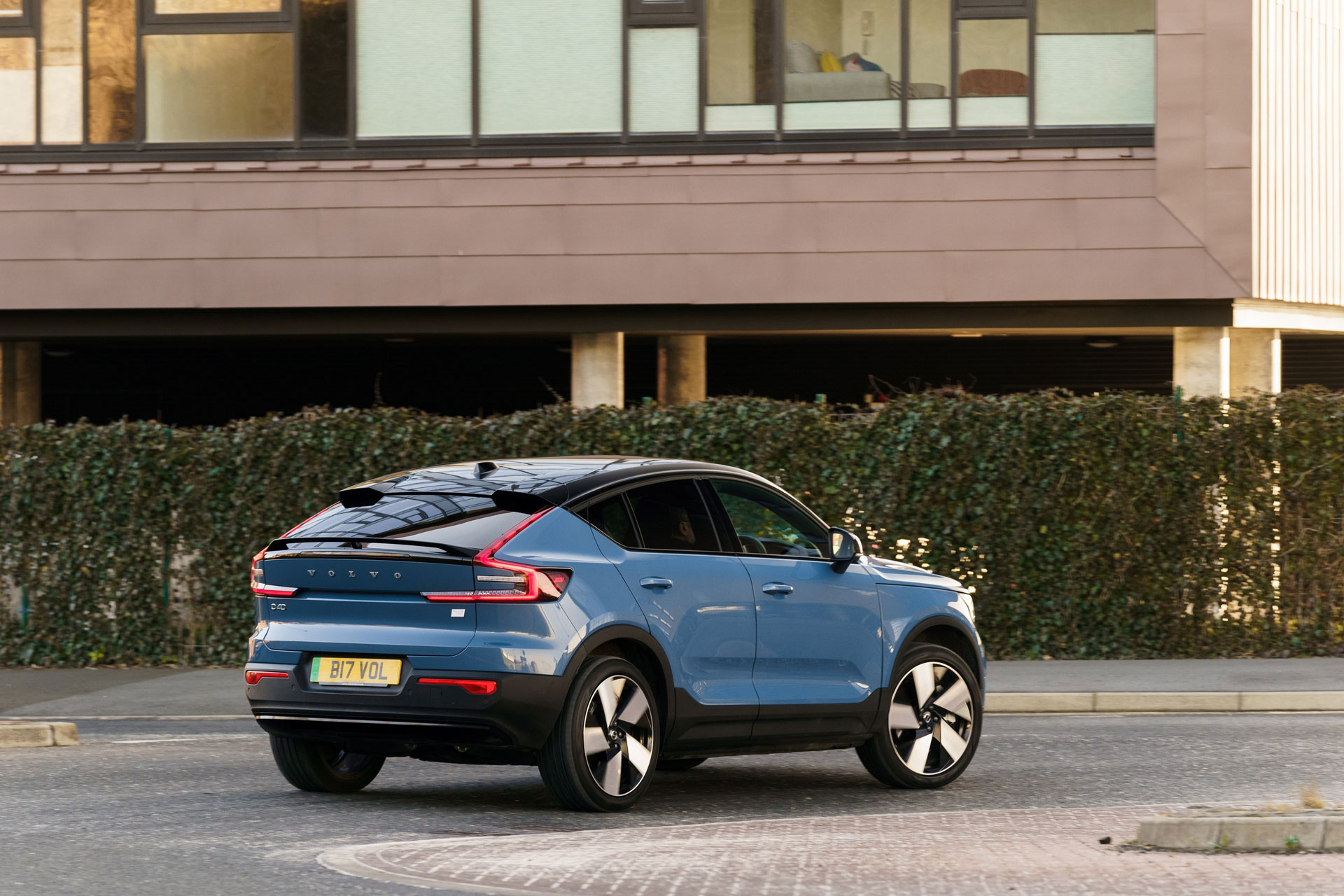 Volvo C40 Recharge Twin — The Green Lane
---
'A whole new niche of car!'
Motoring editor Jeremy Taylor and sustainable fashion expert Jessica Saunders try a 'bottom-operated' Volvo coupe, the Volvo C40 Recharge Twin
Volvo C40 Recharge Twin — The Green Lane
JS – This looks like the smallest, cutest Volvo of the lot – and it's electric too?
JT – Yes, the C40 is an all-electric coupe SUV – a whole new niche of car! It also has a non-leather interior that will appeal to your core sustainability values and environmentally-friendly vegans friends too.
Great idea. Leather isn't the most sustainable of materials, so that's a bold move by Volvo when leather is seen as a must-have option by most buyers.
Yes but the C40 still cheap – our car was just short of £60,000 – and costs the same sort of money as the upmarket Mercedes EQA, or the Audi e-tron Sportback. That's quite a lot for a mid-size family car, even with uber-green credentials.
Is four-wheel drive really necessary?
For many people no but the C40 Recharge isn't designed as a rufty-tufty off-roader. The all-wheel drive in this instance is for better road-holding. Four-wheel drive models (Recharge Twin) get two electric motors, one on each axle, while the two-wheel drive cars (Recharge) just has one on the front and costs from £47,100.
I found our Twin really fun and engaging to drive – much quicker than your average, petrol-powered family SUV.
The Twin has a hefty 408bhp and powers to 60mph in a bonkers 4.7 seconds! Like all Volvos, top speed is sensibly restricted to 112mph these days. And the battery range is decent too – officially 269 miles for the single motor car and 273 for the all-wheel drive, although expect around 40 miles less in the real world. What's also neat is that the Recharge can tow a significant weight – up to 1800kg, or more than most electric rivals.
I also love the fact I'm not faced by a load of gimmicks and gizmos when I sit in the driver's seat too. 
It's quite refreshing after some of the new cars we get to drive. I spent a few moments trying to find the start button, only to realise Volvo has removed it, along with all the unnecessary driving modes manufacturers seem to think we all need these days.
So it's a car you start with your bottom, then?
Ha! Yes, you could say that. When you think about it, most cars don't ask you to put a key in the ignition anymore, so why do we need a start button?
The infotainment screen is packed with features though. I can download all my favourite apps to the car and listen to Spotify on the Harmon Kardon speakers
It's certainly a neat piece of kit. But the info system was developed with Google and doesn't support Apple CarPlay, which is a nuisance. At least I can still play my music via Bluetooth.
So, do we love it or leave it?
More than three-quarters of all Volvos are SUVs now, so it was only to be expected that a new coupe would have SUV credentials. The performance is fantastic and I love the interior – if only the price was a little more realistic.
Jessica Saunders is Director of Programmes at London College of Fashion, studying for a PhD in sustainable e-textile design
READ MORE ELECTRIC CAR REVIEWS: 
Mercedes-Benz EQS Review / Polestar 1 Review / The Hispano Suiza Carmen/Audi RS e-tron GT / Polestar 5