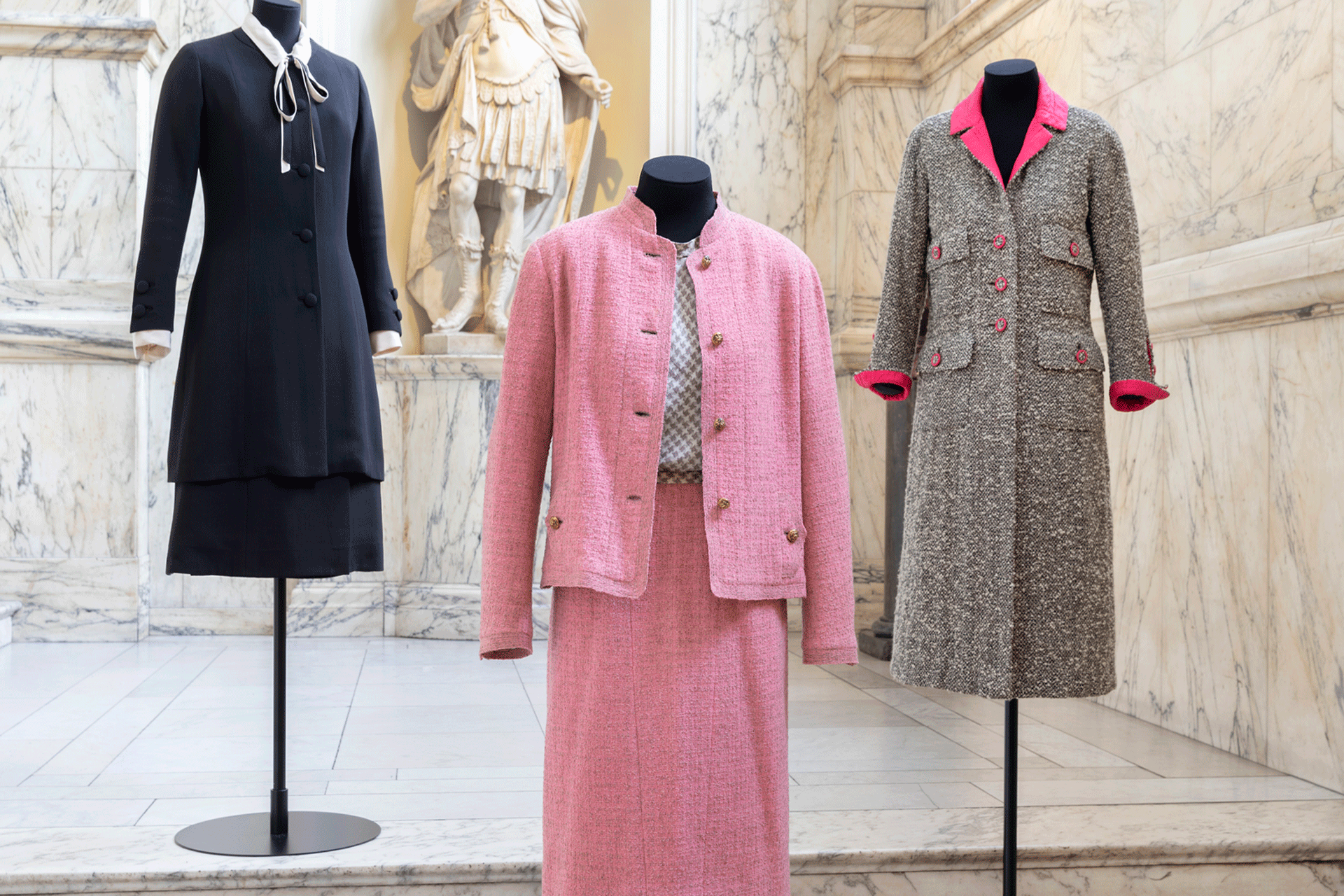 The V&A's Coco Chanel Exhibition: What To Expect
Everything you need to know about the V&A's next fashion exhibition
Gabrielle Coco Chanel is having her first ever UK exhibition at the V&A this September, based on Gabrielle Chanel. Fashion Manifesto by Palais Galliera, Fashion Museum of the City of Paris. Here's everything you need to know .
First Look: Read Our Review Of Gabrielle Chanel. Fashion Manifesto Here
Everything You Need To Know About The Coco Chanel Exhibition Coming To The V&A This Autumn
One of the most fêted fashion designers in history, Coco Chanel's first UK exhibition is coming to the V&A this autumn. Titled Gabrielle Chanel. Fashion Manifesto, the exhibition will trace her pioneering career: from the opening of her first millinery boutique in Paris in 1910 to the showing of her final collection in 1971.
What Can Visitors Expect From Gabrielle Chanel. Fashion Manifesto?
Pulling rarely seen pieces from the V&A's collection, Gabrielle Chanel. Fashion Manifesto will feature looks from the heritage collections of the fashion House in Paris: Palais Galliera and the Patrimoine de CHANEL. Highlights include:
One of the earliest surviving Chanel garments from 1916

An early example of Chanel's ground-breaking evening trousers

Original costumes designed by Chanel for the Ballets Russes production of Le Train Bleu in 1924

Outfits created for Hollywood stars Lauren Bacall and Marlene Dietrich

Ensembles from Chanel's final collection of 1971.
Chanel's innovative designs – which she designed first and foremost for herself, as well as independent 20th century women – will be explored across 10 themed sections, showcasing fabrics, silhouettes and constructions. The 10 sections are:
Towards A New Elegance

, detailing the beginning of Gabrielle Chanel's career.

The Emergence of a Style

, focussing on the development of Chanel's signature style in the 1920s and '30s.

The Invisible Accessory

, exploring the creation and impact of Gabrielle Chanel's debut perfume N°5 which became the world's best-selling fragrance.

Luxury and Line

, focussing on Chanel's inventive yet classic eveningwear.

Closing the House

, outlining the impact of WW2.

The Suit

, spotlighting Chanel's post-war contribution to fashion through her defining garment.

Chanel Codes

, focussing on accessories, and how fundamental they were to Chanel's conception of a harmonious silhouette.

Into The Evening

, showcasing eveningwear's growing importance in Chanel's couture collections in the latter part of her career.

Costume Jewellery

, exploring another essential element of Chanel's distinct style.

A Timeless Allure

, celebrating the evening dress as Chanel's exercise in style, pulling visitors right through to her final collection of Spring-Summer 1971.
Alongside this, visitors can expect to see Chanel rooted in a British context: the designer's British inspirations – such as her adoption of tweed – and partnerships with British textile firms and a textile factory in Huddersfield.
'As one of the most successful fashion houses in existence, CHANEL owes much to the templates first laid down by its founder Gabrielle Chanel, over a century ago,' says Tristram Hunt, Director of the V&A. 'We are delighted to be partnering with CHANEL and the Palais Galliera on this exhibition, which provides us with the opportunity to explore the origins and elements of this enduring style and to display little-known historic Chanel garments from the V&A collection.'
'Gabrielle Chanel devoted her long life to creating, perfecting and promoting a new kind of elegance based on freedom of movement, a natural and casual pose, a subtle elegance that shuns all extravagances, a timeless style for a new kind of woman,' adds Miren Arzalluz, Director of the Palais Galliera. 'That was her fashion manifesto, a legacy that has never gone out of style.'
When Is Gabrielle Chanel. Fashion Manifesto Opening?
Gabrielle Chanel. Fashion Manifesto will open on 16 September 2023, lasting until 25 February 2024.
BOOK IT: Tickets from £24. Concessions are £16. vam.ac.uk
Sneak Peak: Some Of The Exhibition's Key Looks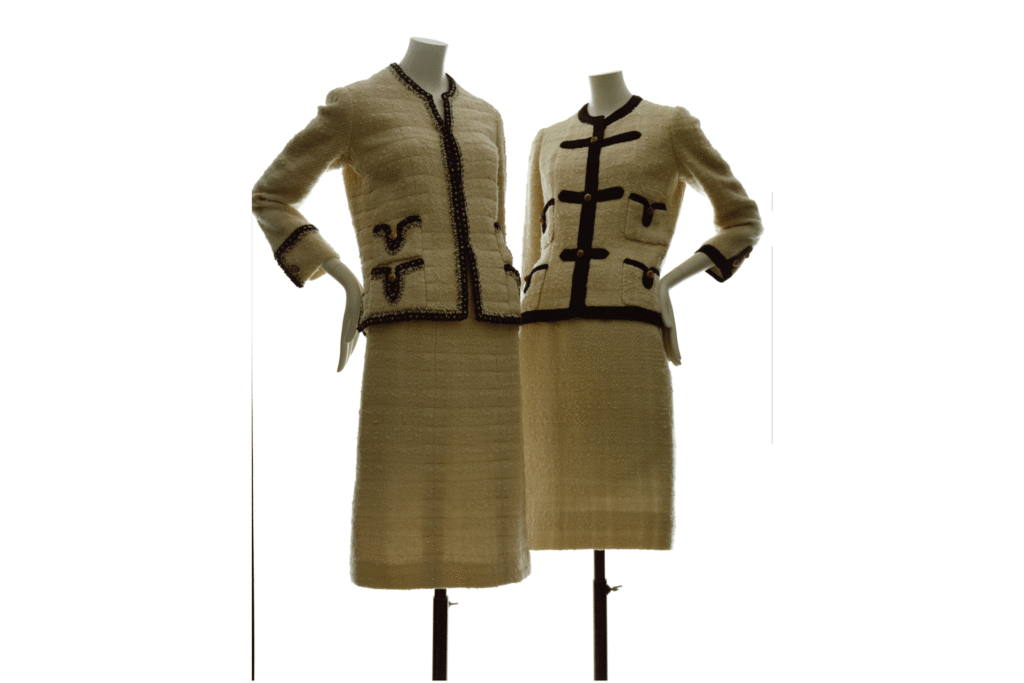 Featured Image: Suit by Gabrielle Chanel. Worsted wool crepe, silk satin lining. Paris, 1969. Suitby Gabrielle Chanel. Wool and printed silk, Paris, 1966. Worn by Lauren Bacall. Given by the Educational Foundation for the Fashion Industries, New York Coat, by Gabrielle Chanel.Bouclé wool and silk. Paris, 1961. Worn by Anne Gunning. Given by Sir Anthony Nutting in memory of Anne, Lady Nutting © Victoria and Albert Museum, London.