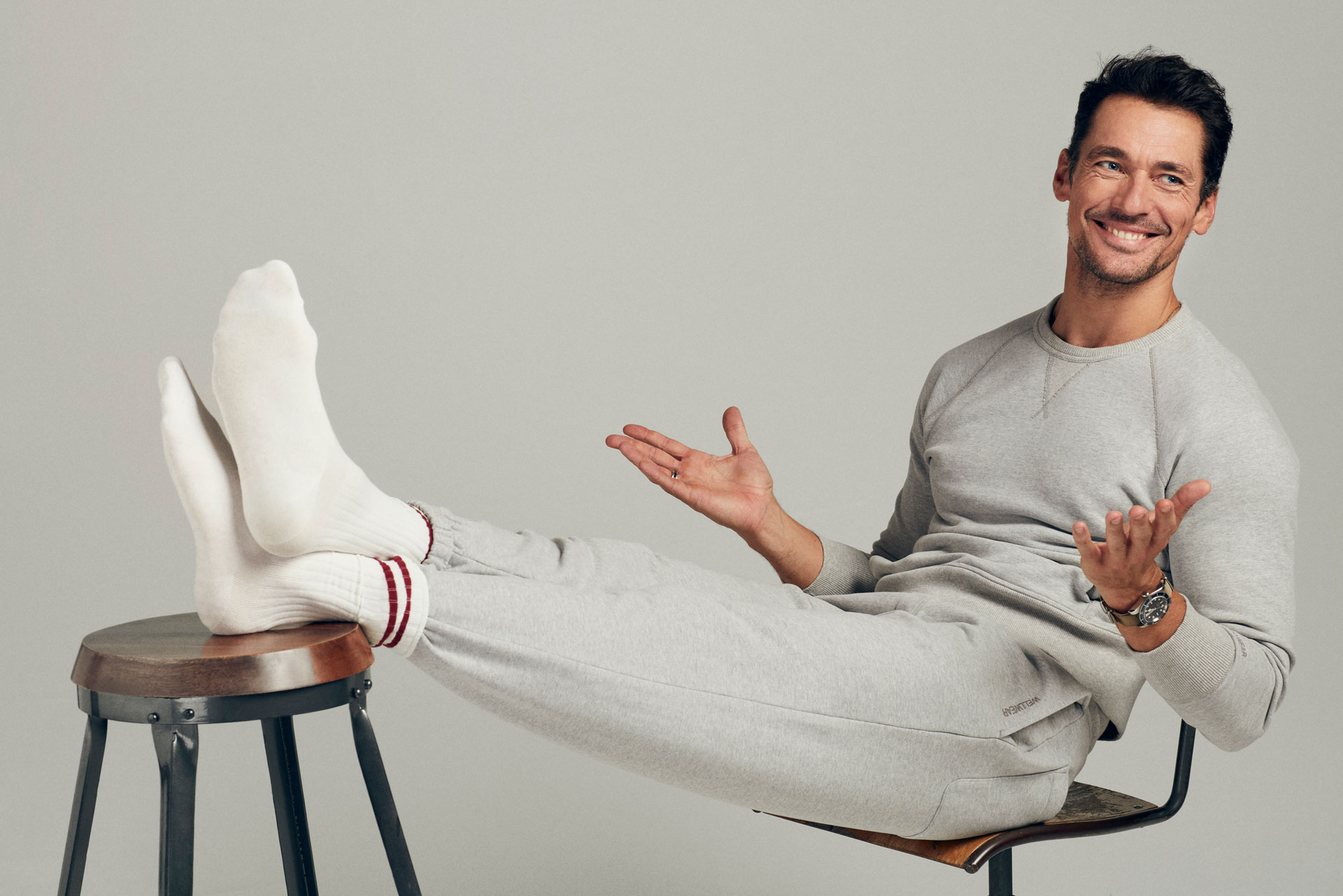 David Gandy On Wellwear & Celebrating 20 Years in Fashion
---
The supermodel looks back on his eclectic career
If Kate Moss was the face of the Nineties, David Gandy has to be that of the Noughties – and beyond. After winning a modelling competition aged 21, the Essex-born model went on to star in campaigns for the likes of Hugo Boss and Massimo Dutti, before becoming the face of Italian luxury fashion house Dolce & Gabbana. The brand's emblematic Light Blue fragrance campaign in 2007, captured by legendary fashion photographer Mario Testino, cemented Gandy's status as a national heartthrob – and shot him into supermodel stardom.
From being the first ever man nominated for the British Fashion Council's 'Model of the Year' award, to successful collections landed with pre-eminent British retailer Marks & Spencer (designed by the man himself), Gandy is now celebrating 20 years in the fashion industry.
His latest venture is the arrival of his own fashion and lifestyle brand, Wellwear. Launched towards the end of 2021, the David Gandy Wellwear collection draws on the model's two decades of experience within the industry, with a specific focus on, as the release states, 'essentials that puts the emotional wellbeing of its customer at its very heart'. 'I sometimes feel that as human beings we have lost our emotional connection with clothing, so I wanted to put the feeling back into fashion,' explains Gandy. 'Clothing shouldn't just make you look good – it should make you feel good too.'
Daniella Saunders caught up with the supermodel and brand-founder to discuss all things Wellwear, how it feels to have spent 20 years in the fashion industry, and how he stays healthy – mentally, and physically.
Can you tell us about the idea behind David Gandy Wellwear?
We wanted to do something different, and knew we had to set ourselves apart. Having had the experience of doing nightwear and loungewear before with Marks & Spencer, I knew what worked – but we wanted to change the narrative. During the pandemic, everyone stepped into that category of loungewear and leisurewear, so that's where the idea of combining wellbeing and clothing came from. Then we looked at what is possible with fabric now, and that's where we came up with Wellwear Breathe (an anti-odour and anti-bacterial treatment applied to the fabric) and Wellwear Care (an anti-inflammatory and moisturising treatment produced from aloe vera plant extract). And we're continuing to look at where we can push the technical side of the fabrics.
How has the pandemic influenced the collection?
What we've tried to create is the ultimate essentials collection; the most comfortable, sustainable, well-made essentials that you can buy, and we wanted to make them as attainable as possible. The world has changed, fewer people are going into the office, and hopefully they're going to be in more relaxed clothing. But when that narrative changes, where does Wellwear fit? We're slowly changing – we'll produce more day-to-day wear so that Wellwear can be incorporated into pretty much every part of your day.
What inspired you to create a fashion and lifestyle brand?
It's something I've always wanted to do. I wanted to go back to basics and learn the whole process; from design, to creative, to learning about factories, fabrics, lead times and labels. There are so many things you have to get right, and I wasn't comfortable to say, 'OK, I've been in the industry, and now I know how to do that', because I didn't. But I love design. Whether its interiors or classic cars, it's the design element that I love. So, I'm not saying I'm a designer whatsoever (we have Claire Staines who is an incredible designer), but I am invested in every part of the brand. Fashion doesn't stay still, and neither does technology. Things are changing for the better all the time, and we must be on top of that. So, it's about learning about new fabrics and what can be done. We're educating ourselves every day.
How does clothing impact your well-being?
Clothing has a massive impact on your mental well-being. For example – and this sounds very strange to people as I've been doing it for 20 years – but I'm not the most confident person around red carpets and big events. So, suiting to me is almost an armour against that. Tailoring, or dressing up for events, gives me that confidence to be able to be in the public eye. But that's a very small part of my day. The rest of the day is where I need to be comfortable – and my comfortable is T shirts, my favourite tops, and sweatshirts. I'm a father, I'm travelling – I'm not going to be in suiting. So that impact of being comfortable and confident in what you're wearing, people need to understand how clothing can do that for you.
Do you think body image plays a big part in mental health problems within the industry?
Talking body image, I can only really speak for myself. People probably expect me to say that I only train because I'm a model. That's not true. I trained way before, I played lots of sport, and I felt comfortable in my own skin. Now, I don't need to necessarily go to the gym four or five times a week, but I do it for my mental health. On top of that, when I came into the modelling industry, my size was actually a negative because, at that time, it was all about the androgynous look, so I wasn't getting the work. So, I can only speak for myself and how I'm comfortable, and that is exercise and training at the end of the day.
What do you do to stay healthy, mentally, and physically?
I never say I'm an expert on mental health. I've had my dark times, a lot of people have, but I believe it's about finding a way of understanding your own brain and how you work. There are so many factors that help such as exercise, sleep and nutrition, and you have to find what does and doesn't affect you. I'm probably quite a solitary person, so taking my dog out in the morning puts me in a good mindset for the day. Then training in the evening is the same – it's my little bit of respite. I've also started to introduce putting my phone away at weekends so that I'm totally concentrated on my family. I think those little things can have a massive impact. 
What does a typical day look like for you?
My life has been, for the last 19 years, completely chaotic – which I love. With modelling, you'd never know exactly where you're going to be. But there is more routine in my life now than ever before. A lot of my time revolves around Wellwear now; that's my main focus. But we're still shooting, I've got campaigns coming up with Dolce and and we're talking about other contracts, so there's a lot of balls in the air to juggle. Where my schedule comes into that, I know I must take the dogs for a walk twice a day, and that I pick my daughter up at nursery, then we have two hours together before it's bath time and bed. I try to fit my routine around those things at the end of the day, and it's not always easy. I've always been busy, but running a brand is a lot of work. It would be a nightmare for some people, but I enjoy that side of it. It's often when there isn't much going on that I actually feel a bit of anxiety kicking in.
It's all about balance – that's something I've learned over the last few years. I've been self-employed since I started modelling and there's always going to be a part of me that never wants to say no to an opportunity. But you realise in the end, that there's an intensity to that. You don't want to let people down, but at the same time, for your own well-being and family, saying no can be refreshing in many ways.
You've worked in the modelling industry for almost 20 years. How has it changed?
Being in the industry so long, I've seen massive changes. Firstly, we saw the change from traditional camera film to digital, and that impacted in, I believe, both positive and negative ways. With digital, you're seeing the creative on screen immediately, but there's an idea that you're never actually capturing a moment because people are looking and analysing what they're seeing, then changing the shot accordingly. With film, there's not that much you could do with the images – a bit of Photoshop here or there, but people never did. So, you were catching a moment. And that moment might not be perfect, but that's the creative that I love. But, from a Wellwear point of view, with digital, I can see instantly what we're filming, we can edit quickly, and be on to the next job or shoot very quickly.
What would you say if your children wanted to work within the modelling or fashion industry?
I think my biggest thing is that I've never let the industry control me. I've always been in control of my branding and what I do. That's why any images of my daughters and my family are only shared with my family or friends. That's the option I give my daughters. One day, I'm sure they'll want to be on social media, but it's important to educate them that those images are now not yours. I'll give them a choice when they're old enough to understand whether they want to do that or not. I also wouldn't let my children enter modelling until they were at least 18, so I've got 15 years to worry about that. If they wanted to, I would support them. But what the industry will look like in 15 years' time, I'm not sure.
Being in the industry for 20 years, I grew up with these incredible campaigns – and I don't want to see that go. That's where we are with Wellwear; we still want to create these positive campaigns which people will look back on and think 'that was great'. Like [Dolce & Gabbana's] Light Blue, that was part of a time when we set a creative that people will remember, and it's still going. People love seeing that story continue. I'm still a big believer in longevity. With social media, it's always about the next thing. Very rarely do you have something where people will look at a campaign for 10 years. So, I'm proud that within the last 20 years, we've produced imagery that people are hopefully going to be looking at in 100 years' time – and it will be a part of history.
Featured image: Arnaldo Anaya-Lucca
READ MORE:
Interview with Bridgerton's Polly Walker / Q&A with The Tourist's Shalom Brune-Franklin