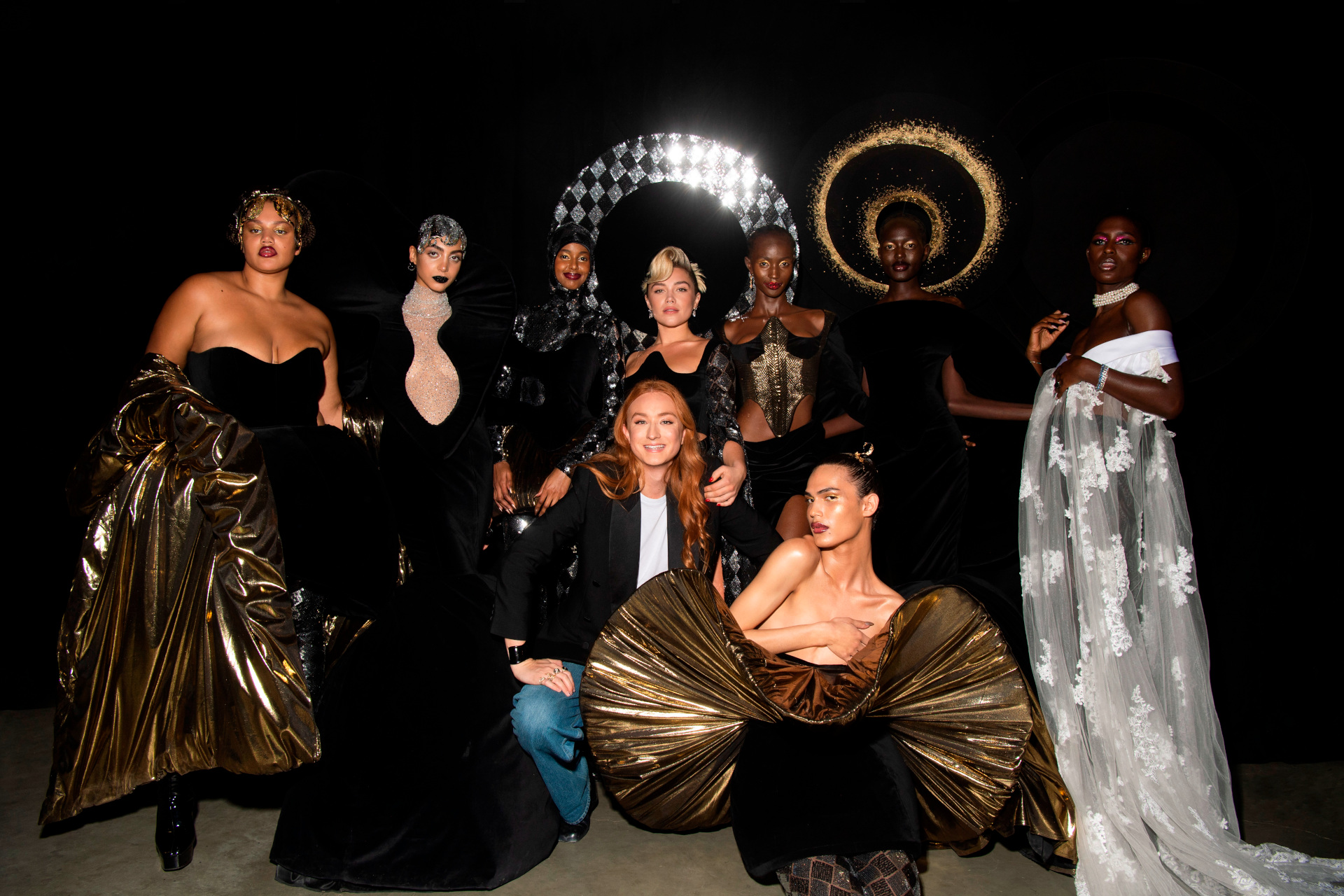 London Fashion Week Spotlight: Harris Reed AW23
---
'All the world's a stage' – William Shakespeare
British-American designer Harris Reed kicked off the London Fashion Week AW23 season with a collection dedicated to fluidity, performance and transformation. Read on to find out what the designer's influences were, where he staged his show and which celebrity made a surprise appearance on stage…
London Fashion Week Spotlight: Harris Reed AW23
Never one to shy away from grand performances at Fashion Week, Harris Reed took to London's Tate Modern on Thursday 16 February to stage his grandest collection yet. Titled with reference to Shakespeare's As You Like It, 'All The World's A Stage' was opened with a spoken word performance from Don't Worry Darling actress Florence Pugh (who also walked for the designer) as she set the theme for the night: transformation.
'Clothing has a transformative power – whether for an actor or simply a performer on the stage of life,' said Pugh. 'The art of dressing up allows us to express who we truly are, creating a safe space to inhabit in a sometimes judgemental world. Our costumes can change who we want to be seen as, and who we are destined to be. I invite you to embrace the lamé and sequins of life, because all the world's a stage.'
View this post on Instagram
The collection celebrated the ways in which clothing could amplify character and personality, social roles and genders, with an emphasis on theatricality; think harlequin motifs, swathes of velvet and upcycled theatre drapes repurposed as gold lamé fabric. The show's setting also played to the theme, being set in the round so that the audience could watch on from every angle.
Reed described the collection as 'Pageant Queens meet Henry Moore', where glamour is reshaped with organic, curved lines. Moore, a prominently featured name across Tate galleries, encouraged the designer to focus more intently on the ways the natural form could be exaggerated or twisted into new shapes. Pageant came to the fore with metallic fabrics, sequins and rich, velvety textures, while sculptural silhouettes created by giant shawls, bulbous padded skirts and dramatically curved collars echoed the artist's influence.
Structural elements were counterbalanced by a focus on deconstruction, framed within the process of getting dressed. Skirts are upturned as though in the middle of being pulled up, tights and corsets are left on show without an outer layer and bustiers reveal a glimpse of deshabille to give the illusion of a hastily pulled on outfit. As Reed highlighted, 'These moments frozen in time expose a beauty in finding new shapes and parts of the body to reveal, seeing sensuality through different angles.'
Look Inside The Harris Reed AW23 Show
MORE LFW
You can catch up on the AW23 London Fashion Week shows at londonfashionweek.co.uk
Featured image: Harris Reed LFW AW23 (c) Jason Lloyd-Evans