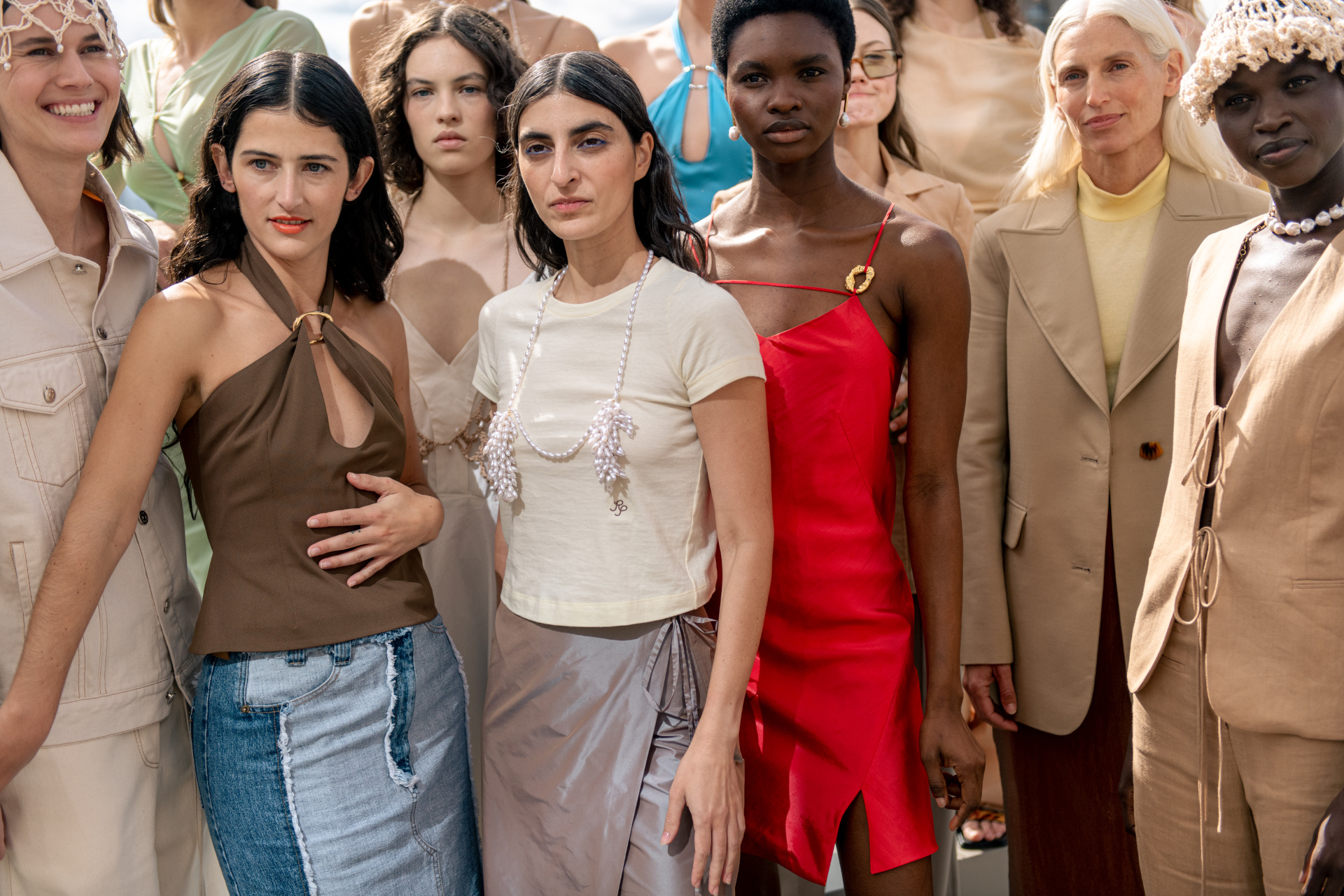 A Guide to London Fashion Week AW23
---
Your guide to the capital's style season
The UK fashion capital is abuzz this February as it welcomes another instalment of London Fashion Week. With big name designers and newcomers alike taking to the runway, it's one of the biggest events on the style set's social calendar. Want to know what's happening this season? Read our guide below for everything you need to know about London Fashion Week AW23. 
A Guide to London Fashion Week AW23
When is it?
London Fashion Week will be presenting an array of designers showcasing their AW23 collections between Friday 17 February and Tuesday 21 February 2023.
Where is it?
A combination of runway shows, presentations and events will take place in multiple locations across the capital. Shows are typically invite-only and locations are revealed nearer the date. You'll be able to catch the shows online on the LFW website, and will likely see very fashionable-looking guests trotting off to events around London each day.
View this post on Instagram
Schedule Highlights
Over 100 designers are confirmed to feature in the London Fashion Week schedule, including legacy brands like Burberry, Richard Quinn and Paul Costelloe. With so much amazing talent on show, it's tricky to narrow things down when it comes to choosing shows to see and stream – so we've rounded up some of the physical shows we're most excited to see below:
THURS: 16 February
The unofficial first day of London Fashion is largely made up of invite-only launch events and parties, with the main highlight of the day being a screening of new sustainable fashion documentary Fashion Reimagined taking place late in the evening. You can learn all about this exciting new film, which hits cinemas in March, here.
FRI: 17 February
The season comes out in full force on the Friday, with over 30 physical shows and events taking place across London. Some of the highlights we're looking forward to include Paul Costelloe kicking off the season with a catwalk at 9am, a world-building showcase from Bora Aksu and a student-led runway presentation from the London College of Fashion (UAL) in the evening.
SAT: 18 February
This is another big day at LFW, with 22 events and shows taking place across the city. Expect to see glamorous London label 16Arlington showcasing its new womenswear collection, a colourful catwalk show from British designer Molly Goddard in the afternoon and this year's Vogue Designer Fashion Fund Winner, Richard Quinn, making his mark on the runway in the evening.
SUN: 19 February
We have another 18 live events to look forward to on Sunday, from catwalks and presentations to evening celebrations. The morning kicks off with a catwalk presentation from British favourite JW Anderson, while the afternoon sees fairy tale-esque Irish designer Simone Rocha hitting the runway with their AW23 collection.
MON: 20 February
Another day, another 15 shows to sink your teeth into. The morning kicks off with a catwalk presentation from royal favourite Emilia Wickstead, with Canadian-British label Edeline Lee and London-based womenswear brand RIXO will be hosting immersive presentations for LFW-goers in the afternoon, while royal warrant holder Burberry is set to round off the evening with a catwalk show.
TUES: 21 February
Tuesday is the last day in the schedule, and with just five shows on the agenda we expect to see designers start to retreat from the capital once the day's shows are finished. The main highlight of the day is a Ukrainian Fashion Week presentation, featuring designers FROLOV, KSENIASCHNAIDER and PASKAL taking to the runway at 10am.
You can check out the full schedule for London Fashion Week here.
Online Shows
A selection of shows continue to run online alongside or instead of in person this year, with an unveiling of new collections on the London Fashion Week website. In this case, a campaign video will take the place of a traditional runway show or physical presentation. There are admittedly less designers going online this year (especially with lockdown restrictions now a thing of the past), but some of the designers taking to the digital runway include:
BFC NEWGEN
An ongoing segment of London Fashion Week is the British Fashion Council's NEWGEN initiative, which gives a platform to emerging fashion designers that have demonstrated a 'strong aesthetic and innovative approach to design'. Designers supported by this programme will receive financial support and mentoring as well as showcasing opportunities.
The NEWGEN committee is led by Sarah Mower MBE, who also oversees the Ready-To-Wear panel, while British jewellery designer Stephen Webster MBE leads the Accessories panel.
The NEWGEN recipients for 2022/23 include Ahluwalia, Chet Lo, Conner Ives, LABRUM London and yuhan wang. See the full list here.
DiscoveryLAB
An ongoing instalment at London Fashion Week, the DiscoveryLAB is described as 'an immersive showcasing environment' where audiences can explore new names and emerging brands within the wider creative industry. Here, you'll find creatives breaking the boundaries between fashion, music, art, photography and performance and presenting exciting new projects.
Designers on this year's roster include London-based brand Vinti Andrews, a collaboration between designers Vinti Tan and Paul Andrews, experimental womenswear designer Sinéad O'Dwyer and Portuguese designer (and winner of the Who's Next Prize 2022) Constanca Entrudo, as well as many more. Browse the full line-up here.
City Wide Celebration | #LFWCityWide
A number of 'unique experiences' will also take place over London Fashion Week as part of the City Wide Celebration, all of which are open to the public. Events will span designer Q&A sessions, live music performances and limited edition product drops, as well as workshops focused on upcycling and zero waste craftsmanship.
There are over 450 events in total, scheduled to take place at various stores and shopping destinations in the city. You can take a look at the full schedule here.
EXPLORE
For more details about London Fashion Week AW23, please visit londonfashionweek.co.uk
Featured image: Rejina Pyo SS23 Catwalk Show, London Fashion Week (c) Ben Broomfield