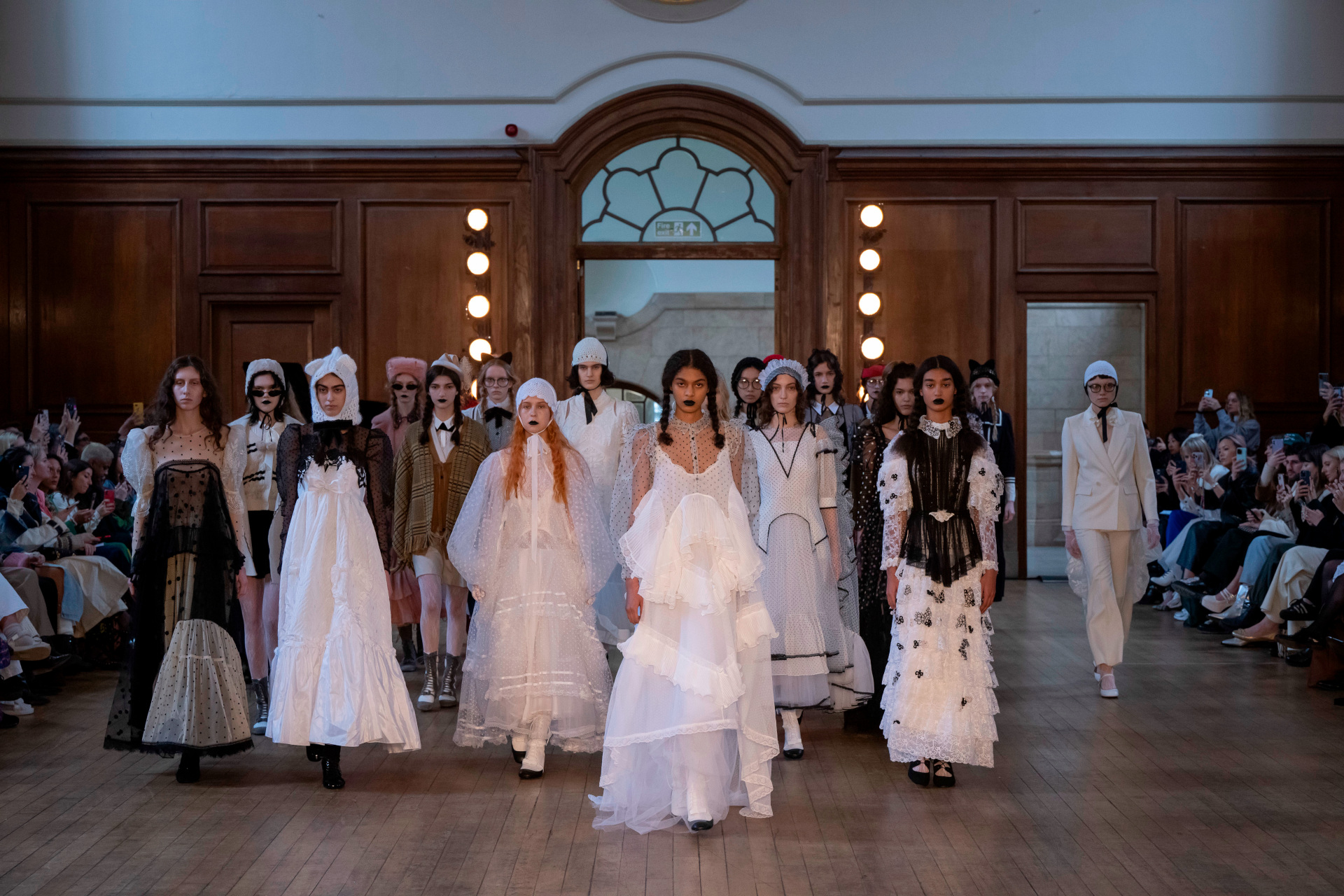 London Fashion Week Spotlight: Bora Aksu AW23
---
'Why do we let these fabrics die? Let's bring them to life.'
One of the first labels to open London Fashion Week this AW23 season is Bora Aksu. The Turkish designer has been based in London for over two decades, and continues to show audiences how he can adapt to the times and take inspiration from both modern and historical worlds.
London Fashion Week Spotlight: Bora Aksu AW23
What comes to mind when you think of the word 'outcast'? The social pariah has always sat on the edges of society, quietly (and sometimes not so quietly) doing their own thing and ruffling some feathers along the way. For Bora Aksu, a designer keen to forego trends in favour of his own creative vision, the outcast became the perfect starting point for his AW23 collection.
Inspired by a trip to Musée d'Orsay in Paris, Bora drew on two cultural figures synonymous with non-conformity. The first was Edvard Munch, the Norwegian painter best known for The Scream. While now a celebrated artist held in high esteem by the creative world, his living career was not so successful. Often penned as a'troubled artist', Munch was heavily criticised for his the unfinished and overworked appearance of his art – but rather than bow down to criticisms, he continued to develop his own creative process and techniques. Bora emulated the artist throughout his collection by process of repetition – a trait for which Munch was well-known for – bringing out details, silhouettes and techniques from his own archives (such as the knitted crochet accessories and cardigans he created early on in his career with the help of his mother).
The second character that Bora took inspiration from was none other than gothic pop culture phenomenon Wednesday Addams. One of the most iconic countercultural symbols of the modern age, Wednesday represents a message of stubborn sincerity: she refuses to change for the sake of others, and champions the imperfections that make her different. Wednesday's influence could be felt throughout the show – from the black cat ears and monochromatic colour palette weaving between designs to the orchestral rendition of 'Season of the Witch' (the cello was a nice Wednesday touch) played live as the models walked the runway.
This is where the artist takes a turn from his usual LFW offerings. While swathes of bright colours peak through at random intervals, much of the collection is an ode to black and white in Bora's ultra-femme signature style. The result lends a much more gothic undertone to the designer's typically sweet aesthetic. This is a much darker, more mature take on Bora Aksu's usual playfulness, but it nonetheless conveys his own character – one which is based on a genuine curioisty and desire to explore the wider world.
Look Inside The Bora Aksu AW23 Show
Bora Aksu On His LFW AW23 Show
We caught up with Bora after his show on Friday, and dived into his design process and inspirations. Read a snippet of the interview below…
Hi Bora, congratulations on your London Fashion Week presentation today. How are you feeling?
Emotional! But happy and satisfied at the same time.
It was a brilliant show – could you please run us through some of the inspirations behind the collection?
It all started months ago, when I took a research trip to Paris – in particular the Musée d'Orsay. While there, I came across Edvard Munch's early work. Going through the feedback from his early career you could see he was always rejected; some of his pieces were exhibited, but they were often taken away because they were not considered appropriate at the time. But he kept doing what he wanted to do. Many people would say that his work looked too unfinished, but he didn't want to recreate a photograph with his paintings, it was more about creating an emotion. This really inspired me, because I also want to create emotion with my work and the emotional reaction is more important for me. That was the starting point.
The more I looked at Edvard Munch, his role as an outcast and his artistic personality, I was just more drawn to him. I looked at elements he incorporated into his work, like how he took a subject and repeated it several times, to see how I could work that into my collection. I said, 'Let me go back into my archives and see the pieces that were really special' and then bring them back into the collection. I went back to my early work, around the time my mom and auntie used to knit pieces for me, and knew that because knitting and crochet were such a crucial part of my work at the beginning of my career that I had to bring them back.
So it started like that, and then began to link from this art cause to other, more recent outcasts like Wednesday Addams. Obviously these were very different characters, but they have so many similarities. Edvard was also really drawn to black, for example. He once said black was the greatest colour. I don't usually use black in my work, but I wanted to make this colour special and for a change made it central to the collection.
Amazing, and would you say – since you use so much more black compared to your previous collections – that this is almost like an outcast collection for you as well?
Definitely. I think if you compare it with my previous collections, even when they included darker shades, there was never this much black. So it's definitely an outcast collection. It made me create a new platform to play with shape and texture, because it's such a neutral colour palette that you are almost forced to more. In a sense this gave me a lot more freedom to be creative.
I see! Black can be quite a flat colour, but when you play with texture that really brings everything out into the light.
Exactly, yes.
What characteristics do you think make an outcast and why do we love them so much?
I think we love them more in the future, rather than at the time they're with us. It's always creative reaction and maybe sometimes a negative reaction. So I think at the time you don't really appreciate them, but when some time has passed and we look back we can see that that person was an outcast but what they were saying actually rang true.
I think it also has a lot to do with sticking to your guns and doing what you believe in. This is the main thing for me. It makes us all outcasts in a way, because we kind of stick to our own thing. Like, for me and my work, I'm not worried if it's a trend or not because I'm not about that. Maybe  it doesn't fit in the trend or it's completely out of the trend, but that doesn't bother me so much. If I'm happy with what I currently have achieved, then that's a true success for me. So, in this sense, I think we are all outcasts in some ways.
I agree. We also heard you use a lot of old, unused and rejected fabrics in this collection – why not use something new?
This whole concept of using these kinds of fabrics actually came about just before the pandemic, when a lot of people in fashion were starting to question their careers, the choices they were making and how they impacted the world. I was asking, 'do we need more clothes?' and 'do we need more materials?' You know, because the world feels like it's on a hamster wheel with how much product we push out.
Every season we go to Paris and Italy to see hundreds and hundreds of new fabrics and newly produced items. In the end, I came to the realisation that I actually don't want to see this anymore. I want to see what's already in stock, I want to see the warehouses and I want to see things from like 20 years ago that never got used. I just kept thinking, 'Why do we let these fabrics die? Let's bring them to life.' Of course, using them comes with more restriction when designing. You might have only two metres, for example, which will limit the number of items you can create – but I think this makes it special. It shouldn't be about producing something in batches of hundreds or thousands, it should be more exclusive.
My love of these kinds of fabrics and textures has grown, and so each season I've tried to give them more of a spotlight. This means even displaying the rejects. If you look closely at some items in my collections, there might be stains and rips – even that makes it more special for me. With this collection I also went into my own archives and my mom, who is a knitter as I mentioned before, had a lot of these old yarns that she's stocked over time from when she and the neighbours used to do my production. So there was like hundreds of metres of yarn from like 13 or 14 years ago. When you go down this path you always find new ways to bring things to life so. We have so much so we're gonna use what we have. The world is damaged enough.
That's a brilliant way of seeing things! Thank you so much for your time today, it was really lovely meeting you.
Thank you!
Watch The Show
MORE LFW
You can catch up on the AW23 London Fashion Week shows at londonfashionweek.co.uk
Images: Bora Aksu LFW AW23 (c) Stefan Knauer/Jason Lloyd-Evans