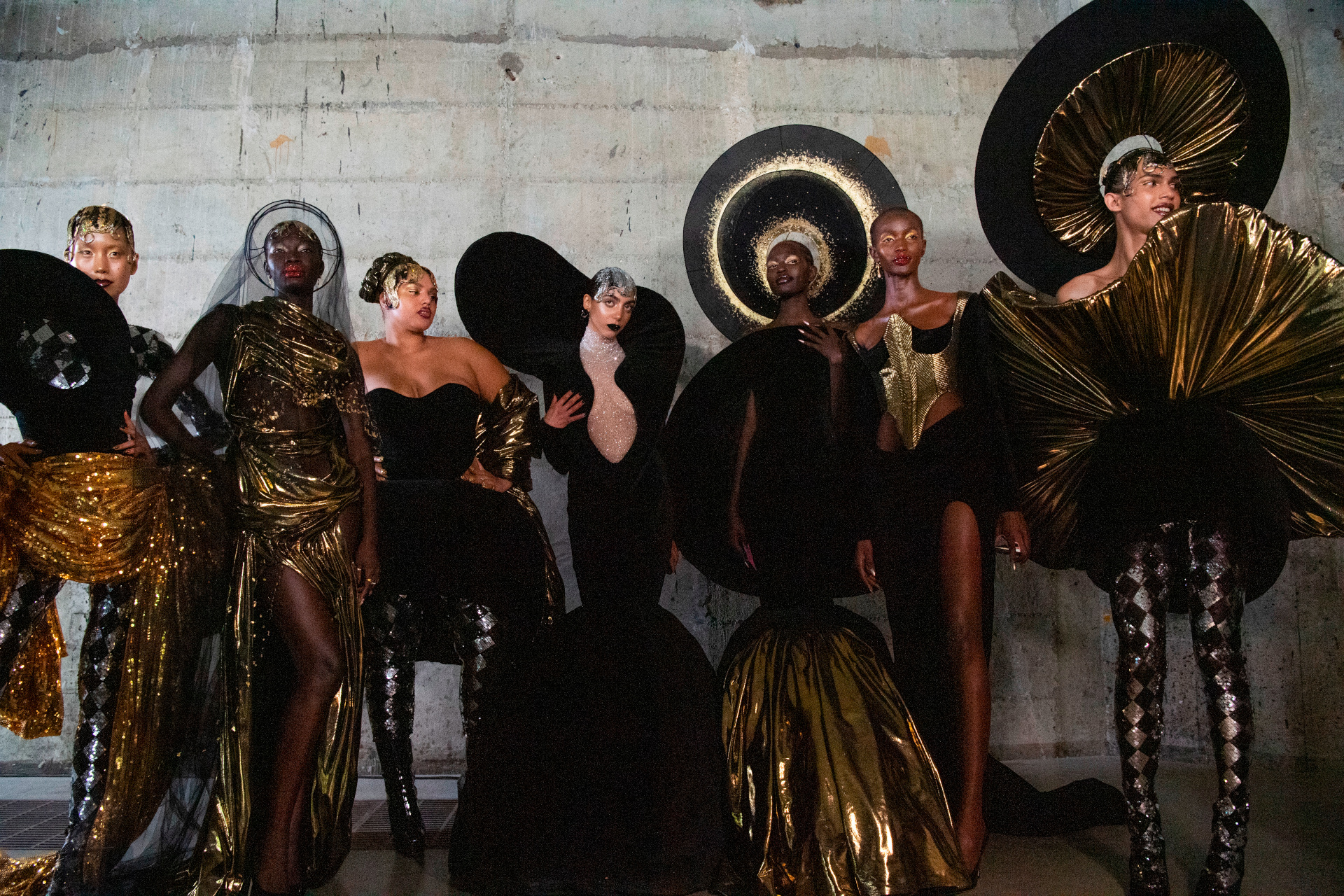 Head-Turning Moments From London Fashion Week AW23
---
Let the fashion frenzy commence
The UK capital is currently awash with some the biggest names and faces in fashion, as it welcomes visitors from across the world to participate in the AW23 edition of London Fashion Week. Here, we round up some of the highlights from the season (and the looks we'll be craving come autumn).
Head-Turning Moments From London Fashion Week AW23
Monday 20 February 2023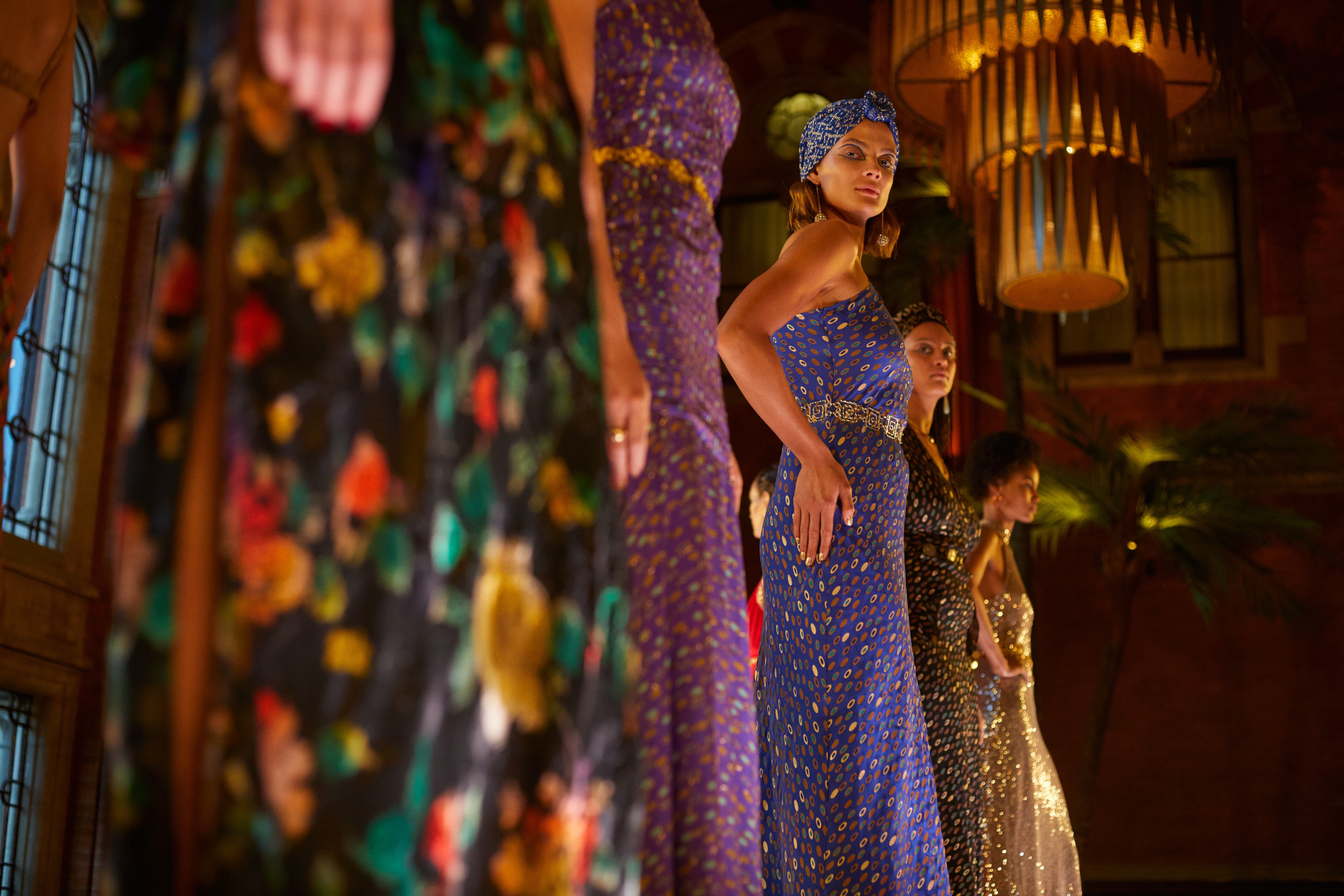 RIXO
Vintage-inspired fashion brand RIXO took us on a trip down the Nile with its AW23 offering, a collection of eveningwear and occasion pieces inspired by the techniques, symbols and colours of ancient Egypt. A mix of intricately patterned textiles, beaded surfaces and reflective materials, 'The Goddess of The Nile' is a celebration of the upcoming party season with plenty of red-carpet pomp. A first for RIXO, the show was a presentation-catwalk hybrid, with models walking the runway before standing on raised platforms in the centre of the Booking Office 1869 in St Pancras International.
Read our interview with RIXO's co-founders on their AW23 collection here
Jakke
Showcasing for the first time at London Fashion Week, faux fur fashion label Jakke transformed 100 Gray Inn Road into a retro office space complete with chord phones, flip notes and vintage printers. The space set the scene for the collection's theme: power dressing. Inspired by the film The Associate, the collection brings to the fore 80s and 90s women's officewear with skirt suits and button-up shirts alongside sexier pieces like sheer, knitted tops paired with colourful fluffy coats.
'Power dressing used to be about women wanting to be seen as equal to men,' said Nina Hopkins, Creative Director of Jakke. 'Thankfully, fashion has changed, and power dressing has evolved and as a result, the line between men's and women's clothes have never been blurrier than they are today.'
Edeline Lee
Going one step further with its AW23 presentation, Edeline Lee collaborated with Zeina Durra to curate a guerilla-style immersive experience in Mayfair. Trailing through the Burlington Arcade, Cork Street, Old Burlington Street and the back of the Royal Academy, 'London Holiday' let show-goers navigate their way through the experience and discover clothing from the collection worn by models and performers. From a woman having her shoes cleaned, to a pair playing chess and another loading a vintage car with parcels wrapped in 'The Edeline Lee Times' newspaper sheets. The collection was underpinned by elegant coats and dresses with draped asymmetrical ruffles, maximalist ruching and sleek tailoring.
Sunday 19 February 2023
Christopher Kane
Fashion Week wouldn't be without the unconventional and unexpected – and nothing highlights these components quite like a bodycon dress decked out in AI generated pigs. Scottish designer Christopher Kane took to the runway on Sunday with a collection dedicated to the women in his childhood during the 1980's – waitresses, housewives and cleaners – celebrating 'the complexities of growing up in a working class environment'. Elevating this selection of society through an haute couture lens, the designer brought to the fore 'working class', urban animals (you could see rats, chicks and butterflies as well as pigs) and flowers in an amalgamation of prints and embroidery work, with bustles fitted to the front and the back of the body in an echo of barmaid style skirts and bin bags.
Yuhan Wang
One of the designers featured in the British Fashion Council's NEWGEN space was Yuhan Wang, a London-based womenswear brand with a rapidly growing cult following. Her AW23 collection, 'The Woman Who Came Back', lends itself to Wang's signature play of femininity and explorations of female empowerment through a reimagining of Quentin Tarantino's Kill Bill. Subverting the title's main character, a woman written for the male gaze, the collection takes key cinematic motifs to celebrate female leadership, resilience and activism. To do so, Wang weaves key cinematic motifs into her collection: Beatrix Kiddo's iconic yellow leather motorcycle jacket is reimagined in structured lace, Gogo Yubari's chain mace takes a new form as recurring etching, chrysanthemums (a Chinese symbol of vitality and resilience) comes to life in print and corsages and models walked down the runway holding katanas.
'Nowadays, women face so much pressure,' said Yuhan Wang in her collection overview. 'I'm trying to use the movie as a catalyst to remind girls that no matter what happens in the end, no matter how hard something is, whatever the obstacle, to be true to yourself and you'll be reborn. In the end you will become stronger'
Saturday 18 February 2023
Richard Quinn
British fashion designer Richard Quinn led audiences into a secret garden, complete with fresh flowers and live music from the English Chamber Orchestra, for his AW23 offering. The show opened with vocals from Gabrielle Aplin, who was followed onstage by a few of Quinn's signature latex-clad ballet cats who positioned themselves throughout the space. But unlike the designer's usual propensity for grand displays (and BDSM), this collection focused on elegance. Inspired by old-school Parisian haute couture, led by the likes of Chanel and Dior, the collection is divided into tow parts: eveningwear and bridalwear. Emphasis was placed on sophisticated silhouettes, soft, fabrics, floral prints and glittering appliqué adornments, with models gliding gracefully down the runway.
Simone Rocha
Where Simone Rocha usually dedicates her creative process to fairy tales and emotional reflection, this season the Irish designer chose to stay closer to home with an ode to Lughnasadh – a Gaelic festival marking the beginning of the harvest season. Motifs of the harvest come to life in the form of weaving, macrame, raffia and embroidery, echoing the appearance of wheat bundled together for reaping. Keeping up the theme of reflections, Rocha used her AW23 collection to invite six artists to rework her brand logo – Daniel David Freeman, Oscar Torrans, Toby Evans, Christopher Lawson, Edward Quarmby and Ana Projects – which took shape in graphic prints, appliqué and embroidery.
Molly Goddard
Nostalgia and reminiscence came in waves with Molly Goddard this season, as the designer looked back to her early career and the ways she interacted with fashion as a child. Focusing on the joys of fashion, as the simple delight that comes with dressing up, Goddard worked with her sister and stylist Alice to reimagine the clothing they coveted in old magazines and wore as teenagers. It also gave the designer the opportunity to dive back into the brand's archives and modernise some of her favourite designs for the new season. Highlights include leopard print dresses and skirting (a new rendition of the 'leopard print jeans we'd bought at Gap kids in Whiteleys'), slim-fitting knit jumpers with an ornate brand emblem and Goddard's signature tiered tulle skirts decked out in black stripes.
Eudon Choi
Calling on the fashion set on Saturday morning was Eudon Choi, who transported audiences back to the Renaissance with his AW23 collection. Inspired by fashions from the 16th and 17th centuries, Choi elevated his signature tailoring with references to doublet jackets (think padded, slashed sleeves and intricate front fastenings) in combination with modern luxury sportswear to create a more relaxed silhouette for each design. But that's not the only historical reference in the collection; the colour palette, a heady mixture of indigo blue, walnut brown, caramel, pink and red, was inspired by the portraiture of German Renaissance painter Lucas Cranach the Elder.
Read our Eudon Choi AW23 spotlight here
Friday 17 February 2023
Huishan Zhang
The Londoner Hotel was the stage for Huishan Zhang's AW23 show, where the designer centred his collection around the modern femme fatale. Inspired by Hitchcock's rendition of the character, a woman that possesses both confidence and the power of seduction, Zhang reimagined the film noir female in a 21st century setting. Playing with fabrics and silhouettes to blur the boundaries between concealment and revealment, the collection was led skin-showing skirt slits and plunging necklines – highlighted by optical illusions created by sheer layers twisted into barely-there shapes, shimmery, reflective materials and carefully draped fabrics teasing a reveal with every move.
Bora Aksu
Turkish designer Bora Aksu kicked off Friday's schedule with a show dedicated to outcasts. The designer is known for juxtaposing historical and modern moments in time to create the backdrop to his collections, but he went one step further with his AW23 offering. Aksu's two musings this season were Norwegian artist Edvard Munch and non-conforming pop culture icon Wednesday Addams, who became a starting point for his design process. From Munch, Aksu developed the technique of repeating signature details from his career, such as crochet knitwear and floaty silhouettes. But with Wednesday, the designer really challenged himself by minimising his use of colour in favour of a monochromatic palette. The result? Gothic elegance.
Read our backstage interview with Bora Aksu here
Mark Fast
Luxury knitwear and streetwear designer Mark Fast showcased a collection that would 'transform the wearer from the daytime office to a boundless, pulsing rave'. Designs were balanced between practicality and playfulness, with long puffers, dark bombers and diamante jackets worn over stone-washed denim and neon knits. Column dressing was a central theme running through the looks, used to contrast muted tones with the vibrancy of designs showcased later on in the show. Highlights included long, knitted wrap dresses that expanded into sleeves and hoods, quilted boot covers and woolly leg warmers and the spiderweb-like cut outs adorning hips, shoulders and stomachs.
Thursday 16 February 2023
Harris Reed
Never one to shy away from grand performances at Fashion Week, Harris Reed took to London's Tate Modern to stage his grandest collection yet. Titled with reference to Shakespeare's As You Like It, 'All The World's A Stage' was opened with a spoken word performance from Don't Worry Darling actress Florence Pugh (who also then walked for the designer) as she set the theme for the night: transformation. Using sculptural silhouettes inspired by a combination of pageantry and British artist Henry Moore (look out for the circular headpieces, mantled fabrics and flared hip drapes), the brand brings theatricality to the fore while celebrating 'the process of getting dressed'.
Read our Harris Reed AW23 spotlight here
Mithridate
When it comes to stealing the show, luxury label Mithridate takes the cake. The brand, led by creative director Demon Zhang, is known for its gorgeous tailoring, genderless visuals and ability to tell a really good story. For AW23, Zhang took inspiration from the first female aviator in history, Amelia Earhart, and explored the theme of flight in three parts: 'the industrial, the adventurous and the mysterious'. The collection tells of her rise to historical stardom while exploring her unresolved disappearance while flying in 1937, with visual references taking shape in the form of oversized bomber jackets, goggles, harnesses, jumpsuits, wings and even the occasional parachute.
Zhang also used a shifting colour palette and differing textures to help tell this story, starting with neutral shades and shearling hats and jackets to help recreate vintage pilot uniforms, then moving on to reflective textures to emulate the travel of aircrafts through the sky and then finishing with 'neoteric lights, inky tones, oversized quilted layers and draping faux furs' as a reference to Earhart's disappearance.
MORE LFW
You can catch up on the AW23 London Fashion Week shows at londonfashionweek.co.uk
Featured image: Harris Reed LFW AW23 (c) Jason Lloyd-Evans