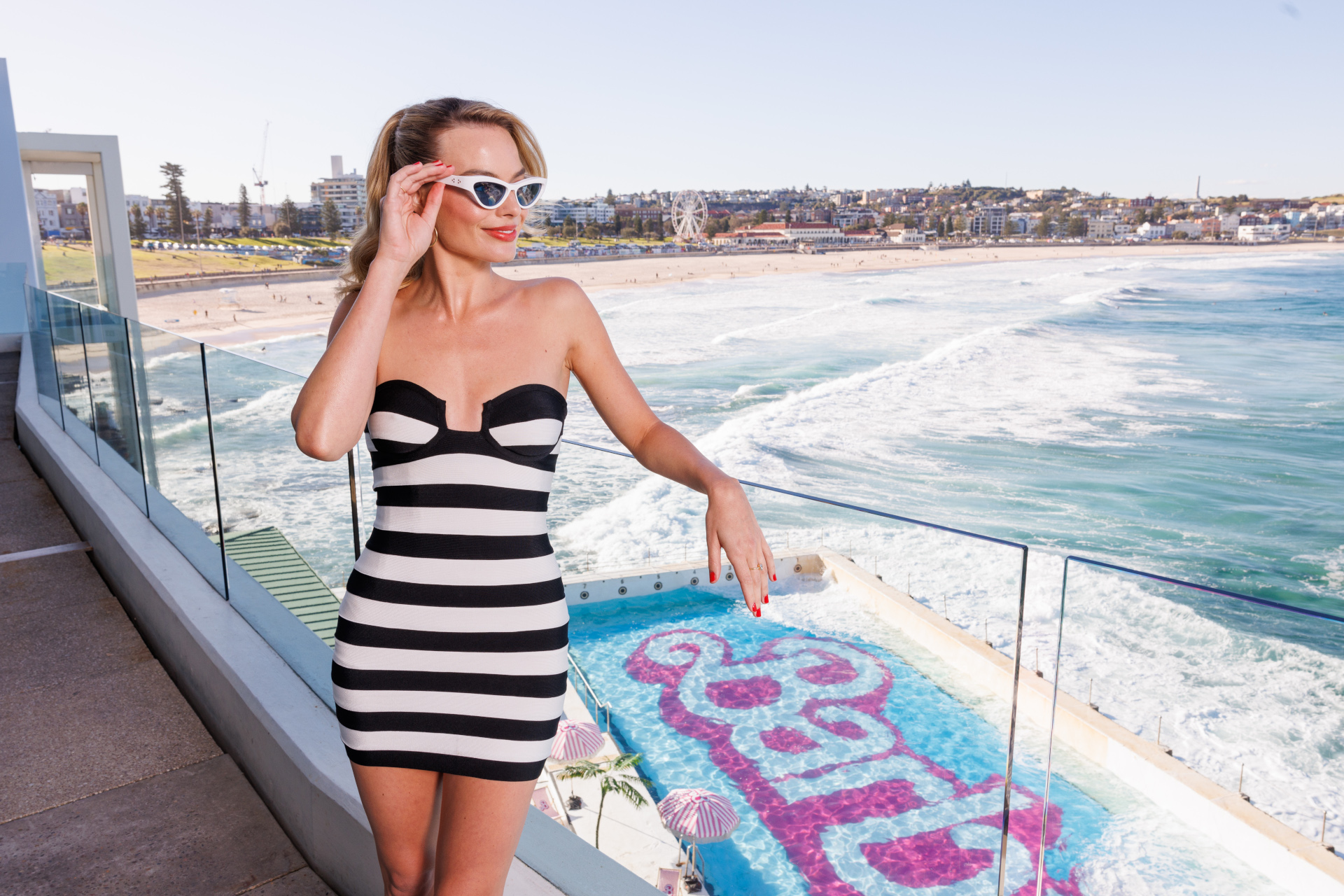 The Barbie Dolls Behind Margot Robbie's Killer Press Outfits
This Barbie is a movie star
It's no secret that the press run for the upcoming Barbie film has been a wild one, from official merch collaborations and a music industry-wide album to an official Malibu DreamHouse (now owned by Ken). If there's one thing the Barbie marketing team are, it's dedicated –so, it shouldn't come as a surprise to see that Margot Robbie's promo wardrobe also fits the theme. The actress has been spotted on pink carpets all over the world in outrageously glamorous attire befitting her Mattel alter ego – but did you know that her press outfits were inspired by vintage Barbie dolls? Here we round up some of our favourite looks, and the dolls behind them. 
Who Styled Margot Robbie For The Barbie Press Tour?
Margot Robbie has been styled by veteran stylist Andrew Mukamal (whose previous clients include Zoe Kravitz, Hailey Bieber and Kaia Gerber). The pair have decided to bring a slice of Barbie joy to the press tour by getting as close to the doll's iconic wardrobe as possible.
Speaking to People at the film's premiere in Los Angeles, Robbie said how: 'We're finding Barbie references from decades past and just doing it really for the big Barbie fans out there, people who are actually collecting those Barbies. We're hoping to get them excited…we're pairing Barbie references with great designers.'
The Barbie Dolls Behind Margot Robbie's Killer Press Outfits
London: 12 July 2023
Enchanted Evening Barbie, 1960
The cast hosted a party in London for the European premiere of Barbie, where they all dressed up to the nines to welcome fans and co-stars from across the pond. Robbie tapped into her signature movie star magic in a silk, floor-length pink gown, custom designed by British fashion label Vivienne Westwood (look out for the signature corseted bodice). The dress was finished with a frilly tulle wrap, long, white evening gloves a corsage flower at her hip, sparkly silver sandals and a three-strand pearl choker.
Mukamal tapped into what is possibly one of the most iconic Barbie outfits for the premiere, taking pointers from 1960's Enchanted Evening Barbie. This doll is considered one of the most collectable, and was made into two versions: the first had three sequins and beads at the waist, while later versions had a pink satin rose (like Robbie). While the gown and stole are quite easy to find, the jewellery and shoes for this doll are rare collectors' items. Fun fact: a number of collectors' items modelled after Enchanted Evening Barbie, spanning from porcelain ornaments to key chains, have been released by Mattel in the years since.
Brunette Bubble Cut Barbie, 1962
For a change of pace, Robbie changed out of her ballgown for the VIP photo call and instead opted for a tight red minidress created by Turkish-British fashion designer Dilara Fındıkoğlu. The dress itself featured a sculpted corset and a lace-up detail down the back, and was teamed up with red peep-toe heels, a red satin purse and pearl stud earrings.
Another outfit thought to be inspired by a swimsuit doll, this time it's suggested the styling team looked to the Brunette Bubble Cut Barbie – who was sometimes sold in sets with the Enchanted Evening outfit, making the change another clever nod to Barbie history.
LA: 9 July 2023
Solo In The Spotlight Barbie, 1960
Back in LA again for the Barbie world premiere, Margot hit the hot pink carpet in (shock) not a pink outfit. This was the second time on the press tour that the actress' wardrobe strayed from Barbie's signature colour – but we promise it was all for good reason. Donning a custom black sequin Schiaparelli gown with a peplum hem, jewellery from Lorraine Schwartz and a pair of black peep-toe Manolo Blahnik heels, Robbie looked every bit the movie star that day.
The doll of choice this time? Solo in the Spotlight Barbie, a sexy nightclub singer (perhaps a hint for some more musical numbers in the movie?) which the styling team pretty much nailed piece for piece – did you see the little rose at the bottom of her dress? All that was missing from the outfit was the 60s mic stand, although we're sure we can forgive considering the glamorous drama Robbie brought to the event.
Mexico City: 6 July 2023
Earring Magic Barbie, 1992
The next stop for Barbie and Ken was Mexico City. Margot Robbie arrived at the movie premiere in a custom-made Balmain outfit, which featured a corset-style hot pink leather minidress with a pink long-sleeve mesh top. The look was polished off with a silver belly chain decorated with silver starts, silver chain drop earrings with more stars (and hearts) and a pair of pink Manolo Blahnik pumps.
Robbie's outfit inspiration this time around came from 1992's Earring Magic Barbie, which was one of five Earring Magic dolls in a set. Those who played with the doll might remember that you could interchange the charms and even wear a pair of earrings that came with the doll. Fun fact: the companion to this Barbie doll, Earring Magic Ken, is widely considered to have kicked off a toy craze among gay men. It's a shame Ryan didn't bring the Kenergy on this occasion…
Totally Hair Barbie, 1992
Another Barbie press junket, another serve for Margot Robbie. The actress was spotted on this occasion in a swirled minidress by Emilio Pucci, alongside her signature pink Manolo Blahnik pumps, a baby pink quilted handbag and hot pink earrings from Chanel.
Margot's look at this event was taken from the highest selling Barbie doll in history: Totally Hair Barbie. As the name suggests, the doll featured super long hair – the longest of any Barbie doll at 11.5 inches – and went all the way down to her toes.
Seoul: 2 & 3 July 2023
Day To Night Barbie, 1985
The Barbie cast continued its press tour by jetting off to a fan event in Seoul, where Margot dived deep into the Barbie archives for her next look. Debuting two looks in one, the actress was first spotted at the event in custom-made 80's inspired power suit by Versace; she wore a bright pink blazer with white lapels and matching pencil skirt, which she accessorised with a white wide-brimmed hat, a pink handbag and the now-expected pair of Manolo Blahnik heels (now in pink and white). What really took the cake with this outfit though was the rhinestone clutch from Judith Leiber, which was shaped into an era-appropriate brick phone.
This look was a tribute to the iconic Day To Night Barbie, which broke the glass ceiling of the Barbie DreamHouse to become the first CEO Barbie doll – a fitting option, when we consider that Barbie itself is a women-led project. What set this doll apart was, as the name clues us in, it's ability to transform outfits without a complete wardrobe change. As Barbie Media notes, 'Day-to-Night Barbie could go from running the boardroom in her pink power suit to a fun night out on the town. She celebrated the workplace evolution of the era and showed girls they could have it all.'
Which means that Margot, in true Barbie fashion, also had to transform into another outfit at the fan event. Her second look was comprised of a bright pink Versace dress, which featured a sparkly sequin bodice and floaty tulle skirt, as well as a pair of peep-toe Manolo Blahniks and Taffin Jewellery earrings.
Sparkling Pink Barbie, 1964
Switching things up to a 60s-inspired suit co-ord, Robbie then changed into a diamante-detailed skirt suit from Moschino which was comprised of a fitted lapel-less blazer, an asymmetrical crop top and miniskirt. A matching studded pillbox hat and heart-shaped purse, as well as her peep-toe Manolo Blahniks and pearl earrings from Tiffany & Co., finished off the outfit.
Robbie's outfit looks to Sparkling Pink Barbie for inspiration, in particular her glittery mix-and-match wardrobe and pillbox hat.
Sydney: 28 to 30 June 2023
The First Barbie, 1959
Now, this get-up will look familiar to anyone who has watched the movie trailer on repeat (guilty). Heading back to her home country to promote Barbie at a press junket, Robbie made an appearance at Bondi Icebergs Swimming Club wearing a striped black-and-white dress by Hervé Léger, black Manolo Blahnik heels and white cat-eye sunglasses.
The outfit was a take on what is considered 'The First Barbie', the doll that debuted at the New York Toy Fair on 9 March 1959. This Barbie wears a black and white striped swimsuit, white sunglasses and heels, and also briefly makes an appearance in the movie with Margot wearing the exact same outfit.
LA: 25 June 2023
Pink and Fabulous Barbie, 2015
The Barbie press tour officially kicked off in LA, with an event at The Four Seasons Hotel. Margot Robbie, in all her hot pink glory, started off strong with a Valentino halter minidress decorated in white polka dots (and a flirty ab cut-out) and paired with a studded yellow shoulder bag, white Manolo Blahnik heels (which will soon become a familiar hero on this press tour) and Assael Pearls jewellery.
Drawing on a more recent doll for the outfit, stylist Andrew Mukamal confirmed on Instagram that the team drew inspiration from the Pink and Fabulous Barbie. As you can see, the polka dots are still a hit nearly 10 years later.
Featured image: Caroline McCredie Photography