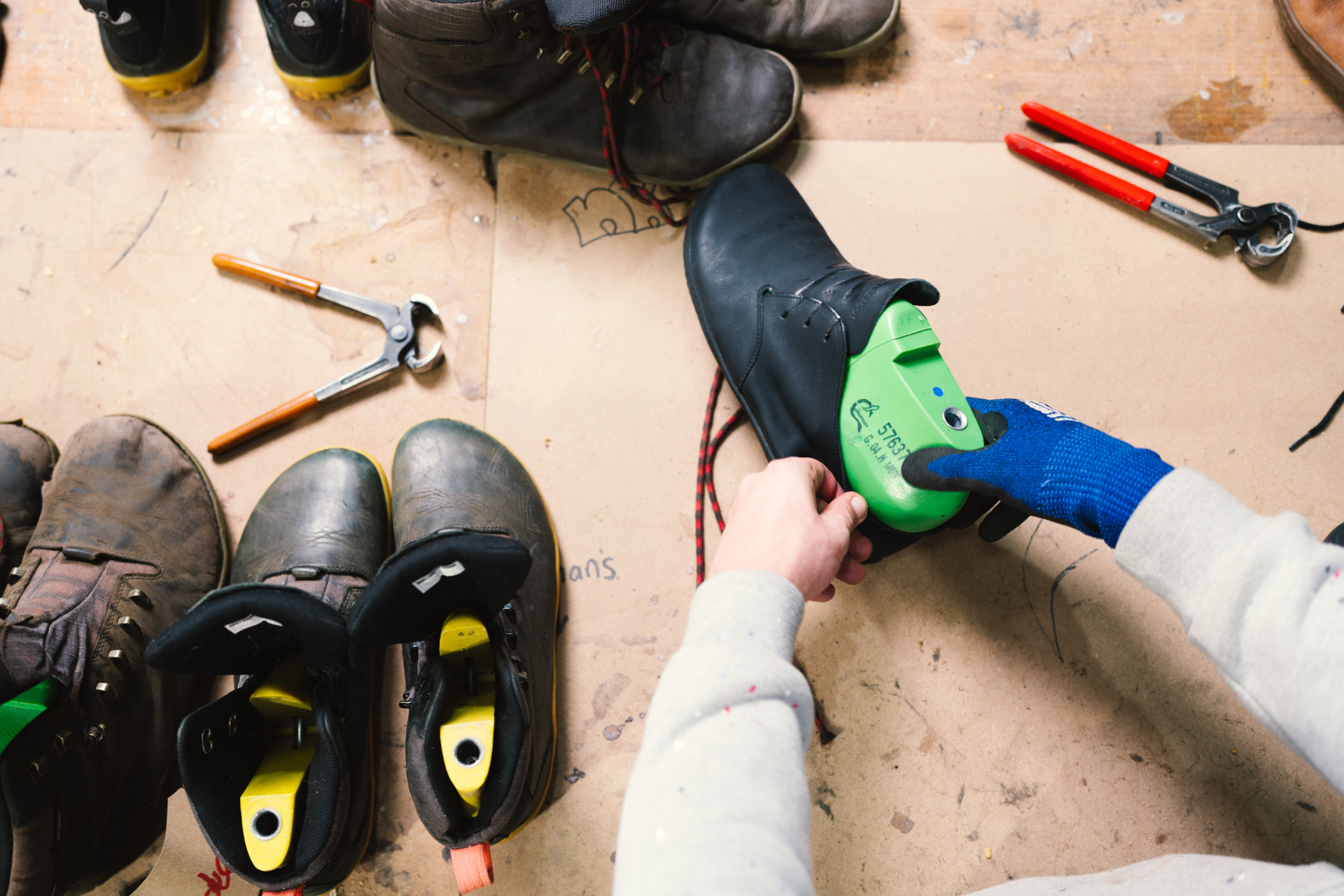 Vivobarefoot Teams Up With Circ On Fully Recyclable Trainers
'The work has most definitely begun'
The way we dress our feet can have a much bigger impact on the planet than you think. Each year, an estimated 20 billion pairs of shoes end up in landfill – largely due to the fact that all of the individual components that make up one shoe can't be recycled together. Vivobarefoot is looking to prevent the issue from getting any bigger by teaming up with textile-to-textile recycling company Circ on a new footwear design, comprised of one material that can be recycled and reused in future footwear. We sat down with Charlotte Pumford, Vivobarefoot's Head of Regeneration on its partnership with Circ, to find out what the roadmap towards fully recyclable trainers looks like.
The Country & Town House Responsible Buyers' Guide
Charlotte Pumford, Vivobarefoot's Head Of Regeneration, On The Brand's Partnership With Circ
Hi Charlotte, how's life going?
Hi, very well thank you. Extremely busy, but we're making small positive steps forwards!
For readers that don't know who you are, can you kick us off by telling us a bit about Vivobarefoot?
Of course, Vivobarefoot's vision is to reconnect people to nature and their potential through regenerative footwear, to inspire change through regenerative business, and to create regenerative communities that promote positive social and environmental action. Vivobarefoot was founded 11 years ago by Galahad and Asher Clark, with a vision to demonstrate how footwear could be made prioritising health, people and planet.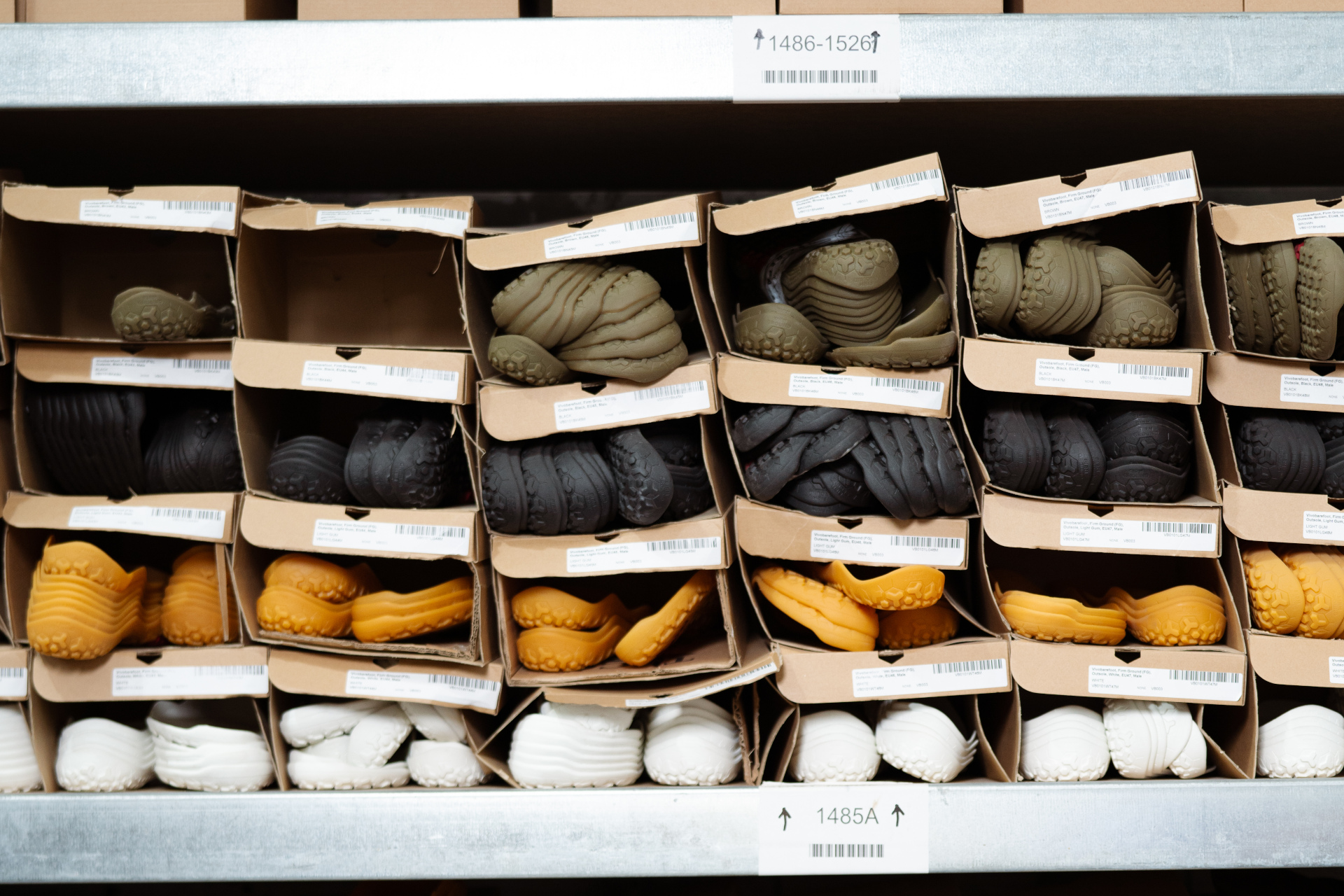 We hear that shoes are notoriously difficult to recycle – why is that?
Yes, unfortunately it's a real challenge. Shoes often contain upwards of 30 to 40 different components, with many different material types and adhesives to hold them together, which means separating them at the end of their useable life is extremely difficult. Recycling streams require sorting and material separation in order to direct materials into singular recycling channels, so if materials are unable to be separated or have no industry recycling channel (this is most often the case for lots of virgin plastic materials) then the only real option for them is downcycling. As footwear requires a certain number of components for technical performance and specific material requirements for durability, it's a big challenge.
And Vivobarefoot has teamed up with Circ to help change that? 
Yes! We're really excited to have partnered with Circ who have agreed to explore with us, how we can design and develop our way out of some of these challenges. Circ is a Virginia-based textile-to-textile chemical recycling innovator, focused on closing the loop by making new cellulosic and polyester materials from recycled textiles. The aim is to design footwear uppers that can be made from a single material type – polyester – collected back from our customers when they are no longer useable or repairable and to recycle them with Circ, so that we can re-use those recycled materials in new future Vivobarefoot footwear.
Can you tell us a bit about the partnership?
As an affiliate partner of Fashion for Good, a Netherlands-based platform for sustainable innovation across the fashion industry, we were connected with Circ through its innovation incubation programme. We had been actively looking to find a chemical recycling partner for our synthetic footwear materials for a number of years and with most chemical recyclers focusing on apparel, it was really great to chat with Circ who were committed to partnering with us to find recycling solutions for footwear as well.
Our partnership is focused on selecting polyester materials for our footwear that are viable to go through Circ's chemical recycling process. This means testing our materials through Circ's process and iterating our design and development processes as we go. Testing has begun and will culminate with the launch of what we hope will be our first chemically recyclable upper in Autumn '24. We hope to release more about the process we're taking and how others can get involved along the way.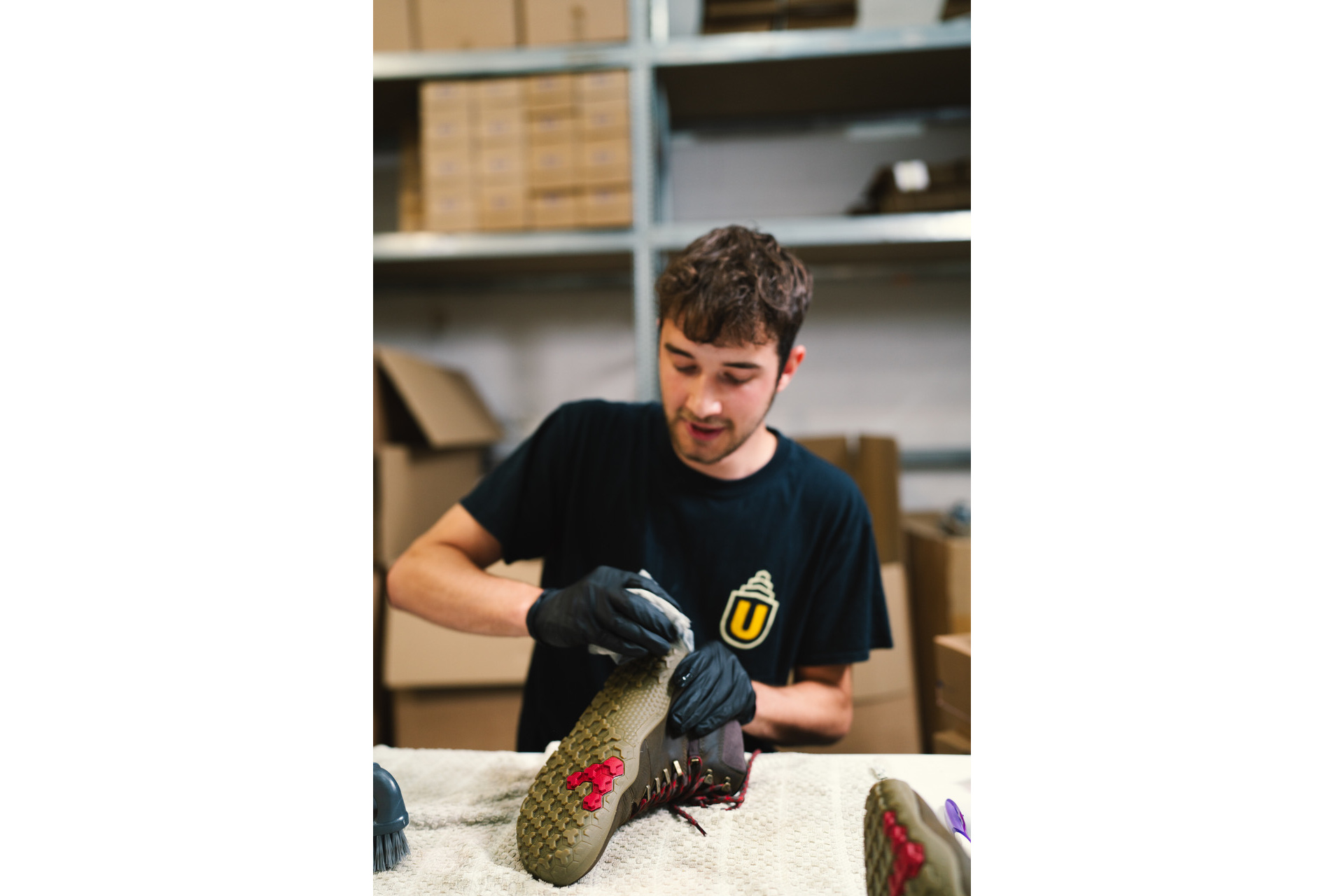 How does the chemical recycling process work? 
Circ's process uses water, pressure and responsible chemistry to separate mixed polymer streams, specifically any blend of polyester and cotton. By separating synthetic fibres (like polyester) from cellulosic content (like cotton), they are able to recover the majority of the raw materials in textile waste, so it can be remade into high quality fibres for re-use. Chemical recycling is a little different to mechanical recycling, in that you can recycle the recycled fibres multiple times without degrading them, whereas with mechanical recycling, when fibres are shredded instead of broken down molecularly (like in chemical recycling), the fibre isn't so durable and virgin materials often need to be added to the mechanically recycled content to reach required performance standards.
What has the experience been like working with Circ? Do you share a similar ethos since you're both B Corp companies?
Sharing an aligned vision with a partner is crucial to the expectations of a partnership and Circ was aligned with our vision for achieving true circularity from our first conversation back in 2021. Circ share Vivobarefoot's passion for innovating out of some of the largest challenges we face across the apparel and footwear industry, and the fact that we're also both B Corp certified only helps to strengthen our joint commitment to scaling material solutions for true circularity.
The collaboration should culminate in Vivobarefoot's Primus Circular footwear line, scheduled to launch in Autumn 2024. Is there still a lot of work to be done before the collection is ready?
The work has most definitely begun. As mentioned, we have started testing our materials and components with Circ, however there's a long way to go to ensure we have a viable toolbox of materials to use across our range of performance and synthetic footwear in future. Sourcing polyester versions of specific footwear components like internal reinforcements or hot-melt adhesives is really challenging – and then couple that with our high durability standards and it's a long process of scouting for material innovations, testing, tweaking and repeating until we find solutions for all components in our footwear uppers.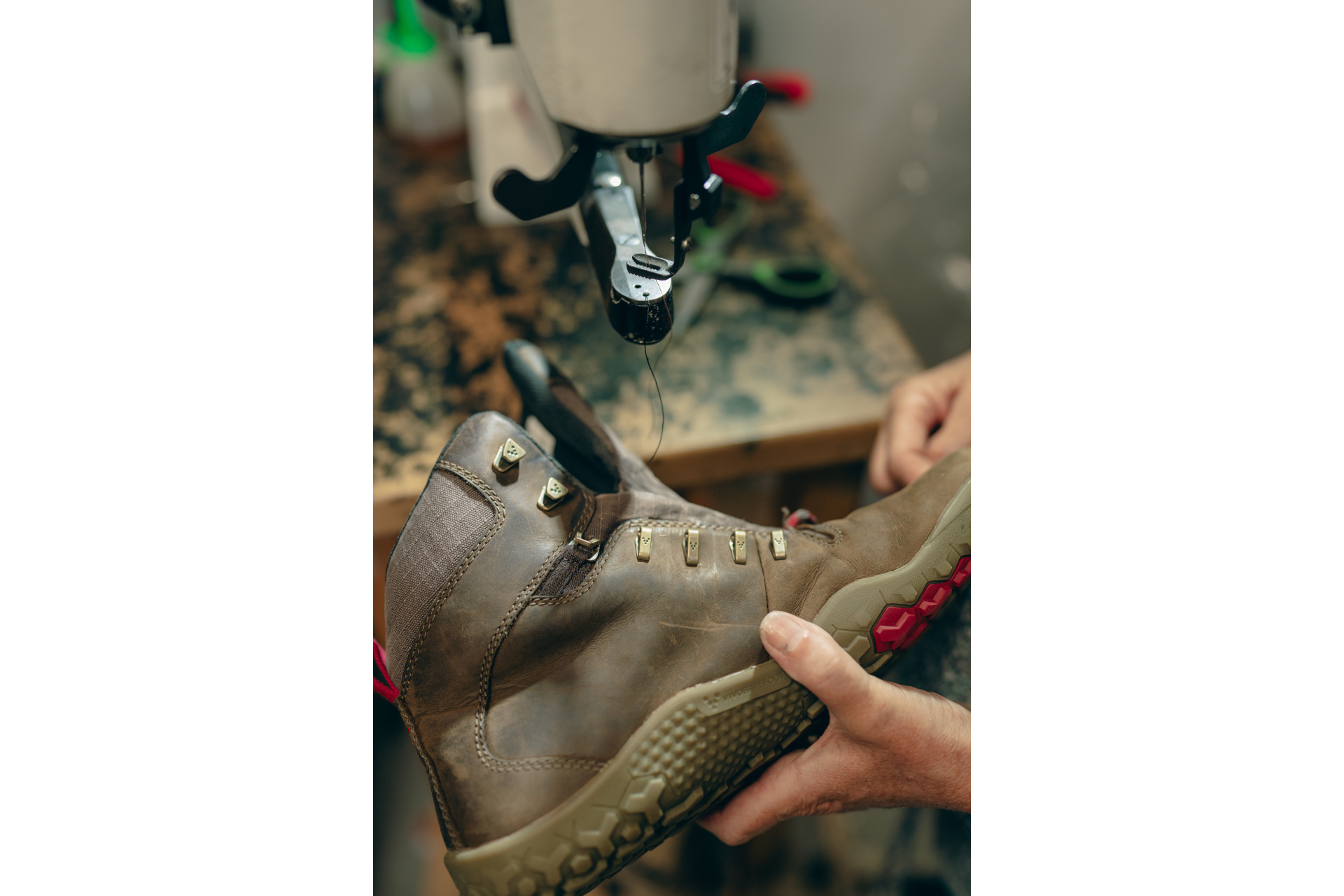 It's no doubt been a big challenge to create footwear that is fully recyclable. Are you hoping this will have a domino effect on the rest of the industry?
There are many challenges we've faced so far and will I'm sure face moving forwards throughout this programme. Identifying the right material solutions for footwear is challenging, we also need to ensure they work well and meet the performance standards we're looking for. Once we've achieved a chemically recyclable upper with Circ, we need to work with all of our customers to send them back to us through our ReVivo programme so that we can separate the upper from the outsole (this will go to another recycling stream) and then send them through to Circ for processing and one day, re-use. There are many moving parts in building a circular system and we really are just getting started. Critically, we can't do this alone, it requires a shift from the footwear industry collectively to see the scale of change required and we'd love to chat to any footwear brand who shares in our vision for true circularity. Please get in touch!
Any other exciting projects in the pipeline for 2024? (That you can tell us about!)
2024 will see us release significantly evolved products across both of our natural and synthetic material pillars. In an effort to make styles that are as natural as possible, within our natural materials pillar and as recyclable as possible in our synthetic materials pillar, we've been working hard on the materials we're using and incrementally improving them so that we can unlock viable end of use recycling or composting options in future. 2024 really is the next phase of our journey towards circularity and we're excited to release further updates later this year.
Images courtesy of Vivobarefoot