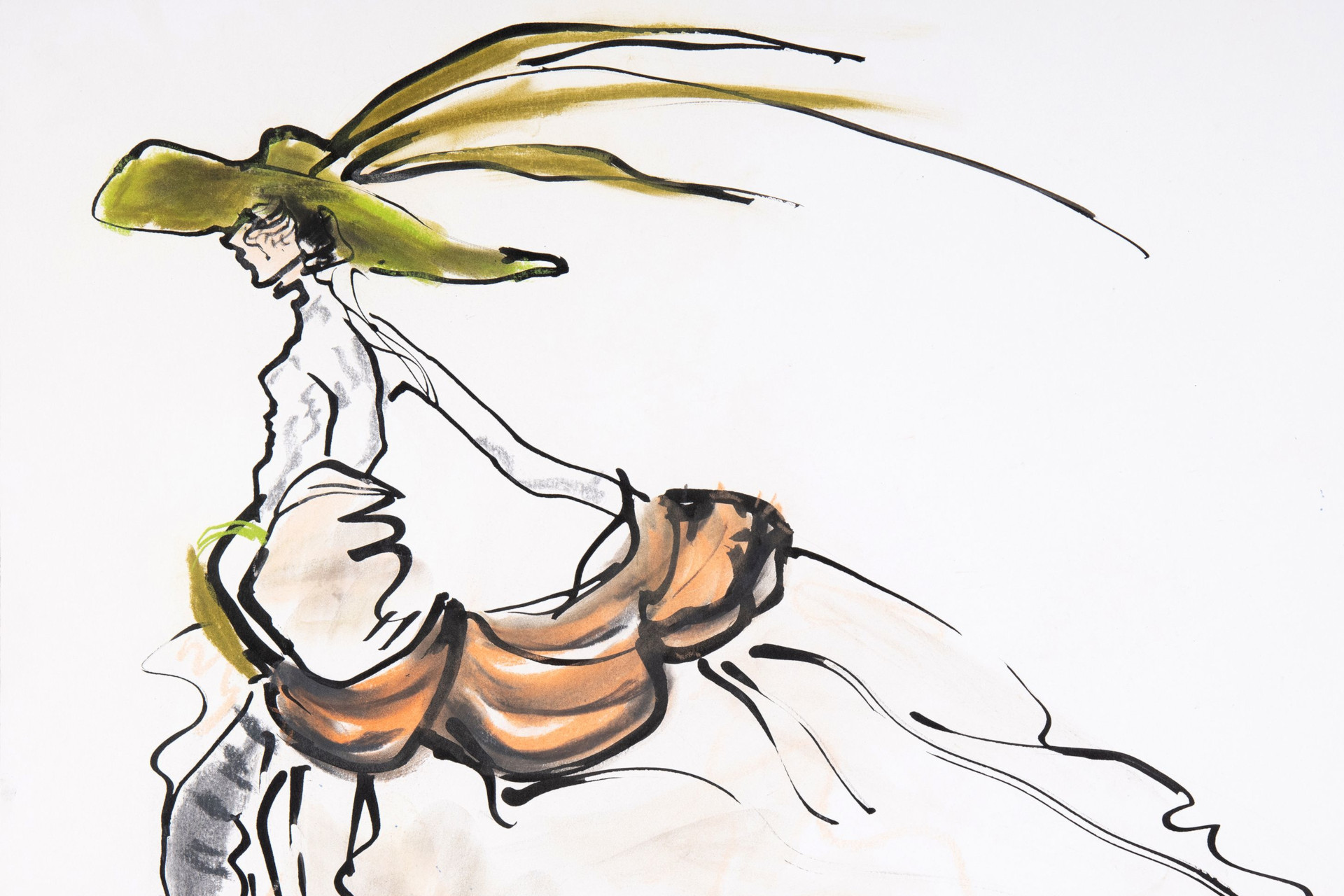 An Interview with World-Renowned Fashion Illustrator Gladys Perint Palmer
'Draw, draw, draw. Never stop.'
While London Fashion Week may have closed its doors for another season, fashion fanatics can take comfort in the fact that the city is still awash with celebrations of style and couture. Just head over to Cromwell Place for example, where you will find Drawing in Style 2021. The exhibition features a star-studded line-up, with fashion illustrators from all over the world making an appearance on the proverbial runway. We sat down with Gladys Perint Palmer, one of the most prominent fashion illustrators of the modern age, to talk about the exhibition, LFW and her career to date. 
The Must-See Fashion Exhibitions of 2021
An Interview with World-Renowned Fashion Illustrator Gladys Perint Palmer
Starting out as one of the only female household names working in haute couture, fashion illustrator and author Gladys Perint Palmer is considered one of the most influential figures in fashion today.
Having worked as an illustrator for the likes of for Vogue, The New Yorker, The Los Angeles Times, The Sunday Times and Harper's Bazaar, as well as with the likes of Oscar de la Renta, Dior, Valentino, Galliano and Chanel, Gladys has built up an impressive portfolio over the span of her career that continues to push the boundaries of fashion through her flair for energy and dramaticism. Today, she continues to inspire fashion illustrators all over the world.
Ahead of the opening of Drawing in Style 2021 in Cromwell Place, we had the opportunity to talk to Gladys about her work, style icons and favourite illustrations in the exhibition.
Tell us about Drawing on Style 2021. What can visitors expect to see?
Some of the best and most highly collectible fashion illustrations from the mid twentieth century to the present day.
What are your favourite illustrations in the exhibition?
Carl Erickson for French Vogue 1947, René Bouché for Elizabeth Arden, Antonio Lopez for Fashions of the Times (NYT), Kenneth Paul Block's Fendi Fur, Ali Mahdavi's Jean Paul Gaultier pieces, Bil Donovan's On Aura Tout Vu and maybe my Jean Paul Gaultier drawing for Russian l'Officiel.
Describe your illustration style in three words.
Bold Provocative Profiles.
Looking back on your career, which pieces of work have made you most proud? Which ones challenged and pushed you?
I am most proud of my drawings in 'Fashion People' (Assouline).
The late Anna Piaggi of Italian Vogue pushed me to express my views. In 1989 Anna Piaggi she gave me an exhibition during Milan Fashion week (October 6 – 10). This resulted in commissions from British Vogue, Connoisseur, Mirabella, UK Sunday Times Style, Fashions of the Times, Jardin des Modes, Elle, the Washington Post, Grazia, Town & Country and Italian Vogue.
Other highlights include the time I spent in Paris recording Robert Altman's film Prêt-à-Porter in 1994, a wonderful combination of film and fashion. You can now see 109 drawings and an 18,000 word daily diary from the film at the Academy of Motion Picture Arts and Sciences in Beverly Hills.
I enjoyed working on the celebrations for The Golden Needle back in 2016, which paid tribute to Joyce Ma. I was asked to illustrate fashions that her boutique carried, and one of the drawings was blown up on a Hong Kong tram.
More recently, in January 2020, I was in New York for the Society of Illustrators' exhibition (I had a drawing in the show). I met Connie and Ashley Gray of GrayMCA. Connie arranged the McQueen Masterclass in September 2020, the Dior Masterclass in November 2020 and A Fine Line Masterclass in February 2021, as well as the most recent live interactive Masterclass on September 18.
My present career, working remotely from an island in British Columbia, is thanks to Connie Gray. I've been able to transform the process of my work through things like Zoom, scanning and WeTransfer. The collaboration with Connie and her stepson Theo has been totally positive.
I would say I am (still) challenged by boring wearable clothes such as blazers.
Who are your style icons?
Toulouse Lautrec, Modigliani, Matisse and Anna Piaggi.
Are there any designers you're excited by in the London Fashion Week line-up?
Richard Quinn, Erdem and Molly Goddard.
Do you have any advice for those aspiring to work in fashion and fashion illustration?
Draw, draw, draw. Never stop.
Drawing on Style 2021
You can see more of Gladys's work, as well as many others', at the Drawing on Style 2021 exhibition in London. Drawing on Style 2021 will be on show in Cromwell Place until 26 September 2021 and then at Margaret's Building in Bath between 18 – 20 October 2021. For more information, please visit drawingonstyle.com
You can also find out more about Gladys on her website, gladysperintpalmer.com
Featured image: Gladys Perint Palmer (1947 – ) for Jean Paul Gaultier, 2005. Ink & Oil Pastel on Paper, signed, L'Officiel Russia, December 2005, 48 x 61 cm. Image courtesy of Gladys Perint Palmer.
The Designers to Watch at London Fashion Week