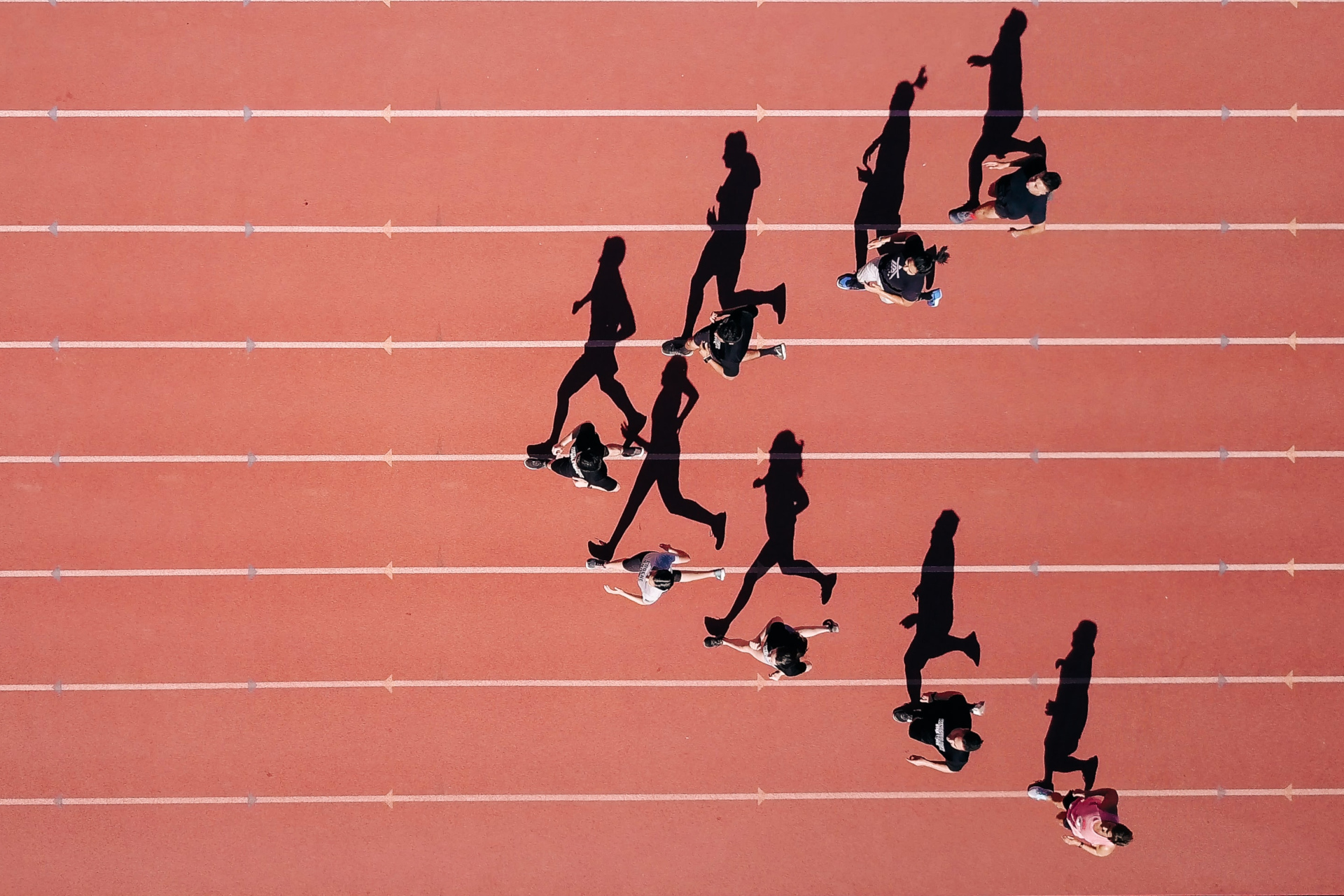 Fitness Trends That Will Dominate the Health Space in 2023
---
The future of fitness is here
Looking to rehash some of your fitness goals in 2023 ('new year, new you' and all that)? Lucky for you, next year is set to be an exciting time in the world of health and wellness. Stay ahead of the curve with our roundup of the biggest fitness trends for 2023, as told by leading trainers and healthcare professionals.
Which Fitness Trends Will Be Big in 2023?
The world of fitness will teeter between the online and natural world next year, as we choose exercise routines that are both technologically advanced and get us back outdoors. We'll also be craving some fun in our workouts, in the form of free movement and throwback exercise classes (all hail step aerobics). These are the fitness trends set to leave a mark in 2023:
Top Trends at a Glance
Metaverse wellness
Biophilia exercises
Women weight training
Free movement
Kegel exercises
Fitness abroad
Primal movement
Nostalgic workouts
1. Metaverse wellness
From personalised apps to exercise-tracking devices, the world of fitness is more digital today than ever before. Wellness tech will be all the rage in 2023, as we look for ways to make our performance smarter and more effective. The next step? The metaverse. A trend report from the Global Wellness Summit earlier this year revealed that: 'Wellness sectors, including fitness, beauty, healthy eating, mental wellness, wellness tourism, wellness real estate, spas and workplace wellness are introducing new technologies and virtual worlds that deliver a far more immersive experience and radically transform how wellness is delivered to global consumers.
'With wellness front and centre in consumer's minds – and at the forefront of business and government strategies around the globe – the world is seeking new technologies that can far better engage and impact the health of many more people.
'From virtual reality and augmented reality to merged reality and haptics, the coming wellness metaverse will create vast opportunities for each sector of the $4.4 trillion global wellness economy.'
2. Biophilia exercises
But while the digital world may be calling out to some of us, other will be keen to get outdoors. 'Since the pandemic, Brits have found a new love for being outside in nature, particularly when it comes to exercising, and this doesn't appear to be slowing down anytime soon,' says David Lloyd Clubs in its 2023 fitness trend report. 'Biophilia exercises, which centre around connecting to the natural world both physically and emotionally, have risen in popularity throughout 2022.
'Exposure to the natural world provides a range of health and wellness benefits, including improved mood, productivity, increased cognitive function and enhanced creative thinking. Exercising outside also has an impact on our stress levels. High stress levels are lowered in outside environments due to our natural affinity and comfort with nature.'
3. Women weight training
When you next hit the gym, you might see more women picking up weights rather than jogging on the treadmill. 'Over the years, weight training has become much more widely accepted as a part of all gym-goers workout regimes,' says David Lloyd Clubs. 'More and more women are embracing strength training instead of cardio alone for the benefits on the mind and body.
'Not only does weight training improve metabolism, bone density and strengthens joints, it can also have a positive effect on confidence and a feeling of empowerment. This type of training has also been known to reduce the risk of heart disease and diabetes. There is also a misconception that this type of training will only build muscle, however weight training can also increase the number of calories burnt afterwards when at rest.'
4. Free Movement
One of the buzzier fitness trends that's been lurking around the internet is free movement (otherwise know as intuitive movement), which is all about reconnecting with our body and finding enjoyment in movement. 'For so long we have confined our bodies to rigid exercise routines. 2023 marks the year we step away from the structure and tap into more intuitive, fluid movement,' says Cat Meffan, yoga teacher and founder of the Soul Sanctuary. 'Free movement really allows people to tap out of their mind and let their body go wherever it wants to go. It allows you to connect with how you feel on an energetic level and on a somatic, or body level, rather than living up in the head, which is what we do in many other forms of movement including yoga sometimes.
'As the world continues to change and mindfulness, wellbeing, and yoga are at the forefront, there has been a resurgence and awareness of dance as not only a social acceptance but also as a healing opportunity, a means of expression, and an energy release within our chaotic world. In yoga, we're always thinking – thinking about moving from sun salutations to balance poses and thinking about how the postures look when we try and achieve a certain form or expression. The beauty of free movement is that we're allowed to let go of what's happening up there and really feel what's happening in our body, giving ourselves the permission to move with our soul's rhythm.'
5. Kegel exercises
We'll also be building up muscle in places we least expect in 2023 – particularly our pelvic floor. Cue Kegels, a simple clench-and-release exercises that helps make the muscles of your pelvic floor stronger. 'Incorporating Kegel exercises into your fitness routine, is a great way of boosting your overall health,' says Dr. Paraskevi Dimitriadi, a Cosmetic Gynaecologist at Centre for Surgery Clinic. 'Primarily, the exercises are done to strengthen your pelvic floor muscles – the same muscles you would use to stop the flow of urine.
'For just 10 minutes a day, Kegel exercises can deliver measurable results in just six to eight weeks, and help strengthen your pelvic floor, recover vaginal tightness, improve bladder control and enhance sensations during intimacy. Celebrities like Whoopi Goldberg, Kate Winslet, Ulrika Jonsson and more have opened up about their bladder struggles, including Kate Upton who once shared a video mid-Kegel workout.'
6. Fitness abroad
With more countries now open to foreign visitors following the easing of Covid rules, 2023 is going to be a year of travel for many of us – but that doesn't mean we'll be leaving our fitness goals back in the UK. According to exercise platform Strava's trend report, 'Travel is back, and Brits are keeping fit while abroad. Almost a quarter of British Strava users have recorded activity abroad in 2022 – and the trend is set to continue well into 2023.
'Spain topped the fitness break list for Brits, with the Balearic Islands seeing the most activity, followed by France, USA, Italy and Greece.' Time to add your sports leggings to your packing list?
7. Primal movement
Not to be confused with free movement, primal movement exercise is a collection of movements that work your body in different planes. These are movements that our bodies are naturally designed to perform, and are basically a way of shaking off the cobwebs after being sat at our desks all day. According to the most recent Pinterest Predicts report, 'In 2023, people will trade their screens for stretches and their desks for hip dips. These primitive, anti-tech workouts invite people to put down their phones and prioritise posture.
'With remote working here to stay, people are looking for simpler ways to combat 'tech neck'. As people make their homes their permanent offices, we'll see an upswing in inclusive, adaptive and everyday forms of movement. Fitness is getting back to basics in 2023.'
8. Nostalgic workouts
Noticed the plethora of throwback references in mainstream media lately? Whether you're a fan of Netflix's Stranger Things or have a passion for vintage clothing, you can't deny that nostalgia is one of today's top trends – and it's making its way into the fitness sphere. 'Many pop culture trends have returned over the past year, and there is no exception when it comes to fitness,' says Samantha Clayton, OLY, M.S., ISSA-CPT, vice president of Worldwide Sports Performance and Fitness at Herbalife Nutrition. 'Step aerobics, which took the 80's and 90's by storm, both in-studio and at home, is back for musically motivated cardio lovers. It's popular for high intensity but low impact cardio, and over time has proven to improve balance, coordination, and agility.
'In Europe, this mode of fitness is trending in gyms, and making it onto the instructor training schedules for fitness conferences in the United States and around the world in 2023. Even in 2022, many popular fitness apps and platforms have begun to reintroduce this beat-based choreographed exercise back to clients.'
Featured image: Steven Lelham, Unsplash