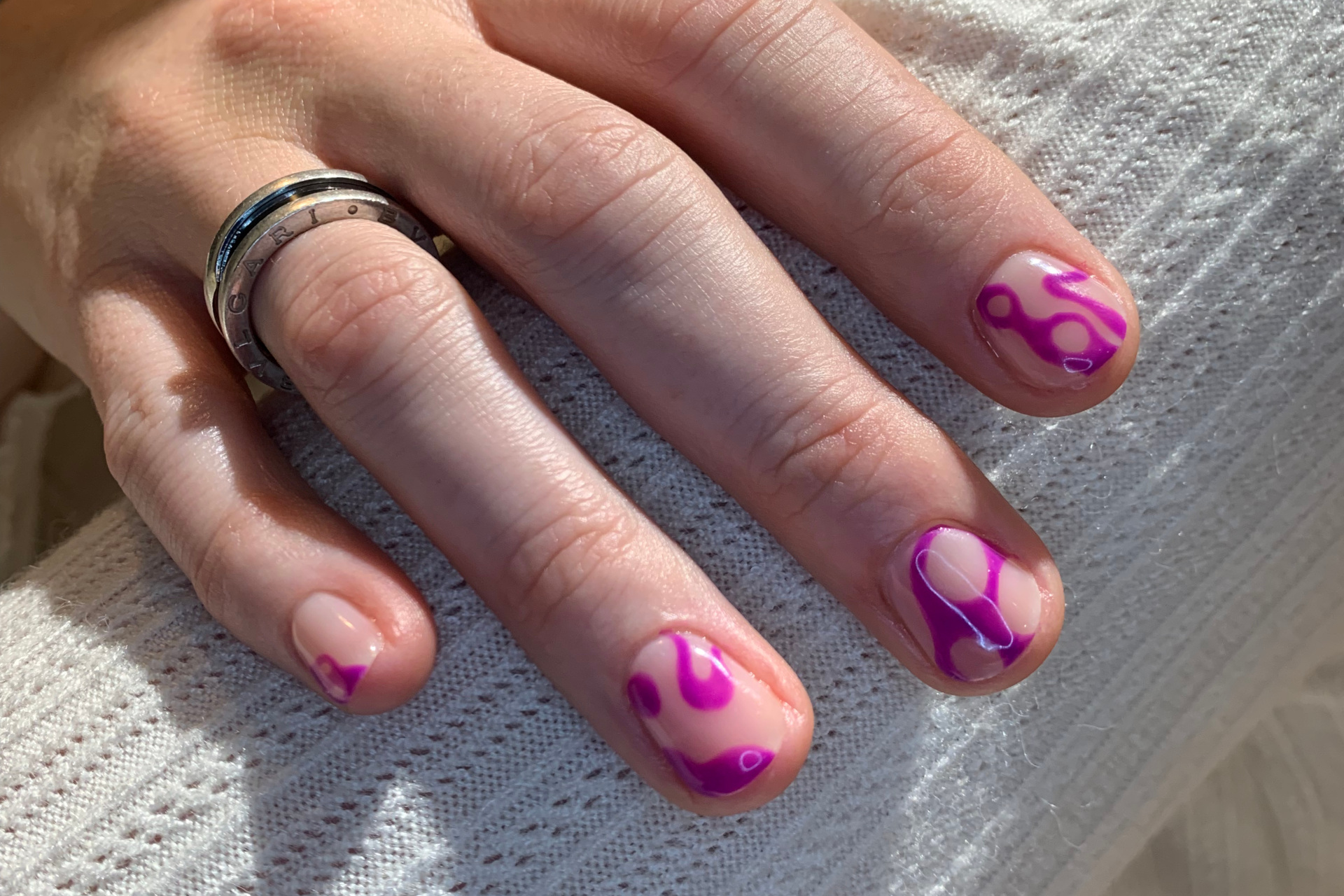 How To Master Lava Lamp Nails
Get your groove on with the latest nail trend
Umming and ahing about your next nail design? This throwback manicure might just be the inspiration you need. Here's everything you need to know about lava lamp nails, and how to recreate the look at home. 
What Are Lava Lamp Nails?
'Lava lamp nails is a type of nail art design which emulates the shapes and striking colours that retro lava lamps make,' says Amanda Lee, owner and founder of London beauty salon Iris Avenue. 'Last summer, swirls were all the trend – and this year we're looking for a more elevated version of this style to play with. Lava lamp nails are a really fun way of playing with colour combination and textures, and can be tailored to your tastes really easily.'
We couldn't agree more. With over 420 million views on TikTok, the nail trend is set to be one of the biggest – and funkiest – of 2023.
How Do We Ask For Lava Lamp Nails At The Salon?
'As lava lamp nails are such an abstract, fluid design, I would recommend bringing a few looks to the salon,' explains Amanda. 'Pinterest and Instagram always have great inspiration, so I'd suggest starting there. Your nail artist will use these as a mood board, and the two of you can then create the look together.'
How Can We Recreate The Look At Home?
Below, Amanda shares her step-by-step guide to achieving lava lamp nails:
Apply a base coat as you would normally, and then your first coat of colour to the entire nail.
For the lava design, you can use a dotting tool to create a 'blob' and then pull that blob with a thin nail art brush to create abstract shapes. (It's important to wait for each coat of polish to dry before applying the next in order to avoid smearing the colours together.)
Finish with a quick-dry top coat, and you're all good to go.
Polishes To Try At Home
'Both OPI's nail lacquer and CND's Vinylux long wear collections are great options,' says Amanda. 'They have a large variety of colours and are high quality, making them a great choice for experimenting.'
10 Ideas: Lava Lamp Nails Inspiration
1.
2.
3.
4.
5.
6.
7.
8.
9.
10.
Featured image: Iris Avenue