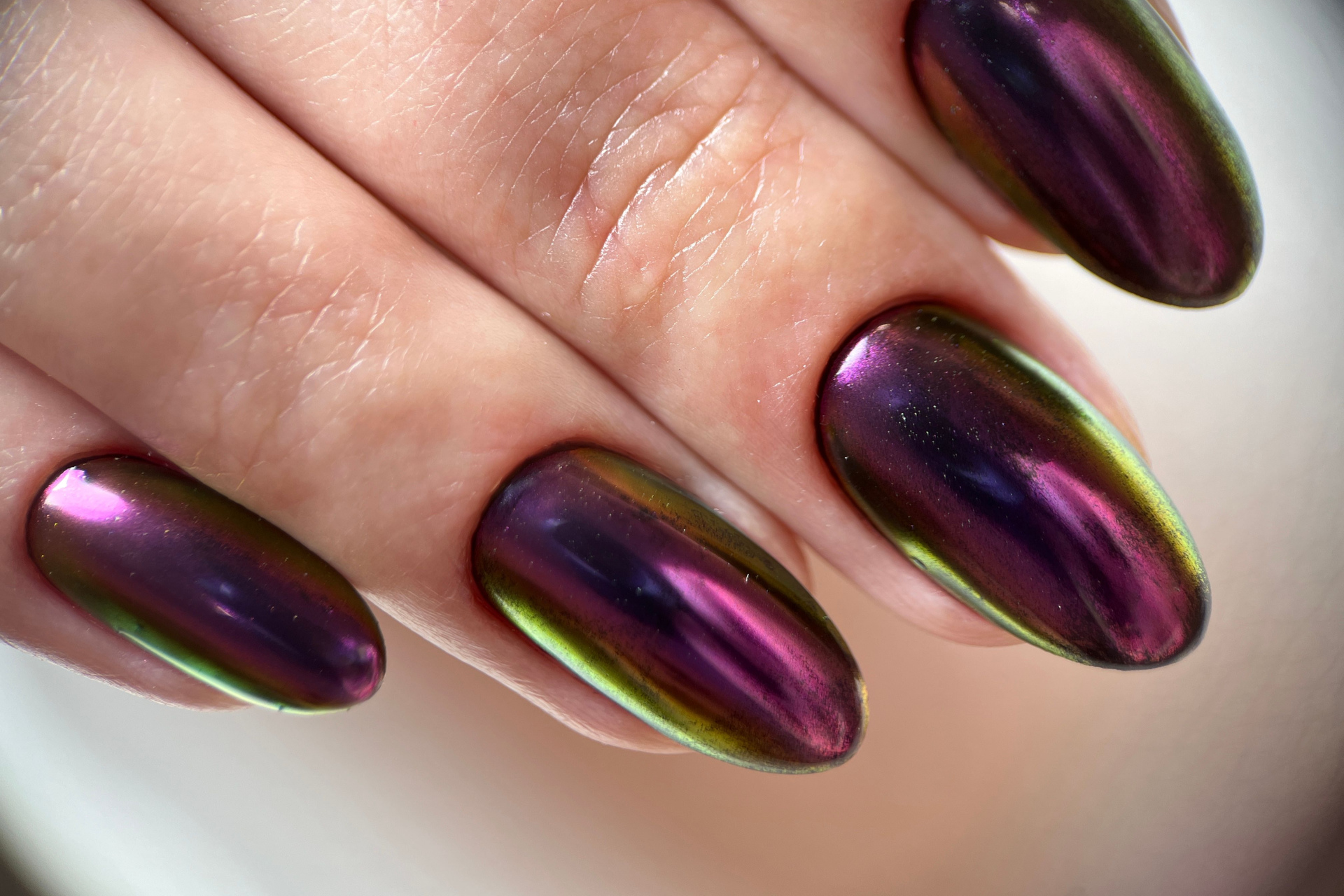 Chrome Nails Are Forecasted To Make A Comeback This Season
Metallic shades are here to stay
Chances are, you've seen your favourite celebrities swapping out their French tips for chrome nails this year. Here's everything you need to know about one of the biggest nail trends of 2023, and how to recreate the look at home.
What Are Chrome Nails?
'One of the trendiest and most versatile manicures of 2023, chrome nails are a visual effect that can be used over the top of any base colour to mimic the reflective, glossy nature of metal whilst adding a signature uniform gleam,' says ORLY ambassador Lou Stokes. 'They're less shimmery than glitter and bolder than its younger sibling "glazed doughnut" nails, but will ensure you always stand out from the crowd.'
View this post on Instagram
As we've mentioned, one of the key drivers of this trend are celebs. 'Chrome nails have featured heavily on the red carpet, catwalks, social media and on celebrities this year making them one of the strongest nail trends for 2023,' adds Lou. 'They are also incredibly versatile and can be used in a minimalist way think micro French manicure with a gold or silver metallic French tip or full coverage lavender chrome which is set to be one of the key looks going into autumn.'
Who's Wearing The Trend?
'Lizzo recently sported onstage a silver, shimmering, futuristic chrome manicure which matched her outfit and bold performance,' says Lou. 'There's also Jennifer Lopez, who has gone for a more subtle take on the chrome manicure with vanilla chrome tips over a pale pink for a French-tip feel.'
How Do We Ask For Chrome Nails At The Salon?
The versatility of this trend means you can tweak its design quote easily to your preferences, says Lou. 'Chrome nails can be anything; a subtle white chrome shimmer all over the nail, a bold metallic French tip or even a space age metallic intricate nail design,' she explains. 'Before going to the salon seek some inspiration from social media – Instagram has over 2.2 million tags for chrome nails, for example – and find some nail looks that appeal to you. Then once you have sourced your inspiration you can discuss with your nail tech the shapes, colours and looks that will best suit your nails, hands and the look that you are trying to achieve.'
View this post on Instagram
How Can We Recreate The Look At Home?
Don't fancy a trip to the salon? Lou shares her tips for recreating chrome nails at home: 'If you are looking for a chrome nail finish over gel polish or nail extensions, then I would always recommend having this treatment done at a salon as this is a professional treatment. However, if you are looking to create this look at home there are some fantastic stick on nails in various chrome colours and designs that you can add for an instant chrome manicure, or you can create a chrome effect manicure at home over normal nail varnish.' See Lou's step-by-step guide below:
Prep your nails, make sure your cuticles are pushed back and your nails are filed to the desired shape.
Apply a thin layer of your chosen nail polish basecoat (I recommend Orly Bonder basecoat due to its unique rubberised formula which grips the colour to your nails whilst allowing the nails to flex which helps prevent against chipping).
Apply one coat of your chosen nail varnish colour, this will depend on the finished chrome effect look you are trying to achieve.
After about 30-60 seconds, lightly press a finger into your nail polish colour – if you are left with a slight print but no pick up on your finger than this is the perfect consistency to apply your chrome. Note that if you let it dry too much then there won't be a slightly tacky base for the chrome to adhere to; ideally you want your nail polish slightly tacky but not wet.
Dip an eyeshadow applicator into the chrome powder and glide it over the nail in a circular pattern. Make sure you don't press too hard and disturb the polish underneath. Repeat this process on all nails.
Allow the nails to dry for a couple of minutes and then apply one coat of a nail varnish topcoat. I would recommend Orly Shining Armour topcoat as this fast drying topcoat will give extra protection to your chrome nails and the slightly thicker consistency will give more of a gel like appearance.
Where Is The Trend Going?
The next thing for chrome? A lavender hue, indicates Lou. 'Currently, a must-have look for the season is the lavender chrome nails,' she says. 'Not only are chrome manicures trending at the moment, but combined with the current hottest nail colour (lavender) and they become bang on trend with this flirty, feminine yet modern manicure.'
10 Ideas: Chrome Nails Inspiration
1.
2.
3.
 4.
5.
6.
7.
8.
9.
10.
Featured image: Getty Images