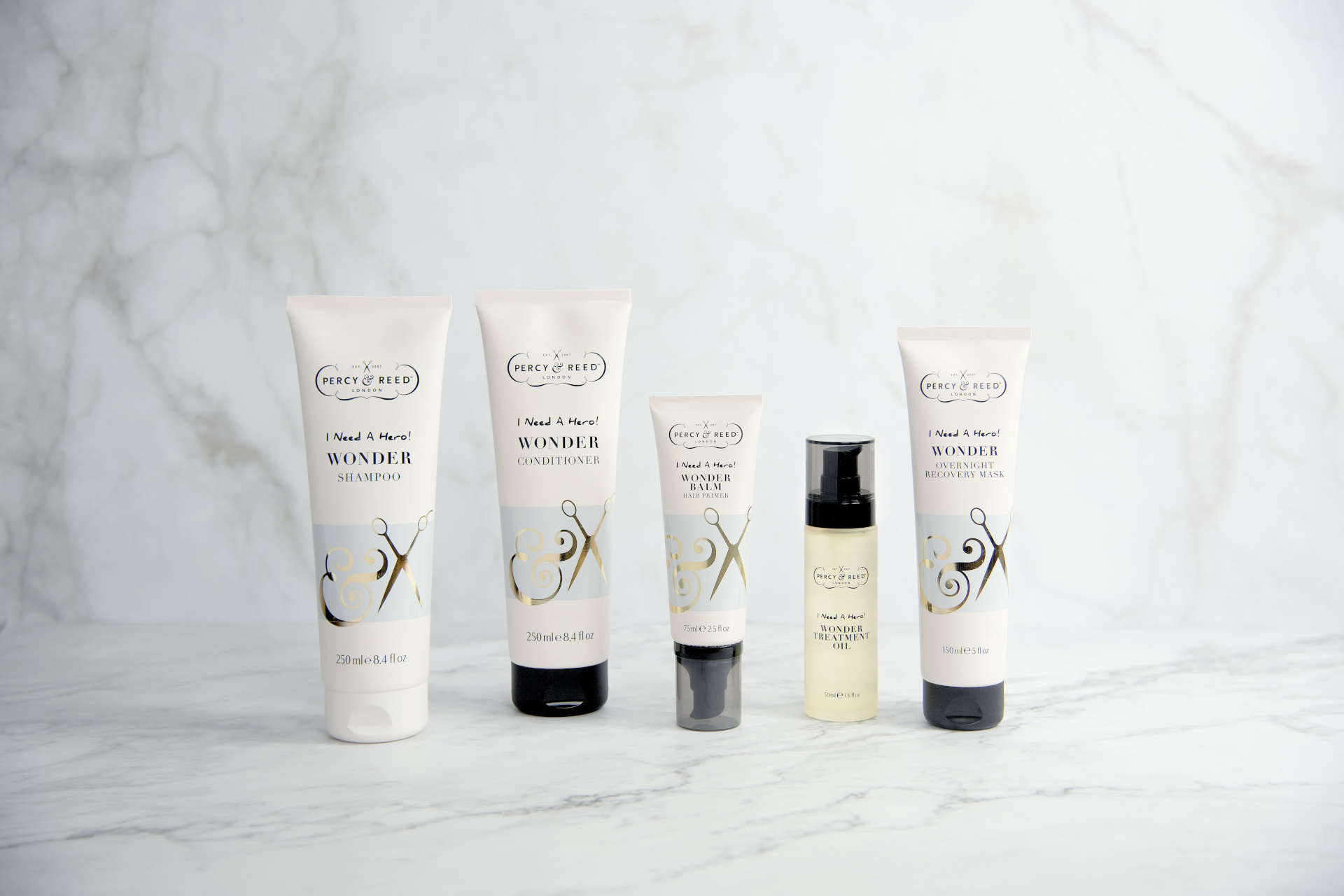 'Great hair starts in the shower': Paul Percival On Hair Secrets & Career Highlights
Get to know the stylist who has been taking London by storm for over two decades
Country & Town House Beauty Director Nathalie Eleni sat down with legendary session stylist Paul Percival, founder of London's Percy & Reed salon, to chat about his career, his top styling tips and the importance of British heritage.
'Great hair starts in the shower': Paul Percival On Hair Secrets & Career Highlights
Hi Paul, thanks for joining us today. Can you kick us off by telling us a bit about your background and how you got into hair styling?
I actually started out as an apprentice carpenter with my dad, until we experienced that big recession in the 90s. At that time, no one could afford to have any work done to their house and skilled labour like carpentry, plumbing, building and all that stuff was on its knees, so my dad could no longer keep me on as an apprentice.
I had moved out of home for family reasons when I was 16, meaning I needed to pay rent on my bedsit. My mum just so happened to go to a local salon that needed someone to wash hair, so I decided that I would do that while I looked for another job. I realised during the first week that I actually loved it. As much as it is a different skill set to carpentry, it also isn't because you're basically taking the material and working with it. I just loved the environment and I loved the whole salon vibe, so I decided that if I was going to do hairdressing, then I should take it seriously. That's when I moved to London and started to work and train in London salons. The first one was Charles Worthington and then it was Trevor Sorbie.
And when did you decide to go into session hairdressing?
When I around 21 or 22. I was the youngest session hairdresser in London at the time with an agent, I believe. But it all came about while I working at Trevor Sorbie's salon, when Eugene Souleiman, who had trained there some years before, started to come back a few days a month to cut his personal clients hair. I knew nothing about the session world, it wasn't something that was on my radar and it wasn't like now where everyone knows that there's all these glam teams. Back then there was no social media, so unless you were actually in it, you really didn't know too much about it. But because I just happened to get on with Eugene – we're both from Southeast London – I would help him quite often with his clients, and within a few months he offered me a job and I became his first assistant. I worked with him for a couple of years and he just opened my eyes to the whole industry; he showed me behind the curtain. During this time I was working with the likes of Pat McGrath – you know, just amazing, talented people. That's obviously how I got into doing it myself.
You're also renowned for styling within the music industry. How did that happen?
I actually met my wife on a job, she was one of the Gucci girls with Tom Ford during his early days with the brand. We got married young – we're celebrating our 25th wedding anniversary this year – and had kids, and after we had our first child that I decided to get more into the music side of things. Not only do I love the music industry, but it was way more reliable for a new dad. The first band I started with was the Spice Girls, and then from there I worked with hundreds of bands. I think that's how I ended up sort of being more known for styling musicians.
So, how did Percy & Reed start? 
When I started doing more with the music industry, I found that I didn't really need an agent anymore because I was just being recommended by record companies to other bands. So I started my own agency from my bedroom, where I took on a PA. This turned into people turned into people approaching me to look after them, and it grew and grew. It was called 'Phamous'. I had that agency for 12 years and only shut it because of the start of the salon.
I actually started up Percy & Reed around the time downloads became really popular in music. I thought that I better make a plan B, because it was pretty obvious to me that it was gonna get a little bit sketchy when it came to budgets and when it came to actual jobs for hair and makeup that was in the music industry. I also really missed having a creative space and being part of a team. One of the people I represented at the time, Mr. Reed, was a creative director at Charles Worthington. While I hadn't had much to do with the salon world for many, many years, I went ahead and asked if I was to put the money in and come up with a name, would he want to be involved? And he said yes. There's a long story there, but that is essentially how Percy & Reed came about.
View this post on Instagram
What role does Britishness play in your brand identity?
British heritage is super important to me because, ultimately, I'm so proud of our creative industry and I feel like it's something that should be celebrated, regardless of the genre, whether it's music, hair, beauty or fashion. It's something that we as a nation are so good at, so I always wanted the products and the brand to be as British as possible.
Percy & Reed also has its own line of hair care products. What can they offer to prospective users?
I've worked with a lot of professional products, and while there are some fantastic products out there, the reality is that there's also a lot of products for products' sake. Most of them are good in the hands of professionals that use them a lot and understand how much to use, when to use and on which hair type – but for the normal consumer, it's just overcomplicating what should be a really simple regime. That's why we created our salon products. The whole idea behind them was to make products that were easy to use. You wouldn't get lost in the jargon and you didn't have to worry about whether it was definitely right for you or not.
It was also important that we use the salon for testing. The guys try the products and we also have clients that are happy to be a 'guinea pig', so all the products are very tried and tested. It's all about formulation, it's all about performance, it's all about ease of use. And you know, it's all about your hair just naturally feeling and looking better than it does with with other products. We can't bear helmet heads – we can't bear feeling sticky products in their hair! 
Let's talk scalp health. It's become a huge talking point recently. Why do you think that is?
Scalp health is definitely a big topic now, and rightly so. I feel like everyone takes care and worries about the quality and the health of the skin on their face and the rest of their body, but I think because the scalp is under your hair people tend to forget about it. The reality is that a healthy scalp is the best way to ensure you have healthy hair growth and healthy hair. Your scalp is a massive part of looking after your hair. Finding the right product that is dermatologically tested and kind to your scalp and doesn't use any nasties like sulphates is really important.
I think that's the great thing about our products is that we were one of the first brands to really push the message that you need to look after your scalp. They're designed to make sure that not only are they giving you the best possible hair, but also maintaining a healthy scalp.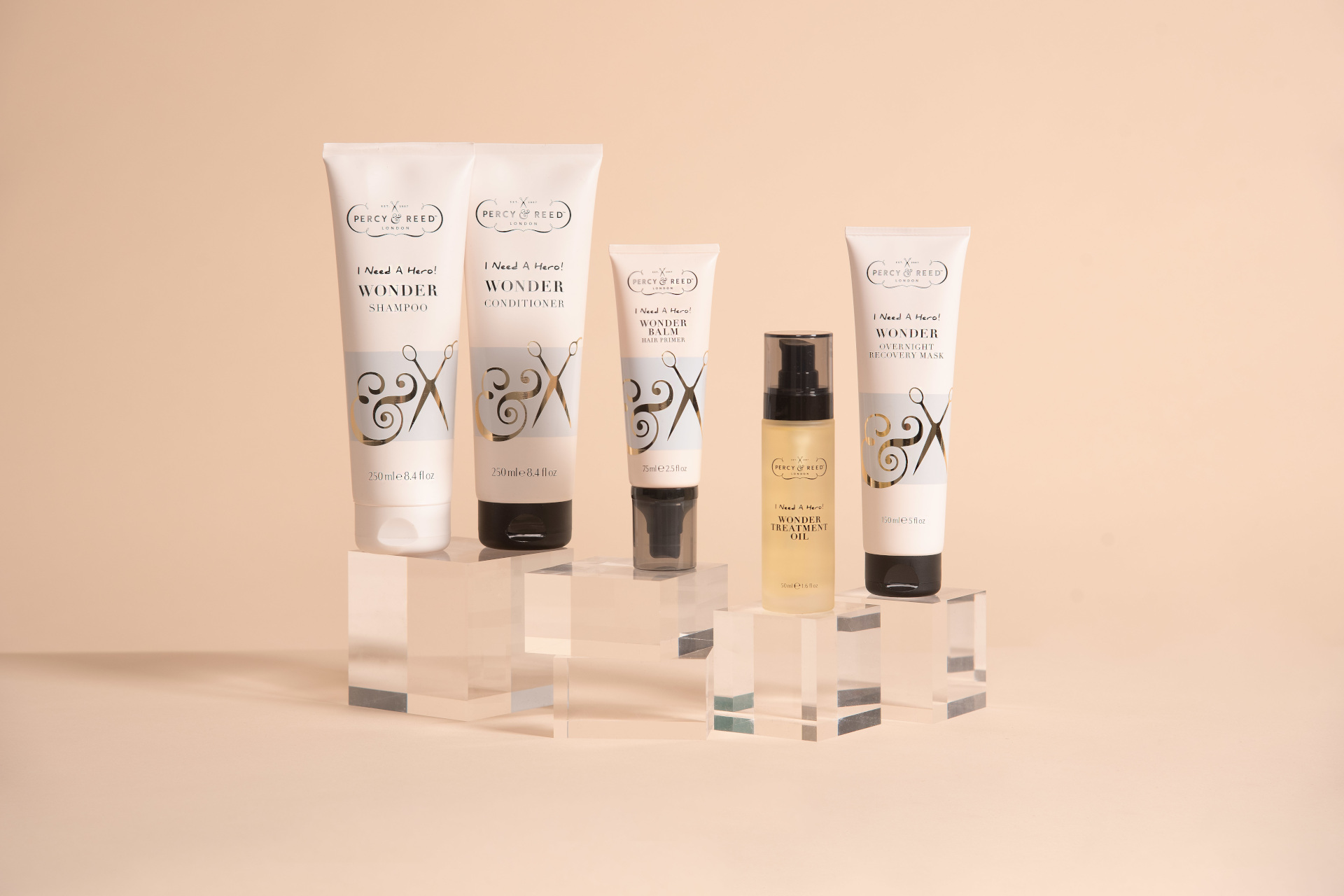 What usually causes an itchy scalp and what's your go-to solution? 
A lot of scalp issues like itchy scalp, dryness and sensitivity are caused by either dehydration –  from the scalp being dry due to lack of hydration, both from the products you're using and from not drinking enough water –  or that you're going from the cold weather outdoors to warmer temperatures indoors, as your heating can really dry out your scalp. These are all things that would dry out your skin, but you would normally moisturise and look after if they were somewhere else on your body. Again, because it's under your hair, you don't tend to think about it as much.
Another big thing is using shampoos that have sulphates, which are ultimately very drying. A lot of people are very sensitive to parabens, so it's usually safer to opt for things that are dermatologically tested and kind to your skin. From our end, we'd suggest using our Wonder Treatment Oil as a pre shampoo treatment; if you rub it into the scalp when the hair is dry and leave it on for a few minutes, it's incredible for soothing and hydrating the scalp. If you use a soft brush, you can then exfoliate the scalp with the oil in and then wash your hair as normal. It's an amazing thing to do to help look after your scalp. The other thing is is to have a cold rinse. People always believe it's to make the hair shiny, which it does help with, but it actually is incredible as well for increasing blood flow which is obviously important to the scalp, so a little cold rinse afterwards is great.
What's been your best 'pinch me' moment in your hair styling career? 
If I had to choose one, it would probably be the first time I did Bjork's hair. I was around 22, and she was (and still is) one of my idols. As an artist, she's incredible. I was lucky enough to work with her a few times; when I first turned up on set and sat there chatting to her while doing her hair, that was definitely a 'pinch me' moment.
Another one, in a different way, would be the first Saturday when the salon was really busy. It was an amazing moment because the first Saturday we opened, it was like tumbleweeds down the street, so it was a great feeling when things started to take off.
Lastly, it would be the day that we first saw our products on the shelf. It was in Space NK in Covent Garden, and I'll never forget how proud I was when I saw that.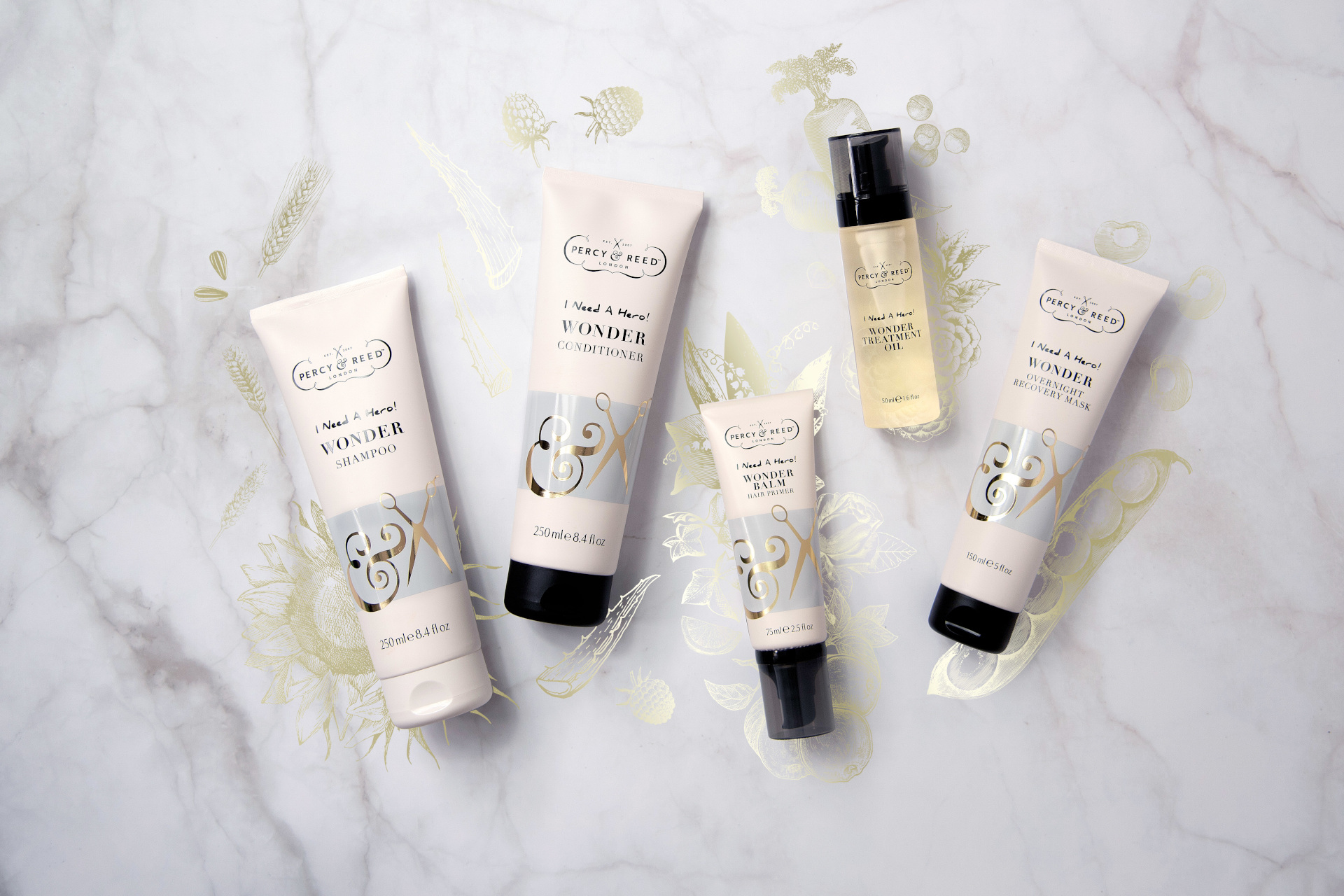 Hair products you rely on and can't live without? 
The products I use most and definitely don't want to live without would be our Wonder Balm, our Volumising Mousse (it's incredible for all hair types and works amazingly well both when blow drying and leaving in curly hair) and our Session Hold Hairspray. I use the last one so much, both in my own routine and with celebrity clients like Calvin Harris and Ferne Cotton. I can't live without it. We call it a work-in spray, because it never feels like there's anything in the hair but it genuinely keeps the style naturally. I can also change the style without ever feeling like there were products in the hair, and I can use it for anything whether it's putting hair up using a straightening iron or a tong. I feel like I can pretty much create anything with these products.
What are your hair top tips?
I could go on for ages, but I suppose the big ones to remember when you're styling your hair are:
Hair sets either from wet to dry or from hot to cold: When blow drying your hair, you get volume by lifting at the root. So either use something like a Babyliss dryer that is going to help you to create a salon blow dry, or at the very least when you're drying put your head upside down to make sure you dry the roots so that it is actually standing up. Make sure your hair is fully dry, otherwise it won't stay, and when you dry your hair or use an electrical appliance make sure you let it cool down before you actually brush it out or throw your head back – while the hair is still cooling, it hasn't set. If you throw your hair back or put your fingers in your hair while the hair still warm, it's not going to set as you wanted it to (when it still had the volume).
Use hairspray when using straighteners, tongs or other heated appliances: Mist our Session Hold Hairspray on dry hair over the section that you're about to use a heated appliance on. This will make it last far longer, you'll get way more shine and it gives amazing heat protection.
Use dry shampoo to help style a ponytail: Many people say that they finding putting their hair up really hard, like they can't get a good ponytail. If you use the Percy & Reed Dry Shampoo through the hair, you'll find that it gives it a little bit more grip and resistance which means it's much easier to do an updo or a really nice messy pony yourself.
Make sure you always use the right shampoo and conditioner: If you don't use a great shampoo and conditioner, everything else will be an uphill struggle when it comes to having the best hair. Too many people don't invest in great shampoos and conditioners, but honestly great hair starts in the shower. If you use a shampoo that is cheap and full of sulphates, it's going to strip your hair and dull its colour. It's also not great for your scalp. If you then use a conditioner that is just basically a heavy moisturising product, then you'll also find it more difficult for your hair to hold a style or keep volume.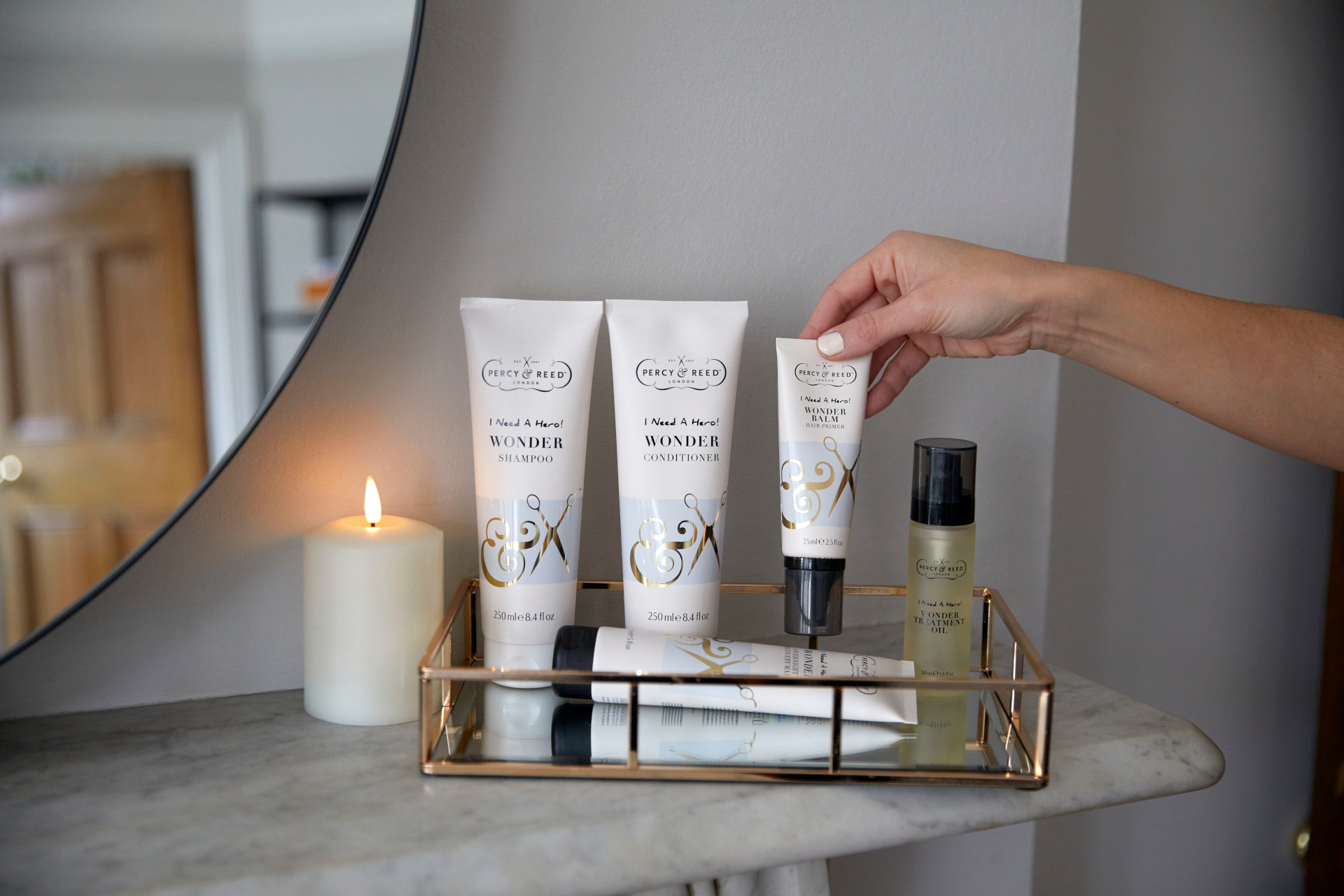 What are your hair secrets?
Okay, so here are my two biggies:
You can get a 'beachy' look with water: If you're looking for that really effortless 'beachy' look, the thing I find that always works amazingly well is water. By this, I mean that you'll want to use something like our Session Hold Hairspray. Shampoo and blow dry your hair with maybe the Wonder Balm first and then our Volumising Mousse. Once it's dry, take a Babyliss Soft Waves and, working in sections, mist in our Session Hold Hairspray onto the section before you turn it. While the hair is still warm and cooling down, just pull the hair so it becomes straighter and you get a much looser wave. After you've worked your way all the way through the hair, just mist a tiny bit of water all over your hair and then shake it out – you don't want to make the hair wet, but just mist it. This makes the overall finish of the hair feel much more natural, and it will appear way more like your hair naturally dried that way.
Two ponytails are better than one: For a perfect catwalk ponytail, you should actually do two ponytails rather than one. Start with the hair at the back on the nape by your neck: you need this bit of hair to go upwards into the ponytail. This bit goes up, and then the rest of your hair goes back and into the ponytail. So, rather than trying to get your hair absolutely perfect and into that ponytail in one go, you're much better off sectioning the hair behind the ears so that you create almost like a half-up-half-down look. To get the hair perfectly back, I would use our Define & Hold Finishing Cream. On wet or dry hair, apply a 10 pence piece and then use a brush or comb to pull it back into the position you want the ponytail. You can then tie that with a thin elastic so that you've got that perfect scraped back, lump free look. The last thing to do is to take the section of hair that's left at the back of the neck, use some of the finishing cream and comb it all the way up to join the other ponytail, then take an elastic and combine the two ponytails together. You should be left with one perfect ponytail.
EXPLORE
You can book an appointment at Percy & Reed and browse its product ranges at percyandreed.com
Images courtesy of Percy & Reed