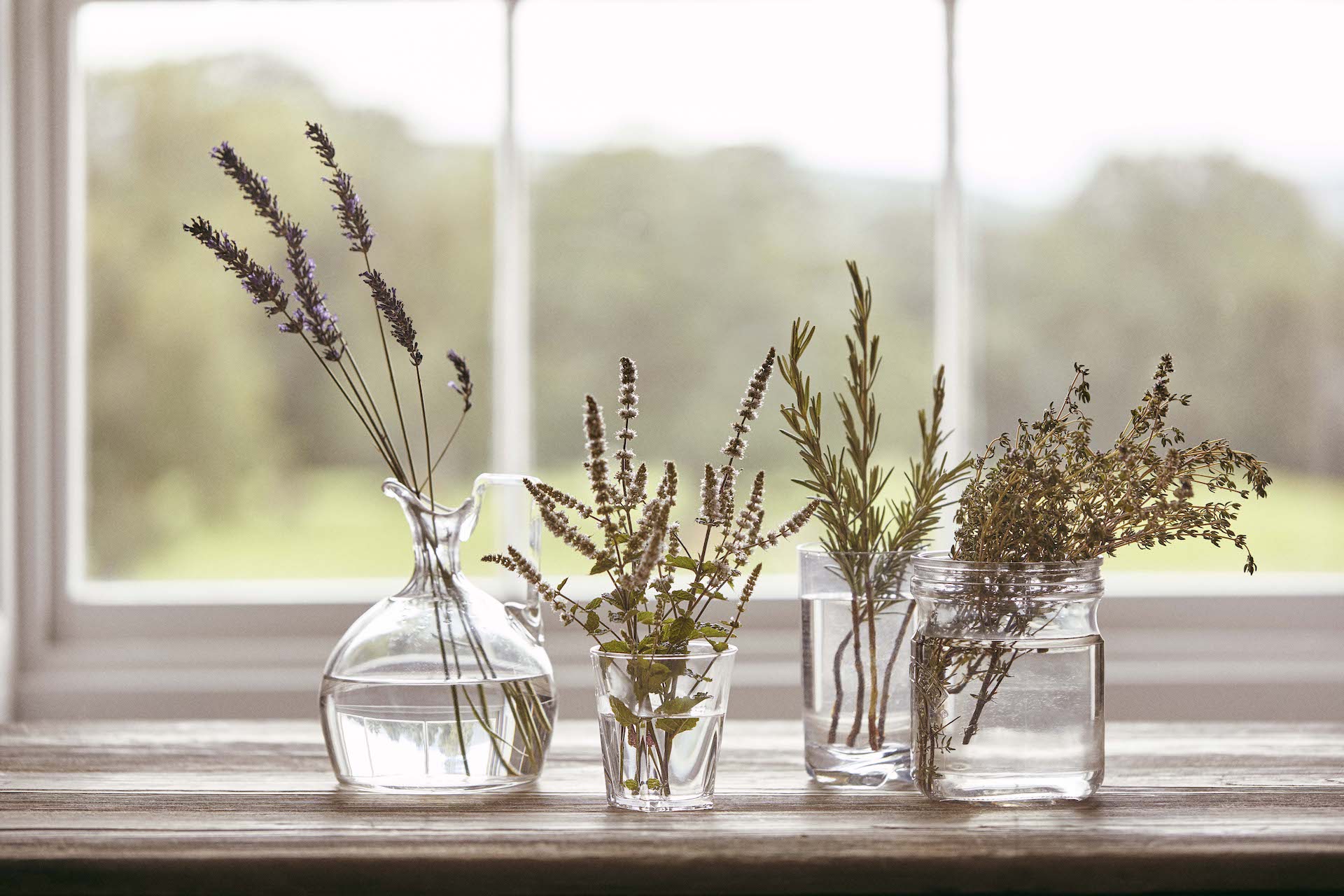 Is Foraging the Future of Sustainable Skincare?
---
On the hunt for eco-friendly beauty in Wales
Wild Beauty is the new skincare name to know, made from ingredients foraged on a Welsh estate.
Is Foraging the Future of Sustainable Skincare?
Into The Wild
The late summer breeze whips around me as I stand on a rocky outcrop of a remote Welsh hillside, purple bilberry juice staining my fingers. A swathe of pink heather and copper bracken illuminates the landscape as I lean in, listening to Richard Prideaux patiently explain the prickly, time-consuming process of harvesting wild gorse flowers.
Prideaux is a forager and survival expert, and the lynchpin of Wild Beauty, the new skincare brand from the Rhug Estate, which I'm visiting. He's taking me foraging for the ingredients that make up the core of the Wild Beauty range: elderflower, lemon balm, heather, gorse, dandelion, hawthorn, meadowsweet, herb robert, nettle and yarrow. All of which grow in plenitude on Rhug, and which Prideaux and his fellow nature expert, Amy, are now tasked with gathering for Wild Beauty.
'We only take a small percentage of what's growing here when it's in season, so it's totally sustainable,' explains Prideaux. 'It's not farming – it's hunter-gathering.' Of the ten ingredients, gorse is the most difficult to collect, while Prideaux discovered that, although nettles are relatively easy to pick, when dried their hairs become airborne – and all too easy to swallow. 'No one was harmed in the making of Wild Beauty,' he jokes, 'apart from a couple of foragers.'
Wild Beauty is the latest addition to the Rhug Estate portfolio, a beautiful, verdant expanse of 12,500 acres in north Wales that is owned and run by Lord Newborough. Fully organic and lauded for its meat, which is sought after by high-end restaurants in London, and all over the world, it was awarded a Royal Warrant by fellow organic enthusiast, HRH Prince Charles, in 2018.
'I wanted to capture something that embraced everything that surrounds us here,' explains Lord Newborough as we huddle away from the Welsh rain in the estate's office once the foraging is finished. 'The fresh air, the streams, the wildness and the beauty of the area; I wanted to capture all this in a skincare range.'
Lord Newborough is passionate about the environment and, since taking over the estate from his father in 1998, has converted it to organic (it was certified by the Soil Association in 2000) and added a large portfolio of renewable energy projects, including hydro, solar and wind power. Above all, he says he wants to 'secure a better future for the next generation'. His modus operandi, which he applies to everything from the livestock to the crops to the Wild Beauty brand, is 'low stress'.
Last year, surrounded by such an abundance of nature, Lord Newborough was struck with the idea of using it to create a luxury, sustainable skincare brand using ingredients foraged on the estate. He sat down with Prideaux and together they came up with the list of forage ingredients that, along with organic oats, spring water, honey and beeswax from the estate, makes up the heart of the Wild Beauty range. These are then transported to Dorset where, along with six sustainably sourced essential oils, they're formulated into creams, masks, serums and lotions.
From the very beginning, Lord Newborough was committed to getting the right accreditations for Wild Beauty. 'I can say for definite that we are the most certified and sustainable skincare range to come onto the market,' he says. Wild Beauty carries a raft of Soil Association certificates as well as the Leaping Bunny logo, the Vegan mark and Halal stamp. 'The amount of certification in this industry is actually shockingly poor,' he continues, shaking his head. 'The number we see on products that are invented by the companies themselves. Or they've been put together by trade associations. They're not genuine.' The whole range is also packaged, where possible, in recyclable glass bottles – for which the team
is developing refill pouches – and in post-consumer recycled plastic where not.
Of course, as with any beauty product, the proof of the pudding is the eating (metaphorically speaking), and after a few weeks of trying it out I can attest that Wild Beauty more than lives up to its aspirations. As well as smelling lovely, the foraged ingredients have a potent effect, while still not triggering my hypersensitive skin. The replenishing mask is particularly good, with healing Rhug honey, anti-inflammatory heather and soothing yarrow, while the meadowsweet, nettle and gorse in the rebalancing tonic have made my skin noticeably brighter and more hydrated.
And I'm not the only one to be impressed: only a short while after it launched Wild Beauty scooped two gold medals at the International Organic Awards 2020, for the aforementioned mask and the purifying cleansing lotion. Plus, 'In the first two weeks, everybody who'd ordered online reordered,' says Lord Newborough, proudly.
Wild Beauty is a welcome addition to an industry that's not traditionally known for its eco credentials or transparency. What's more, the fact that its ingredients are sourced in Wales – and foraged, no less – before being formulated in Dorset is certainly a balm for those of us worrying about the carbon footprint of our beauty routines. After all, we're already buying local British meat, fish, fruit and veg – isn't it time we took the same approach to our skincare?
Read more:
What is Human Rewilding? / Sustainable Beauty: How Green is Your Regime?