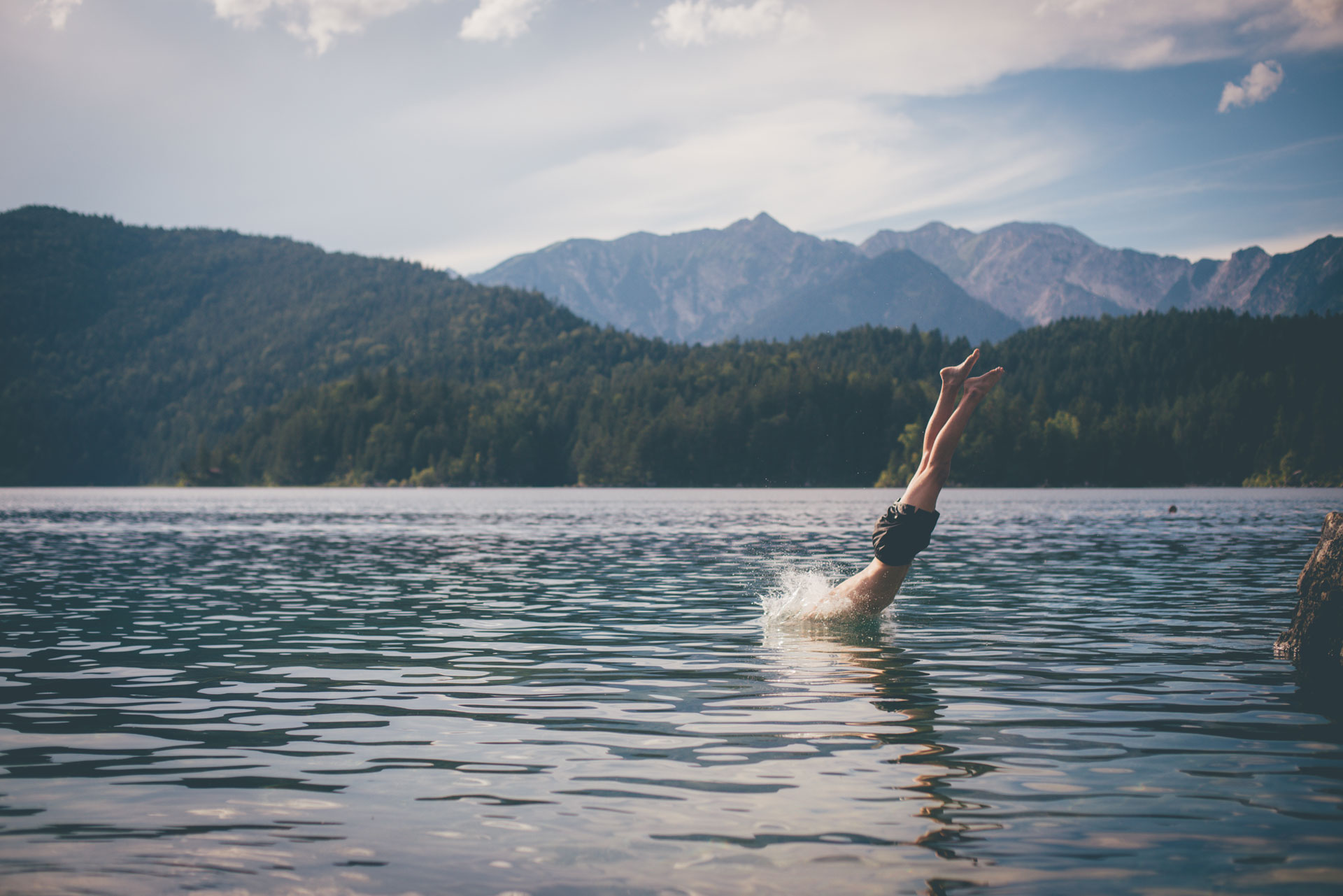 What is Human Rewilding?
Earthing, ice baths and foraging: everything you need to know about wild wellness
Ellie Smith explores how nature conservation movement rewilding has made its way into the wellbeing world.
What is Human Rewilding?
The notion that spending time outdoors is beneficial for health is nothing new – but its importance has certainly been highlighted during lockdown. We've cherished our daily exercise. We've potted and pruned our gardens like never before. We've rediscovered our local parks. We've noticed wildlife that we'd previously never paid attention to.
So, it's no surprise there's been a surge in nature-based wellness – or as the experts call it, rewilding. In the field of nature conservancy, the term is used to describe the process of allowing land to return to its natural state to restore and rebalance ecosystems – which you can read all about in our interview with environmentalist Isabella Tree. But in recent years, rewilding has made its way into the human health sphere too.
'Rewilding means looking to our natural world to reconnect to ways of living that are more in sync with our human biology,' says natural lifestyle coach Tony Riddle. 'It's looking at the conditions under which our ancestors lived and instead of viewing them as outdated, seeing them as the cornerstone of health and wellbeing, therefore looking for ways to integrate them into our modern lives.'
There are a whole host of scientifically proven physical benefits associated with spending time in nature, including improved immune function and lower risk of cardiovascular disease. And, unsurprisingly, the mental aspect is crucial too. 'Natural surroundings rewire our brains by creating new neurological pathways,' Riddle explains. 'The further we go into nature and the wild, the deeper the effects on our emotional, mental and spiritual wellbeing.'
Riddle embodies the rewilding lifestyle – so much so that last year he ran the entire length of the UK sans shoes. But there are less daunting ways to connect with the natural world, from cold water swimming to changing the way you rest. Read on for the lowdown on wild wellness.
Rewilding practices
Forest bathing
The Japanese practice of forest bathing or 'shinrin-yoku' was first developed in the 1980s, following studies conducted by the government. These showed that two hours of mindful exploration in a forest could reduce blood pressure, lower cortisol levels and improve concentration. As a result, 'shinrin-yoku' was introduced as a national health programme – and in recent years it's gained popularity in the UK too. But what actually is it?
Despite its name, forest bathing doesn't involve getting in water. The practice can be as simple as walking in a natural environment – as long as you're consciously connecting with what's around you. Head off on a mindful walk in your local wooded area, or join an organised trip with a company like Forest Holidays, which runs curated forest bathing escapes at Forest of Dean and Blackwood Forest.
Cold water swimming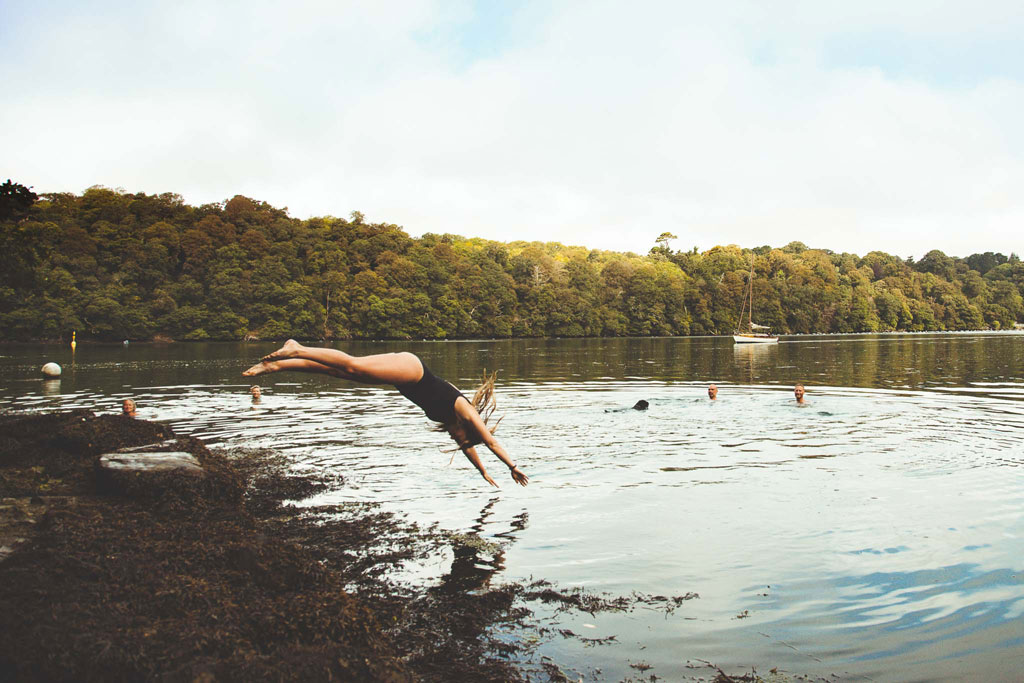 Tend to linger round the shore instead of plunging headfirst into the icy British sea? You're missing out, says Riddle. 'Cold water is like a micro-hit of adversity that helps us access a macro state of inner calm, build resilience and mental fortitude,' he says. 'When I was doing the Three Peaks Challenge, cold immersion was my go-to therapy. I suffered a broken toe on day one and swollen Achilles; the ice bath became critical in helping my body heal and repair, then I'd get in my Dryrobe to help get my core temperature up, which is really important.' But you don't have to be doing intense exercise to reap the benefits: cold water swimming of any kind is associated with increased metabolism, reduced stress, enhanced mood and better sleep. Check out our guide to wild swimming spots in the UK for inspiration.
Daily routines
Rewilding can be easily incorporated into everyday life, says Riddle. He suggests beginning your day with a quick dose of nature to stimulate the release of serotonin: 'open the curtains, doors, windows, step outside, go for a walk, look up at the sky, sit in the garden.'
During the day, Riddle practices 'ground living', which means exploring rest positions on the ground, of which there are over 100. 'Resting in this way – the norm in many indigenous and traditional cultures – keeps your posture strong and functional.' For him, this means having no chairs in the house. For you, it could just be spending less time sitting down.
Another tip is bringing the outdoors in by filling our homes with houseplants, which help purify the air and create a calm, productive atmosphere.
Foraging
With its hunter-gatherer origins and focus on wild food, foraging fits naturally into the rewilding bracket. It has become a buzzword on menus of the world's top restaurants in recent years, but you don't have to be a chef to get involved. Anyone can forage for food – though it helps to gain a bit of prior knowledge beforehand. The Woodland Trust is a good resource, offering information on how to forage responsibly as well as a month-by-month guide to what's in season. There are also lots of foraging courses and guided walks you can join, such as Wild Food UK and The Secret Sunday Mushroom Club.
The Best Foraging Courses in the UK
Earthing
Gwyneth Paltrow raised some eyebrows raving about the wellbeing benefits of walking around barefoot, but the theory does have scientific backing. Known as 'earthing' – a term coined in Client Ober's 2010 book Earthing: The Most Important Discovery Ever – the practice involves placing bare feet or hands on the earth to soak up some of the planet's natural healing energy. Devotees claim doing so for just 30 minutes a day can help with everything from reducing inflammation to improving sleep.
'As our foundations, our feet are incredibly important for our whole function,' Tony tells us. 'When we connect with the Earth, it's like battery – it recharges us. It helps to bring us into a state of calm, to feel grounded.' It may sound a tad woo-woo, but there's no denying walking barefoot through sand or grass is a special feeling. If you're not ready to go the whole hog, check out minimalist shoe brand Vivobarefoot.
Retreats
Fancy embarking on a full-on rewilding adventure? Thera-Sea's rewilding retreats take place on the banks of the River Fal in south Cornwall, with treehouse-style accommodation for guests. The programme involves everything from foraging walks to moonlight kayaking tours to stargazing – as well as embarking on a digital detox.
Riddle is also running his own retreat in collaboration with Balance Holidays, which features wild swimming, barefoot woodland walks, forest bathing, meditation workshops – the whole shebang.
Those who fancy going totally off-grid should head to EcoYoga in the Scottish Highlands, surrounded by forests, lochs and rolling hills. From here, founders Nick and Rachel run a variety of yoga retreats, including beginners, Ashtanga and Iyengar, with classes taking place to the sound of waterfalls in the lovely glazed studio overlooking the gorge of the River Liever. Inspired by the Japanese tradition of 'Sento' (public bath houses), there are also a number of bathing areas dotted around, including natural wooden hot tubs under a dome.
Follow Tony Riddle on Instagram @TheNaturalLifestylist or check out tonyriddle.com
READ MORE
How To Use Foraged Ingredients / Best Wellness Retreats in the UK